2018 UWW World Championships
USA vs Russia: Budapest 2018 Ultimate Team Race Breakdown
USA vs Russia: Budapest 2018 Ultimate Team Race Breakdown
Breaking down the men's freestyle team race between America and Russia at the 2018 world championships in Budapest.
Oct 18, 2018
by Wrestling Nomad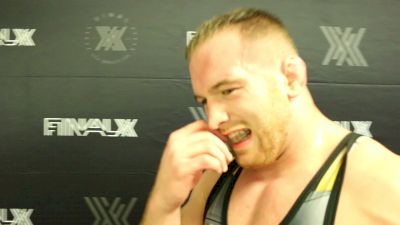 Unlock this article, live events, and more with a subscription!
Get Started
Already a subscriber? Log In
Russia and the Soviet Union have claimed 33 of the past 44 world championships in men's freestyle. The United States has won just three in that same time span.
One of those three titles came a year ago in Paris, France. The best team in a generation took home six medals from eight weights, and capped a one point victory over Russia with the greatest match of all-time, Snyder over Sadulaev.
The Stars and Stripes were the beneficiaries of some favorable draws, no doubt. But that is nothing to be ashamed of, it's international wrestling. You train for months, peak for the biggest tournament of the year, and wrestle who's in front of you. There's no excuses when the draw is hard and no apologies when it's easy.
The quest for a repeat begins this Saturday in Budapest, Hungary. To go back-to-back, another performance for the ages will be required. So let's try to break down what it will take to beat Russia, discussing a range of possible scores for each weight and arranging them by the day they will compete.
I did this same exercise for the national tournament using Penn State and Ohio State, but unlike NCAAs where brackets come out two weeks in advance, we won't know the paths for each athlete until a few hours before they wrestle. So, all of these thoughts and predictions could go to hell in a handbasket.
Before we begin, this is what the new scoring system looks like:
Gold: 25 points
Silver: 20 points
Bronze: 15 points
Fifth: 10 points
Seventh: 8 points
Eighth: 6 points
Ninth: 4 points
Tenth: 2 points
And here is a quick rundown of the weights and wrestlers for both countries, by day.
| | | | |
| --- | --- | --- | --- |
| Weight | Day | USA | Russia |
| 61kg | Saturday | Joe Colon | Gadzhimurad Rashidov |
| 74kg | Saturday | Jordan Burroughs | Zaurbek Sidakov |
| 86kg | Saturday | David Taylor | Dauren Kurugliev |
| 125kg | Saturday | Nick Gwiazdowski | Anzor Khizriev |
| 57kg | Sunday | Thomas Gilman | Zaur Uguev |
| 65kg | Sunday | Logan Stieber | Akhmed Chakaev |
| 79kg | Sunday | Kyle Dake | Akhmed Gadzhimagomedov |
| 92kg | Sunday | J'den Cox | Batyrbek Tsakulov |
| 70kg | Monday | James Green | Magomedrasul Gazimagomedov |
| 97kg | Monday | Kyle Snyder | Abdulrashid Sadulaev |
Remember, the competition now uses a two day format. A weight is started on one day, with the bracket running through the semifinals. The next day, the athletes weigh-in again, wrestle the repechage in the morning and the medal matches in the afternoon.
Saturday, October 20th
61kg
Joe Colon was a late addition to the American roster, while Gadzhimurad Rashidov was granted a release from Russian Nationals and won the spot in Poland.
Of all the 10 weights, this may be the one with the greatest likelihood for point disparity between the two teams, and it skews heavily in favor of Russia. Look, it's the world championships, anything can happen, but Rashidov is probably the heaviest favorite going into Budapest. It would be a complete shock to me if he didn't win, so I'm pencilling him in for 20 or 25 points.
Colon on the other hand is far more of a wild card. Before Final X, I picked him over Nahshon Garrett, in part due to their history, but also because Colon can win matches in a variety of ways. Colon has proven himself capable of winning both shootouts and pitcher's duals, and can score from par terre, as well as non-controlled exposures off counters. However, he is also the least likely American to medal, and will need a lot of help with his draw. Best case scenario, he wrestles for bronze, but more likely he maybe wins a match or two and hopes for 7th through 10th place points.
74kg
Ah yes, ole reliable. While he may have bestowed the Captain America moniker upon Kyle Snyder, Jordan Burroughs is still THE MAN, all caps. The grizzled veteran, eight years on, remains one of the best in the world and an unquestioned medal threat. Opposite him is the Cory Cooperman look-alike Zaurbek Sidakov, a 2015 Junior world bronze medalist who (very controversially) dethroned last year's silver medalist in Khetik Tsabolov at Russian Nationals.
Sidakov's results are not overwhelming, and it's pretty easy to make the case he's not even the best 74kg in his own country. But he has something Tsabolov does not: a win over Frank Chamizo. The Italian by way of Cuba looms large over any discussion that occurs at this weight, even ones that are supposed to isolate the point scoring potential of the Russian against the American. While Sidakov is less likely to both take gold and medal in general than Burroughs, he has won the last three tournaments he's entered: Russian Nationals, U23 Euros, and Military Worlds.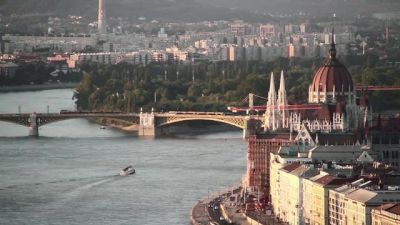 What can be said about Burroughs that hasn't already been said? A year after Team USA posted its worst results ever at the world level, Burroughs came out of college and took the planet by storm, knocking off two-time defending champ Denis Tsargush… and then did it again a year later en route to an Olympic gold. His run last year was unforgettable, and he laid on the mat after beaing Tsabolov a second longer than he had to so that he could soak it all in. Another title run would go a long way in helping the Red, White, and Blue win again.
86kg
It's hard to tell who fans are more excited to see for the first time on the world level: David Taylor or Kyle Dake. Ultimately, it's not fair to either to try and gauge that discussion, but it is great that they each get their own separate days. While probably not looked at the same way in Russia, Dauren Kurugliev also spent several years toiling on the national team ladder before breaking through and making his first team. In fact, he never even made an age level team; at least Taylor appeared at Junior worlds in 2007 and made a University team in 2013.
There are several guys like Kurugliev on this Russian squad. That is to say, not a serious gold medal threat, but very much in the mix to get bronze. He won Euros and Yasar Dogu last year over legit fields, and has been world quality since Sadulaev ascended to the senior level. He enters Budapest ranked third in the world.
When you factor in the multitude of contenders at 74, as well as Alborov's two wins over Kyle Snyder, it's not out of the question to say Taylor has the best odds of any American to win his weight. No one wants to wrestle at that pace at 86kg, something his potential Iranian nemesis Hassan Yazdanicharati has proven over and over again these past 18+ months. Not only that, but Taylor's folkstyle influenced par terre is pushing him to another level. Unless Yazdani and Taylor end up on the same side, there's no reason he shouldn't outscore Kurugliev.
125kg
Nick Gwiazdowski was identified as the heir apparent to heavyweight in this country when Tervel Dlagnev still had a working back. The Gwizard of Oz proved his mettle when he scored a bronze medal in Paris last August, a crucial win when looking at Anzor Khizriev's fifth place finish. Khizriev will once again represent the Red Army this year in Budapest. Gwiz won the only meeting between the two, a 5-1 victory in the semis of the Intercontinental Cup back in October of 2016.
Khizriev is solid, but not spectacular. Everyone saw this coming as Makhov aged, but Russia had no one comparable in the pipeline, and the ones that were there could not push each other to Makhov-like results. Even with a favorable draw, his ceiling is bronze, and that's generous.
When Gwiz won bronze last year, I didn't think it was a fluke, but it was closer to max points than what you would expect from him. This time around, a bronze won't be a fluke. He's opposite Geno Petriashvili, so that mitigates one risk, with the other being Taha Akgul. If they're both on the bottom side (Gwiazdowki is your top seed), a silver is very much in play.
Sunday, October 21st
57kg
The two biggest wildcards for both teams are at 57kg. Thomas Gilman made the world finals in his debut, but will he face a sophomore slump? Zaur Uguev was the first wrestler to win two Cadet gold medals upon the reinstatement of the youngest world championships, but squandered his first appearance at senior worlds with an 8-2 loss to Sandeep Tomar of India.
Uguev is a perfect example of how USA won last year. Russia had won eight straight medals at the lightest weight class since 2006, half of which were golds. But the end of the Lebedev era featured two ninth place finishes sandwiched around a bronze in 2015. Then Uguev came nowhere close to scoring points in Paris at a weight where Gilman put up nine. Regression to the mean works both ways, and it is far more likely the top seed Uguev puts up points this time around.
Gilman is part of the first new generation brought up in USA Wrestling's developmental pipeline. He made a Cadet world team, and then two Junior world teams before taking the senior level spot in 2017. Since making the world finals, he's lost to Reza Atri, Yuki Takahashi, Reineri Andreu Ortega, and Giorgi Edisherashvili. This doesn't mean he can't win gold or silver, but it points to him being a little closer to the pack.
65kg
Perhaps the most intriguing field in terms of depth and potential champs, Logan Stieber is America's 65kg representative, and Akhmed Chakaev holds the spot for Russia. These two wrestled the last time the world championships were in Budapest, at the non-Olympic weight event in December of 2016, with Stieber winning 13-11 in the quarterfinals.
Much like 65kg last year in Russia, there is a very real question as to whether this is their best option for the weight. Ilyas Bekbulatov continues his incredible streak of being the best guy to never compete at a world championships, leaving the spot open for Chakaev. His chest wrap and low-to-high single are among the best in the world. What's still unknown is if he came make a jump into beating the likes of Haji Aliyev and Vladimer Khinchegashvili.
Stieber is one of the most entertaining wrestlers I have ever seen. His willingness to shoot and propensity for offense gets him in a ton of trouble, but it also helped him beat Aliyev and Soslan Ramonov. Outside of the Aliyev win though, there hasn't been much to suggest Stieber is a medal threat in Budapest. It doesn't mean he can't, but it's going to be an awful lot of work relying on winning shootouts like his comeback against Alejandro Valdes Tobier (CUB) at Pan Ams.
79kg
Kid Dynamite finally gets his chance at the world level, and just like at 86kg, his Russian counterpart is also making his worlds debut. Akhmed Gadzhimagomedov has one of the greatest Yarygin resumes of all-time, but had yet to turn that into a win at Russian Nationals. Based on seeds, we'll see this one go down in the semifinals on Sunday morning.
Gadzhimagomedov gave Dake one of the worst losses of his career in the Yarygin finals back in January. Aside from Burroughs, we've really never seen anyone score on Dake with leg attacks like that. This year showed only two contenders for the 79kg crown, so Gadzhi's either getting 15 or 25 points.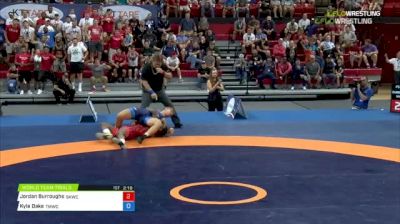 Unlock this video, live events, and more with a subscription!
Get Started
Already a subscriber? Log In
Very simply, Kyle Dake is an alien. It's amazing what he can do when he has a weight class all to himself and he's fully healthy. Outside of Russia, Dake has beaten the best 79s in the world, including Hasanov, Dieringer, Valencia, and Takatani.
92kg
J'Den Cox has brought the third most value to the team over the past two years, winning bronze medals at both the Olympics and world championships. It might be the most wide open and difficult to predict field, which makes sense since it is a new weight. His Russian counterpart is Batyrbek Tsakulov, who did not medal at Junior Euros last year and was bronze at U23 Euros back in June.
Seemingly every year, Russia brings a no-name to the world championships. Inevitably, that "no-name" knocks off several of the world's best, wins a medal, and then fades back into obscurity. There is no better description for Tsakulov than that. With 92kg being a second day weight, circle the quarterfinals as where the team race may ultimately be decided.
There are two primary hurdles for Cox in Sharif Sharifov (AZE) and Dato Marsagishvili (GEO), each of whom he is 0-2 against. Those two are enough to be a cause for concern in assessing Cox's likelihood to win gold, not to mention the surprising loss to Makoev last year. There's no question the three-time NCAA champ is good enough to finish on top of the podium, but it's hard to walk in to the tournament confidently predicting that outcome.
Monday, October 22nd
70kg
Both the American and the Russian were in the 70kg field at the 2015 world championships in Las Vegas. That year, Magomedrasul Gazimagomedov came out on top, beating Yazdani in the finals, with James Green taking bronze. A repeat of that might happen again this week in Budapest.
Gazimagomedov unfortunately wasted a few years of his prime due to injuries and an unsuccessful attempt to go up to 74kg. Now healthy again and back down to fighting weight, he is the clear #1 in the world. His lefty overhook makes him virtually impossible to score on, and he uses his length to devastating efficiency when he does take shots. Another gold seems to be the most likely outcome.
Much like with Stieber, it never feels good doubting James Green. It's his sixth trip to worlds, four of them coming at the senior level. He made the World University finals in 2014, won the aforementioned bronze in 2015, and earned another silver last year. Green has taken just one loss in 2018, a 4-4 criteria defeat to Joshgun Azimov of Azerbaijan in the World Cup finals, but didn't pull the trigger much in Final X wins over Jason Chamberlain or his Beat the Streets match with Franklin Maren Castillo (CUB).
97kg
Kyle Snyder. Abdulrashid Sadulaev. Round one was well worth the wait, and seemed like it came straight from a movie. Score tied, last match of the tournament, winner take all. It delivered and then some.
Sadulaev flirted with going 92kg, and it seems like the Russian coaches even wanted him there. But the Russian Tank wants another crack at Snyder, so here we find ourselves once again.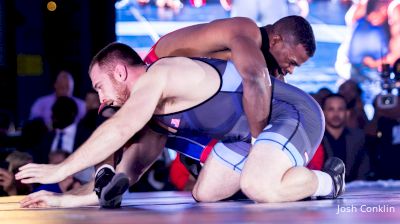 Snyder took another loss to Aslanbek Alborov in Turkey, and fell behind 8-1 to Reineris Salas Perez at Beat the Streets. But Snyder has had matches like this every year he's been on the senior level, and it's yet to stop him from winning. Until proven otherwise, he's on top of the mountain. This time around against Sadulaev though, the team title won't be on the line.
Team Score Prediction
With the way the team scoring works now, two golds are worth the same as five guys losing in the bronze medal match. Remember that each win in the quarters is worth 10 points, and each win in the semis is also worth 10 points. So after day one, the maximum possible score is 80 points, meaning all four of a country's wrestlers made the finals.
After Day One: USA 50, RUS 40
This is based on Burroughs and Taylor making the finals with Gwiz wrestling for bronze, while Rashidov makes the finals for Russia, and Kurugliev and Sidakov wrestle for bronze.
After Day Two: RUS 100, USA 80
Russia starts to pull away as Gadzhimagomedov makes the finals with Tsakulov and Chakaev wrestling for bronze.
After Day Three: RUS 160, USA 130
The Hammer and Sickle sews it up with Sadulaev and Gazi both making the finals, plus a strong medal round from those weights that started on day two.
Final: RUS 165, USA 140
It's not going to be terribly difficult for Russia to hit 150, given that they've got three gold medal favorites and a whole team of guys good enough to wrestle for bronze. Also, the Russians did not win a single gold medal last year, which is such a statistical aberration that it had literally never happened before. America will basically need to go undefeated in medal matches and score points at every weight where they don't wrestle for a medal.