2018 UWW World Championships
Nahshon Garrett Withdraws From 2018 World Championships
Nahshon Garrett Withdraws From 2018 World Championships
Nahshon Garrett Withdraws From 2018 World Championships, will be replaced by Joe Colon.
Oct 4, 2018
by Christian Pyles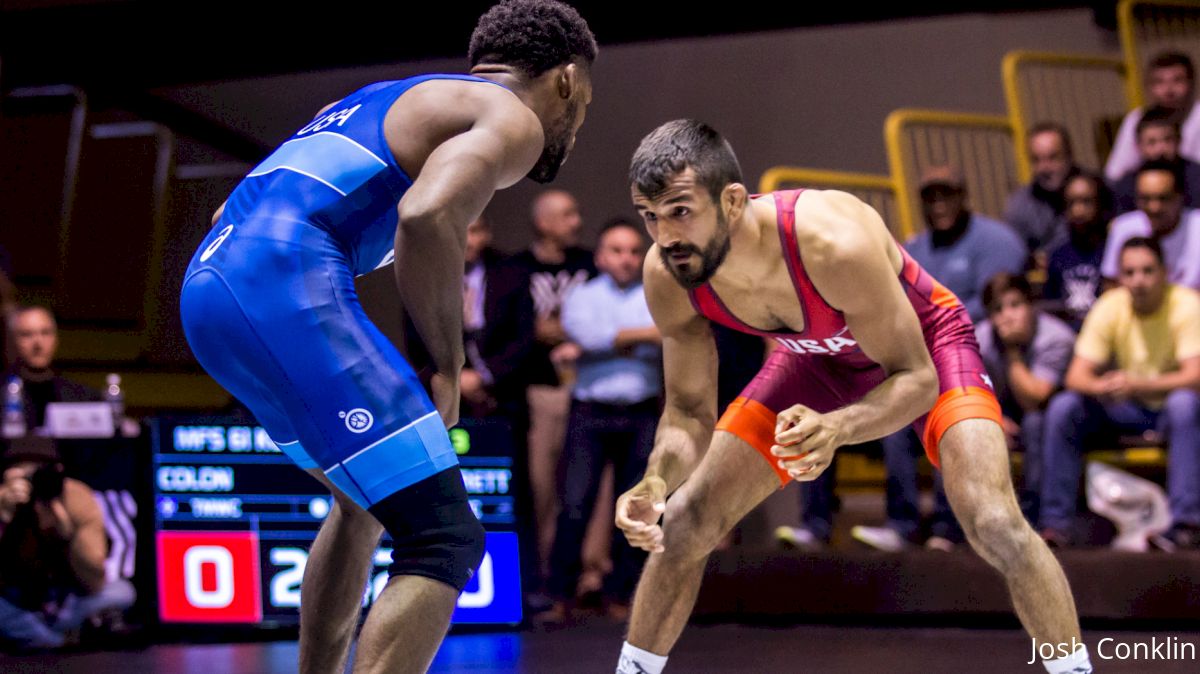 Nahshon Garrett (Tempe, Ariz./Sunkist Kids) has been withdrawn from the 2018 World Wrestling Championships at 61 kg/134 lbs. in men's freestyle due to an injury suffered in training.
Garrett, who qualified for his first Senior World Team with his victory in Final X in Lehigh on June 23, will be replaced by Final X runner-up Joe Colon (Fresno, Calif./Titan Mercury WC/Valley RTC).
Colon will be competing in his first Senior World Championships. The 61 kg men's freestyle competition will be held on Saturday, October 20 and Sunday, October 21.
"It is very unfortunate that Nahshon Garrett was injured and unable to compete in Budapest with our World Team. His preparation had been superb and we expected great things from him. Joe Colon has been training hard as part of our National Team, and we have confidence in his ability to compete at the highest level and challenge for a World medal at 61 kg," said National Freestyle Coach Bill Zadick.
Garrett, an NCAA champion and four-time All-American at Cornell, defeated Colon in an exciting three-match series in Final X to secure his World Team berth. Colon won the first bout, 7-5, but Garrett rallied with two straight wins, 10-5 and 12-0, to win Final X. In the 2018 U.S. Open finals in April, Colon won a wild finals bout over Garrett, 20-13.
A native of Chico, Calif., Garrett was a U.S. Open runner-up in 2017 and 2018, and a 2014 University Nationals champion. He currently trains with the Sunkist Kids RTC in Arizona.
Colon won a gold medal at the 2018 Pan American Championships. This summer, he added a silver medal at the Alexander Medved International in Belarus and a bronze medal at the Ziolkowski Memorial in Poland. He was second in the 2015 U.S. World Team Trials and was a 2018 Dave Schultz Memorial champion.
Based upon his results in the 2018 UWW Ranking Series, Colon qualified for the No. 4 seed at the World Championships and will be seeded in his weight class in Budapest.
A native of Clear Lake, Iowa, Colon was third in the 2014 NCAA Championships for Northern Iowa, and was a 2010 NJCAA national champion for Iowa Central. He currently trains with the Valley RTC and is the volunteer assistant coach for Fresno State.
61 kg men's freestyle
Joe Colon, Fresno, Calif. (Titan Mercury WC/Valley RTC)
College: Northern Iowa, Iowa Central High School: Clear Lake, Iowa Born: Jan. 22, 1991
·2018 U.S. Open champion
·Second in 2018 Final X
·Second in 2015 U.S. World Team Trials
·Fourth in 2015 U.S. Open
·Fifth in 2014 U.S. Open
·Sixth in 2016 and 2017 U.S. Open
·2018 Pan American Championships champion
·2018 Dave Schultz Memorial International champion
·Second in 2018 Alexander Medved International (Belarus)
·Third in 2017 Dave Schultz Memorial International
·Third in 2018 Outstanding Ukrainian Memorial International
·Third in Ziolkowski Memorial (Poland)
·2014 Bill Farrell International champion
·Third in 2014 NCAA Championships for Northern Iowa
·2010 NJCAA champion for Iowa Central