2018 UWW World Championships
World Championships Preview: 79 Kilograms
World Championships Preview: 79 Kilograms
Our preview of the 79 kilogram weight class in the men's freestyle division of the UWW 2018 World Championships in Budapest.
Oct 16, 2018
by Andrew Spey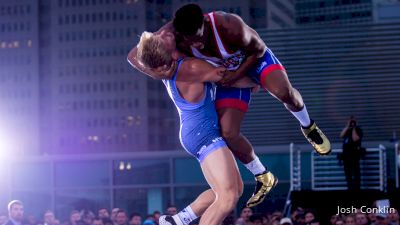 Unlock this video, live events, and more with a subscription!
Get Started
Already a subscriber? Log In
Unlock this article, live events, and more with a subscription!
Get Started
Already a subscriber? Log In
Like his friend and oftentimes opponent David Taylor, Kyle Dake will be participating in his first senior World Championship for Team USA. After winning four straight NCAA titles at Cornell, Dake had to deal with a series of injuries and a guy named Jordan Burroughs blocking his path.
Now that UWW has mercifully added a weight class in the massive gap between 74 and 86 kg, Dake has a new home and USA has a new gold medal contender. But it won't be easy, as plenty of other worthy competitors have swarmed into the new division, all with their sights set on gold as well.
Men's Freestyle International Rankings: 79 kilograms
The Contenders
#1 Akhmed Gadzhimagomedov, Russia
#2 Kyle Dake, USA
#4 Ali Shabanov, Belarus
#7 Jabrail Hasanov, Azerbaijan
#10 Ezzatollah Akbari, Iran
It was tempting to truncate the list of contenders to just two, as Dake and Gadzhi have proven themselves to be a cut above. Akhmed has been undefeated in 2018, winning the Yarygin (over Kyle Dake in the finals), a European Championship, and Russian Nationals in the process.
Dake has a monstrous hit list to his name, having taken out world medalists like Livan Lopez, Jabrayil Hasanov and Sosuke Takatani despite the loss to Gadzhimagomedov. Dake has also beaten a stout domestic field to make the US world team which featured world caliber studs like Alex Dieringer and Zahid Valencia.
However, others could be up for the task, such as Belarus' Dagestan transplant Ali Shabanov. He failed to place at the European Championships and Medved tournament, but Shabanov has a bronze medal at 74 kg from Paris and is still growing into 79 kg. He is very talented and is not to be underestimated.
Jabrail Hasanov's best years may be behind him, and at a lower weight class, but the Rio bronze medalist at 74 kg has plenty of tricks up his sleeves yet. Likewise, Iran's Ezzatollah Akbari has not made the podium at a senior world championship since the last full set of weights were contested in Budapest. There, in 2013, Akbari lost to Jordan Burroughs in the finals of 74 kg.
Other Men's Freestyle Previews: 57 | 61 | 65 | 70 | 74 | 86 | 92 | 97 | 125
Other Names To Note
There will be a lot of the names in the 79 kg bracket that longtime fans might recognize from their favorite 74 kg brackets of years past, besides the aforementioned Shabanov, Hasanov and Akbari.
David Khutsishvili is expected to enter for Georiga. He was a bronze medalist at the 2011 Worlds at 74 kg. Sosuke Takatani won silver at the 2014 World Championships, also at 74 kg. Onorbat Purevjav, silver medalist from the 2015 World Championships at 74 kg, is expected to be the Mongolian rep. And finally, Rashid Kurbanov of Uzbekistan is a bronze medal from the 2013 World Championships.
How Dake Got To Budapest
Dake had a very tight, back-and-forth match with three-time NCAA champ Alex Dieringer in the finals of the U.S. Open. It was the four-timer who prevailed, though, setting Dake up for a best-of-three series in Final X.
Dake's opponent would be Arizona State phenom Zahid Valencia. That series in State College, PA proved to be electric, but after two straight wins by Dake, it was clear who the first every 79 kg American would be at the UWW World Championships.
Dake vs Valencia Final X match 1: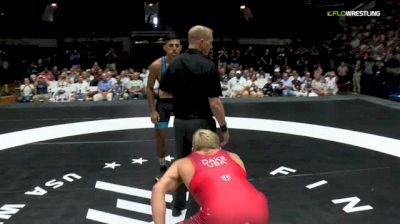 Unlock this video, live events, and more with a subscription!
Get Started
Already a subscriber? Log In
Dake vs Valencia Final X match 2: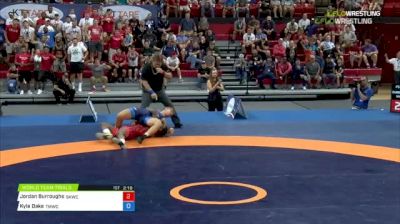 Unlock this video, live events, and more with a subscription!
Get Started
Already a subscriber? Log In
How Dake Can Win It
The new UWW seeding system that awards separation points based on finishes at a series of tournaments worked in this case in that it got Gadzhimagomedov and Dake one of the four available seeds. Unfortunately, the two favorites to reach the finals earned the #1 and #4 seeds, respectively, so they are slated to meet in the semifinals of the top side.
The #2 seed is Hasanov and the #4 seed is Kurbanov, both of whom are expected to be in Budapest. Only if one of them drops out is there a chance for Dake and Gadzhi to start the tournament on opposite sides of the bracket.
Regardless, Dake will have to avenge his Yarygin loss to Gadzhi at some point if he is going to hoist a gold medal in triumph in Budapest. Dake certainly has the ability. Few are training with sharper wrestling minds than Dake is in Ithaca, New York. Few competitors have a more versatile arsenal than Dake. Comfortable in a deep back arch and throwing his opponent for five as he is hitting high-c's and doubles, Dake is one of, if not the, most complete wrestler on Team USA. He'll need to use all his skills and make adjustments on the fly in the middle of the match if he is going to slip by a talent like Gadzhimagomedov.
Predictions
Gold: Akhmed Gadzhimagomedov, Russia
Silver: Kyle Dake, United States
Bronze: Ali Shabanov, Belarus
Bronze: Onorbat Purevjav, Mongolia
The 79 kg brackets are scheduled to be released Saturday, October 20 before 1:00PM ET. The Preliminary rounds are scheduled to begin at 4:30AM ET on Sunday, October 21, and the finals are set for Monday, October 22 at 12:00PM ET