2018 UWW World Championships
World Championships Preview: 74 Kilograms
World Championships Preview: 74 Kilograms
Our preview of the 74 kilogram weight class in the men's freestyle division of the UWW 2018 World Championships in Budapest.
Oct 16, 2018
by Andrew Spey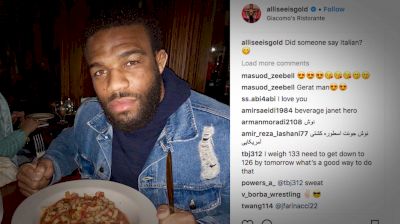 Unlock this video, live events, and more with a subscription!
Get Started
Already a subscriber? Log In
Unlock this article, live events, and more with a subscription!
Get Started
Already a subscriber? Log In
This weight class is all about Jordan Burroughs vs Frank Chamizo, Round 3. Not that there aren't any other contenders, just that none of them have the same star power as Burroughs and Chamizo.
They are two of the most decorated wrestlers in all of international wrestling at the moment, and now that Chamizo has made 74 kg his new home, the two have been dominating the headlines together ever since. Budapest will kick things off one of the most highly anticipated weight classes.
Men's Freestyle International Rankings: 74 kilograms
The Contenders
#1 Jordan Burroughs, USA
#2 Frank Chamizo, Italy
#3 Zaurbek Sidakov, Russia
#6 Soner Demirtas, Turkey
#8 Bekzod Abdurakhmanov, Uzbekistan
Burroughs, the four-time world champ and Rio gold medalist got the better of Chamizo at 2018's Beat the Streets New York. The two would meet again at the 2018 Yasar Dogu, this time with Frank Chamizo, a two-time world champ and Olympic bronze medalist, who would gain the upper hand.
Both matches were thrilling. Assuming they hit again, there is no reason to think the rubber match won't be equally as exhilarating.
Even after Zaurbek Sidakov beat Khetik Tsabolov in the finals of the 2018 Russian Nationals, a lot of folks still assumed the highly decorated world champ Tsabolov would still get the nod. Sidakov has proven himself elsewhere lately, as his win over Chamizo at the 2017 Alany Tournament in Vladikavkaz when both wrestlers were still at 70 kg demonstrates. Sidakov is very much the real deal, and the Russian coaches can be excused for wanted to give the young national champion at shot at the big show.
Soner Demirtas is also the real deal. He's won gold at 74 kg at the last three European Championships and has a bronze medal from both the Rio Olympics and the Paris Worlds.
Bekzod Abdurakhmanov placed third at the NCAAs in Clarion University before winning four Asian championships while competing for his native Uzbekistan. Bekzod also has a bronze medal from the 2014 Worlds, which were held in Tashkent, the capital of Uzbekistan.
Other Men's Freestyle Previews: 57 | 61 | 65 | 70 | 79 | 86 | 92 | 97 | 125
Other Names To Note
Iran is once again oddly without a contender as their coaching staff continues to search for the right mix of wrestlers to replace a generation of worthies that won a team men's freestyle world championship in 2013. Mostafa Hosseinkhani will likely be the Iranian rep in Budapest. The veteran has a 2016 world gold medal in 2016 at 70 kg and a pair of Asian Championships, at 70 kg in 2014 and at 74 kg in 2016.
Japan's Yuhi Fujinami has been right on the cusp of greatness ever since he lost to Aaron Pico in the cadet world championship final back in 2013. This would be a perfect field for Fujinami to finally break through into the upper echelon.
Only one Russian can compete in Budapest, at least for Russia anyway. Azamat Nurikov (or "Nurykau" if you go by Belarussian spelling) is a Russian by way of Dagestan that is one of the many ex-pats on the Belarus team. He is capable of making a deep run in the tournament.
Muslim Evloev of Kyrgyzstan is a 2017 Asian Champ and should also not be overlooked. Likewise for the always entertaining Mandakhnaran Ganzorig of Mongolia. Cuba's Livan Lopez, a decorated veteran whom Burroughs has faced often, is not unfortunately expected to make the trip to Budapest.
And we'd be remiss if we left out Bound Brook, New Jersey's Nestor Taffur, who will be training at the NYC-RTC and competing for Colombia.
How Burroughs Got To Budapest
Thanks to his shiny gold medal from Paris, Burroughs was able to once again sit out the USA Team Trials process until the end. Final X 74 kg was held in Lincoln, Nebraska, which Burroughs has called since he graduated from the Husker program. There, Burroughs faced off with 2018 U.S. Open champion Isaiah Martinez.
IMar would give it his all, but the four-time NCAA finalist and two-time champ did not have enough to topple the champ, and Burroughs won the best-of-three series in two straight matches.
Burroughs vs IMar Final X match 1:
Unlock this video, live events, and more with a subscription!
Get Started
Already a subscriber? Log In
Burroughs vs IMar Final X match 2: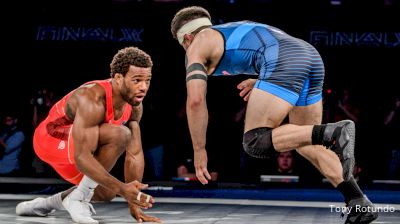 Unlock this video, live events, and more with a subscription!
Get Started
Already a subscriber? Log In


How Burroughs Can Win It
With his otherworldly combination of strength, speed, pacing, and timing, of course. Burroughs has raised the bar since he first hit the international scene with his incredible athleticism and dedication to the little things. No one makes sure there are in the right place at the right time in a match as Burroughs, and fewer have an answer for his whithering blast-double.
Burroughs double leg takedown is the move his opponents know is coming and still can't stop. While Burroughs is a true student of the sport and is always adding to his back of tricks, he was back to his familiar patented blast-double at the 2017 Worlds, hitting it in almost every match. If Burroughs can keep that game plan working, there's no reason to deviate.
Which is not to say Burroughs won't have tough matches, Chamizo being his primary obstacle. Also, Burroughs will likely not get seeded, while Chamizo locked up the #1 seed. So we could unfortunately see that rematch at any time in the tournament.
Chamizo is not without his freakish athletic gifts, especially when it comes to his defense and heavy hips. Whenever it occurs, and hopefully it is in the finals, for the third time in a year we will get to see what happens when an irresistible force meets an immovable object.
Predictions
Gold: Jordan Burroughs, USA
Silver: Frank Chamizo, Italy
Bronze: Soner Demirtas, Turkey
Bronze: Zaurbek Sidakov, Russia
The 74 kg brackets are scheduled to be released Friday, October 19 before 11:00 AM ET. The Preliminary rounds are scheduled to begin at 4:30 AM ET on Saturday, October 20, and the finals are set for Sunday, October 21 at 12:00 PM ET