2018 UWW World Championships
World Championships Preview: 70 Kilograms
World Championships Preview: 70 Kilograms
Our preview of the 70 kilogram weight class in the men's freestyle division of the UWW 2018 World Championships in Budapest.
Oct 17, 2018
by Andrew Spey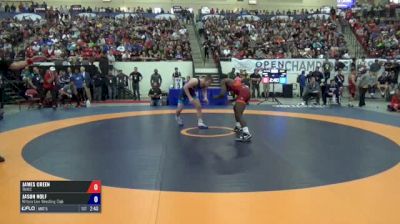 Unlock this article, live events, and more with a subscription!
Get Started
Already a subscriber? Log In
Two 70 kg world champions are back to try claim a second yellow medal at the premier annual event in the wrestling world. American James Green has a pair of World Championship medals at 70 kg to his name. Is this the year he trades in bronze and silver for gold?
It's yet another weight class packed with international stars. Here's what you should know before following one of the last two men's freestyle weight classes to be contested in Budapest.
Men's Freestyle International Rankings: 70 kilograms
The Contenders
#1 Magomedrasul Gazimagomedov, Russia
#2 Zurab Iakobishvili, Georgia
#7 Andrey Kviatkovski, Ukraine
#8 James Green, USA
#17 Ikhtiyor Navruzov, Uzbekistan
Magomedrasul Gazimagomedov is the last person to stop Iran's Hasan Yazdani (now at 86 kg) at a world or Olympic tournament. Gazi beat Yazdani in the finals of the 2015 World Championships in Las Vegas. Gazi hasn't been the most active wrestler on the senior circuit since then, but he did just win a stacked bracket at Russian Nationals, immediately catapulting him back into the gold medal conversation for Budapest.
Zurab Iakobishvili is up one weight class from 2017's surprise gold medal run at 65 kg, and headed to Budapest to prove Paris was no fluke.
Andrey Kviatkovski, perhaps most famous for mistaking Frank Molinaro's arm for food, has also won medals at three of the four UWW rankings series tournaments this calendar year, thus securing himself the number one seed based on the points he earned for those placements.
James Green has a bronze medal from Vegas which he improved upon in Paris, making the finals in 2017 before being stopped by Frank Chamizo, who has since bumped up to 74 kg.
Ikhtiyor Navruzov, meanwhile, lost to Chamizo in the finals of the 2015 Worlds and then settled for a lower step on the podium with a bronze medal finish at Rio in 2017, An event I'm still not sure the Mongolian coaches have gotten over.
Other Men's Freestyle Previews: 57 | 61 | 65 | 74 | 79 | 86 | 92 | 97 | 125
Other Names To Note
Mustafa Kaya of Turkey is one of the more credentialed challengers not on the contender's list. He's won a slew of medals from Yasar Dogu over the years, a tournament held in Istanbul in his home country. Kaya also has a pair of fifth-place finishes from the senior world championships, but no hardware yet.
Franklin Maren is part of Cuba's small but mighty squad of five men's freestyle wrestlers bound for Hungary. Maren is a tough out but has not quite reached the elite level, and was recently beaten by Green at the Beat the Street New York's 2018 event.
Iran has been trying out a lot of their promising younger wrestlers, perhaps to get them ready for a run in 2020, but speculation aside, 2017 junior world bronze medalist Younes Emami will represent Iran in Budapest.
Gitinomagomed Gadzhiev is a surprise pick for Azerbaijan's world team. Two-time Olympic champion Togrul Asgarov has finished his one-year suspension for banned substances but is not on the Azeri roster. It's also surprising that Joshgun Azimov did not get the nod, as he has a win over James Green at the 2018 World Cup. Perhaps neither are available or perhaps Gadzhiev looked better at training camp or won a wrestle off. We're in the dark on this one as much as everyone else.
How Green Got To Budapest
By dint of that finals appearance in Paris, Green was able to skip the domestic qualifying process up until Final X. Green's opponent in the best-of-three series would be Jason Chamberlain, a two-time All-American at Boise State before he spent some post-collegiate time in Nebraska training with none other than James Green himself.
Familiarity between opponents can make for some very conservative wrestling matches, and in Lincoln, Green and Chamberlain were clearly aware of each other's nuances and were determined not to take any unnecessary risks. Green prevailed in the low-scoring affairs into two straight matches
Green vs Chamberlain Final X match 1: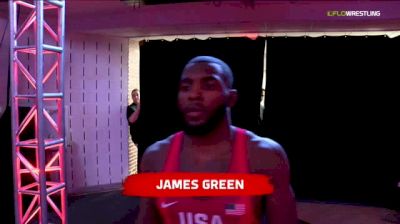 Unlock this video, live events, and more with a subscription!
Get Started
Already a subscriber? Log In
Green vs Chamberlain Final X match 2: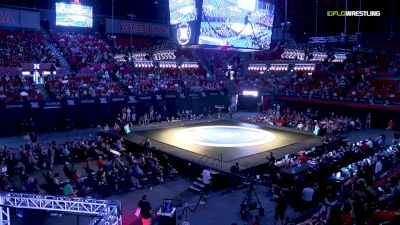 Unlock this video, live events, and more with a subscription!
Get Started
Already a subscriber? Log In
How Green Can Win It
Green will need to rely on his stingy defensive, careful shot selection and explosive power to get through a bracket that will be littered with landmines. Green can also tire his opponents out, taking advantage of his superior training environment and work ethic not always present with Eastern European wrestlers.
He will also do well to avoid keeping matches closer than they need to be. It's obviously easier said than done, as opening up to avoid close matches can lead to unnecessary risks. But the latter strategy could come back to haunt James as it did against Azimov in the World Cup.
Predictions
Gold: Magomedrasul Gazimagomedov, Russia
Silver: James Green, USA
Bronze: Ikhtiyor Navruzov, Uzbekistan
Bronze: Mustafa Kaya, Turkey
The 70 kg brackets are scheduled to be released Sunday, October 21 before 1:00 PM ET. The Preliminary rounds are scheduled to begin at 4:30 AM ET on Monday, October 22, and the finals are set for Tuesday, October 23 at 12:00 PM ET