2018 UWW World Championships
World Championships Preview: 86 Kilograms
World Championships Preview: 86 Kilograms
Our preview of the 86 kilogram weight class in the men's freestyle division of the UWW 2018 World Championships in Budapest.
Oct 16, 2018
by Andrew Spey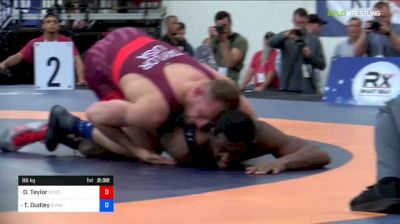 Unlock this article, live events, and more with a subscription!
Get Started
Already a subscriber? Log In
Over the last two years, the Magic Man has proven himself to be world class. His hit list of wins over Olympic and World champs and other contenders is as impressive as it comes. Now, finally on his first every world team, Taylor will try and complete his quest for international glory.
David Taylor has done it before, can he beat Yazdani again? Will that necessarily make David Taylor the greatest? I think it might. But we'll have to wait and see what happens in Budapest!
Men's Freestyle International Rankings: 86 kilograms
The Contenders
#1 Hassan Yazdani, Iran
#2 David Taylor, USA
#3 Dauren Kurugliev, Russia
#7 Shamil Kudiyamagomedov, Italy
#8 Murad Suleymanov, Azerbaijan
As mentioned before, David Taylor has beaten up on some really, really good dudes over the last year or so. But so has Hassan Yazdani. Which is what makes this weight class such a beast.
Yazdani and Taylor have both been steadily acquiring mass and moving up the weight classes. DT got the better of Yaz at the 2017 World Cup, but Taylor was losing for most of the match before wore down and broke Yazdani to secure the pinfall.
That was Yazdani's first major competition since moving up to 86 kg. He hasn't lost since. Taylor lost to J'den Cox at the 2017 World Team Trials by an agonizingly slim margin but has been undefeated himself since then. These two giants are on a collision course set for Budapest.
Of course, those two aren't the only ones with visions of gold. Kurugliev beat out a brutal Russian Nationals bracket to earn the spot for the defending runners-up. Kudiyamagomedov was once upon a time in that same brutal bracket before transferring to Italy to train and compete with Chamizo's Dagestani coach. And Azerbaijan's Suleymanov is like a young version of Taylor and Yazdani, moving up weight classes and challenging the established order. If he can control his legendary temper, Suleymanov will be a contender.
Other Men's Freestyle Previews: 57 | 61 | 65 | 70 | 74 | 79 | 92 | 97 | 125
Other Names To Note
86 kilograms is traditionally a deep weight class and this year is no different. Cuba is only bringing five freestyle wrestlers to Budapest, but one of them is Yurieski Torreblanca, who is going to cause problems in this bracket.
Gadzhi Radzhabov of Belarus is, like Kudiyamagomedov, one of the many Dagestani ex-pats now wrestling for other countries. He is a top-10 talent. As is Boris Makoev, last year's silver medalist, who comes from Ossetia, a region near Dagestan in the Russian Federation, but who competes for Slovakia.
Fatih Erdin competes for and is native Turkey. Erdin beat out his teammate Selim Yasar, who is also from Dagestan.
Sandro Aminashvili of Georgia and Zbigniew Baranowski of Poland are two local products with deep-run capabilities.
Another name to follow is Domenic Abounader of Lebanon by way of Gates Mills, Ohio. The former Michigan Wolverine All-American competes overseas for Lebanon but trains in Michigan with the Cliff Keen Wrestling Club, a team that has amassed a small stable of Americans competing for foreign countries.
How Taylor Got To Budapest
With his twin domestic nemeses Kyle Dake and J'Den Cox at different weight classes, the 86 kg decks have been cleared for David Taylor. DT took advantage of that, blitzing through the qualification process to make his first USA World Team.
Taylor won the U.S. Open with relative ease, putting him in Final X. Cox was a returning 86 kg medalist but he had moved up to 92 kg, while Dake was down at 79 kg for the entirety of the season.
At his adopted home of State College, PA, where he was a four-time finalist and two-time champion, the Magic Man put on a show, beating his opponent, NC State's Nick Reenan, in two straight matches.
Taylor vs Reenan Final X match 1: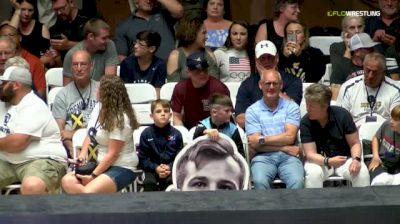 Unlock this video, live events, and more with a subscription!
Get Started
Already a subscriber? Log In
Taylor vs Reenan Final X match 2: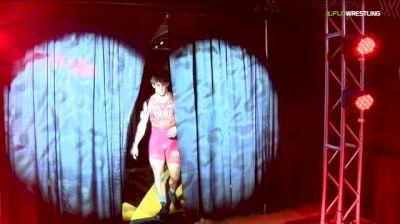 How Taylor Can Win It
Fatih Erdin secured the #1 seed based on the new UWW point system, while DT will be the #2 seed. #3 is Artur Naifonov of Russia, who lost at Russian Nationals and will not compete in Budapest, and #4 is Sandro Aminashivili. So we will have to wait until brackets are released to know if Yazdani and Taylor will be on opposite sides of the bracket.
Regardless, Taylor needs to stick to his game of bringing his folkstyle game to the freestyle circuit and continue to produce devastating results. Ankle picks from neutral and tilts and cradles on top are a great recipe for tech falls. And if and when he sees Yazdani, Taylor needs to work on controlling the center and not letting Yazdani move him around with his bullying Iranian-under hooks, which, of course, is easier said than done.
Predictions
Gold: Hassan Yazdani, Iran
Silver: David Taylor, USA
Bronze: Dauren Kurugliev, Russia
Bronze: Fatih Erdin, Turkey
The 86 kg brackets are scheduled to be released Friday, October 19 before 11:00 AM ET. The Preliminary rounds are scheduled to begin at 4:30 AM ET on Saturday, October 20, and the finals are set for Sunday, October 21 at 12:00 PM ET