2018 Final X - State College
David Taylor's Last 2 Years Prove He's World Class
David Taylor's Last 2 Years Prove He's World Class
Before making it to Final X, David Taylor produced wins over several world and Olympic medalists over the past two years.
Jun 15, 2018
by Wrestling Nomad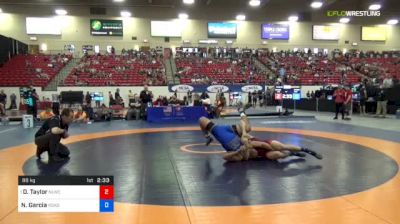 This Saturday presents perhaps the greatest opportunity for David Taylor to make a world team. Although this would be his first Senior-level team, Taylor is no stranger to the international scene.
WATCH FINAL X - STATE COLLEGE | Saturday, June 9 | 6 PM Eastern
The next step is Final X in State College, PA, held at Taylor's old stomping grounds at Rec Hall. Since graduating from Penn State, Taylor made the decision to go up to 86kg and it has produced some impressive results.
Let's run through some of his more notable wins over the last two years, and be sure to watch Taylor on Saturday at 6 PM Eastern.
W Itsvan Vereb (HUN) 8-6
W Uitumen Orgodol (MGL) 14-7
W Zahid Valencia (USA) 10-3
W Vahid Shahmohammadiizad (IRI) 6-2
Vereb was perhaps past his prime at this point but he did win a bronze medal at the 2013 World Championship. Orgodol is a two-time Olympian and multiple-time Asian medalist. Also notice the 10-3 win over young Zahid Valencia, who at that time had just completed his redshirt season at Arizona State and made his second straight junior world team. Now, Valencia will be on the same card as Taylor on Saturday night.
2016 World Clubs Cup
W Alireza Karimi (IRI) 12-6
W Bohdan Hrytsay (UKR) 19-6
L Dmytro Rochniak (UKR) 6-2
W Nika Kentchadze (GEO) Pinfall
Before Hassan Yazdani bumped up to 86kg, the man for Iran at this weight was junior world champion Alireza Karimi, a multiple-time Asian champ who won a bronze medal at the 2015 World Championships. Though Taylor stumbled against the unspectacular Dmytro Rochniak, the win over Karimi was one of the best of Taylor's career to that point.
W Richard Perry (USA) 8-5
W Akhmed Aibuev (FRA) 12-2
W Itsvan Vereb (HUN) 10-0
W Mihaly Nagy (HUN) 10-0
Taylor kicked off 2017 by winning another European tournament, this time in France. He picked up another win over Vereb, and the first of his many wins over Richard Perry. The France final is the closest match Perry has had with the Magicman.
W Hassan Yazdani (IRI) Pinfall
W Sharif Sharifov (AZE) 12-2
W Vladislav Valiev (RUS) 14-4
W Dato Marsagishvili (GEO) 8-3
If there was one event that announced Taylor's presence as a world title contender, it was the 2017 World Cup. Taylor would go 4-0 at the tournament and beat two Olympic gold medalists in Hassan Yazdani, the 2016 74kg champ, and Sharifov, the 2012 84kg champ. Yazdani and Sharifov each have another world gold medal to their names, among other credentials.
And Vladislav Valiev and Dato Marsahishvili are no slouches either. After this event, Valiev would go on to win Russian Nationals and earn a bronze at the 2017 World Championships, and Marsagishvili has a bronze at both Worlds and the Olympics to go along with four European Championship medals. Not a shabby couple days of work for Mr. Taylor.
Watch Taylor break Yazdani and stun the Iranian crowd:
W Richard Perry 10-0
W Nick Heflin 15-4
W Pat Downey III 10-0
W Chance McClure 10-0
W Anthony Cress Fall
Taylor then made light work of the field at the 2017 U.S. Open.
L J'den Cox 5-3
L J'den Cox 4-3
W J'den Cox 9-3
W Nick Heflin 13-9
W Pat Downey 10-0
W Joe Rau 13-0
Taylor came agonizingly close to making his first world team last year. But as a returning medalist, J'den Cox was able to sit out the challenge tournament and was waiting in the finals for Taylor after he plowed through the challenge tournament in the same manner that he dispatched his foes at the U.S. Open: expeditiously.
Taylor would take the Olympic bronze medalist Cox to three matches and score more cumulative points, but Cox took the series 3-2 and then went on to win bronze at the 2017 Worlds.
Watch DT win the first of three matches with Cox at the World Team Trials: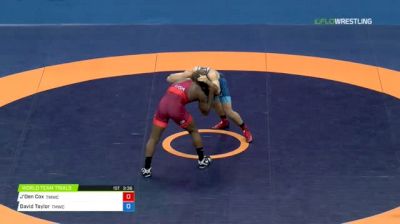 Unlock this video, live events, and more with a subscription!
Get Started
Already a subscriber? Log In
W Alireza Karimi (IRI) 3-1
W Ganbataar Gankhuyag (MGL) Pinfall
W Alexander Moore (CAN) 14-4
W Pawan Kumar (India) 10-0
W Petar Savakov (BUL) Pinfall
Taylor rebounded from his first loss in nearly a year by destroying four outclassed opponents in team dual meet competition at the Clubs Cup. DT also proved his previous win over Karimi was no a fluke when he beat the Iranian for the second straight time.
W Fatih Erdin (TUR) Pinfall
W Artur Naifonov (RUS) Pinfall
W Selim Yasar (TUR) 4-1
W Yurieski Torreblanca Queralta (CUB) 4*-4
Taylor continued his torrid pace by winning the prestigious Ivan Yarygin, consistently one of the toughest tournaments of the year. After surviving a very tough Yurieski Torreblanca Queralta in the first round, Taylor took out three-time world medalist Selim Yasar in the second round. In the semifinals, Taylor pinned the 2017 junior world champ Naifonov before capping things off with another pinfall, this time of Turkey's Fatih Erdin.
Watch Taylor win the prestigious Yarygin via pinfall:
W Aleksander Gostiev (AZE) 12-2
W David Khutsishvili (GEO) 11-1
W Masao Matasusaka (JPN) 12-2
W Pawan Kumar (IND) 10-0
In helping the United States win the World Cup for the first time in over 15 years, he teched all four of his opponents, including multiple-time European medalist Aleksander Gostiev.
2018 Pan Am Championships
W Yurieski Torreblanca Queralta (CUB) 3-2
W Julio Rodriguez Romero (DOM) pinfall
W Pool Ambrocio Greifo (PER) 11-0
W Eduardo Garjardo Meneses (CHI) 12-2

Taylor once again had a tight one with Torreblanca Queralta. The Cuban will likely be right in the mix for a medal at the world championships in Budapest, Hungary, and is exactly the kind of opponent Taylor will need to defeat to win his first gold medal.