2018 UWW World Championships
World Championships Preview: 65 Kilograms
World Championships Preview: 65 Kilograms
Our preview of the 65 kilogram weight class in the men's freestyle division of the UWW 2018 World Championships in Budapest.
Oct 16, 2018
by Andrew Spey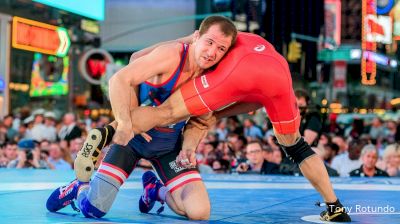 Unlock this video, live events, and more with a subscription!
Get Started
Already a subscriber? Log In
Unlock this article, live events, and more with a subscription!
Get Started
Already a subscriber? Log In
Budapest has been good to America's 65 kg world team member. Logan Stieber was at the 2016 World Championships, also held in the capital of Hungary, which featured only non-Olympic weights. Stieber surprised many, but perhaps less here in the States, by winning the 2016 61 kg championship.
Can Stieber strike gold once again, now up a few kilos to 65? He'll have a lot of credentialed company, as 65 is yet again one of the deepest and most competitive weight classes at the wrestling world championships.
Men's Freestyle International Rankings: 65 kilograms
The Contenders
#1 Magomedmurad Gadzhiev, Poland
#2 Haji Aliyev, Azerbaijan
#4 Vladimir Khinchegashvili, Georgia
#5 Takuto Otoguro, Japan
#6 Akhmed Chakaev, Russia
#7 Bajrang Punia, India
#9 Logan Stieber, USA
#11 Alejandro Valdes, Cuba
If you needed any more proof that 65 is going to be monstrous in Budapest, this long list of legit gold medal contenders should be all you need.
Gadzhiev down at 65 kg may be a surprise, but if last year's runner-up at this weight class can still make the cut despite the new weigh-in rules, he is going to be hard to stop.
Haji Aliev and Khinchegashvili are going in the other direction, at least as far as kilograms are concerned. They are both bumping up, now up two weight classes from the 2016 Olympics where they both won medals at 57 kg. Aliev won Rio bronze while Khinche claimed gold. Khinche has another world championship gold at 57 kg from 2015 but was felled by Aliev in the finals of the 2017 World championships at 61 kg. Aliev also has gold medals at the 2014 and 2015 World Championships at 61 kg.
Otoguro has two cadet world championship medals to his name is part of massive youth wave coming out of Japan that is poised to hit their peak competition years right around the 2020 Olympic Games, which just so happen to be taking place in Japan.
Akhmed Chakaev won the Russian spot thanks to his countryman Ilyas Bekbulatov's mercurial habit of forfeiting out of Russian Nationals. Nonetheless, Chakaev has plenty of hardware to his name, including a world bronze at 61 kg in 2016 and a gold medal from the 2017 Yarygin.
Bajrang Punia could be India's best hope for a medal in Budapest. He's won the Tblisi Grand Prix and Yasar Dogu this year, though both at 70 kg.
Steiber, of course, has the world championship title at 61 kg from two years ago, while Valdes has a bronze from Paris at 65 kg. Steiber recently got the better of Valdes in the semifinals of the 2018 Pan-Am Championships via pinfall, although the match was very close up until the final 10 seconds when the fall was called.
Other Men's Freestyle Previews: 57 | 61 | 70 | 74 | 79 | 86 | 92 | 97 | 125
Other Names To Note
Last year's champ, Zurab Iakobishvili of Georgia, is up at 70 kg. Neither Soslan Romanov nor Togrul Asgarov, the two 65 kg finalist from Rio, made their respective teams, and so those are names you don't have to worry about, at least for now.
Edinboro All-American David Habat will be wrestling for Slovenia, as he has since 2015. He's won a 2017 European bronze and is part of the Cliff Keen Wrestling Club's stable of American internationals.
Iran once again does not have a proven gold medal contender. Instead of going with one of the Nasiri's (no clue if there is any relation) Mehran or Meisam, Iran will send 2018 junior world silver medalist Amir Maghsoudi. Although not as experienced as either Nasiri, consider the lack of recent success from the former two wrestlers --or any other 65 kg since Ahmad Mohammadi for that matter-- there is little harm in giving youth a chance.
Selahattin Kilicsallayan of Turkey earned himself the #1 seed based on the new UWW point system. Despite the seed he would still be considered a dark horse to win it all.
How Stieber Got To Budapest
Stieber was upset by Missouri All-American stud Jaydin Eierman at the U.S. Open. Stieber was able to battle back for third, but that loss in the quarterfinals meant Stieber would have to wrestle in the World Team Trials Challenge tournament in Rochester, MN. Stieber won all six of his matches in Minnesota, including two straight against Eierman in the best of three finals, punching Stieber's ticket for Final X.
Stieber would face off against fellow Buckeye Joey McKenna in the best-of-three series in State College, PA. Although McKenna would give his more experienced mentor a battle in their first match, by the end of the second there would be no doubt, and Steiber would win two in a row to secure another spot on the USA world team.
Stieber vs McKenna Final X match 1: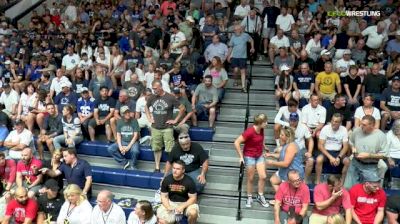 Unlock this video, live events, and more with a subscription!
Get Started
Already a subscriber? Log In
Stieber vs McKenna Final X match 2: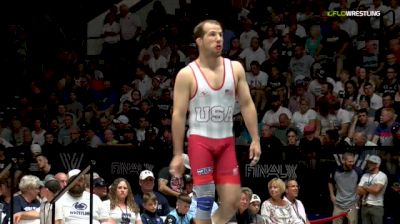 Unlock this video, live events, and more with a subscription!
Get Started
Already a subscriber? Log In
How Stieber Can Win It
The new same-day weigh-ins and two-day tournament format should help Stieber, who has plenty of experience with these procedures thanks to his extensive collegiate career.
Stieber has also proved he can excel among the best of the best on the biggest annual stage in wrestling. The Ohio native vanquished a murderers' row of 61 kilogrammers in 2016, besting Vasyl Shuptar of Ukraine, Chakaev, Behnam Ehsanpour of Iran, and Beka Lomtadze of Georgia in that order to claim world gold.
One of Stieber's biggest strengths his, well, his strength. That horsepower is then applied to one of the best par terre games in the world, as Stieber transitioned his patented arm bar series from folkstye to freestyle seamlessly. Stieber has been known to give up early leads, but the ability to rack up consecutive exposure points means he his never out of it. That top game will be the key to Stieber finding his way back to the top of the international podium.
Predictions
Gold: Vladimir Khinchegashvili, Georgia
Silver: Alejandro Valdes, Cuba
Bronze: Haji Aliyev, Azerbaijan
Bronze: Logan Stieber, USA
The 65 kg brackets are scheduled to be released Saturday, October 20 before 1:00 PM ET. The Preliminary rounds are scheduled to begin at 4:30 AM ET on Sunday, October 21, and the finals are set for Monday, October 22 at 12:00 PM ET