2018 UWW World Championships
World Championships Preview: 97 Kilograms
World Championships Preview: 97 Kilograms
Our preview of the 97 kilogram weight class in the men's freestyle division of the UWW 2018 World Championships in Budapest.
Oct 17, 2018
by Andrew Spey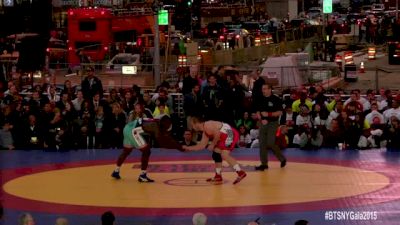 Unlock this article, live events, and more with a subscription!
Get Started
Already a subscriber? Log In
Snyder vs Sadulaev Part II. Captain America vs the Dagastani Destroyer. One, handy with the lawn mower; the other, an expert with the plow. These are humble, salt of the earth people, but also the baddest men on the planet.
Will we get to see the epic rematch between two of the pound-for-pound best wrestlers in the universe which we've all been pining for? We will have to tune in to find out!
Men's Freestyle International Rankings: 97 kilograms
The Contenders
#1 Kyle Snyder, USA
#2 Abdulrashid Sadulaev, Russia
We hope you weren't expecting a long list here. Abdulrashid Sadulaev's career results at senior level World and Olympic Championships have been gold, gold, gold, and silver, from 2014 to 2017. Kyle Snyder's career results at senior level World and Olympic Championships have been gold, gold, and gold, from 2015 to 2017. Both were champs in Rio, but there could be only one when they entered the same 97 kg bracket in Paris.
That was that kinda sorta famous match that Snyder won, clinching the first American team freestyle world championship in over 20 years.
Regardless of who you were rooting for, it was pretty cool. Here's to hoping we all get to witness part II.
Other Men's Freestyle Previews: 57 | 61 | 65 | 70 | 74 | 79 | 86 | 92 | 125
Other Names To Note
The biggest landmine, for either Sadulaev or Snyder, but especially Snyder, is Aslanbek Alborov of Azerbaijan. Alborov has two wins over Snyder, one at the 2017 World Cup and most recently at the 2018 Yasar Dogu. Snyder has wins over Alborov at the 2016 World Cup and the 2017 World Championships. Comparing overall careers would indicate Snyder is still the favorite in a potential rematch, but its one that Snyder would not want to take lightly.
Elizbar Odikadze has the unlucky distinction of being perhaps the best wrestler yet to win a world or Olympic medal. He's finished fifth at the 2014, 2015, and 2017 Worlds and the 2016 Olympics. He has, at least, won four medals at the last four European championships. That's like losing in the bloodround in four straight NCAAs.
Aleksandr Husthyn of Belarus and Pavlo Oliinyk formerly of Ukraine, now competing for Hungary, are both veterans who have very long and impressive resumes.
One of the wrestlers that made the decision for Oliinyk to transfer to Hungary (or at least made it easier to justify) is the young Murazi Mchelidze of Ukraine, who placed at the 2017 U23 World Championships and the 2018 Medved.
Albert Saritov of Romania and Magomed Ibragimov of Uzbekistan, the ageless duo of Rio bronze medalists who are both somehow still competing and winning medals, are also guys to keep on your radar.
How Snyder Got To Budapest
A gold medal in Paris is worth one free pass to Final X, assuming you stay at the same weight class, which Snyder did.
Snyder wrestled in the first Final X in Lincoln, Nebraska against Kyven Gadson, an NCAA champion at Iowa State and the only person to ever beat Snyder at the NCAA tournament. Snyder took the best-of-three series handily, winning two straight matches in dominant fashion.
Snyder vs Gadson Final X match 1: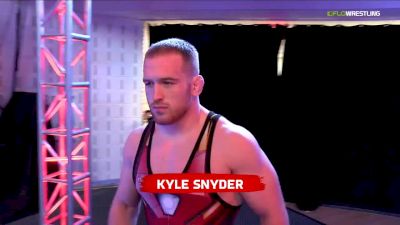 Unlock this video, live events, and more with a subscription!
Get Started
Already a subscriber? Log In
Snyder vs Gadson Final X match 2: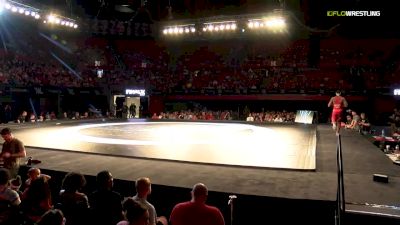 Unlock this video, live events, and more with a subscription!
Get Started
Already a subscriber? Log In
How Snyder Can Win It
By doing what Snyder has been doing, which has obviously worked pretty well over the last three years.
What really gives one confidence when consider KySny is seeing how he handles losses and talks about competition. Snyder's goal is to simply to be the best possible wrestler possible, allowing him to quickly internalize the result of his last match, win or loss, and prepare for the next one.
Kyle is still incredibly competitive, of course, and we don't want to paraphrase him incorrectly. No matter how one interprets his interviews, though, one can't but be enthused by his chances at winning gold in Budapest.
Technically, you can expect an incredibly high pace that is maintained throughout the match, with snap down go-behinds and snatch single-leg takedowns to do the majority of the scoring for Snyder.
Unfortunately, the new UWW seeding system, though improving and moving in the right direction, did not ensure that Snyder and Sadulaev will meet in the finals, as neither earned enough points to snag one of the top four seeds. However, it's a good bet these two will meet at some point. If it's in the finals, then Snyder has to maintain composure and handle business as usual. If it's before the finals, then Kyle still has to do that against Sadulaev and then also not lose sight of his next opponent.
Predictions
Gold: Kyle Snyder, USA
Silver: Abdulrashid Sadulaev, Russia
Bronze: Aslanbek Alborov, Azerbaijan
Bronze: Elizbar Odikadze, Georgia
The 97 kg brackets are scheduled to be released Sunday, October 21 before 1:00 PM ET. The Preliminary rounds are scheduled to begin at 4:30 AM ET on Monday, October 22, and the finals are set for Tuesday, October 23 at 12:00 PM ET