2018 UWW World Championships
World Championships Preview: 125 Kilograms
World Championships Preview: 125 Kilograms
Our preview of the 125 kilogram weight class in the men's freestyle division of the UWW 2018 World Championships in Budapest.
Oct 16, 2018
by Andrew Spey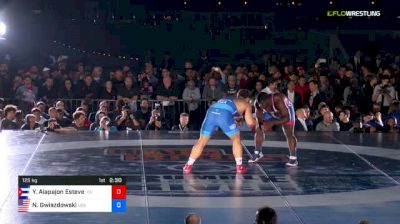 Unlock this article, live events, and more with a subscription!
Get Started
Already a subscriber? Log In
Two men have dominated this weight class over the last several years, one from Turkey and one from Georgia. Both of them are huge. Nick Gwiazdowski's mission, which he has already chosen to accept, is to use his superior training, tactics, and skill, to take down these two behemoths and anyone one else who stands in the way between him and a senior freestyle gold medal.
Men's Freestyle International Rankings: 125 kilograms
The Contenders
#1 Taha Akgul, Turkey
#2 Geno Petriashvili, Georgia
With absolutely zero disrespect to the rest of the international men's freestyle heavyweight division, this is a two-person weight class. The last man to win a world or Olympic gold not named Taha Akgul or Geno Petriashvili was Russia's legendary Khadzhimurat Gatsalov back in 2013 when the weight class was still 120 kg. Taha and Geno both won bronze that year, coincidentally also in Budapest
Akgul has won two world gold medals, an Olympic gold, and six European titles. Petriashvili has one world gold, one European title, and a heap of different-colored world and continental medals. The two have met three times in a little over one year's time, with Taha holding a two-to-one advantage.
Unfortunately, the new UWW seeding process is still in its infancy, and neither Akgul nor Petriashvili secured either of the top two seeds, so we won't know if and when these two will meet at the in Budapest until after the brackets are released.
Other Men's Freestyle Previews: 57 | 61 | 65 | 70 | 74 | 79 | 86 | 92 | 97
Other Names To Note
Since winning a bronze medal at the Paris Worlds, Nick Gwiazdowski has been quietly amassing a quality collection of elite international medals. He won Pan-Ams, then took bronze at both the prestigious Ivan Yarygin and Yasar Dogu tournaments. Those three medals were enough to secure the #1 seed based in the new UWW point system.
Gwiz will have plenty of company looking to upset one of the two current giants of the division, however. Oleksandr Khotsianivski of Ukraine will be one of the top competitors in Budapest. Oleks has emerged as a top contender, winning the Yasar Dogo and placing fifth at the Medved.
Parviz Hadi of Iran will try and fill the successful shoes of Komeil Ghasemi, a two-time Olympic medalist who has not been active lately. Jamaladdin Magomedov of Azerbaijan, on the other hand, has been staying as busy as always. The savvy vet would like to get back on the podium at a world championship for the first time since 2015.
David Modzmanashvili of Uzbekistan and Levan Berianidze of Armenia, both originally from Georgia, are also capable of making some noise in the heavyweight bracket.
How Gwiz Got To Budapest
Thanks to that medal from Paris, Gwiz was able to skip the domestic season and wrestle only at Final X in order to win back his spot on the world team. At Lehigh's historic Snakepit, Gwiz would face off against Adam Coon, who had literally flown into town minutes after winning a spot in Tulsa, Oklahoma, at the USA Greco-Roman world team trials.
Gwiz stopped Coon's dream of making both freestyle and Greco teams, winning in two straight matches in the best-of-three series. Both Gwiz and Coon will be in Budapest attempting to win a medal for the United States.
Gwiz vs Coon Final X match 1: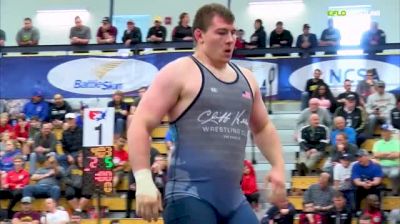 Unlock this video, live events, and more with a subscription!
Get Started
Already a subscriber? Log In
Gwiz vs Coon Final X match 2:
Unlock this video, live events, and more with a subscription!
Get Started
Already a subscriber? Log In
How Gwiz Can Win It
The heavyweight division is all about size, that has always been the case. But there are ways to mitigate the advantages of the gargantuan Akgul and Petriashvili. Gwiz is unique among heavyweights in his ability to go underneath and hit low-level shots. Most heavyweights will have a sweep single or ankle pick of some sort — Taha and Geno will both utilize them — but Gwiz's variety and propensity to go low at 125 kg is unrivaled.
If Gwiz can keep a high pace, outwork his opponents, and then get to his low shots and wide variety of finishes, he can do what few have been able to in this last Olympic cycle and break the stranglehold Geno and Taha have at the top of the freestyle heavyweight division.
Predictions
Gold: Taha Akgul, Turkey
Silver: Jamaladdin Magomedov, Azerbaijan
Bronze: Geno Petriashvili, Georgia
Bronze: Nick Gwiazdowski, USA
The 125 kg brackets are scheduled to be released Friday, October 19 before 11:00 AM ET. The Preliminary rounds are scheduled to begin at 4:30 AM ET on Saturday, October 20, and the finals are set for Sunday, October 21 at 12:00 PM ET