2018 UWW World Championships
World Championships Preview: 92 Kilograms
World Championships Preview: 92 Kilograms
Our preview of the 92 kilogram weight class in the men's freestyle division of the UWW 2018 World Championships in Budapest.
Oct 16, 2018
by Andrew Spey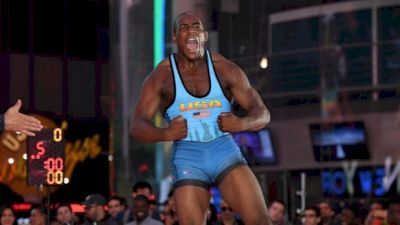 Unlock this video, live events, and more with a subscription!
Get Started
Already a subscriber? Log In
Unlock this article, live events, and more with a subscription!
Get Started
Already a subscriber? Log In
92 kg is one of the two new weights added to the slate of competition. With 79 and 92 kg included in this year's freestyle tournament, the World Championships will have ten brackets for the first time since 1995.
American J'den Cox will be seeking his third consecutive world or Olympic medal, having earned a bronze in Rio and Paris in 2016 and 2017 respectively. Can the young Missourian make it three-for-three in Budapest? He'll definitely have a shot, but a bevy of international hammers will all have designs on stopping him.
Men's Freestyle International Rankings: 92 kilograms
The Contenders
#1 Batyrbek Tsakulov, Russia
#2 Sharif Sharifov, Azerbaijan
#6 Dato Marsagishvili, Georgia
#7 J'den Cox, USA
#7 (97) Alireza Karimi, Iran
Russian Nationals is such an important tournament because it is the prime determinant for choosing Russia's national team. Sometimes the coaches go off script, but for the vast majority of the time, the winner of Russian Nationals will be at the World Championships. And because Russia is so deep, it's an important tournament to follow for international fans, as whoever wins that tournament is instantly part of the gold medal mix, even if the RusNats winner is otherwise not well known.
Case in points, Batyrbek Tsakulov, a young talent from the North Ossetia region of the Russian Federation. Tsakulov beat the favorite in the finals ofthe 2018 Russian Championships, #3 Anzor Urishev. Tsakulov followed that tournament up by winning the Ziolkowski Tournament in Poland over #6 Dato Marsagishvili, locking in the young Ossetian on the Russian squad and making him one of the favorites in Budapest.
Marsagishivili has been in the mix for a while, winning bronze at the 2011 World Championships and then bronze again at the London Olympics. Dato proved he still had his chops by beating J'den Cox 5-0 at the 2018 World Cup in Iowa City.
J'den has a fairly impressive hit list to his name, however, and winning consecutive bronze medals at the Rio Olympics and 2017 World Championships has more than proven J'Den's bona fides.
Alireza Karimi looked poised to be the next big thing for Iranian upper weights after he took bronze at the 2015 World Championships in Las Vegas, however, Karimi hasn't been able to put it all together since. But despite having lost to J'den at both the 2016 World Cup and the Rio Olympics, Karimi is a talent anyone in the bracket would be foolish to overlook.
Other Men's Freestyle Previews: 57 | 61 | 65 | 70 | 74 | 79 | 86 | 97 | 125
Other Names To Note
Like it's counterpart 79 kg, 92 is a new weight class, and a lot of the names you see in this bracket will have spent plenty of time competing at 86 kg or lighter weight classes.
Turkey had several quality options to go with at this weight, like Ibragim Bolukbasi, so Serdar Boke's inclusion in the Turkish starting lineup speaks volumes to the coaches' confidence in his ability. Boke is definitely capable of making a deep run in Budapest.
Nicolae Ceban of Moldova is a savvy veteran who won a junior world silver way back in 2006, but has yet to find the podium at a senior world championship. Still, Ceban has qualified for two Olympics in his day and Eastern European upper weights often have long careers that see them slip back into relevance after long periods of unremarkable competition.
Additionally, as this is a brand new weight class, expect some new wrestlers to make names for themselves at the sport's biggest annual event.
How J'den Got To Budapest
Despite being a returning medalist, Cox was changing weights, and thus had to enter the domestic qualification process the same as everyone else at 92 kg. Cox made light work of the 92 kg field at the U.S. Open, winning all three matches without surrendering a point. This earned Cox a bye to Final X.
In Bethlehem, Pennsylvania, J'Den would wrestle-off in a best-of-three series with his Open finals opponent, Hayden Zillmer. The All-American from North Dakota State proved no match for Cox, who won two straight matches, emphatically securing his third straight world or Olympic team in a furious, cyclonic leg lace for a tech-fall at the end of the second match.
J'den vs Zillmer Final X match 1: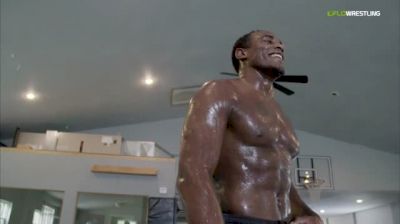 Unlock this video, live events, and more with a subscription!
Get Started
Already a subscriber? Log In
J'den vs Zillmer Final X match 2: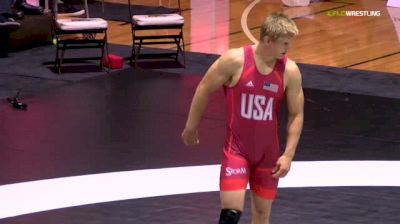 Unlock this video, live events, and more with a subscription!
Get Started
Already a subscriber? Log In
How J'den Can Win It
J'Den has all the necessary tools to stand at the top of the podium, he just needs to put together a complete tournament. J'den has had his best matches when wrestling for bronze, beating Cuba's Reineris Salas in Rio and Bulgaria's Mihail Ganev in Paris. In both instances, however, Cox had his worst match immediately preceding the bronze medal match, losing to Turkey's Selim Yasar in Rio and Slovakia's Boris Makoev in Paris, both in the semifinals.
We've all seen J'den do alien-things on the mat. Disappearing his leg on a shot, re-attacking with glitch-in-the-matrix type speed, doing the splits while fending off some of the strongest athletes in the world. If J'den puts the best version of himself on the mat in every match, then he'll get to his offense against everyone and remain untouchable with his defense, making himself the toughest guy in the bracket to beat.
Predictions
Gold: Batyrbek Tsakulov, Russia
Silver: Dato Marsagishvili, Georgia
Bronze: J'den Cox, USA
Bronze: Sharif Sharifov, Azerbaijan
The 92 kg brackets are scheduled to be released Saturday, October 20 before 1:00PM ET. The Preliminary rounds are scheduled to begin at 4:30AM ET on Sunday, October 21, and the finals are set for Monday, October 22 at 12:00PM ET