2018 Final X - Lehigh
J'den Cox's Remarkable Hit List
J'den Cox's Remarkable Hit List
J'den Cox will try to make his third straight world team this Saturday at Final X. Before he does, let's review some of his most impressive victories.
Jun 22, 2018
by Andrew Spey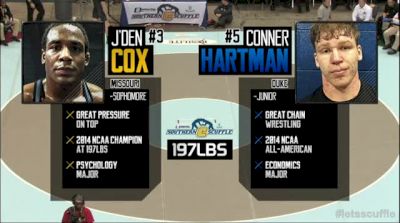 Three-time NCAA champion J'den Cox is a proven performer. He's made the last two world teams and earned a bronze medal in both years, first at the Rio Olympics in 2016 and last year at the Paris World Championships.
Cox will look to go 3 for 3 this Saturday at Final X, this time at the new UWW weight of 92kg. However, before he takes on Hayden Zillmer at the Snake Pit in Bethlehem, PA, let's peruse his incredible career and highlight his most impressive victories.
Cox is a Mizzou legend, collecting three national titles and four NCAA All-American awards without taking a redshirt.
There's no way to win three national tournaments without amassing a sizable collection of quality wins. Let's run down a—hopefully—complete list of his All-Amercian wins while Cox wore a Tigers singlet.
Brett Pfarr, Minnesota
Jared Haught, Virginia Tech
Nick Heflin, Ohio State
Morgan McIntosh, Penn State
Kollin Moore, Ohio State
Nathan Burak, Iowa
Conner Hartmann, Duke
Willie Miklus, Missouri
Brett Harner, Princeton
Nolan Boyd, Oklahoma State
Ryan Wolfe, Rider
Preston Weigel, Oklahoma State
Chris Penny, Virginia Tech
Aaron Studebaker, Nebraska
Kevin Beazley, Old Dominion
Jacob Holschlag, Northern Iowa
Watch Cox cap off his storied collegiate career with an NCAA finals victory over two-time All-American Brett Pfarr in his home state of Missouri at the 2017 nationals in St. Louis.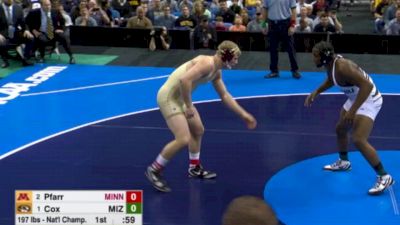 Unlock this video, live events, and more with a subscription!
Get Started
Already a subscriber? Log In
Cox is not one to rest on his laurels, and shortly after securing his second of three NCAA championships with a victory over Penn State's three-time All-American Morgan McIntosh in March 2016, Cox was in the Olympic Team Trials fighting for a spot on the squad that would head to Rio.
Cox ran the gauntlet in a stacked bracket contested in Iowa City. A hard fought 7-7 win by criteria over NCAA finalist Clayton Foster would set the tone for the rest of the trials. Cox's next match was a victory over world silver medalist and two-time NCAA champ Jake Herbert. That just got Cox a match with another world team member and NCAA champ in Keith Gavin in the semis. Cox would again prevail to earn a date with Kyle Dake in the best two-out-of-three finals.
Dake would give Cox everything he wanted and more, but it was Cox who would earn the spot, beating Dake in the series two matches to one.
Watch Cox make the Olympic team in the decisive third match of the trials:
Cox still had to qualify the weight for Team USA if he was going to earn a trip to Brazil. In the first Olympic Qualifying Tournament held in Mongolia just a few weeks later, Cox did just that, beating Pedro Ceballos of Venezuela in the finals to punch his ticket to Rio.
Cox's busy 2016 summer was just getting started, though. At the annual Beat the Streets event in May in New York City, Cox bested Meisam Joukar, an Asian and University world champ.
Watch the action from Times Square as Cox wins his match at the 2016 Beat the Streets: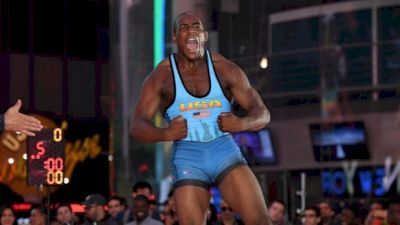 Unlock this video, live events, and more with a subscription!
Get Started
Already a subscriber? Log In
Still, prior to Rio, Cox managed to squeeze in an appearance at the 2016 World Cup in Los Angeles. Cox went 3-1 at the event, beating four-time European medalists Aleksander Gostiev of Azerbaijan and two-time Asian champ and world bronze medalist Alireza Karimi of Iran.
Finally, Cox and Team USA were ready for Rio. Cox beat Karimi yet again in the quarterfinals before getting stopped by Turkey's Selim Yashar in the semis. In the repechage, Cox bested three-time world medalist Reineris Salas of Cuba for the coveted Olympic bronze medal.
And that was all before Cox's senior year at Missouri!
So after another NCAA title, this time following a perfect 28-0 season—and a 130-6 career—Cox was back on the freestyle senior circuit full-time.
As a returning medalist, Cox was able to sit out the 2017 World Team Trials until the challenge tournament finals, where he would face the formidable David Taylor, who had grown into 86kg and was on a roll internationally.
That best two-of-three finals would turn out to be one for the ages. Taylor won the first match comfortably 9-3. But Cox would rally to win the second in a near run 4-3 nail-biter.
The decisive third match was fraught with drama. Taylor was trying to make his first-ever world team and had to contend not only with Cox's alien wrestling abilities but also a slippery sweat-soaked mat. There were stoppages to dry the mat, stoppages to dry Cox, and a stoppage to tend to an injury to Cox that almost kept him from finishing the match. But ultimately it was Cox who had his hand raised to make his second consecutive world team.
Watch Cox win the world team trials in Lincoln, NE, in memorable fashion: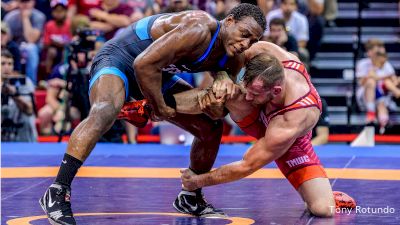 With a banged-up knee from the grueling trials matches, Cox sat out the summer competitions leading up to the 2017 World Championships in Paris. But once there, Cox again came through with a medal—another bronze. To earn that hardware Cox had to beat Mihail Ganev, a Bulgarian world champion, in the bronze medal match.
After Paris, Cox decided to take advantage of the new 92kg weight class and move up, with same-day weigh-ins making his cut to 86kg untenable. A silver medal at the Outstanding Ukranian International tournament, a 1-2 record at the 2018 World Cup, and a win over Yurieski Torreblanca of Cuba at the Beat the Streets event is how Cox eased into his new weight class internationally.
Since he moved into a new weight, Cox wasn't eligible to sit out the trials challenge tournament and had to earn his spot in Final X at the U.S. Open. Cox mowed down the competition in Las Vegas, going unscored upon in three matches to claim the Open title and a spot in Final X.
But Cox's toughest match at the Open? That would be his Final X opponent Hayden Zillmer, whom Cox beat 2-0 in Vegas.
Has Zillmer made the adjustments necessary to close the gap with Cox? Or will Cox steamroll his way to a third straight world team? We find out Saturday night at Final X - Lehigh!