2018 NCAA Championships
How Many Team Points Will It Take To Win NCAAs In 2018?
How Many Team Points Will It Take To Win NCAAs In 2018?
How many points will it take for Ohio State or Penn State to win the team title this weekend in Cleveland?
Mar 13, 2018
by Wrestling Nomad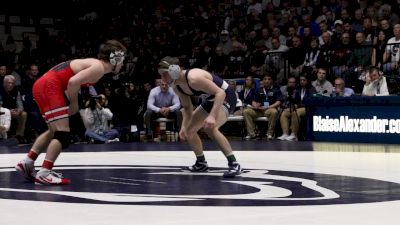 One of the best team races in the history of the NCAA Division I wrestling tournament begins Thursday morning. Penn State and Ohio State will battle for supremacy in Cleveland over St. Patrick's Day weekend, and we won't soon forget it.
We've known all year that these are the top two teams, and it was really just a matter of handling the ups and downs of a long season to see where everyone would be seeded and how the brackets would shake out.
Entering the tournament, based purely on seeds and excluding bonus points, OSU projects to score 125 points and PSU projects to score 112 points. But we all know seeds won't hold, people will over or underperform their seeds, and bonus points could come in bunches for both squads.
Though the team race was not super exciting last year in that Penn State won by 36.5 points, we got a little taste of what to expect this season. With a combined 256.5 points, it was only the sixth time in NCAA tournament history that the top two teams combined to eclipse 250 points.
The record for combined points by the top two teams? That would be 283.5 between Iowa and Oklahoma State in 1997 when the Hawkeyes set the team record with 170 points and the Cowboys had the fifth-highest point total ever by a team that did not win at 113.5.
So, what could we be looking at from the red and blue teams this weekend? When I analyzed the draws for both teams, I had Ohio State scoring 140 and Penn State scoring 130. Obviously, that is a rough estimate based on the placement of their qualifiers and prognosticating out bonus points. It could all go wrong very quickly.
Last year, we used 10 years of data to show approximately how many points it might take to win the 2017 tournament. This time around, we're going to look at the top 10 scores from teams that did not win the team title.
Best Teams To Not Win NCAAs
2001 Iowa: 125.5 (2nd)
2013 Oklahoma State: 119.5 (2nd)
2012 Minnesota: 117.5 (2nd)
2001 Oklahoma State: 115.5 (3rd)
1997 Oklahoma State: 113.5 (2nd)
1982 Iowa State: 111 (2nd)
2013 Minnesota: 110.5 (3rd)
2017 Ohio State: 110 (2nd)
2000 Iowa State: 109.5 (2nd)
1982 Oklahoma: 109 (3rd)
So four of the top 10 teams point-wise to not win NCAAs came in the Cael Sanderson era at Penn State. And after this weekend, the 2001 Iowa team will no longer be the highest-scoring team to not win a team title.
The way both team's seeds look, as well as their penchant for bonus, should push them over 130 by the conclusion of the finals. If someone like OSU's Joey McKenna makes the finals, or if PSU's Nick Lee outperforms his seed, it will lock that in even further.
I really think that 130 barrier is about what it's going to take to win this weekend, with a possibility it pushes up above 140. No matter what, this weekend's battle between two super teams will be one for the ages.