2018 NCAA Championships
NCAA Draw Analysis: Ohio State
NCAA Draw Analysis: Ohio State
Analyzing the draws and point potential for all 10 Ohio State wrestlers who qualified for the 2018 NCAA tournament in Cleveland.
Mar 9, 2018
by Wrestling Nomad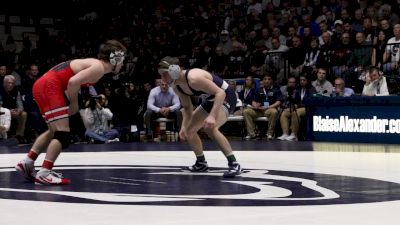 Unlock this article, live events, and more with a subscription!
Get Started
Already a subscriber? Log In
The 2018 NCAA tournament in Cleveland is imminent, and Ohio State State once again enters as one of the favorites to win.
Now that brackets are out, we wanted to do a rundown of the draws for each of the top teams. Based purely on preseeds and not factoring in any bonus points, the Buckeyes project to win the team title with 125 points next Saturday, ahead of Penn State's 112.
Ohio State coach Tom Ryan and his staff qualified every weight, and nine Buckeyes received top seven seeds. Having nearly an entire team of All-Americans would be necessary to beat PSU and its top-heavy middleweights.
What we're doing here is doing a deep dive on the draws for Ohio State, and giving a range of projected point totals. Obviously, the range is 0-30 for every wrestler in the tournament, but we try to give a realistic picture of how many points each could score.
125: Nathan Tomasello, SR
There are four national title contenders at 125, and only two of them have ever wrestled an NCAA tournament match. Tomasello is the two seed after winning Big Tens and appears to be wrestling the best he has all season.
NaTo's bonus points will likely come on Thursday, as after that he'll get in some battles. I think he ends the year the same way he started it, ranked #1. That being said, his floor is to finish fourth.
On Friday, he'll have to win a tight one in the quarterfinals against either Sebastian Rivera or Taylor LaMont. Then the big one, the rubber match with true freshman Spencer Lee of Iowa. In each of the past two seasons, Tomasello has lost in the semifinals to a Hawkeye: Thomas Gilman in 2016 and Cory Clark last year.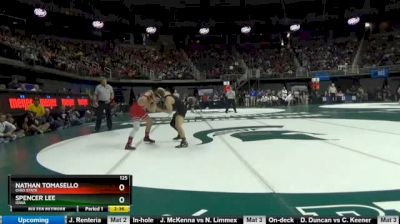 There's no doubt NaTo can win again. It's just a matter of being himself for five matches and taking out strong competition such as Nick Suriano, whom Tomasello has never wrestled, and Darian Cruz, whom he had several excellent battles with in high school.
Range of Points
14-23
133: Luke Pletcher, SO
There is no one seeded as high as Pletcher is (third) with such a low bonus rate. His team points will come in the form of advancement and placement. On Friday morning, we'll see him against returning All-American and EIWA champ Scotty Parker of Lehigh. Parker is good on top and might be able to withstand Pletcher's positioning and throw-by attempts.
Should Pletcher win, he'd see Stevan Micic for the third time this season. Although Pletcher won the first one in Las Vegas in December, the Micic we saw in East Lansing, Michigan, last weekend could beat anyone in the country, maybe even Seth Gross. On the other hand, a loss to Parker would leave him with either Jack Mueller or Austin DeSanto.
Pletcher seems to be able to land anywhere from third to the round of 12. He's been too good this year to not finish as an All-American, but I think he still underperforms his seed. Placing high will be crucial to the Buckeyes' team title hopes.
Range of Points
3-13
141: Joey McKenna, JR
Just like Tomasello, Joey McKenna missed the first part of the year but has turned it on late. He went unscored upon at Big Tens and this season has wins over five seed Kevin Jack and eight seed Nick Lee.
McKenna was third as a freshman and did not place last year, so there's a pretty big range of where he could place. Looking at his draw this year, he should cruise to the quarters and maybe even get some bonus along the way. Once there he'll face Jack, and I think we'll see a similar match to McKenna's 6-2 win in the final dual of the year.
In the semis, he'd see top seed Bryce Meredith. In the 2016 NCAA semis, Meredith won 5-3, and then McKenna returned the favor 3-1 in last year's CKLV finals. So there's no reason McKenna couldn't make his way to the finals and could even win it.
If McKenna loses to Jack in the quarters, he could see Tommy Thorn on the backside yet again, who has pinned and majored him the past two years. If he loses in the semis to Meredith, he'd see a guy like Yianni Diakomihalis or Dean Heil in the consi semis.
Range of Points
5-21
149: Ke-Shawn Hayes, SO
On paper, Ke-Shawn Hayes has a tremendous draw to the semis and then runs into Zain Retherford. Hayes should be able to handle Malik Amine right out of the gate and then either Ryan Blees or Michael Sprague on Thursday night, possibly even picking up a couple majors in the process.
On Friday morning, Hayes will see Troy Heilmann, the same Heilmann whom he was beating 6-0 at CKLV before ultimately losing. Their high school and college careers point to Hayes being the favorite again, but Heilmann beat him once so he may do it again.
The difference in beating Heilmann is huge. Lose and he'll face someone like Ryan Deakin or Jason Tsirtsis. Win and he already places, then moving on to one of those guys or possibly Grant Leeth, Matt Kolodzik or Justin Oliver.
Overall, I think Hayes has a great draw and, moreover, the ability to wrestle approximately at or above his seed.
Range of Points
8-16
157: Micah Jordan, JR
The weight class that we knew would be a seeding mess shook out a certain way, and that way leaves Micah Jordan losing anywhere from the quarterfinals to the finals. Could he lose to returning NCAA finalist Joey Lavallee? Of course. Could he lose to Jason Nolf or Michael Kemerer after nearly two weeks of time to heal? Seems possible. Could he beat Lavallee and a not 100 percent Nolf or Kemdawg? Absolutely.
I'm going conservative and projecting a loss to Lavallee, but Jordan then makes it out of the bloodround. He'd once again have either Nolf of Kemerer, so I think it's possible he goes to seed and winds up seventh. It's difficult to see Jordan not being an AA, with doubt he cracks the top four.
Range of Points
7-14
165: Te'Shan Campbell, JR
The last Buckeye to qualify also seems like the best bet to not land on the podium. Seeded 13th, Te'Shan Campbell starts off Dawaylon Barnes of Oklahoma and should be able to advance to the second round, where he'll see Chad Walsh of Rider. I have very little confidence Campbell can knock off the fourth-seeded wrestler.
Dropping down, he'd hit Connor Flynn or Jonathan Schleifer in the consi round. Campbell majored Schleifer in a dual in December and should be able to beat him once again. After that, I think Campbell's tournament ends with a loss to Nick Wanzek.
Range of Points
1-2.5
174: Bo Jordan, SR
Talk about a guy who's difficult to gauge. Bo Jordan is trying to become a four-time All-American, having twice exceeded his seeds and placing third, third, and second. He comes in as the six seed after getting pinned in the Big Ten semis by Myles Amine and has a pretty difficult draw. First up is Brandon Womack, an All-American himself last year down at 165lb. Following that is David Kocer, who has beaten All-Americans in the past and is a general pain to wrestle.
After that comes Daniel Lewis in the quarterfinals, who has yet to lose a match this season. Jordan twice beat Lewis in the 2016 season, so it's not impossible he beats him again. But his max on the championship side appears to be the semis, where he'll see Mark Hall.
If Jordan loses to Lewis, I see him beating Keaton Subjeck or CJ Brucki on the backside. I think someone like Taylor Lujan could present problems for Jordan, but he should be able to make it through to the consi semis.
A win over Lewis would mean he'd see Amine or Jordan Kutler in the consi semis, and a loss would mean he'd see one of them as well, just on the opposite side of the bracket. I think BoJo wrestles to seed and finishes as a four-time AA.
Range of Points
10-15
184: Myles Martin, JR
All year Myles Martin has been the clear-cut #2 behind Bo Nickal. In that vein, he'll dominate Thursday with a couple pins or techs. But then Friday morning, he'll have Emery Parker of Illinois. It's difficult to erase the memory of Parker beating Martin 14-9 in the second round last year. Revenge for Martin would mean a second career trip to Friday night's semifinals.
Ryan Preisch, who is extremely patient and strong, gave Bo Nickal one of his toughest matches of the year. He might be able to get Martin out of position, snake a couple takedowns, and possibly even put him on his back. But their career track records favor Martin.
We've seen Martin beat Nickal in the NCAA finals before, but I'm not sure that happens again this year.
Range of Points
18-24
197: Kollin Moore, SO
As heavy as a favorite as Kollin Moore was coming into this season, the 197 landscape is so drastically different now that Moore could finish anywhere from first to sixth, which is typical of this Buckeyes team. Their range of points and finishes is so broad compared to Penn State's projections that the floor is much lower.
It's not so much the Tanner Orndorff and Christian Brunner matches that get people worried. Instead, it's the Preston Weigel and Michael Macchiavello matches on Friday. Macchiavello has already beaten Moore this year, and Weigel is strong and stingy enough to hold off Moore from neutral, as well as being excellent on top.
If he loses either of those, it's the same suspects he'd see on the backside: Ben Darmstadt, Jared Haught, Willie Miklus, and Shakur Rasheed. I still think Moore wins this year but doesn't get much bonus and could slip a few spots below his seed.
Range of Points
12-22
285: Kyle Snyder, SR
The man trying to be the first three-time heavyweight champion since 1989 is closing out his illustrious career in front of Ohio State fans in the Buckeye State. The world and Olympic champ has just one challenger, and they will have a rubber match in the finals.
Adam Coon is the only man to beat Snyder in folkstyle since his finals loss as a true freshman. Coon is also one of the biggest heavyweights in recent memory. Snyder will either end his career atop the podium or just one step below it. Will he finish his low single, or will Coon once again get his body lock?
Range of Points
18-24
The point I've tried to hammer home, and that we've honestly tried to hammer home all year, is that Ohio State's variance makes it hard to predict the team's point total. I anticipate a number of Buckeyes will finish below their seeds, which becomes especially painful if those guys are Kollin Moore and Luke Pletcher.
During Penn State's draw analysis, I also indicated I didn't like some of PSU's draws and projected a few Nittany Lions to underperform their seeds. That is something we basically haven't seen in the Cael Sanderson era and is especially difficult to project with a guy like Jason Nolf right now. So my projection of 130 points could be as many as a dozen or more points under their actual total.
These are two superteams, and it really shouldn't come as a surprise if either wins. I see the Buckeyes getting finalist-like points from Tomasello, McKenna, Martin, Moore, and Snyder. Add that to strong AA finishes from Pletcher, both Jordans, and Hayes, and what's the grand total?
Ohio State Projected Points
140.5