2018 NCAA Championships
The NCAA Team Race Projected Using Seeds
The NCAA Team Race Projected Using Seeds
We took the seeds from the recently released brackets to project the team finish of the 2018 NCAA wrestling championship.
Mar 8, 2018
by Andrew Spey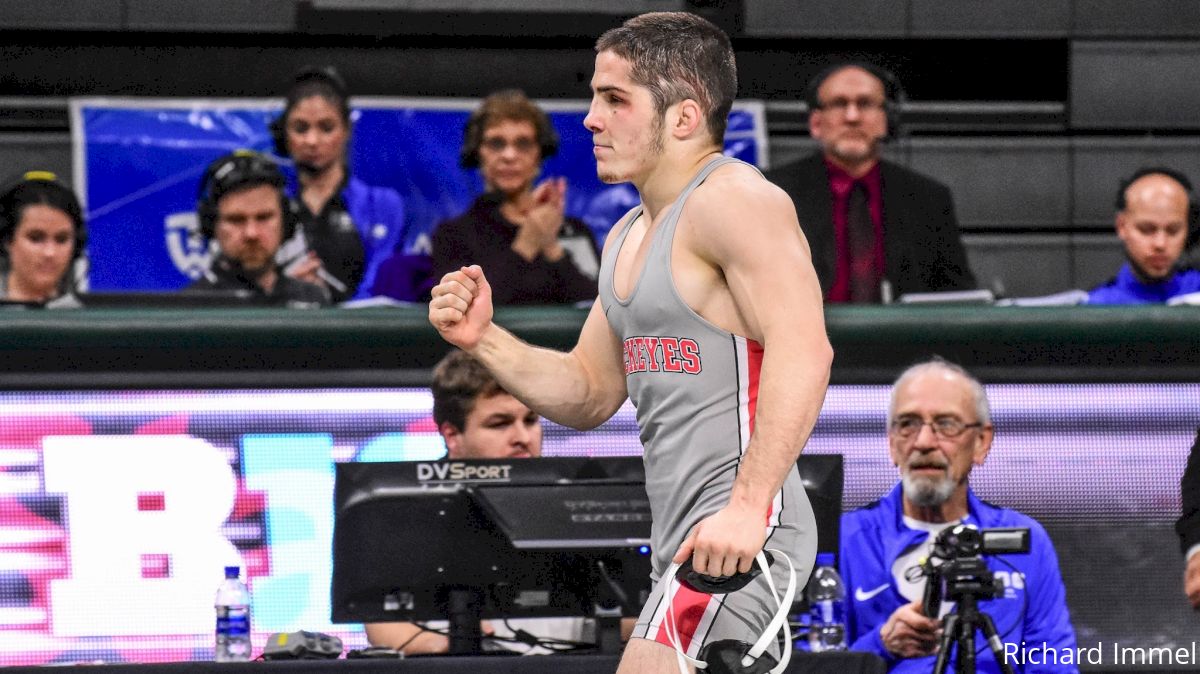 The NCAA recently released the brackets for the 2018 NCAA Championships. We have them on FloArena, which you can check out here. Now that all 160 seeds have been assigned, we can use them to project team scores. So who's going to win the NCAA tournament based on seeds alone? We crunched the numbers in the table below.
A quick note, bonus points and the advancement points scored by the wrestlers who finish from 17th to 24th place are not considered. Still, this should give us a good rough estimate of how the team race could shake out.
| | | |
| --- | --- | --- |
| PLACE | SCHOOL | POINTS |
| 1 | Ohio State | 125 |
| 2 | Penn State | 112 |
| 3 | Missouri | 79.5 |
| 4 | Michigan | 68.5 |
| 5 | NC State | 68 |
| 6 | Iowa | 60 |
| 7 | Lehigh | 56 |
| 8 | OK State | 47 |
| 9 | Arizona State | 44.5 |
| 10 | Virginia Tech | 42.5 |
| 11 | Cornell | 33 |
| 12 | SD State | 29 |
| 13 | Wyoming | 25.5 |
| 14 | Rutgers | 24.5 |
| 15 | Illinois | 24 |
| 16 | UNI | 17.5 |
| 17 | Nebraska | 15.5 |
| 17 | Central Michigan | 15.5 |
| 19 | North Carolina | 14.5 |
| 20 | Duke | 14.5 |
| 21 | Oregon State | 13 |
| 22 | Rider | 12.5 |
| 23 | Purdue | 11.5 |
| 24 | Drexel | 11 |
| 25 | Stanford | 8.5 |
| 25 | Northwestern | 8.5 |
| 27 | Minnesota | 7.5 |
| 28 | Navy | 7 |
| 29 | Utah Valley | 6.5 |
| 29 | Penn | 6.5 |
| 29 | Clarion | 6.5 |
| 29 | Wisconsin | 5.5 |
| 33 | Lock Haven | 5 |
| 33 | Edinboro | 5 |
| 35 | Virginia | 4 |
| 35 | Chattanooga | 4 |
| 37 | Princeton | 3.5 |
| 37 | Maryland | 3.5 |
| 39 | American | 3 |
| 40 | Pittsburgh | 2 |
| 40 | ND State | 2 |
| 40 | Hofstra | 2 |
| 40 | Columbia | 2 |
| 40 | Bucknell | 2 |
| 40 | App State | 2 |
| 46 | West Virginia | 1.5 |
| 46 | Oklahoma | 1.5 |
| 46 | Indiana | 1.5 |
| 46 | CSU Bakersfield | 1.5 |
| 46 | Buffalo | 1.5 |
| 46 | Binghamton | 1.5 |
| 52 | The Citadel | 0 |
| 52 | SIUE | 0 |
| 52 | Old Dominion | 0 |
| 52 | Ohio | 0 |
| 52 | Northern Illinois | 0 |
| 52 | N. Colorado | 0 |
| 52 | Michigan State | 0 |
| 52 | Kent State | 0 |
| 52 | Iowa State | 0 |
| 52 | Harvard | 0 |
| 52 | George Mason | 0 |
| 52 | Gardner-Webb | 0 |
| 52 | Fresno State | 0 |
| 52 | Franklin & Marshall | 0 |
| 52 | Eastern Michigan | 0 |
| 52 | Cleveland State | 0 |
| 52 | Campbell | 0 |
| 52 | Cal Poly | 0 |
| 52 | Brown | 0 |
| 52 | Army | 0 |
| 52 | Air Force | 0 |