2018 NCAA Championships
NCAA Draw Analysis: Penn State
NCAA Draw Analysis: Penn State
Analyzing the draws for all nine Penn State wrestlers who qualified for the 2018 NCAA tournament in Cleveland.
Mar 8, 2018
by Wrestling Nomad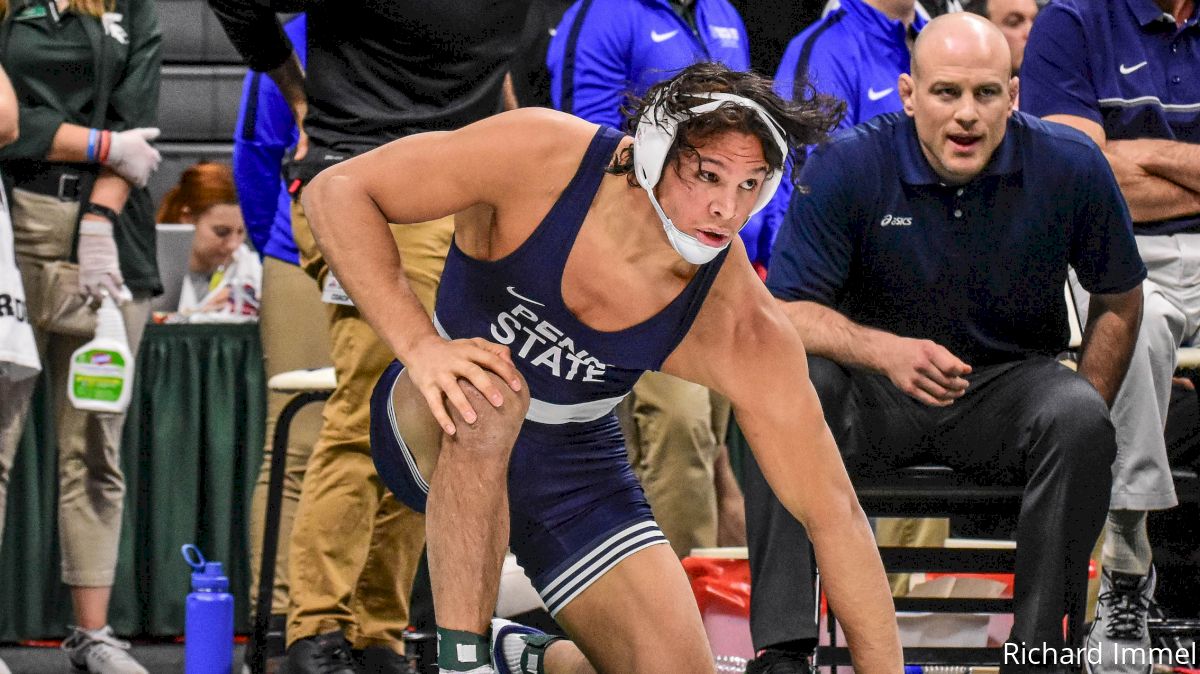 The 2018 NCAA tournament in Cleveland is imminent, and Penn State once again enters as one of the favorites to win.
Now that brackets are out, we wanted to do a rundown of the draws for each of the top teams. Based purely on preseeds and not factoring in any bonus points, the Nittany Lions project to finish second with 112 points, behind Ohio State's 125.
Coach Cael Sanderson and his staff qualified nine weights, with only Carson Kuhn missing out on the big dance. Eight of those nine were seeded, and all who were seeded received Top-8 seeds, meaning everyone from 141 on is projected to be an All American.
What we're doing here is doing a deep dive on the draws for Penn State, and giving a range of projected point totals. Obviously the range is 0-30 for every wrestler in the tournament, but we try to give a realistic picture of how many points each could score.
133: Corey Keener, SR
Even though Corey Keener now attends a different school, he will be wrestling Dom Forys for the third straight year in the NCAA tournament. While at Central Michigan, Forys beat Keener 12-6 and 10-2 the past two years. If he does manage to somehow reverse that, he'll have returning All American and last week's EIWA champ in Scotty Parker.
Assuming the loss to Forys, he'd get the loser of Cam Kelly and Cam Sykora. Keener's only meeting with Kelly he lost and has never met Sykora, who is among the nation's leaders in tech falls:
Range of Points
0-1
141: Nick Lee, FR
The true freshman received an extremely tough draw. In the first round, he should be able to once again major Ryan Diehl like he did in the dual, but after that he'll see Josh Alber. They met in the Southern Scuffle semis, and though Lee wound up winning by a pin, it was a one point match when they ended up in a bodylock position which Lee won.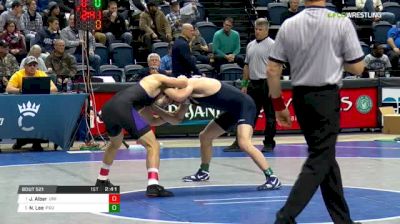 Unlock this video, live events, and more with a subscription!
Get Started
Already a subscriber? Log In
If the Scuffle result gets flipped, he'll have one of the following guys: Brock Zacherl, Chad Red, Tommy Thorn, and Mason Smith. He lost to Zacherl to start the year at the Clarion Open, lost to Chad Red in the Indiana state finals a couple years ago, and has never wrestled Midlands champ Smith. He did, however, major Thorn earlier this year. If he beats Alber once again, he'll see top seed Bryce Meredith, a senior on a mission to win his first NCAA title and Wyoming's first since 1960.
Regardless, he's going to have a gutcheck match to make the All American round. If he makes it to Meredith, he'll have Mikey Carr, who just beat him at Big Tens and rode Lee for over two minutes. If he loses to Alber, he'll see the loser of Yianni Diakomihalis, who has already beaten Lee this year, and Dean Heil, a two-time defending champ wrestling in his hometown. As good as I think Lee is, I'm not sure I see an All American finish this year.
Range of Points
2-4
149: Zain Retherford, SR
This one will be quick and dirty. The Zain Train pins his first three opponents, possibly having to settle for a tech of Max Thomsen or Boo Lewallen.
Saturday night, he's looking at Troy Heilmann or Ke-Shawn Hayes. The last time Heilmann and Retherford met was in November of Zain's sophomore year, which the Nittany Lion won by major. The past several weeks, the reigning Hodge winner has seen Hayes twice, with Zain winning by tech and major. I think a 12ish point major is in play, giving him about 23 points heading in the finals.
It seems like Brandon Sorensen will close out his illustrious career as a four-time All American and two-time finalist. But now doesn't seem like the time he'll pick up his first ever win over Retherford.
Range of Points
26-28
157: Jason Nolf, JR
So, what to do with Nolf? If he wrestles the full tournament, it's hard for me to see him doing anything but winning. But he didn't wrestler the full tournament at Big Tens, and we have nothing to suggest he'll be at 100% for NCAAs. Even with a bum knee, he should be able to beat Colin Heffernan and Andrew Crone.
Then comes one of the most fascinating quarterfinals of all-time. Michael Kemerer was third last year as a freshman, and twice lost to Nolf my large decision margins. But he was held out of duals this year for a knee injury, and med forfeited down to sixth after getting pinned by the Micah Jordan in the Big Ten semis. With neither guy likely at full strength, you have to go on history.
Every year, there are legitimate national title contenders that walk into the NCAA tournament with injuries that derail them, or suffer them while there. If Nolf wins NCAAs, it will something akin to a college version of what Jordan Burroughs did in 2013 at the world championships coming off a broken ankle. But if he doesn't win, there should be no asterisks, because that is just the nature of our brutal sport. In 50 years, the majority people won't remember who was healthy or the circumstances of how the tournament played out. All they'll see are the brackets.
I think he winds up with somewhere along the point total of a guy who gets third with some bonus.
Range of Points
10-20
165: Vincenzo Joseph, SO
I think he can get majors in each of the first two rounds. Jon Schleifer loves to throw underhooks, and will put himself right into Cenzo's over/under positions. He also majored Branson Ashworth in last year's NCAA tournament.
In the quarterfinals, he'll see U23 world champ Richie Lewis, fresh off his third place finish at Big Tens. Joseph's only match with Lewis was in the dual, and a headgear pull helped Richie pull it within one. This is a match the Nittany Lion sophomore could potentially lose, but it seems more likely he'll finish off a decision.
His options in the semis include Logan Massa, Evan Wick, and David McFadden. While he majored Massa in the dual, it is difficult seeing him pick up any bonus. At the beginning of this year, I thought Massa could win the weight, and he looks recovered from the injury he suffered at CKLV. The "Penn State effect" makes me think Joseph will once again eke out a win over the Wolverine, much like the Big Ten semis.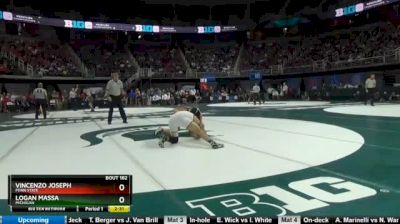 Which leaves him in the finals against Isaiah Martinez. He beat IMar last year, so no reason to think he can't again. Me personally, I'm going with the Illini senior to make it four out of five against Cenzo.
Range of Points
18-22
174: Mark Hall, SO
No reason not to think this incredible finals matchup with Zahid Valencia won't happen. He starts off with Austin Rose of Drexel, which could very likely be either a tech or a pin. Given the health of Nolf that we already went over, those bonus points will be more crucial than ever. The first round match of Johnny Sebastian and Dylan Lydy is one we've seen a bunch over the past two years, but Mark should major the winner of that match in round two.
Friday morning it gets fun. The always difficult to wrestler Taylor Lujan is the seven seed and likely quarterfinals opponent for the reigning NCAA champ; the two have never met in college. Remember, Lujan took down Zahid at CKLV and bombed Jadaen Bernstein there as well. It's hard to see him doing that to Mark, but it seems like every point earned would be off an extended scramble and no back points. The only caveat is that Hall could just be a better version of Lujan and pile up the points, but in my opinion that is a longshot.
Now it takes some prognostication to get Hall's projected semi opponent. Based on this season, you'd have to go with the three seed Daniel Lewis. But based on their only two matches, which occurred during the 2016 season, Bo Jordan is the favorite. Now Jordan will have two tough matches on Thursday in returning All American Brandon Womack and the eternally salty David Kocer. Either way, I think Hall takes the semi by a decision.
On to the final. Zahid vs Hall is coinflip matchup. I like Zahid by a hair and have all season, but Hall did it last year so no shocker if he does it again.
Range of Points
18.5-24
184: Bo Nickal, JR
The nasty Nickal will start off his national tournament with max points, getting back-to-back pins over Martin Mueller and Jordan Ellingwood to make the quarters. He has never wrestled Mueller, and last wrestled Ellingwood back in 2015, majoring him.
Heading into Friday morning, he'll once again see Drew Foster, who he beat 10-2 in the Scuffle finals. I don't see Nickal pinning the All American from Northern Iowa, but I do think he can repeat the major.
As much as Nickal is a bonus machine, the Dom Abounader/Pete Renda semi will be a bear. Nickal is certainly favored, but that has all the makings of a "survive and advance" type match.
Getting into the finals, we've seen Nickal lose to Myles Martin before, but based on the dual and Big Ten finals results, Nickal should clinch his second national title.
Range of Points
21-25
197: Shakur Rasheed, JR
Pretty rough draw for Sugar. Landing top half with Kollin Moore, who just beat him at Big Tens is hard to begin with. Before that though he'll see Michael Macchiavello in the quarters, a matchup that would seem to favor the NC State wrestler.
There is the possibility that after that he'd drop down to a match featuring Ben Darmstadt, who defeated Rasheed earlier in the year. Darmstadt would have to lose to Jake Smith of West Virginia for that to happen, but it is certainly a match to circle. Win that match though and he's an All American.
Once an All American, Rasheed could see Preston Weigel, who might be just as good as Rasheed is on top. I think Rasheed maxes out at sixth place, earning a couple pins along the way.
Range of Points
7-14
285: Nick Nevills, JR
Last but not least, the big fella. He starts off with a guy Shakur Rasheed pinned in 39 seconds at the beginning of the year, so we're pencilling in a pin and three points. But then, Thursday night, he gets Michael Boykin, the same guy who handed Nevills his first loss of the year. A loss there puts him in the very real situation of having to wrestle his brother AJ in the consolation round. After that, he'd have Amar Dhesi or Mike Hughes, and Hughes is even bigger than Nevills.
That draw gives me real concerns he makes it through to the semis, where he'd get a favorable road into the third place match via a win over Sam Stoll on the backside. Nevills has a poor draw in his second go round at the national tournament, and as the three seed in a weight with Kyle Snyder and Adam Coon in it can only really underperform his seed.
Range of Points
7.5-15.5
So there you have it folks. Most of the big guns seem like locks to do what the big guns do, leaving the title race in the hands of Nolf, Nevills, Lee and Rasheed. We haven't done Ohio State's analysis yet, but if Nevills gets third and Nolf makes the finals, the Buckeyes will have a large hill to climb.
Even with all of the uncertainty, I think PSU hits 130 team points. That would be good for 16th all time and would win every NCAA tournament ever, based on the fact that the highest scoring second place team ever was 2001 Iowa with 125.5 points. Will that be enough to win the team title? Stay tuned for our Ohio State analysis to find out.
Penn State's Projected Points
130