2018 UWW World Championships
Worlds Betting Guide: Upperweights
Worlds Betting Guide: Upperweights
We analyze the odds laid out for the World Championships.
Oct 17, 2018
by Willie Saylor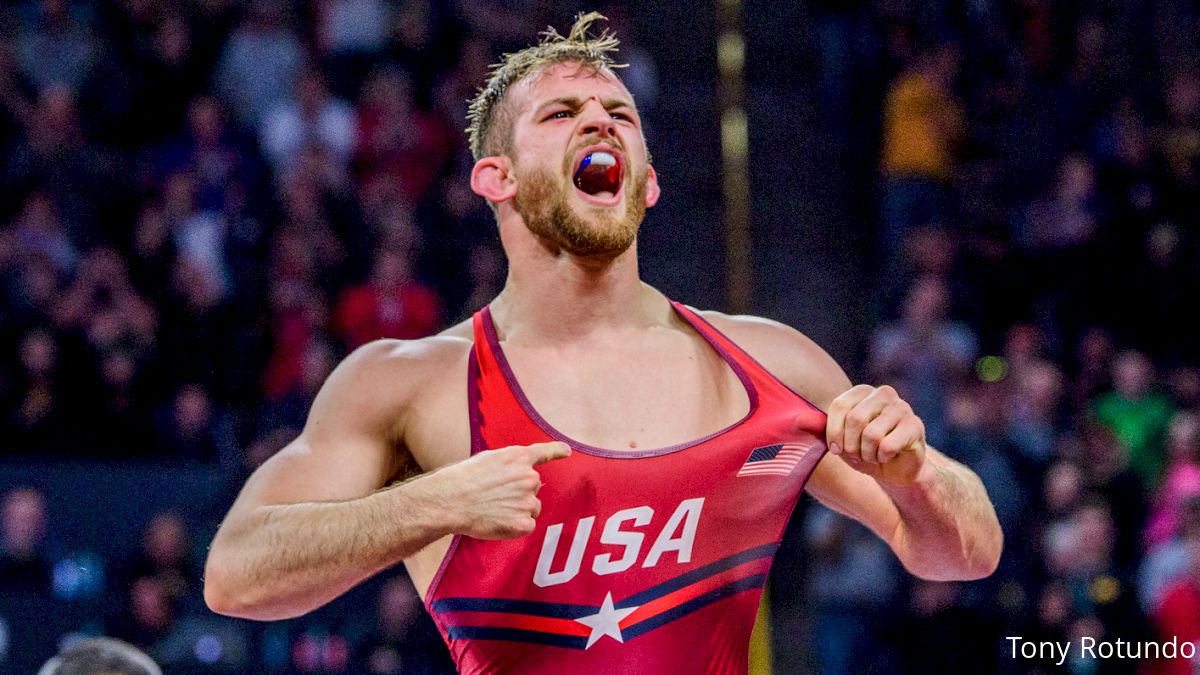 Unlock this article, live events, and more with a subscription!
Get Started
Already a subscriber? Log In
The World Championships are almost here. We've had to wait extra long as the biggest tournament of the year comes to us in mid-October. But now it's time.
On Tuesday we looked at the lightweight betting odds as posted by BetDSI (you have to be logged in to see them). Make sure to click on 'Futures' so you can see both the odds to WIN and odds TO MEDAL.
Here we'll explore the options for the upperweights.
In my previous experience, they take down all odds prior to the first draw, so if you want action on, say, Dake, make sure to get it in by Thursday.
For prior results info, see our articles from the first release of Worlds' International and American odds.
# = Latest FloWrestling Ranking
79KG Latest Odds
To Win:
#1-Gadzhimogamedov (RUS): -125
#2-Dake (USA): +140
#7-Hasanov (AZE): +450
#4-Shabanau (BLR): +850
#19-Obst (GER): +1500
The Field: +2000
Best Bets To Win: Gadzhi is the 4th biggest favorite behind his countryman Rashidov (61kg), Yazdani (86), and Akgul (125). He's been chomping at the bit for years (with 4 Yarygin finals appearances) and this is first World Championships of any kind. He hasn't lost in over a year, winning Kolov, Euros, and beating Dake comfortably in Yarygin finals. Can Dake beat him? Yes, I believe so. I don't think for a second the match would play out anything like the Yarygin final. But Gadzhi has won this match up before, and like Dake, is hungry for his first World title. Even @ -125, he's a good value. Though Hasanov and Shabanau could win if things fell their way, Dake is the only other one I'd recommend.
Best Bets To Medal: Seven of the Top 13 in the World are from Russia. So give guys a bump in perception when you look at #19-Obst (the Euro runner-up to Gadzhi). There are only five guys you look at and say 'yeah, they are medalist contenders'. But with uneven brackets and crazy draws, it's likely (in this weight) that someone down the list and unexpected medal. Hasanov (-152), Shabanau (+200), and Obst (+250) are next after the big two and have modest payouts. Of the three I prefer Shabanau @ +money. Obst is a fine pick though. He beat Nagy (HUN) this year, who beat Shabanau at Euro's. My only pause with him is that his relevant performances come down to basically one tournament.
My darkhorse to place is Sosuke Takatani (+325). He's not ranked because he hasn't wrestled too frequently. But he's skilled and went 3-1 at World Cup losing only to Dake. If the draw comes out and Takatani is opposite of a side loaded with three or four of the top contenders, I like the chances for him to beat a, say, Kurbanov or Hassanbatar or someone like that and get to a medal bout.
86KG Latest Odds
To Win:
#1-Charati (IRI): -141
#2-Taylor (USA): +115
#3-Kurugliev (RUS): +600
#7-Kudiyamagamedov (RUS): +800
The Field: +1200
Best Bets To Win: The values on Charati and Taylor are pretty balanced. So there isn't any real 'value' to be had unless you think (and disregard all evidence) that Kurugliev or Kudiya can win. Then, yes. Tremendous value.
Charati, of course, has made three straight World finals, winning gold in '16 and '17. He also beat Pico for the JR World title in 2015.
He and Taylor have a grand total of one international loss (not counting David's domestic results) in the last two years. That singular loss? A head to head where Taylor beat Charati at the 2017 World Cup.
Taylor won Yarygin where Kurugliev finished 9th, though he has looked better recently.
There was a time when Kudiya was stuck behind Sadulaev and known as the world's best back-up. Now an ex-pat in Italy, he's fallen off a tad. He went 3-5-3 in his last competitions, the Ukraine, Kolov, and Euro's where none of the top three were.
It's 'pick your poison' here. And my reasoning is easier said than done. But David is a better wrestler. He just has to stay out of Charati's wheelhouse which is his underhooks. If he can create space and distance and change levels he'll be fine.
Again, easier said than done. And I'm American. So take it for what it's worth.
Best Bets To Medal: 86 is one of the deepest weights in terms of medal contenders. In this case, I'm not looking for value. The Top 3 are locks, in my opinion (and especially if the bracket is evened out).
My gut says that a lot of American's saw the close matches Torreblanca (CUB) has wrestled with Taylor and will put their money on him to medal. But not so fast, I say! Torreblanca is good, but there are several people ahead of him in the pecking order.
Makoev, Aminashvili (GEO), Erdin (TUR), Gostiev (AZE)....these are all worthy medal contenders in addition to Torreblanca.
So give me Kurugliev @ +125. I think he's one rung behind Charati and Taylor and one rung above everyone else in the field. Heck, Kurgliev's understudy Artur Naifonov has beaten about all these guys. The only way Kurgliev doesn't medal is if he, Taylor, and Charati are all in the same quad.
92KG Latest Odds
To Win:
#2-Sharifov (AZE): +150
#1-Tsukalov (RUS): +200
#7-Cox (USA): +300
#4-Ebrahimi (IRI): +400
#6-Marsagashvili (GEO): +900
The Field: +1000
Best Bets To Win: Disclaimer: I can't give much help here.
All the non-Olympic weights are sort of still under construction, but 92 is the most nascent.
Consider that the #1 guy in the World was just the fourth highest ranked Russian in July when he was 10th overall. He was Bronze at Euro U23's! This year!
Sharifov was Bronze in the Rio Olympics and didn't go to Worlds in 2017. But his backup did. Aslanbek Alborov, now ranked 3rd at 97, lost only to Snyder last year and went undefeated at the World Cup, beating Cox. That's a statement in support of Sharifov, who hasn't competed a whole lot since Rio. But he did earn Gold at Medved and Silver at Euro's losing to Sadulaev, who is also now at 97.
So you have the former #1 and #2 92's now up at 97.
It's simultaneously ugly and yet incredibly intriguing. Sharifov's been the most consistent, but hell if I know how this is gonna play out.
Best Bets To Medal: I haven't mentioned it yet to this point, but Iran is sending guys that aren't their best guys and they know they are doing it. This is one of them. While the weight is wide open, I don't consider Ebrahimi (+115) as strong as a medalist contender as his line suggests.
I do think Cox (-125) will medal, but at that figure, why? I'd look for someone you really have a 'feel' for in the middle and with value. Marsagishvili (+200) and Serdar Boke (+250), both of whom beat Cox this year, fit that bill.
97KG Latest Odds
To Win:
#1-Sadulaev (RUS): -116
#2-Snyder (USA): -116
#3-Alborov (AZE): +400
The Field: +800
Best Bets To Win: It's very simple - pick the winner of Sadulaev and Snyder. Because there are two GOATS at one weight, their figure makes for a rather decent value for guys of their pedigree.
On one hand, Snyder is certainly bigger. He's shown he can beat Saddy, and he's shown his game plan works against him. It's also relevant that Sadulaev looked...not bad, but not Sadulaev-like, at Russian Nationals.
On the other hand - asking if Snyder can get to the finals opposite Sadulaev is a fair question. Kyle does take some losses (like he did at Dogu to Alborov), whereas Sadualaev never loses to anyone not named Kyle.
Ultimately, I think Kyle wins. But if you're betting on this, you're betting out of American pride. You might just want to skip this weight.
Best Bets To Medal: Like 86, this weight has three medal contenders that seem unseatable. Alborov is in that group. However, at 86, Kurugliev, as the 3rd man, was at a tasty +125. For Alborov, you'll have to lay -175. I don't like it. If they all end up on one side, yikes!
If you insist on taking a medalist at 97kg, go with Odikadze @ +225. He also has a win over Snyder and he's made the medal match for four straight years. He lost all of them, but hey, maybe this is his year.
125KG Latest Odds
To Win:
#1-Akgul (TUR): -152
#2-Petriashvili (GEO): +130
#3-Khotsianivski (UKR): +650
#7-Berianidze (ARM): +900
#12-Gwiazdowski (USA): +2000
The Field: +1500
Best Bets To Win: Quite simply, it's the best rivalry in wrestling.
Both Akgul and Petriashvili have medaled at SR Worlds/OLY every year since 2013. Akgul has often gotten the upper hand, winning Gold in three straight Worlds 2014-15-16. And Petriashvili winning last year. During that time, Akgul has lost twice - both to Petriashvili - last year at Worlds (which might be the best HWT match ever), and at Euro's in 2016.
Their last meeting was in May at Euro's where Akgul won.
You're betting on one of these two.
Best Bets To Medal: Petriashvili has been so dominant that three world class HWT's have left. They are ranked 5th, 8th, and 15th in the world. #8-Berianidze (ARM), who is +125 to medal, was Bronze at both Worlds and Euro's last year. #15-Sakandelidze (QAT), is @ +500 and was Silver at Asians behind #5-Modzmanishvili (UZB) who is +200.
But I like a guy at a good value. Russia hasn't been very strong at HWT recently and their #10-Khizriev doesn't have much of a World resume, but he was 5th last year in his first Worlds, has medaled in 3 of the last 5 Yarygin's, and has only lost once this year (to a fellow Russian in Yarygin finals). His losses in a 5th place finish last year were to Petriashvili and Berianadze (3-0) in the Bronze match. Coming in @ +600, he's a guy I like for a good payout.