2018 UWW World Championships
American Odds for 2018 World Championships
American Odds for 2018 World Championships
Odds to win and to medal were posted for American wrestlers.
Sep 3, 2018
by Willie Saylor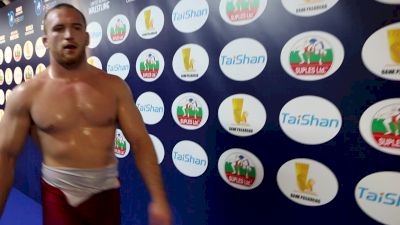 When the U.S. Freestyle Team will be looks to defend its status as the #1 nation at next month's World Championships in Budapest, Hungary, you can look to win some dough.
The Stars & Stripes earned team gold in Paris last year winning medals in six of eight weights with two champs (Jordan Burroughs/Kyle Snyder), two more finalists (Thomas Gilman/James Green), and two bronze medalists (J'den Cox/Nick Gwiazdowski).
All six medalists made the team again in 2018, and with the championship format expanded to ten weight classes, there's reason for more optimism as Kyle Dake (79kg) and David Taylor (86kg) get into the American line-up. Both Dake, who was runner-up at Yarygin, and Taylor, who beat 2017 World Champ Hassan Yazdani Charati, have already proven to be medal threats.
Last week, BetDSI released betting odds for American wrestlers to Win and/or Medal in Budapest. Odds for the team title and for international wrestlers are not offered as of now. *The odds are on the "Retrobook" tab and it appears you must be logged in to view them.
Only one American - Kyle Snyder - is listed as a favorite. He comes in at -$115. Burroughs, Dake, and Taylor are listed just above even.
| | | | | |
| --- | --- | --- | --- | --- |
| Last Year's Result | World Ranking | USA Odds | To Win | To Medal |
| Silver | #7 | 57kg Thomas Gilman | $550 | $135 |
| | | | | |
| Did Not Compete | Not Ranked | 61kg Nahshon Garrett | Not Available | $1,000 |
| | | | | |
| 2-2 | #7 | 65kg Logan Stieber | $1,200 | $230 |
| | | | | |
| Silver | #8 | 70kg James Green | $500 | $125 |
| | | | | |
| Gold | #2 | 74kg Jordan Burroughs | $110 | -$260 |
| | | | | |
| New Weight | #2 | 79kg Kyle Dake | $140 | -$275 |
| | | | | |
| New Weight | #2 | 86kg David Taylor | $115 | -$325 |
| | | | | |
| Bronze | #8 | 92kg J'Den Cox | $300 | -$125 |
| | | | | |
| Gold | #2 | 97kg Kyle Snyder | -$115 | -$275 |
| | | | | |
| Bronze | #12 | 125kg Nick Gwiazdowski | $2,000 | $325 |