2018 UWW World Championships
Worlds Betting Guide: Lightweights
Worlds Betting Guide: Lightweights
Handicapping the odds for the 2018 World Championships
Oct 17, 2018
by Willie Saylor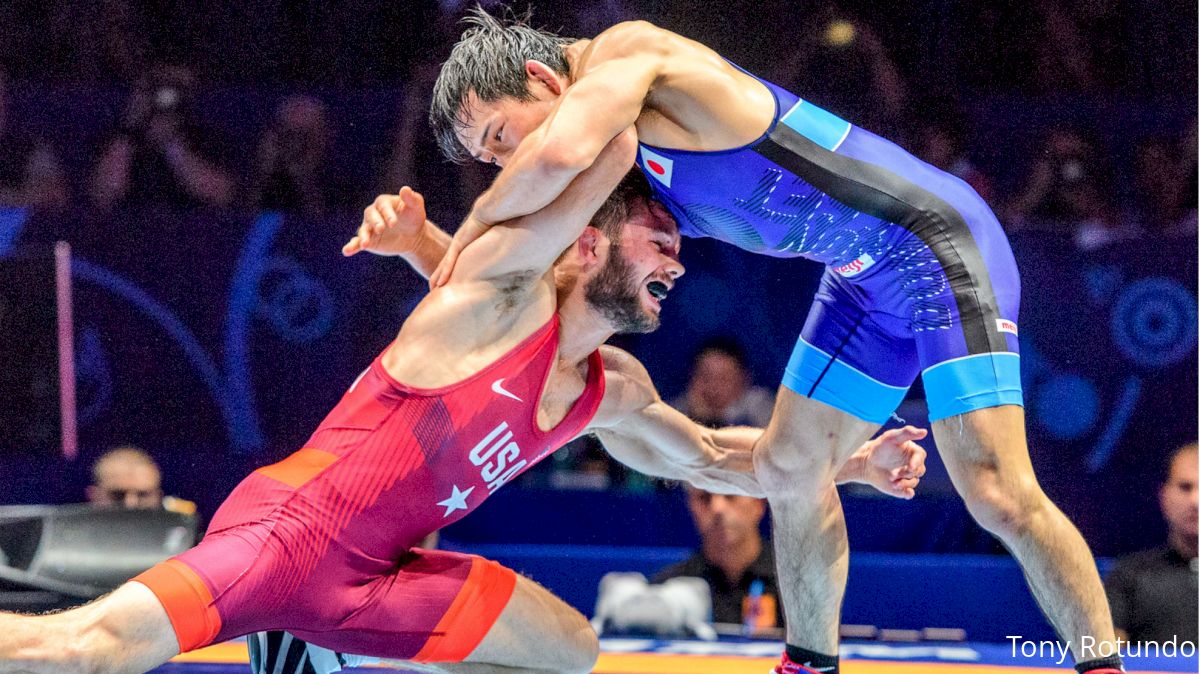 Unlock this article, live events, and more with a subscription!
Get Started
Already a subscriber? Log In
In this preview, we particularly look at the odds laid out by BetDSI (you have to be logged in to see them). In my previous experience, they take down all odds prior to the first draw, so if you want action on, say, Dake, make sure to get it in by Thursday.
| | | | | |
| --- | --- | --- | --- | --- |
| Saturday | 61kg | 74kg | 86kg | 125kg |
| | Colon | Burroughs | Taylor | Gwiazdowski |
| Sunday | 57kg | 65kg | 79kg | 92kg |
| | Gilman | Stieber | Dake | Cox |
| Monday | | 70kg | 97kg | |
| | | Green | Snyder | |
It's been a long time.
From World Cup to Continentals to Team Trials and Rankings Events, the World Championships being staged in mid-October has had International wrestling fans thirsting for action.
We'll, it's finally upon us. For Americans it means not only rooting for our individuals we watched at Final X and Yasar Dogu, but also collectively as the Stars & Stripes look to defend their team title while adding domestic darlings Kyle Dake and David Taylor to the new ten-weight line-up.
The team is already in Europe (Germany) getting acclimated before they head to Budapest, which is six hours ahead of U.S. Eastern Time. Here's the wrestling schedule for the American Freestyle team.
We'll do the first five weights today, and the upperweights tomorrow.
For prior results info see our articles from the first release of Worlds' International and American odds.
# = Latest FloWrestling Ranking
57KG Latest Odds
To Win:
#2-Takahashi (JPN): +150
#1-Erdenebat (MGL): +175
#5-Edisherashvili (AZE): +325
#6-Gilman (USA): +550
#3-Uguev (RUS): +700
The Field: +700
Best Bets To Win: Takahashi beat Gilman in world finals last year. But he lost to Kang (PRK) at Asians. Erdenebat won that weight and has been the most consistent wrestler for over a year. He was Bronze last year, losing only to Takahashi 4-4. +175 is an incredible figure for a guy now ranked #1.
Gilman at +550 is also nice. He didn't perform well at the World Cup but he wasn't exactly peaking for it and was fresh off an injury. Gilman can certainly win this weight and (for what it's worth) he's gonna have a good seed.
The Field bet would include Kang, who came out of nowhere (as N. Korean's often do in wrestling) to beat Takahashi.
Best Bets To Medal: Like Gilman, Reineri Ortega (CUB) didn't have the best World Cup. He went 1-3 with loses to Takahashi, Edisherashvili, and Erdenebat. But he's still ranked 8th in the world. He won U23's last year in a really solid field and Pan Ams this year over Gilman. Most importantly, he might be the most freakish athlete in the field. Gimme him to medal @ +200
61KG Latest Odds
To Win:
#1-Rashidov (RUS): -159
#5-Lomtadze (GEO): +240
#7-Bonne Rodriguez (CUB): +300
#6-Gvarzatilov (AZE): +1200
#15-Dubov (BUL): +1500
The Field: +1000
Best Bets To Win: It's pretty simple here. Rashidov is the man. He was Silver last year, beating Olympic Champion Khinchegashvili and losing only to Haji Aliev. He hasn't lost since, winning Yarygin, Euro's, Kolov, and Zilkowski. Put it this way: the wrestlers ranked #2, #3, and #4...all from Russia. Rashidov beat them just to make the team.
There's a reason he's minus money. So if you're willing to lay that much, that's the play.
Best Bets To Medal: Don't ever bet on a Cuban to win Gold. But I'm saying here, I really like Bonne to medal. Yeah, yeah, I know. 1-3 at World Cup. You think Bonne cares about World Cup? Bonne does what Bonne wants. For the second year in a row, he's at 61kg wish is a lifesaver as he was a 57/61 tweener. He was Bronze last year losing only to Haji and this weight ain't great. With the right draw, he walks to a medal match. Minus money ain't that bad under such a scenario. I'll take him at -152.
I'll give you a darkhorse medalist too. #10-Tumenbileg (MGL) beat Bonne at World Cup and was 3rd at Yarygin. I think he's gonna do well. It will be difficult for him, for sure, but I like him @ +225. He was in the same quad at Worlds last year with Khinch, Stieber, and Rashidov. He lost to Khinch (7-1) in R2 and was eliminated when Rashidov beat Khinch in quarters.
65KG Latest Odds
To Win:
#2-Aliev (AZE): +135
#6-Chakaev (RUS): +175
#4-Khinchegashvili (GEO): +250
#7-Bajrang (IND): +900
#5-Otoguro (JPN): +1100
#9-Stieber (USA): +1200
The Field: +1800
Best Bets To Win: I'm staying away from this one, but if I were to play it, I'm going with Haji, the World Champ at 61 last year when he beat both Khinch and Rashidov. I'm not scared off by his loss to Stieber (at World Cup) or even Shuptar (at Medved). Haji rises to the occasion. But the fact is that Chakaev is much tougher than people give him credit for (some say it should be Bekbulatov going), and Khinch is one of the P4P best, in my opinion. +135 doesn't do it for me, but if that's enough of a pay off for you, Aliev, after all, is the favorite.
The ultimate curveball is a 'Field' bet which would include Gadzhiev (POL) who is currently ranked #1. It's unclear if he'll be at 65 or 70kg, and I don't know that I'd pick over Aliev or Khinch, but man...value @ 1800.
Best Bets To Medal: There are a lot of people high on Otoguro. Too high, in my opinion, but some very smart people like him. He won Cadet Worlds in 2015 and beat Stieber rather easily (10-4) at World Cup. Two days ago, he beat Rei Higuchi, the 2016 Olympic finalist at 57kg. +200 to medal seems like good value.
I however, would go with Bajrang @ +155. Sure, he went 0-2 last year at Worlds. But his losses were to Iakobishvili (the champ) and Kaya (TUR) who was 5th. Since then he was 2nd at U23 Worlds, 1st at Dogu, and 1st at Asians. I think the consensus is that he's very solid and consistent, but that he can't (and hasn't) beaten the truly elite guys. Fair enough. But I think he's trending up. It might require a good draw, but I think he beats someone he 'shouldn't' and for +155 I'm in.
70KG Latest Odds
To Win:
#1-Gazimogomedov (RUS): +140
#3-Iakobishvili (GEO): +180
#1 @ 70kg - Gadzhiev (POL): +275
#8-Gren (USA): +500
#7-Kviatkoski (UKR): +1200
The Field: +1200
Best Bets To Win: At nearly 2:1 I'm going with Iakobishvili. Gazi hasn't been consistent. In fact, he's proven highly beatable. I was surprised he even won the spot at Russian Nationals. While he could certainly win it, I'll take Iakobishvili, last year's World Champ at 65, who I feel has been more consistent and beaten better guys.
Best Bets To Medal: James Green. When it comes to Worlds, and there's one entry per weight, his #8 ranking looks a lot better. Take out three of the four Russians ranked in front of him and he's ranked 4th in the World. He took a weird loss at World Cup. He took a sillier loss at Dogu. Sure. Just mental lapses. While I get the skepticism that he plays matches too tight, I'm sure that will be remedied. It certainly wasn't a problem at 2015 (Bronze) or 2017 (Silver) Worlds. +125. Give it to me.
74KG Latest Odds
To Win:
#1-Burroughs (USA): +110
#2-Chamizo (ITA): +120
#6-Demirtas (TUR): +400
#3-Sidakov (RUS): +550
#8-Abdurakhmanov (UZB): +1200
The Field: +3000
Best Bets To Win: Two man show here. You either think Burroughs will win or you think Chamizo will win. I lean Burroughs for a few reasons: 1) I just think Jordan Burroughs is better, 2) they wrestled twice with Burroughs winning one. The match Chamizo won was not only a bit controversial, but I think it occurred in a manner that's not easy to replicate, 3) Burroughs is more consistent. This weight is super deep - as good as Chamizo and Burroughs are, they will have tough outs to make the finals. Demirtas beat Chamizo. Abdurkahmanov beat Burroughs. But while Burroughs has some close matches, it's Chamizo who drops more, like he did last month to Nakita Suchkov one round after nearly losing to Kasumov. Chamizo is a freak. He can certainly win the whole thing. But history leans Burroughs.
Best Bets To Medal: I love Demirtas but the book correctly has his odds low (-141) to medal. I'll give you two plays - Sidakov - a conservative play at +150. He'll be squarely in the mix. If he doesn't medal, he'll be damn close. And here's a more aggressive option - #11-Yuji Fujinami of Japan. He lost to Abdurakhmanov but beat Hosseinkani, who beat Abdurakhmanov. Essentially you're getting the same level wrestler as those two, but I a really nice value bump @ +500 to medal.