2020 NCAA Wrestling Championships
Purdue Is On The Rise, But Are They An NCAA Trophy Team?
Purdue Is On The Rise, But Are They An NCAA Trophy Team?
Purdue is one of the Cinderella stories of the season, but can they do enough this year to bring an NCAA team trophy home from Minneapolis?
Feb 20, 2020
by David Bray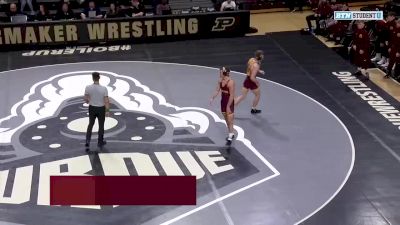 Unlock this video, live events, and more with a subscription!
Get Started
Already a subscriber? Log In
Unlock this article, live events, and more with a subscription!
Get Started
Already a subscriber? Log In
The Purdue Boilermakers wrapped up the dual meet portion of their season on Sunday with an 18-14 win over Illinois. Purdue's progression has been so impressive this season that The Wrestling Nomad named head coach Tony Ersland the mid-season Coach of the Year. Their season, impressive as it has been, will largely be judged based on their NCAA tournament performance. Are they capable of finishing in the top four at NCAA's?
NCAA Landscape
Before diving into Purdue's shot at a trophy, let's establish a bit of context about this year's field. This season, nine teams have been ranked in the top four, and even more (like Purdue) have been just outside.
Every week, each ranked wrestler is assigned the placement and advancement points they would earn if their finish at NCAAs corresponded to their ranking. These do not include bonus points. Team rankings are based on the sum of each team's projected individual points.
Here is the high, low, and average projected score (before bonus points) from each week's rankings for the teams ranked #1-#4 this season:
| | | | |
| --- | --- | --- | --- |
| | High | Low | Average |
| 1st Place Team | 144.5 | 108 | 129.24 |
| 2nd Place Team | 105.5 | 72.5 | 90.32 |
| 3rd Place Team | 70.5 | 49 | 58.12 |
| 4th Place Team | 60 | 47.5 | 53.56 |
The number that I'm most concerned about for the purposes of this article series is the average of the #4-ranked team this year. It is logical to assume that teams will need to score more than 53.56 before bonus to be in trophy contention.
Purdue's Season
The Boilermakers have not been ranked inside the top four this season, but their improvement throughout the season has been solid enough to put them in consideration for a trophy in March. Since rounding into form, they have spent much of the year between #6 and #8.
While they were only projected to score 9.5 points in the preseason rankings, they have steadily climbed with their peak of 46 points coming in weeks 10 and 11.
The graph below shows how each Boilermaker has contributed to the team's projected point total each week. Their improvement is clear.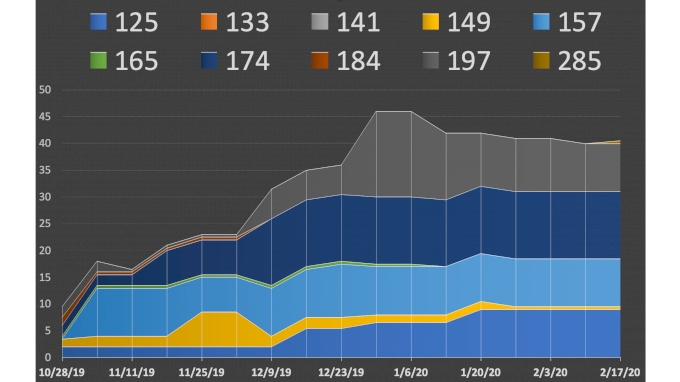 In addition to looking at their week-to-week collective team projection, it's valuable to look at the highest and lowest points that each weight class has been projected to score this season as outlined in this table.
| | | |
| --- | --- | --- |
| | High | Low |
| 125-Schroder | 9 | 2 |
| 133-Ford-Melton | 0 | 0 |
| 141-Filius | 0 | 0 |
| 149-Parriott | 6.5 | 0.5 |
| 157-Coleman | 10 | 0 |
| 165-Webster | 0.5 | 0 |
| 174-Lydy | 12.5 | 2 |
| 184-Lyon | 1.5 | 0 |
| 197-Brunner | 16 | 0.5 |
| 285-Penola | 0.5 | 0 |
| | 56.5 | 5 |
This table demonstrates the great disparity between each individual's highest and lowest point projections this year. At each individual's best, they add up to 56.5, just above that magic number of 53.56. At each individual's lowest, their total adds up to just 5.0.
The wide gap between low and high numbers can mostly be attributed to the team's low starting point, their steady improvement throughout the first half of the year, and their consistency through the dual season.
Purdue's Path to a Trophy
Coach Ersland's squad has been tested this year at CKLV, Midlands, and with a tough slate of Big Ten duals. They have had consistently impressive performances from Devin Schroder, Kendall Coleman, Dylan Lydy, and Christian Brunner.
Lydy won both CKLV and Midlands while Brunner won Midlands and was the runner-up to Kollin Moore at CKLV. Devin Schroder made the CKLV finals before falling to #2 Jack Mueller. Kendall Coleman finished fourth at both CKLV and Midlands in his freshman year and has been solidly inside the top eight since week 2 of the season.
Nobody from this group of four was ranked in All-American contention at the start of the season, but since entering the top eight, none of them have slipped outside of it despite wrestling a challenging schedule.
Purdue is a long-shot to earn a team trophy, and they will probably need more than 40 points (before bonus) to be within striking distance.
The biggest obstacle to the Boilermakers accomplishing this feat might be the health of Christian Brunner. He has been ranked as high as second this season but hasn't wrestled since sustaining an apparent knee injury in a January 26 dual with Rutgers. A full-strength Brunner will be crucial for Purdue's trophy chances.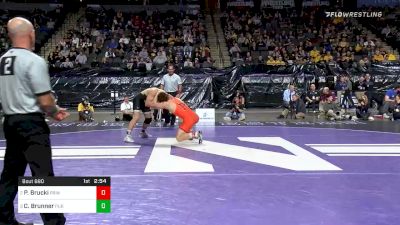 Unlock this video, live events, and more with a subscription!
Get Started
Already a subscriber? Log In
The next most important cog in the Boilermaker machine is likely to be Griffin Parriott, who has been ranked as high as #7 this year and has a number of ranked wins including a 4-2 decision over All-American Max Thomsen.
Parriott's performance through CKLV was outstanding, but he has been looking to regain that form since that time. He will most likely need to get on the podium for Purdue to bring home a trophy.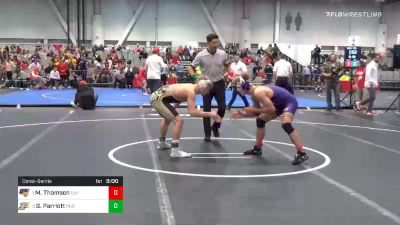 Unlock this video, live events, and more with a subscription!
Get Started
Already a subscriber? Log In
Even with strong performances from their top five, Purdue will need all hands on deck to win a trophy. Fortunately for them, Parker Filius, Max Lyon, and Thomas Penola have all demonstrated the ability to earn ranked wins this season. While they will not be expected to place at NCAAs, they will need as many wins as they can get.
Of course these projections do not factor in bonus points which will be critical in the final standings.
---
Other Articles in this Series
Can Penn State Run Down An NCAA Title?
Can Ohio State Bring Home Its 6th Straight NCAA Team Trophy?
Can Wisconsin Win An NCAA Team Trophy In Coach Bono's 2nd Season?
Can Powerful Princeton Win A Top 4 Trophy At NCAAs?
Can Minnesota Win An NCAA Team Trophy In Their Home City?
Can Nebraska Win An NCAA Team Trophy?
Can Undefeated NC State Win A Team Trophy In March?
Can The UNI Panther Train Roll To An NCAA Team Trophy?
Can Oklahoma State Win An NCAA Team Trophy In An Up And Down Year?