2020 NCAA Wrestling Championships
Can Powerful Princeton Win A Top 4 Trophy At NCAAs?
Can Powerful Princeton Win A Top 4 Trophy At NCAAs?
Princeton got a late season boost in the form of 3X All-American Matthew Kolodzik. Will he add enough points for the Tigers to win a trophy in Minneapolis?
Feb 26, 2020
by David Bray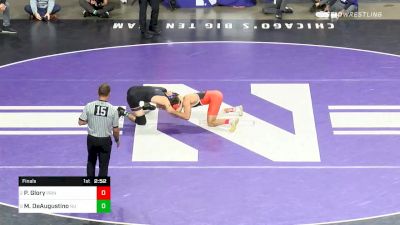 Unlock this video, live events, and more with a subscription!
Get Started
Already a subscriber? Log In
Unlock this article, live events, and more with a subscription!
Get Started
Already a subscriber? Log In
Princeton has had a solid season, but the addition of three-time All-American Matthew Kolodzik makes them a definite threat to win a top-four team trophy at NCAAs. What will it take for the Tigers to win their first trophy in the Chris Ayres coaching era?
NCAA Landscape
Before diving into Princeton's shot at a trophy, let's establish a bit of context about this year's field. This season, nine teams (including Princeton) have been ranked in the top four, and even more have been just outside.
Every week, each ranked wrestler is assigned the placement and advancement points they would earn if their finish at NCAAs corresponded to their ranking. These do not include bonus points. Team rankings are based on the sum of each team's projected individual points.
Here is the high, low, and average projected score (before bonus points) from each week's rankings for the teams ranked #1-#4 this season:
| | | | |
| --- | --- | --- | --- |
| | High | Low | Average |
| 1st Place Team | 144.5 | 108 | 129.24 |
| 2nd Place Team | 105.5 | 72.5 | 90.32 |
| 3rd Place Team | 70.5 | 49 | 58.12 |
| 4th Place Team | 60 | 47.5 | 53.56 |
The number that I'm most concerned about for the purposes of this article series is the average of the #4-ranked team this year. It is logical to assume that teams will need to score more than 53.56 before bonus to be in trophy contention.
Princeton's Season
The Tigers were having a solid season even before Matthew Kolodzik entered the lineup. Between Pat Glory, Mike D'Angelo, Quincy Monday, and Pat Brucki, Princeton's point projection grew from its preseason low of 28.5 to 45.5 points.
After D'Angelo's injury, they dipped a bit, then jumped to their season high of 50 in the second to last week of the season.
Here's a graph that illustrates how Princeton's individual rankings have progressed throughout the season and contributed to their projected team total.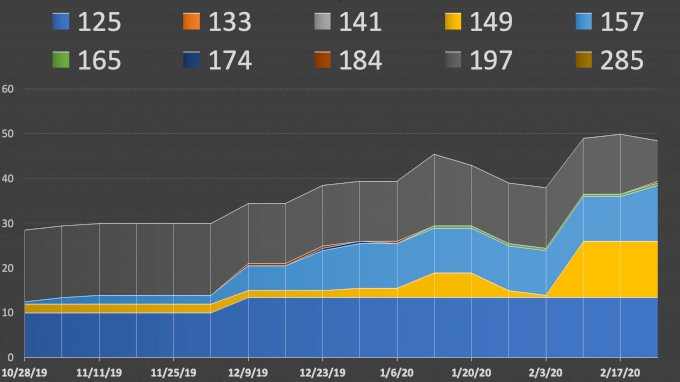 In addition to looking at their week-to-week collective team projection, it's valuable to see the highest and lowest points that each weight class has been projected to score this year. This table contains the high and low point projections for each of Princeton's starters.
| | | |
| --- | --- | --- |
| | High | Low |
| 125-Glory | 13.5 | 10 |
| 133-Agaisse | 0 | 0 |
| 141-Keller | 0 | 0 |
| 149-Kolodzik/D'Angelo | 12.5 | 0.5 |
| 157-Monday | 12.5 | 0.5 |
| 165-Cuomo | 0.5 | 0 |
| 174-Parker | 0.5 | 0 |
| 184-Stefanik | 0.5 | 0 |
| 197-Brucki | 16 | 9 |
| 285-Conner | 0 | 0 |
| | 56 | 20 |
The sum of Princeton's highest individual point projections is 56, a couple points more than the average projected fourth-place team points this year. The sum of their individual lowest projected points is 20, a number that does not include Matthew Kolodzik.
Princeton's Path to a Trophy
The Tigers' trophy hunt begins with their three All-Americans from last year: Pat Glory, Matthew Kolodzik, and Pat Brucki. These three are currently projected to score a combined 35 points, but Princeton might need more than that.
Both Glory and Brucki are in weight classes with clear title favorites. That doesn't mean that neither of them can win a title, but evidence hasn't suggested that they will. Both of them could, however, reasonably make the NCAA finals, a feat that would be good for a combined 32 points before bonus.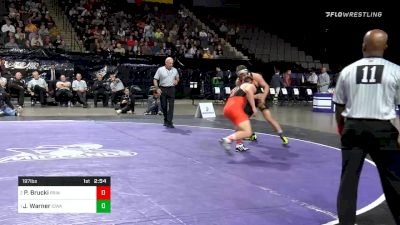 Unlock this video, live events, and more with a subscription!
Get Started
Already a subscriber? Log In
Matthew Kolodzik, on the other hand, returned to the Princeton lineup in a 149 field without a clear favorite. He is the most accomplished 149-pounder in the field and as realistic an NCAA champion as anyone else. A title would be good for 20 points before bonus.
Princeton will need to hope for a result from these three that is better than their current projected total of 35, but probably cannot count on their max total of 52. In other words, for Princeton to win a title, Glory, Kolodzik, and Brucki will have to be on.
The next piece of the Princeton puzzle is 157-pounder Quincy Monday, who started the year ranked #21 but has climbed as high as #6. Monday has top-10 wins this year over #5 Jesse Dellavecchia, #6 Kaleb Young, #7 Kendall Coleman, and #10 Josh Humphreys.
His last ranking of the year of #4 was his highest. That finish would provide a big lift to Princeton's chances at a trophy.
In all likelihood, Princeton will get almost all of its points from 125, 149, 157, and 197, but they have three other wrestlers who have been ranked this year in 165-pounder Grant Cuomo, 174-pounder Kevin Parker, and 184-pounder Travis Stefanik who could all add to the Tigers' total in Minneapolis. The more help they can get from this group, the better.
---
Other Articles in this Series
Can Penn State Run Down An NCAA Title?
Can Ohio State Bring Home Its 6th Straight NCAA Team Trophy?
Can Wisconsin Win An NCAA Team Trophy In Coach Bono's 2nd Season?
Can Minnesota Win An NCAA Team Trophy In Their Home City?
Can Nebraska Win An NCAA Team Trophy?
Can Undefeated NC State Win A Team Trophy In March?
Purdue Is On The Rise, But Are They An NCAA Trophy Team?
Can The UNI Panther Train Roll To An NCAA Team Trophy?
Can Oklahoma State Win An NCAA Team Trophy In An Up And Down Year?