Unlock this article, live events, and more with a subscription!
Get Started
Already a subscriber? Log In
Oklahoma State's roster has four All-Americans and a number of young, rising talents. This season hasn't always been smooth for the Cowboys, but do they have the firepower to win a top-four trophy at NCAAs?
NCAA Landscape
Before diving into Oklahoma State's shot at a trophy, let's establish a bit of context about this year's field. This season, nine teams have been ranked in the top four, and even more, like Oklahoma State, have been just outside.
Every week, each ranked wrestler is assigned the placement and advancement points they would earn if their finish at NCAAs corresponded to their ranking. These do not include bonus points. Team rankings are based on the sum of each team's projected individual points.
Here is the high, low, and average projected score (before bonus points) from each week's rankings for the teams ranked #1-#4 this season:
| | | | |
| --- | --- | --- | --- |
| | High | Low | Average |
| 1st Place Team | 144.5 | 108 | 129.24 |
| 2nd Place Team | 105.5 | 72.5 | 90.32 |
| 3rd Place Team | 70.5 | 49 | 58.12 |
| 4th Place Team | 60 | 47.5 | 53.56 |
The number that I'm most concerned about for the purposes of this article series is the average of the #4-ranked team this year. It is logical to assume that teams will need to score more than 53.56 before bonus to be in trophy contention.
Oklahoma State's Season
The Cowboys were ranked #6 in the preseason and moved as high as #5 in November. Since that time, individuals have had varying performances, but each of the Cowboys has yet to be at their best at the same time.
Their lowest projected point total this year was 30.5 which they earned in both week 11 and week 16. Their highest projected point total was 43.5 in the first two weeks of the season.
The graph below demonstrates the wide range of performances we've seen from several of the Cowboy starters as well as their collective performance over the course of the season.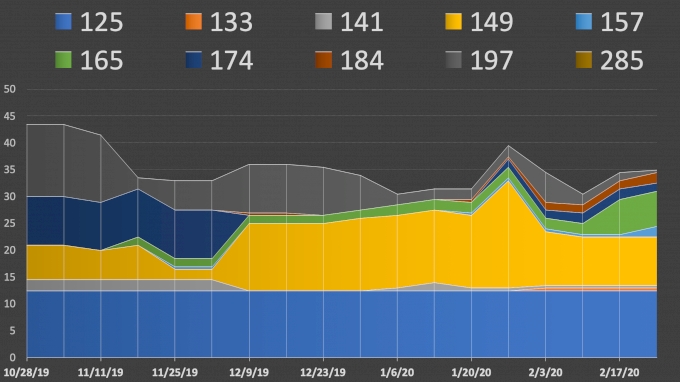 In addition to looking at their week-to-week collective team projection, it's valuable to look at the highest and lowest points that each individual weight class has been projected to score this season as outlined in this table.
| | | |
| --- | --- | --- |
| | High | Low |
| 125-Piccininni | 12.5 | 12.5 |
| 133-Witcraft | 0.5 | 0 |
| 141-Hone | 2 | 0 |
| 149-Lewallen | 20 | 2 |
| 157-Sheets | 2 | 0 |
| 165-Witlake | 6.5 | 0 |
| 174-Smith | 9 | 0 |
| 184-Montalvo | 2 | 0 |
| 197-Geer* | 13.5 | 0 |
| 285-Harris | 0 | 0 |
| | 68 | 14.5 |
*Geer began the season ranked at 184 pounds
The sum of the Cowboys' highest point projection is 68 while the total of their lows is 26.5.
The graph earlier showed a team that has been hovering in the mid-30s in terms of projected points (before bonus). This table demonstrates that Oklahoma State is a team that has the weapons to do well at NCAAs but one whose individuals have lacked season-long consistency.
Oklahoma State's Path to a Trophy
Nick Piccininni and Boo Lewallen have been the Cowboys' most consistent performers, and both will need to finish the season well for the Cowboys to have a shot at a top-four trophy.
Piccininni has been a staple in the 125 rankings for four years and has been ranked fourth every week of this season. His two losses this year are to #1 Spencer Lee and #3 Pat Glory. The two-time All-American will be expected to have another strong finish in Minneapolis.
All-American Boo Lewallen has been ranked #1 this year but also spent a couple of weeks at #9. While he has losses this year to #2 Lugo and #5 Mauller, he is certainly capable of winning a very competitive 149-pound bracket. For the Cowboys to have a serious shot at a trophy, he will need to finish very high on the podium.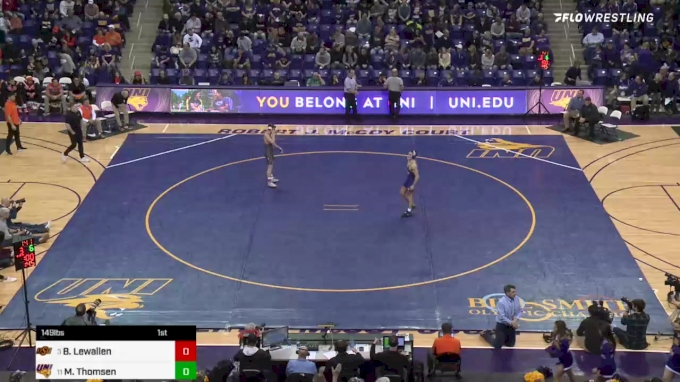 Unlock this video, live events, and more with a subscription!
Get Started
Already a subscriber? Log In
Joe Smith and Dakota Geer are two more All-Americans in the Cowboy lineup who will need to find the best versions of themselves for Oklahoma State to win a trophy. The graph above illustrates how many points these two are capable of scoring but also illustrates that their seasons have trended away from podium finishes.
Based on their most recent performances, Smith and Geer won't be projected by many to finish as All-Americans, but they will probably need to if the Cowboys want to win a trophy in March.
The next piece of the puzzle for Oklahoma State is freshman 165-pounder Travis Wittlake, who worked his way into the top eight in the final two weeks of the season. His two losses on the year are to #2 Alex Marinelli and #3 Shane Griffith. An All-American finish for Wittlake would help the Cowboys immensely.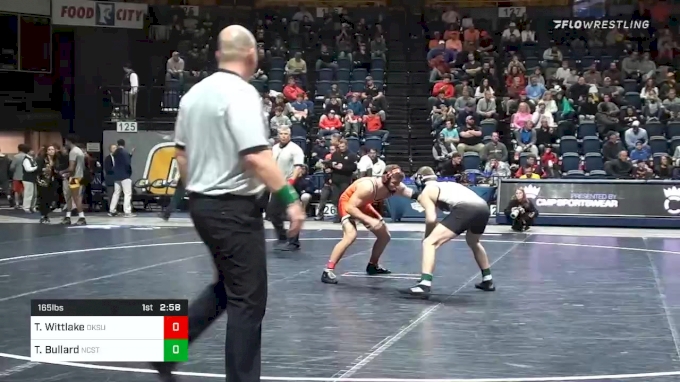 Unlock this video, live events, and more with a subscription!
Get Started
Already a subscriber? Log In
Four more Cowboy starters have had solid, upward-trending seasons. Reece Witcraft, Dusty Hone, Wyatt Sheets, and Anthony Montalvo all have wins over wrestlers who are either All-Americans or have been ranked in the top eight this season.
The freshman Witcraft had his best win of the year at a dual in Wyoming against 2018 All-American Montorie Bridges. He isn't currently projected to score big points, but he's capable of that.
Dusty Hone's season has been similar to Witcraft's. He isn't projected to finish on the podium in March, but his win over All-American Tariq Wilson suggests that he can.
Unlock this video, live events, and more with a subscription!
Get Started
Already a subscriber? Log In
Wyatt Sheets has been wrestling well this year, especially lately. He capped his regular season with a convincing 9-4 win over All-American Kaleb Young of Iowa. He is looking like the Cowboys' best option to earn surprise All-American honors of his own.
Freshman Anthony Montalvo has improved as this season has gone along. He has a number of ranked wins, the best of which came against #5 Nino Bonaccorsi in a dual with Pitt.
This group could help form the core of the Oklahoma State lineup next year, and a strong finish to this season could set Cowboy fans up for an optimistic season next year, especially if they're able to bring a trophy home from Minneapolis this year.
---
Other Articles in this Series
Can Penn State Run Down An NCAA Title?
Can Ohio State Bring Home Its 6th Straight NCAA Team Trophy?
Can Wisconsin Win An NCAA Team Trophy In Coach Bono's 2nd Season?
Can Powerful Princeton Win A Top 4 Trophy At NCAAs?
Can Minnesota Win An NCAA Team Trophy In Their Home City?
Can Nebraska Win An NCAA Team Trophy?
Can Undefeated NC State Win A Team Trophy In March?
Purdue Is On The Rise, But Are They An NCAA Trophy Team?