Unlock this article, live events, and more with a subscription!
Get Started
Already a subscriber? Log In
UNI finished its dual meet season in style by beating Wisconsin 20-18 in a wild dual in Madison last Thursday. The Panthers have been ranked inside the top four this year, but injuries seem to have limited their point-scoring potential. Do they have the firepower to bring home a trophy from Minneapolis?
NCAA Landscape
Before diving into UNI's shot at a trophy, let's establish a bit of context about this year's field. This season, nine teams (including UNI) have been ranked in the top four, and even more have been just outside.
Every week, each ranked wrestler is assigned the placement and advancement points they would earn if their finish at NCAAs corresponded to their ranking. These do not include bonus points. Team rankings are based on the sum of each team's projected individual points.
Here is the high, low, and average projected score (before bonus points) from each week's rankings for the teams ranked #1-#4 this season:
| | | | |
| --- | --- | --- | --- |
| | High | Low | Average |
| 1st Place Team | 144.5 | 108 | 129.24 |
| 2nd Place Team | 105.5 | 72.5 | 90.32 |
| 3rd Place Team | 70.5 | 49 | 58.12 |
| 4th Place Team | 60 | 47.5 | 53.56 |
The number that I'm most concerned about for the purposes of this article series is the average of the #4-ranked team this year. It is logical to assume that teams will need to score more than 53.56 before bonus to be in trophy contention.
UNI's Season
Northern Iowa has been ranked as high as #3 this season but was only ranked inside the top four for two weeks in November.
The Panthers' projected point total has been as high as 51.5 points on November 18 and as low as 28 points on January 13.
The graph below demonstrates the consistent work of Bryce Steiert and Taylor Lujan and also how big an impact Jacob Holschlag's absence has made on UNI's hopes of earning a team trophy.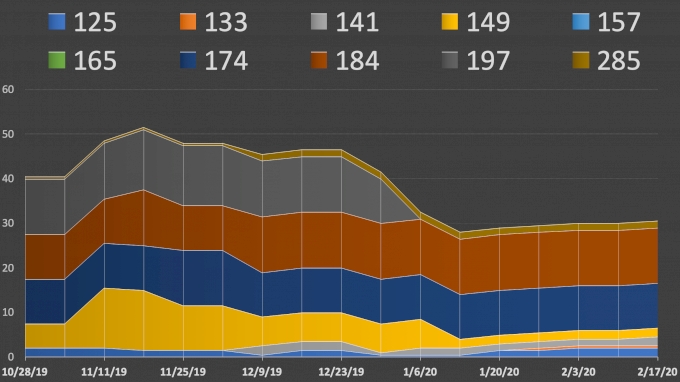 In addition to looking at their week-to-week collective team projection, it's valuable to look at the highest and lowest points that each weight class has been projected to score this season as outlined in this table.
| | | |
| --- | --- | --- |
| | High | Low |
| 125-Schwarm | 2 | 0.5 |
| 133-Skudlarczyk | 0.5 | 0 |
| 141-Blockhus | 2 | 0 |
| 149-Thomsen | 13.5 | 2 |
| 157-Moore | 0 | 0 |
| 165-Yant | 0 | 0 |
| 174-Steiert | 12.5 | 10 |
| 184-Lujan | 12.5 | 10 |
| 197-Holschlag/Patton | 13.5 | 0 |
| 285-Isley | 1.5 | 0.5 |
| | 58 | 23 |
The sum of the individual Panthers' highest point projection is 58 while the total of their projected lows is 23. That projected high is inflated because of the 13.5 points at 197 that will not be coming from the injured Jacob Holschlag.
The question posed by both this table and the graph above is how the Panthers can make up for the lost contributions of their injured 197-pounder.
UNI's Path to a Trophy
The Panthers' path to an NCAA trophy is predicated on high podium placement from Bryce Steiert at 174 and Taylor Lujan at 184.
Steiert has been consistently ranked between #4 and #6 this year and made the finals at both CKLV and Midlands. The Panthers seem to be able to pencil him in for 10 or more points.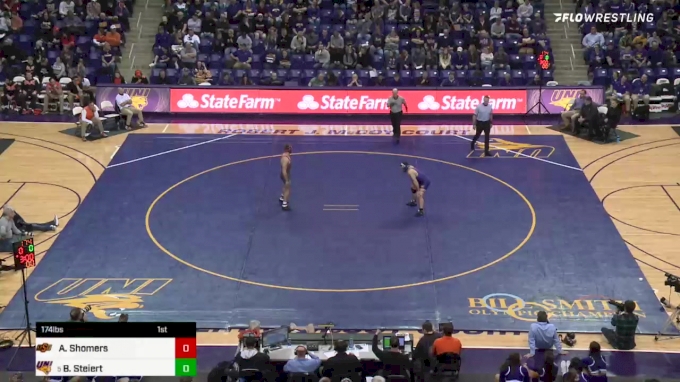 Unlock this video, live events, and more with a subscription!
Get Started
Already a subscriber? Log In
Taylor Lujan has been ranked similarly to Steiert, but now that Zahid Valencia has been suspended, he has to be considered a contender for an NCAA title. The top spot at NCAAs is worth 20 points before bonus, and that is not unrealistic for Lujan who won Midlands and has wins this year over current #2 Bolen, #6 Andrew Morgan, and #10 Abe Assad.
The next proven piece of the Panthers' lineup is Max Thomsen, a 2017 All-American at 149 and round of 12 finisher the last two years.
Thomsen has been ranked to finish as high as third this year but has not had the season UNI fans would have hoped. If Thomsen can regain his All-American form, UNI has a shot at a trophy. If not, it's going to be tough.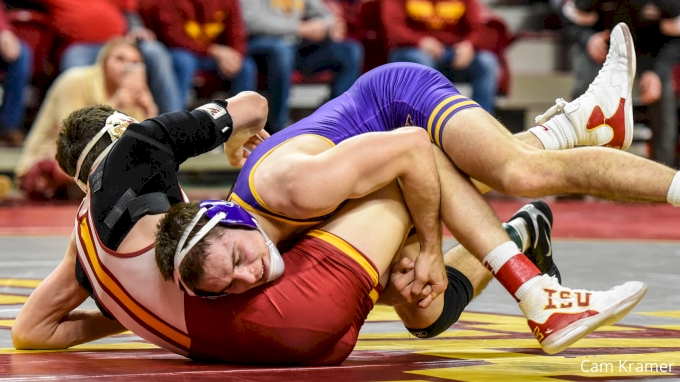 Unlock this video, live events, and more with a subscription!
Get Started
Already a subscriber? Log In
The Panthers will need more productivity if they want to bring home hardware in March, and that could come from 125-pounder Jacob Schwarm and 141-pounder Michael Blockhus.
Schwarm is currently ranked #10, just outside of All-American contention, but he has looked excellent lately and could push to finish on the podium. On top of that, he is a prolific pinner with 15 of his 18 wins this season coming by fall. While this article series doesn't carefully examine bonus points, those pin numbers are undeniable.
Unlock this video, live events, and more with a subscription!
Get Started
Already a subscriber? Log In
Freshman Michael Blockhus could also play a big role in the Panthers' trophy chances. He is coming off a win over #4 Tristan Moran and also has a win over All-American Tariq Wilson. He has yet to be ranked inside the top eight, but his results suggest that he has that potential.
UNI is a team that will need to perform above its highest projected point total of the season due to the loss of Jacob Holschlag. Lujan, Schwarm, and Blockhus seem like the most likely contenders to make that happen. If they can, UNI just might bring home a top-four trophy from NCAAs.
---
Other Articles in this Series
Can Penn State Run Down An NCAA Title?
Can Ohio State Bring Home Its 6th Straight NCAA Team Trophy?
Can Wisconsin Win An NCAA Team Trophy In Coach Bono's 2nd Season?
Can Powerful Princeton Win A Top 4 Trophy At NCAAs?
Can Minnesota Win An NCAA Team Trophy In Their Home City?
Can Nebraska Win An NCAA Team Trophy?
Can Undefeated NC State Win A Team Trophy In March?
Purdue Is On The Rise, But Are They An NCAA Trophy Team?
Can Oklahoma State Win An NCAA Team Trophy In An Up And Down Year?