Unlock this article, live events, and more with a subscription!
Get Started
Already a subscriber? Log In
NC State has one dual remaining against Duke, and unless something very unexpected happens, they will finish the season as the clear #2-ranked dual meet team in the country with a 15-0 record. They have been ranked as high as #4 in the tournament rankings, but do they have what it takes to bring home their second NCAA trophy in three years?
NCAA Landscape
Before diving into NC State's shot at a trophy, let's establish a bit of context about this year's field. This season, nine teams have been ranked in the top four, and even more have been just outside.
Every week, each ranked wrestler is assigned the placement and advancement points they would earn if their finish at NCAAs corresponded to their ranking. These do not include bonus points. Team rankings are based on the sum of each team's projected individual points.
Here is the high, low, and average projected score (before bonus points) from each week's rankings for the teams ranked #1-#4 this season:
| | | | |
| --- | --- | --- | --- |
| | High | Low | Average |
| 1st Place Team | 144.5 | 108 | 129.24 |
| 2nd Place Team | 105.5 | 72.5 | 90.32 |
| 3rd Place Team | 70.5 | 49 | 58.12 |
| 4th Place Team | 60 | 47.5 | 53.56 |
The number that I'm most concerned about for the purposes of this article series is the average of the #4-ranked team this year. It is logical to assume that teams will need to score more than 53.56 before bonus to be in trophy contention.
NC State's Season
The Wolfpack were ranked inside the top four for two weeks at the end of November and the beginning of December. Their highest projected points this year were 56, and their lowest projected points were 35.
Here's a graph that illustrates how NC State's team and individual rankings have progressed throughout the season: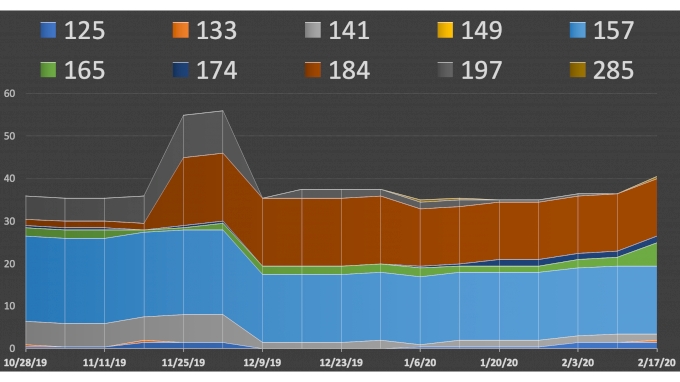 In addition to looking at their week-to-week collective team projection, it's valuable to look at the highest and lowest points that each individual has been projected to score this year. Here are the high and low point projections for each of the current NC State starters:
| | | |
| --- | --- | --- |
| | High | Low |
| 125-Camacho | 1.5 | 0 |
| 133-Trombley | 0.5 | 0 |
| 141-Wilson | 6.5 | 0.5 |
| 149-Grippi | 0 | 0 |
| 157-Hidlay | 20 | 16 |
| 165-Bullard | 5.5 | 0.5 |
| 174-Bullard | 1.5 | 0 |
| 184-Hidlay | 16 | 1.5 |
| 197-Reenan | 10 | 0 |
| 285-Wilson | 0.5 | 0 |
| | 62 | 18.5 |
This table demonstrates the significant variance between the NC State lineup's highest and lowest projected points. At their individuals' best, their performances would add up to 62 points, but at their lowest points of the season, they just totaled 18.5.
NC State's Path to a Trophy
In order for the Wolfpack to finish inside the top four, they're going to count on a lot of production from the Hidlay brothers. Hayden started the year ranked #1 at 157 and hasn't fallen lower than #2. Trent quickly climbed the rankings in his freshman year from #15 to as high as #2 and has been hovering around #4 for the second half of the season.
NCAA finals appearances are worth 16 points and titles are worth 20. NC State will probably need around 30 combined points from the Hidlay brothers, their best and most consistent performers, to have a realistic shot at a trophy.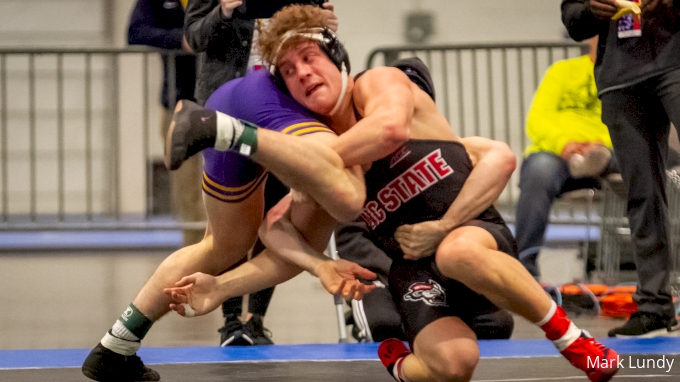 Unlock this video, live events, and more with a subscription!
Get Started
Already a subscriber? Log In
Tariq Wilson, Thomas Bullard, and Nick Reenan are the next most likely wrestlers to contribute big points toward NC State's team total. All three have been ranked in All-American contention this year, but each has also been projected to score half a point or less at other points of the season.
Wilson's incredible run at the 2018 NCAA Championships earned him a third-place finish, Reenan's 2018 Final X appearance proves that he's elite, and Bullard's recent win over three-time All-American David McFadden puts him in the All-American conversation. The Wolfpack will need significant points from this group to get close to that magic number of 54.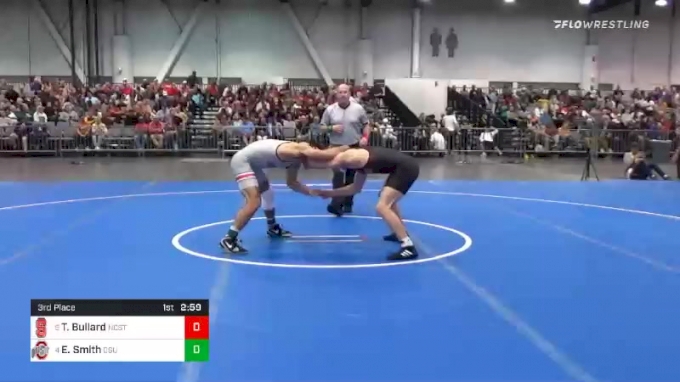 Unlock this video, live events, and more with a subscription!
Get Started
Already a subscriber? Log In
The rest of the lineup is projected to score between 0 and 4 which, though not major points, could be the difference in a trophy race that is shaping up to be incredibly tight.
NC State's last dual win against Virginia Tech was a reminder of the significant role that each member of this team can play in pulling off an accomplishment as significant as an undefeated dual season. Their lower-ranked wrestlers could play a similarly significant role in their trophy hunt.
Nothing beats the excitement of yet another top-10 @PackWrestle win inside Reynolds Coliseum!#PackMentality // ?⚪️⚫️ pic.twitter.com/ehn7hHPkIU

— NC State Wrestling ?‍♂️ (@PackWrestle) February 15, 2020
Of course, these projections don't factor in bonus points which will undoubtedly make a big difference in this team race.
---
Other Articles in this Series
Can Penn State Run Down An NCAA Title?
Can Ohio State Bring Home Its 6th Straight NCAA Team Trophy?
Can Wisconsin Win An NCAA Team Trophy In Coach Bono's 2nd Season?
Can Powerful Princeton Win A Top 4 Trophy At NCAAs?
Can Minnesota Win An NCAA Team Trophy In Their Home City?
Can Nebraska Win An NCAA Team Trophy?
Purdue Is On The Rise, But Are They An NCAA Trophy Team?
Can The UNI Panther Train Roll To An NCAA Team Trophy?
Can Oklahoma State Win An NCAA Team Trophy In An Up And Down Year?