Unlock this article, live events, and more with a subscription!
Get Started
Already a subscriber? Log In
Nebraska won the CKLV, and every one of their starters has been ranked in the top 25 this season. They're a well-rounded team with a lot of weapons, but can they put it together in Minneapolis to win a top-four trophy at NCAAs?
NCAA Landscape
Before diving into Nebraska's shot at a trophy, let's establish a bit of context about this year's field. This season, nine teams (including Nebraska) have been ranked in the top four, and even more have been just outside.
Every week, each ranked wrestler is assigned the placement and advancement points they would earn if their finish at NCAAs corresponded to their ranking. These do not include bonus points. Team rankings are based on the sum of each team's projected individual points.
Here is the high, low, and average projected score (before bonus points) from each week's rankings for the teams ranked #1-#4 this season:
| | | | |
| --- | --- | --- | --- |
| | High | Low | Average |
| 1st Place Team | 144.5 | 108 | 129.24 |
| 2nd Place Team | 105.5 | 72.5 | 90.32 |
| 3rd Place Team | 70.5 | 49 | 58.12 |
| 4th Place Team | 60 | 47.5 | 53.56 |
The number that I'm most concerned about for the purposes of this article series is the average of the #4-ranked team this year. It is logical to assume that teams will need to score more than 53.56 before bonus to be in trophy contention.
Nebraska's Season
The Cornhuskers were ranked as high as #3 for two weeks in November, but they haven't been ranked inside the top four since that point.
Their lowest projected point total this year was 35.5 points in week 14, and their highest projected point total was 57 in week 6.
The graph below demonstrates that Nebraska has consistently been projected to score around 40 points but that they are capable of much greater heights. Of note, six Huskers have been projected to score All-American points at various points this season.
In addition to looking at their week-to-week collective team projection, it's valuable to look at the highest and lowest points that each individual weight class has been projected to score this season as outlined in this table.
| | | |
| --- | --- | --- |
| | High | Low |
| 125-Thomsen | 0.5 | 0 |
| 133-Lovett | 2 | 0 |
| 141-Red | 12.5 | 5.5 |
| 149-Purinton | 12.5 | 0.5 |
| 157-Robb | 0 | 0 |
| 165-White | 13.5 | 10 |
| 174-Labriola | 12.5 | 6.5 |
| 184-Venz | 10 | 2 |
| 197-Schultz | 9 | 1.5 |
| 285-Jensen/Lance | 2 | 0.5 |
| | 74.5 | 26.5 |
The sum of the Huskers' highest point projection is 74.5 while the total of their lows is 26.5.
While the graph earlier demonstrated a mostly consistent team with an upswing toward the end of the first half of the season, this table demonstrates the significant gap between their individuals' highest and lowest performances of the year.
Nebraska's high mark of 74.5 before bonus points would almost certainly win them a trophy in March while their low of 26.5 wouldn't get it done.
Nebraska's Path to a Trophy
The Huskers have seen a consistent baseline of points from Chad Red, Isiah White, and Mikey Labriola. All three have been ranked as high as #3 or #4, and none have been ranked lower than #8.
Isaiah White has been the most consistent of this group, never falling lower than #5 in the rankings. He won this year's CKLV and has been very dependable for the Huskers.
Chad Red just registered a win against Mitch McKee in a dual against Minnesota that has him up to #4, his highest ranking of the year. The two-time All-American will need to repeat his podium performance from last year to help the Huskers' trophy chances.
Mikey Labriola started the season ranked #4 but finished ranked #7. He is part of a brutal Big Ten field at 174 and gone back and forth with many of the competitors at the weight.
If Nebraska can get 30 combined points (before bonus) from this group, they'll have a solid foundation to build on for a trophy. If they can get more, even better.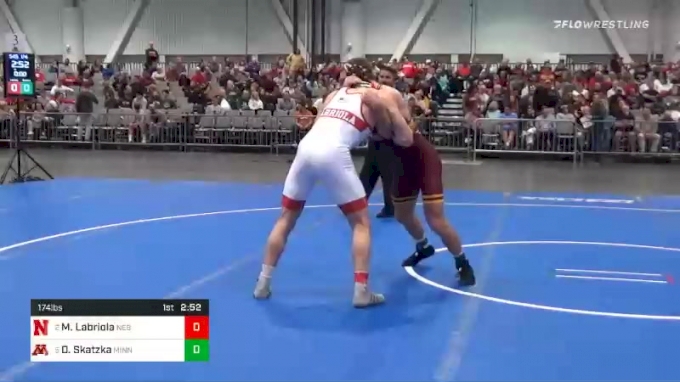 Unlock this video, live events, and more with a subscription!
Get Started
Already a subscriber? Log In
Another trio of Huskers has been ranked to finish both on and off the podium at various points this season. This group will be critical to Nebraska's goal of bringing home an NCAA team trophy.
Collin Purinton has been ranked as high as #4 but currently sits at #15 at 149. Taylor Venz, currently #10 at 184, has been ranked as high as #5. Eric Schultz, who is currently ranked #8, has been as high as #6 but as low as #14.
Purinton's high-water mark came after a dual with UNI in which he beat All-American Max Thomsen. He hasn't been as high in the rankings since then, but that match demonstrated his ability to put serious points on the board.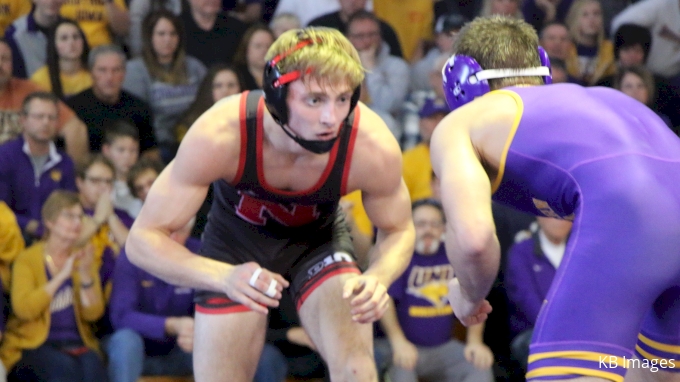 Unlock this video, live events, and more with a subscription!
Get Started
Already a subscriber? Log In
Eric Schultz has also had bright moments, perhaps none brighter than when he beat #3 Jacob Warner in Carver-Hawkeye Arena.
Venz, who was an All-American in 2018, has looked good at points, pushing Zahid Valencia to the wire and pinning #4 Lou DePrez at CKLV after losing to him in the quarterfinals, but he has also had off matches.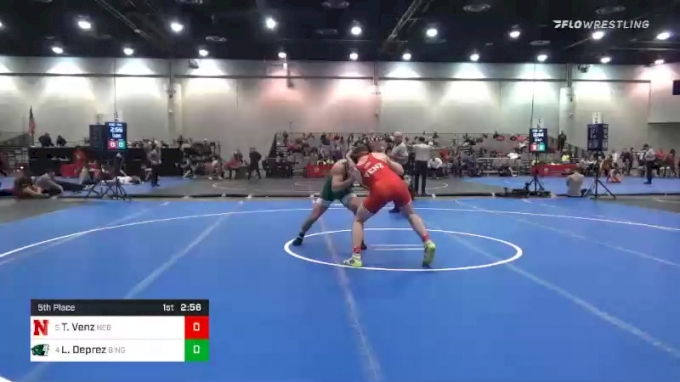 Unlock this video, live events, and more with a subscription!
Get Started
Already a subscriber? Log In
Nebraska could use 20 points (before bonus) from this group. They are certainly capable.
The rest of Nebraska's starters have also been ranked in the top 25 this year and are all capable of winning matches at the NCAA Championships. Not many teams can say that.
The combination of Alex Thomsen, Ridge Lovett, Peyton Robb, and either Christian Lance or David Jensen will need to throw in a handful of points as well. The good news for Nebraska is that all of these wrestlers are not only capable of winning matches in March, they'll be expected to.
Certainly any of these guys could outperform expectations and bring home All-American honors. If they do, Nebraska's chances of a team trophy go way up.
---
Other Articles in this Series
Can Penn State Run Down An NCAA Title?
Can Ohio State Bring Home Its 6th Straight NCAA Team Trophy?
Can Wisconsin Win An NCAA Team Trophy In Coach Bono's 2nd Season?
Can Powerful Princeton Win A Top 4 Trophy At NCAAs?
Can Minnesota Win An NCAA Team Trophy In Their Home City?
Can Undefeated NC State Win A Team Trophy In March?
Purdue Is On The Rise, But Are They An NCAA Trophy Team?
Can The UNI Panther Train Roll To An NCAA Team Trophy?
Can Oklahoma State Win An NCAA Team Trophy In An Up And Down Year?