2020 NCAA Wrestling Championships
Can Ohio State Bring Home Its 6th Straight NCAA Team Trophy?
Can Ohio State Bring Home Its 6th Straight NCAA Team Trophy?
Ohio State has been ranked in the top four for much of the year. Can they bring another NCAA team trophy back to Columbus?
Feb 19, 2020
by David Bray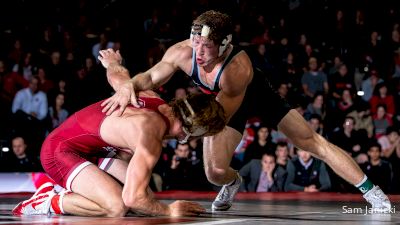 Unlock this video, live events, and more with a subscription!
Get Started
Already a subscriber? Log In
Unlock this article, live events, and more with a subscription!
Get Started
Already a subscriber? Log In
Ohio State wrapped up their dual meet season at Penn State last weekend and will now regroup for the Big Ten and NCAA Championships. They have brought home a team trophy in each of the last five seasons. What will it take for them to earn their sixth in a row?
NCAA Landscape
Before diving into Ohio State's shot at a trophy, let's establish a bit of context about this year's field. This season, nine teams have been ranked in the top four, and even more have been just outside.
Every week, each ranked wrestler is assigned the placement and advancement points they would earn if their finish at NCAAs corresponded to their ranking. These do not include bonus points. Team rankings are based on the sum of each team's projected individual points.
Here is the high, low, and average projected score (before bonus points) from each week's rankings for the teams ranked #1-#4 this season:
| | | | |
| --- | --- | --- | --- |
| | High | Low | Average |
| 1st Place Team | 144.5 | 108 | 129.24 |
| 2nd Place Team | 105.5 | 72.5 | 90.32 |
| 3rd Place Team | 70.5 | 49 | 58.12 |
| 4th Place Team | 60 | 47.5 | 53.56 |
The number that I'm most concerned about for the purposes of this article series is the average of the #4-ranked team this year. It is logical to assume that teams will need to score more than 53.56 before bonus to be in trophy contention.
Ohio State's Season
The Buckeyes have been at or above that magic number of 53.56 for 11 of the 17 weeks this season and have been inside the top four in all but two sets of rankings.
Their lowest projected point total was 45 points in week 5, while their highest projected total was 70.5 points in week 16.
The graph below shows how each member of the Buckeye squad has contributed to the team's projected point total each week. Buckeye fans will be encouraged to see that the team has trended up as the season has progressed.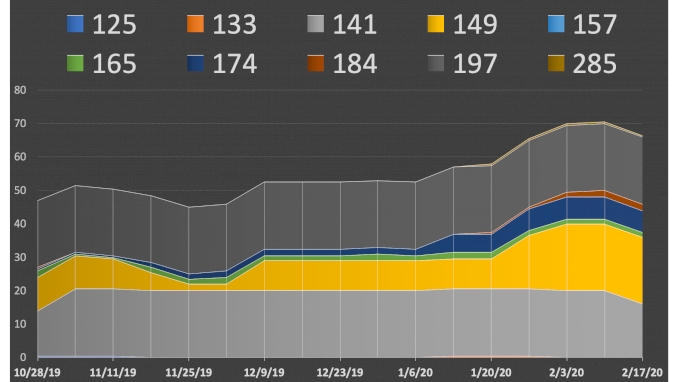 In addition to looking at their week-to-week collective team projection, it's valuable to look at the highest and lowest points that each individual has been projected to score this year. Here are the high and low point projections for each of the current Ohio State starters:
| | | |
| --- | --- | --- |
| | High | Low |
| 125-Heinselman | 0.5 | 0 |
| 133-Decatur | 0.5 | 0 |
| 141-Pletcher | 20 | 13.5 |
| 149-Sasso | 20 | 2 |
| 157-Kinner | 0 | 0 |
| 165-Smith | 2 | 0.5 |
| 174-Romero | 6.5 | 0.5 |
| 184-Jordan | 2 | 0 |
| 197-Moore | 20 | 20 |
| 285-Traub | 0.5 | 0 |
| | 72 | 36.5 |
As this table demonstrates, at their best, tOSU's individual projected points added up to 72 while, at their worst, they equaled just 36.5.
Perhaps more interesting is that the total of tOSU's individual high water marks of 72 is just 1.5 points lower than their highest team projection of 70.5. This demonstrates that their team has largely been able to have their best performances at the same time, something that could be very important in the hunt for a team trophy.
Ohio State's Path to a Trophy
Behind Iowa and Penn State, Ohio State is the most likely team to bring home a trophy from Minneapolis. The consistent performances they've had from seniors Luke Pletcher and Kollin Moore have provided a solid base of points from week to week.
Moore hasn't moved from the #1 spot at 197 all season, and Pletcher, who moved to #1 after beating Dom Demas in the opening weekend of the season, only dropped to #2 this week after losing to Penn State's Nick Lee. Ohio State will need more than 30 points (before bonus) from these two which seems probable based on their performances.
While these projections don't factor in bonus points, it is worth noting that Luke Pletcher's bonus rate has been 62.5 percent this year and Kollin Moore's has been 75 percent. These could bolster the Buckeyes' trophy chances.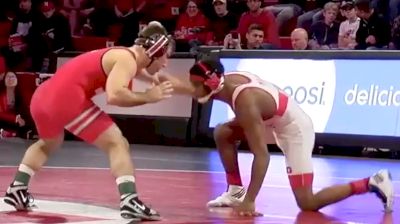 Unlock this video, live events, and more with a subscription!
Get Started
Already a subscriber? Log In
The third big contributor to Ohio State's projected point total is 149-pounder Sammy Sasso, who has been ranked #1 for the last three weeks after his win over Iowa's Pat Lugo. He is also the Buckeye with the largest variance this year having been projected to score anywhere from 2 to 20 points.
The inconsistency in Sasso's projected point total is more a product of the parity at 149 than it is a reflection on Sasso's performance. This is a weight class that has had four wrestlers ranked #1 and seems to have at least seven legitimate title contenders.
An NCAA title from Sasso would probably ensure a team trophy for the Buckeyes, but even a top-four finish would go a long way.
Without a doubt, Ohio State's projected point total is top-heavy with Moore, Pletcher, and Sasso currently accounting for 84.21 percent of their total. Still, the rest of their lineup can contribute.
The next three most likely point contributions come from 165 through 184. Ethan Smith, Kaleb Romero, and Rocky Jordan have all been ranked to finish right on the bubble for All-American honors.
For a few weeks, Romero has been projected to finish on the podium after his win over All-American Devin Skatzka. Smith and Jordan, on the other hand, have been projected to finish one match shy of All-American honors.
Given how unpredictable 149 seems to be, the Buckeyes could really use points from this group of three. If one or more of them could get on the podium, their trophy dreams will be that much closer to becoming reality.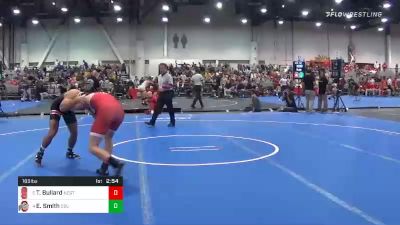 Unlock this video, live events, and more with a subscription!
Get Started
Already a subscriber? Log In
The rest of the lineup, while certainly capable of scoring at NCAAs, is not projected to have a major impact on the team total, so any performance above expectations from Heinselman, Decatur, Kinner, or Traub will be added insurance in this trophy race.
---
Other Articles in this Series
Can Penn State Run Down An NCAA Title?
Can Wisconsin Win An NCAA Team Trophy In Coach Bono's 2nd Season?
Can Powerful Princeton Win A Top 4 Trophy At NCAAs?
Can Minnesota Win An NCAA Team Trophy In Their Home City?
Can Nebraska Win An NCAA Team Trophy?
Can Undefeated NC State Win A Team Trophy In March?
Purdue Is On The Rise, But Are They An NCAA Trophy Team?
Can The UNI Panther Train Roll To An NCAA Team Trophy?
Can Oklahoma State Win An NCAA Team Trophy In An Up And Down Year?