2023 NCAA Championships Watch Party
Complete 2023 NCAA Wrestling Championships Preview & Predictions
Complete 2023 NCAA Wrestling Championships Preview & Predictions
A full preview and predictions for every weight class at the 2023 NCAA Wrestling Championships.
Mar 14, 2023
by Jon Kozak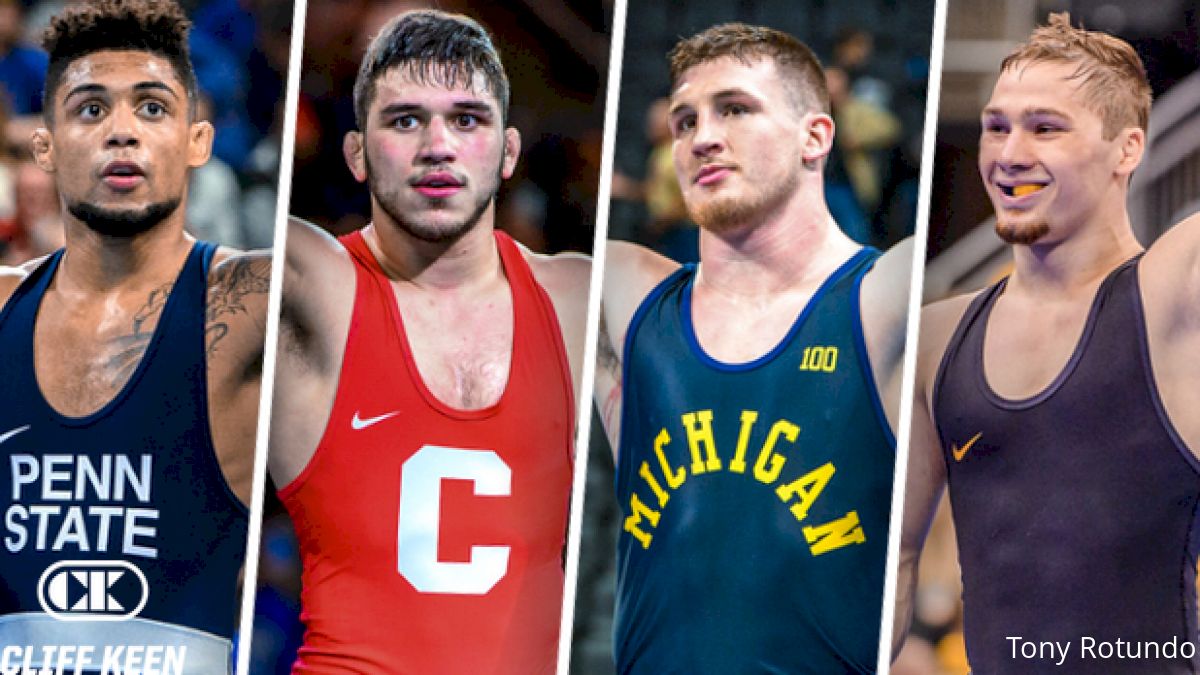 The 2023 NCAA Wrestling Championships will go down in Tulsa, Oklahoma from March 16-18. This tournament is the pinnacle of college wrestling featuring the top 33 wrestlers in the country at every weight class. Check out the below article for a full preview with predictions for this incredible tournament.
Jump to each of the individual weight class previews below along with links to our rankings and the NCAA brackets:
Brackets | Rankings | Weight Class Previews: 125, 133, 141, 149, 157, 165 174, 184, 197, 285
---
125 Pounds
The Favorite
Spencer Lee is the largest odd-on-favorite to win the NCAA title this year of any weight class. Going for his fourth NCAA title, the Hawkeye has never lost an NCAA Championship match. If Lee wins, he will be the first-ever 4X NCAA champion from Iowa and will officially cement himself as one, if not they, greatest Hawkeye ever.
Lee will also be chasing his third Dan Hodge Trophy Award. Going into NCAAs, he is 17-0 with an 88% bonus rate and an absurd dominance score of 5.05. Of his 17 matches this season, only 5 have gone the distance and of those, only two have been regular decisions. We are witnessing history as it happens with Spencer Lee.
Watch Spencer Lee's three NCAA titles in reverse chronological order below
Contenders
The only other undefeated wrestler in the bracket outside of Spencer Lee is Patrick Glory. With Lee out last season while recovering from double ACL surgery, Glory made the finals but fell to Nick Suriano. Glory and Lee haven't met since 2018 when Lee won 12-6. However, there was a little drama between the two when neither wrestled in the Princeton - Iowa dual in 2021.
Skip to 3:35 below to hear Glory explain the story behind the Iowa weigh-in drama below.
Lee navigated his way through the Big Ten tournament with relative ease. His closest match came in the finals against Liam Cronin, who is having an outstanding season. After medically redshirting last season, Cronin is now 20-4 with two losses to Lee and the other two other losses occurring in the first semester. He's beaten Michael DeAugustino twice this year. A potential Glory - Cronin semifinal is invigorating.
Speaking of DeAugustino, he was completely resurrected from the dead at Big Tens. After a shakey regular season where he clearly wasn't healthy, the Northwestern put it together when it counts and beat Matt Ramos and Eric Barnett in Ann Arbor. And while he lost to Cronin in the semis, the 2-1 match looked a lot different than their 9-1 regular season match.
Unfortunately for us fans, Cronin and Ramos are on opposite sides of the bracket, meaning if they see each other, it will be on the backside. Ramos has had a great year similar to Cronin, and despite both being in the Big Ten, they have never competed against each other.
Sleepers And Landmines
Is it allowed to call an All-American a dark horse? Probably not, but most former AAs aren't current 28 seeds. West Virginia's Killian Cardinale received his low seed by not competing at the Big 12 tournament and in only 10 matches during the regular season. He's clearly hurt, the question is just how much? Even a not fully healthy Cardinale is still dangerous. While his best win is Joey Prata, he's still undefeated in matches he's actually wrestled this year.
My other potential dark horse is Stanford's Nico Provo. Originally a Cornell commit, Provo flipped and followed Rob Koll to Stanford. At 20-9 he's had a solid freshman year. Like most freshmen, he's been susceptible to bad losses but has some decent wins such as Stevo Poulin, Reece Witcraft, Trevor Mastrogiovanni, and Troy Spratley.
JD's Predictions
The Liam Cronin - Patrick Glory semifinal is very intriguing to me, but Glory has been there and done that in the semis. Michael DeAugustino looked great at Big Tens, but I worry about him being able to stay healthy through a full NCAA tournament. I have Nico Provo upsetting Brandon Kaylor on the backside and then losing to Eric Barnett. However, if Kaylor wins like he has this season and is supposed to, I think he beats Barnett and gets on the podium.
Full All-American predictions:
Spencer Lee, Iowa
Pat Glory, Princeton
Liam Cronin, Nebraska
Matt Ramos, Purdue
Patrick McKee, Minnesota
Eric Barnett, Wisconsin
Brandon Courtney, Arizona State
Michael DeAugustino, Northwestern
---
133 Pounds
The Favorites
#1 Roman Bravo-Young, Penn State
#2 Daton Fix, Oklahoma State
As previously stated, these two have met in the NCAA finals the past two years. While Bravo-Young is 2-0. those matches were both very close. Prior to a 3-2 victory in 2022, it took sudden victory for RBY to win in 2021.
Watch RBY and Fix's two NCAA finals below.
Can Fix flip the result this year? Considering he's one of the best pound-for-pound wrestlers in America (not just NCAA), he's definitely got a shot. It obviously won't be easy. Fix has never taken RBY down. Bravo-Young is riding a 52-match win streak into NCAAs that has spanned the past three seasons. The streak is second only to Spencer Lee.
Contenders
#3 Vito Arujau, Cornell
#4 Michael McGee, Arizona State
#5 Michael Colaiocco, Penn
#7 Kai Orine, NC State
#8 Sam Latona, Virginia Tech
#10 Aaron Nagao, Minnesota
The main opposition standing in between Fix - RBY III will be Vito Arujau. While Fix has been more consistent in their college careers, don't forget, Arujau beat Fix at the 2021 Olympic Trials. Arujau scored two takedowns to Fix's zero in that match. With the right game plan and execution, Arujau could upset Fix.
With his quickness, low single, slide-by, and savvy mat game, Michael McGee is a tough out for anyone. With his only two losses this season both coming to Arujua, he has rightfully earned the #4 seed.
Kai Orine proved how dangerous he is at ACCs when he took out both Sam Latona and Micky Phillippi en route to the title. He then proceeded to give us an A+ celebration.
Oh HELL yeah brother. We've got ourselves a BAD MAN down in North Carolina @BarstoolPack pic.twitter.com/5WjF39ObzC

— Barstool Sports (@barstoolsports) March 6, 2023
Orine split with Latona on the year, losing 3-1 in the dual and took a couple of weird losses early in the year, but if he can channel the same energy he had at ACCs, he's a bad man.
I hesitated to put Michael Colaiocco in the contenders category considering he was majored by 8-0 by Vito at EIWAs. However, with wins over Lucas Byrd and Chris Cannon on the year, he deserves a mention.
Similar to Orine, conferences was sort of Aaron Nagao's coming out party. He took out Lucas Byrd and Jesse Mendez en route to making the finals. And while he lost to RBY 5-2, he did ride him out the entire third period. Top game like that is a huge asset that can pay dividends at NCAAs. Not even Fix has been able to ride RBY like that.
Sleepers & Landmines
18-seed Jason Shaner, Oregon State
23-seed Wyatt Henson, Oklahoma
What Chris Pendleton and co. have done at Oregon State is tremendous and Jason Shaner is a great example. A transfer from Clackamas Community College, Shaner has beaten Sam Latona and Kai Orine this season. He's taken his losses too (he's the #18 for a reason), but I like his draw. I have him falling to Nagao on the backside, but if he can upset him that would set up a rematch with Latona.
Wyatt Henson was having a pretty average season going into Big 12s sitting at around a .500 record. However, after losing in the first round to Cody Phippen, he went ultimate road warrior and came all the way back for 3rd place. That says a lot about a guy and it really impressed me. He's battle-tested coming into Tulsa and I wouldn't be shocked to see him pull off an upset on the backside.
JD's Predictions
I'm not predicting anything too crazy. I do have nine-seed Micky Phillippi finishing in sixth. As a 3X bloodround guy on his last hoorah, I think Philllippi does what he has to and looks good on the backside. I also have 10-seed Lucas Byrd taking out Jesse Mendez in the bloodround, but Mendez did beat him at the Michigan State open, so I wouldn't be surprised to see Mendez make the podium. Mendez had a large lead on Nagao in the Big Ten semis before Nagao was able to change things with his top game. Mendez then fell to 6th place. If Mendez keeps his lead against Nagao and makes the Big Ten finals, we're looking at him in a completely different way coming into this tournament.
Full All-American predictions with round of 12 finishers:
Roman Bravo-Young, Penn State
Daton Fix, Oklahoma State
Vito Arujau, Cornell
Michael McGee, Arizona State
Sam Latona, Virginia Tech
Micky Phillippi, Pitt
Kai Orine, NC State
Lucas Byrd, Illinois
Round of 12 finishers: Michael Colaiocco, Penn, Dylan Ragusin, Michigan, Jesse Mendez, Ohio State, Aaron Nagao, Minnesota
---
141 Pounds
The Favorites
Andrew Alirez and Real Woods have been the best wrestlers at 141 pounds all year. Alirez announced his presence early in the season when he knocked off the #1 Cole Matthews at the NWCA All-Star Classic in November. Since then, he's done nothing but win - compiling a 23-0 record with 8 different ranked wins and 18 by bonus points (6 pins, 5 techs, and 7 majors). Along with being one of the favorites to win a title, Alirez is also looking to earn his first All-American honors after failing to place in 2020 (because of covid), missing 2021 with an injury, and losing 1 match shy of the podium last season.
Andrew Alirez's win over Cole Matthews at the NWCA All-Star Classic:
Like Alirez, Real Woods has been a title favorite since the beginning of the season and has only proved himself worthy of that description. Woods is 16-0 on the year with notable wins over Brock Hardy (X2), Frankie Tal-Shahar, Beau Bartlett, Parker Filius, and a number of other ranked wrestlers. Along with reaching the podium last season with a 6th-place finish, Real Woods also recorded a win over the aforementioned Andrew Alirez at the 2022 Southern Scuffle. As the #1 seed at NCAs, Woods will likely have to wrestle #4 seed Brock Hardy for the 3rd time this season or #5 seed Ryan Jack in the semi-finals for a chance at the potential showdown with Alirez in the finals.
Woods' win over Alirez from the 2022 Scuffle:
Contenders
While Alirez and Hardy have been the clear #1 and #2 wrestlers all season, the above four have established themselves as the next tier. These four might be underdogs, but no one should be shocked if Matthews, Jack, Hardy, or Bartlett make the finals. Cole Matthews placed 5th at last year's NCAA tournament highlighted by a win over the 1 seed Real Woods, 7-3. Matthews lost to Andrew Alirez and Jordan Titus this year, but his wins over #3 Ryan Jack (2), #7 Lachlan McNeil, and #10 Tom Crook prove Matthews is still a force to be reckoned with and a contender to win an NCAA title this year.
Highlights of Cole Matthews' win over Real Woods at last year's NCAA Tournament:
Ryan Jack and Brock Hardy have split matches this year with Jack winning the first meeting in November and Hardy getting revenge at the CKLV in December. Jack has compiled a list of impressive wins with only losses to Hardy and Matthews. This year, Jack has ranked wins over #7 Lachlan McNeil (2), #10 Tom Crook (2), #15 Cael Happel, #24 Malyke Hines, and #22 Josh Koderhandt.
On top of his losses to Woods and Jack, Hardy took 2 "random" losses in the regular season to Emilio Ysaguirre and Dylan Droegemueller. Despite those losses, Hardy has 15 ranked wins on the year and his competitive matches to Real Woods show us how close he is to the top of this weight class.
Hardy's win over Jack from the 2022 CKLV:
Then there's Beau Bartlett. Many might leave him out of this list of "contenders" for his losses against Hardy and Woods. Aside from those losses, Bartlett has been the model of consistency with wins over #17 Dylan D'Emilio (2), #14 Parker Filius, HM Cole Mattin, HM Kal Miller, HM Joey Olivieri, #7 Lachlan McNeil, #16 Cleveland Belton, HM Shannon Hanna, and #24 Malyke Hines. Bartlett wrestles a great style to make a deep run in this tournament - he's incredibly hard to score on and finishes almost every time when he gets his hands locked around a leg. Bartlett will be in every match and absolutely capable of defeating anyone in the country at 141 pounds.
Sleepers & Landmines
This isn't hyperbole - I wouldn't be surprised if half of the wrestlers in this bracket reached the podium. Vince Cornella, Allan Hart, Mosha Schwartz, Lachlan McNeil, Clay Carlson, and a hose of others are legitimate All-American contenders. However, I don't think those wrestlers fit the category of a "sleeper or landmine."
Instead, I chose to limit this category to guys seeded outside of the top 12 that could really "blow things up" in this bracket. First up is the #14 seed - Cael Happel. Up until Big 12s, Happel was a top 10 wrestler with wins on the season over #10 Tom Crook, #13 Clay Carlson, #17 Dylan D'Emilio, HM Jordan Titus, #20 Casey Swiderski, and HM Joe Zargo. While his 0-2 performances at Big 12s is concerning, no one should be surprised if Happel goes on a run to make the podium.
Last year Oregon State had an outstanding performance at NCAAs and Grant Willits placed 4th from the #8 seed at 141 with wins over Cole Matthews and Chad Red. This year, Cleveland Belton is Oregon State's 141-pounder. Belton is the #21 seed but is set up in a great spot to make some noise in Tulsa. In round one, Belton has #14 Parker Filius - who Belton defeated 3-2 at the 2022 CKLV earlier this year. Should he win that match, Belton will likely #4 face Ryan Jack in round 2. Though he's an underdog in that match based on a 6-1 head-to-head loss from earlier this year, he should be capable of keeping the match close and competitive.
Belton's win over Filius at the 2022 CKLV:
Jordan Titus and Casey Swiderski are two freshmen to keep an eye on in this bracket. Titus showed off his potential when he defeated #3 Cole Matthews earlier this year, 3-1. Titus is the #29 seed and will face #4 Brock Hardy in round 1. I don't have the guts to pick an upset there but I'm absolutely going to be watching because of Titus' potential.
Finally, Casey Swiderski. Many hopped on the Swiderski hype train at the beginning of the year when he defeated national qualifier HM Joe Zargo and wrestled #2 Real Woods to a close, 3-2 decision loss early in the season. However, many abandoned that train when Swiderski looked to be dealing with an injury and lost 7 of 8 matches from late January through February. However, Swiderski's 4th place performance at Big 12s with wins over #15 Cael Happel and HM Job Greenwood suggests he may have righted the ship and is ready to reach the podium in Tulsa.
Casey Swiderski had big expectations heading into his freshman year at Iowa State:
Kozak's Predictions
Andrew Alirez has been so impressive all year and I believe he'll prove that he's the best wrestler in the country against Real Woods in the finals on Saturday night. That match should be incredibly close but I favor Alirez who has shown to have the more high-powered offense. Beyond that, Woods has the tendency to slow down toward the end of matches, leaving me wondering if he'll get upset prior to reaching the finals. Regardless of what happens, this weight will be one of the most exciting in the country!
Full All-American predictions with round of 12 finishers:
Andrew Alirez, Northern Coloardo
Real Woods, Iowa
Cole Matthews, Pitt
Brock Hardy, Nebraska
Lachlan McNeil, North Carolina
Ryan Jack, NC State
Beau Bartlett, Penn State
Cael Happel, Northern Iowa
Round of 12 finishers - Vince Cornella (Cornell), Casey Swiderski (Iowa State), Cleveland Belton (Oregon State) Allan Hart (Missouri)
---
149 Pounds
The Favorite
#1 Yianni Diakomihalis, Cornell
Not every weight has a true, stand-alone favorite, but 149 lbs does. Yianni is looking for his fourth NCAA title, an accomplishment that he would be only the fifth or sixth person to accomplish (depending on Spencer Lee's performance and the finals weight class order).
How good has Yianni been? The Cornell three-timer is 110-2 in his career with nearly six years between his two college losses to Jaydin Eierman and Austin Gomez. Oh, and he won a silver medal at the World Championships during his college career as well.
Despite Yianni's nearly flawless career, he did lose his opening match of the season 9-3 to Austin Gomez during a Cornell vs Wisconsin dual in November. If Yianni were to meet Gomez again, it likely wouldn't happen until the finals as Gomez is on the opposite side of the bracket in the #15 seed.
If seeds hold, Yianni's path through the bracket would include Anthony White of Rutgers, Colin Realbuto of UNI, Max Murin of Iowa or Jonathan Millner of Appalachian State in the quarterfinals, Caleb Henson of Virginia Tech or Paniro Johnson of Iowa State in the Semifinals, and either Sammy Sasso of Ohio State or Kyle Parco of Arizona State in the finals.
Check out highlights from Yianni's impressive EIWA performance
Contenders
#2 Sammy Sasso, Ohio State
#3 Kyle Parco, Arizona State
#4 Caleb Henson, Virginia Tech
#5 Yahya Thomas, Northwestern
#6 Jonathan Millner, Appalachian State
#7 Paniro Johnson, Iowa State
#9 Austin Gomez, Wisconsin
Despite having such a clear favorite, this weight class has no shortage of contenders. Austin Gomez currently has the lowest ranking of anyone in this group, but his name belongs at the top of this list as he's only one of two humans to beat Yianni in college competition. Gomez has battled injuries during the back half of the season which landed him the #15 seed. He has a brutal path through the bracket, but if he's healthy, he's definitely a contender.
The other two elder statesmen in this group, Yahya Thomas and Jonathan Millner, both started their college careers in the 2017-18 season like Yianni and Gomez, but neither has faced Yianni during that time. Both have achieved All-American honors as Yahya finished 3rd in 2021 and Millner finished 8th and 6th in 2021 and 2022 respectively. Thomas beat Millner 2-1 for 3rd at CKLV.
Yahya Thomas vs Jonathan Millner at CKLV
On the opposite end of the age spectrum, true freshman Caleb Henson and redshirt freshman Paniro Johnson have proven to be hungry and capable this season. Henson was the ACC champ in his first attempt, and his hit list includes All-Americans Sammy Sasso, Jaden Abas, Monathan MIllner, and Zach Sherman. He lost a 6-2 decision to Yianni in January.
Hear from Caleb Henson after ACCs
Johnson won the Big 12 and has wins over All-Americans Austin Gomez and Brock Mauller. Henson and Johnson are the #4 and #5 seeds and could meet in a highly anticipated quarterfinal with a potential Yianni semifinal match on the line.
Paniro Johnson's passionate post-Big 12 interview
Two-time All-Americans Sammy Sasso and Kyle Parco also loom large in the bottom half of the bracket. Sasso was an NCAA finalist in 2021 and a 5th-place finisher in 2022. Yianni beat him twice last season. Parco finished 6th and 8th in 2021 and 2022 respectively. He fell to Yianni in January this year. Sasso and Parco could meet in this year's NCAA semifinal.
Yianni's 8-2 decision over Parco in January
Sleepers & Landmines
Max Murin, Iowa
Doug Zapf, Penn
Shayne Van Ness, Penn State
It's strange to consider Max Murin and Doug Zapf sleepers since they've been competing at a high level since 2017 and 2018 respectively, but neither has reached the All-American podium yet, and both are certainly capable. Zapf started his career at 133 lbs, qualified for NCAAs at 141 lbs in 2020, then moved all the way up to 157 lbs last season where he was also an NCAA qualifier. 149 lbs has been a nice weight for Zapf this season, and he had a victory over #4 seed Caleb Henson in the Keystone Classic finals in November. If Zapf can get past another tough freshman, Paniro Johnson, in the round of 16, he could see Henson again in the quarterfinals.
Murin has reached the blood round three times in his NCAA career and is looking to stand on the podium in his sixth and final season. He's has been a steady force for the Hawkeyes throughout his career, and he'd love to put significant team points on the board in Tulsa. Murin will probably see App State's Jonathan Millner in the round of 16. Millner had his number a year ago, so Murin would need to flip that script. If he loses in the round of 16, he would be seeded to see Brock Mauller in the round of 12.
Penn State's Shayne Van Ness is 19-6 in his freshman season for Penn State. He hasn't had a breakout performance for the Nittany Lions yet, but he's been in every match he's wrestled in his brutal Big Ten schedule. He sits in the super-freshman quarter and could see Caleb Henson in the round of 12 followed by either Paniro Johnson or Doug Zapf in the quarterfinal if he can get by Henson. That quarterfinal is fascinating because Johnson, Van Ness, and Henson are all freshmen, and Zapf is looking to make the podium for the first time. Someone may be poised for a breakout performance there.
Bray's Predictions
Yianni has been the man to beat throughout his entire career, and that doesn't appear to be changing now or as he transitions to full-time freestyle at the end of the season. The rest of this bracket is packed with intrigue, especially the consolation rounds of 16 and 12. There will be a bunch of excellent wrestlers outside the top 8.
Full All-American predictions with round of 12 finishers:
1. Yianni Diakomihalis, Cornell
2. Sammy Sasso, Ohio State
3. Kyle Parco, Arizona State
4. Paniro Johnson, Iowa State
5. Caleb Henson, Virginia Tech
6. Yahya Thomas, Northwestern
7. Jonathan Millner, Appalachian State
8. Brock Mauller, Missouri
Round of 12 - Austin Gomez (Wisconsin), Michael Blockhus (Minnesota), Doug Zapf, (Penn), Max Murin (Iowa)
---
157 Pounds
The Favorites
Austin O'Connor is looking to end his career with his second NCAA title and fourth All-American finish in Tulsa. As a freshman, O'Connor placed 3rd in 2019 and followed that up with an NCAA title in 2021 (both at 149 pounds). Last year, O'Connor bumped up to 157 and gutted out an 8th-place finish after tearing his ACL! Fully healthy this year, O'Connor has put together an incredible season at 18-0 with 14 coming by bonus points (4 pins, 4 techs, and 6 majors). Beyond that, O'Connor has notched impressive wins over #6 Bryce Andonian (2), #7 Ed Scott, Jake Keating (2), #21 Anthony Artalona, #22 Tommy Askey, and #24 Corbyn Munson. At the #1 seed, O'Connor is the favorite to reach the finals but will likely be tested by either #8 Will Lewan or #7 Ed Scott in the quarters and #5 Josh Humphreys or #4 Jared Franek in the semis.
Hear from Austin O'Connor after winning the recent ACC Championships:
For most of the early season, the question on Penn State fans' minds was whether Levi Haines was ready to start this year. That question is long gone now with Haines winning the Big 10 title and recording wins over #3 Peyton Robb, #13 Kendall Coleman, and #17 Derek Gilcher (and many other ranked wrestlers in the regular season). Haines has made incredible progress in his freshman season and is capable of winning a title this year. He's increased his point scoring as the season has progressed and has that special attribute of winning matches when they matter the most. Haines will likely face #6 Bryce Andonian and #3 Peyton Robb in the quarters and semis respectively so his run to the finals won't come without big tests along the way!
Levi Haines after winning Big 10s:
Up until his loss to Haines in the Big 10 finals, many were picking Peyton Robb to win NCAAs this year. During the year, Robb notched notable wins over #4 Jared Franek, #7 Ed Scott, #9 Chase Saldate, #13 Kendall Coleman, and a number of other ranked wrestlers (16 of his 25 wins were against ranked opponents). While the Big 10 finals loss may have slowed down the hype train slightly, no one should be surprised if Peyton Robb comes away from Tulas with the NCAA Champion trophy in his hands.
Peyton Robb's win over Ed Scott in the 2022 CKLV semis:
Contenders
Jared Franek's only loss on his record happened in the first match of the season - a 7-4 decision to Peyton Robb. Since then, Franek has rallied off 22 straight wins including notable ranked victories over #16 Jarrett Jacques, #13 Kendall Coleman, #15 Jacob Wright, and #10 Kaden Gfeller. As the #4 seed, Franek will likely have to get by #5 Josh Humphreys (who will talk about in a minute) and the aforementioned O'Connor. Franek wrestles a great style to take out both of those undefeated wrestlers - he's challenging to score on, gets away from the bottom quickly, and capitalizes at a high percentage when he gets his hand locked around a leg. Franek might not be flashy, but he's a dangerous threat to any of the top 3 in this weight.
Jared Franek after winning Big 12:
Josh Humphreys is currently 16-0 on the year and had a legitimate case at being the #2 seed (or at least ranked) wrestler in the country. Along with the undefeated record, Humphreys defeated Peyton Robb at last year's NCAA tournament and only suffered losses to Ryan Deakin and Austin O'Connor. Humphreys might be the best top wrestler in the country at 157 pounds, but at the #5 seed, he received a tough draw with an opening round match against Paddy Gallagher and likely matches against Kendall Coleman and Jared Franek to reach the finals. Humphreys will be looking to end his college career in Tulsa with his first All-American finish and with his career highlighted by wins over All-Americans Quincy Monday (3), Kaleb Young, Wyatt Sheets, and Hunter Willits - all signs point to Humphreys reaching the podium this year.
Josh Humphreys win in the 2023 EIWA finals over Anthony Artalona:
Anything can happen (and usually does) when Bryce Andonian takes the mat on the big stage. Andonian put on a show at last year's NCAA tournament when he made the semi-finals of the NCAA tournament pinning Austin Gomez and going on to take 3rd place. While Andonian wrestled a limited schedule this season coming back from injury, his wins over Ed Scott and Jake Keating prove he's still a dangerous man. Andonian is the #7 seed in the bracket and will likely face #10 Kaden Gfeller in the second round followed by #2 Levi Haines in the quarters. That's not the most ideal draw to make a run to the finals but it's unlikely that matters to the fearless Bryce Andonian.
Andonian talked about his exciting style and his incredible run at last year's NCAA tournament:
Sleepers & Landmines
There are an almost endless number of All-American contenders in the 157-pound bracket at NCAAs. No one should be surprised if #7 Ed Scott, #8 Will Lewan, #10 Kaden Gfeller, #9 Chase Saldate, #12 Trevor Chumbley, or #13 Kendall Coleman finish in the top 8 of this weight class. For that reason, I'm not including them in the "sleepers & landmines" category.
The above 4 wrestlers all fit the category better in that they would be surprise All-Americans OR they have the ability to "blow up" the bracket by upsetting higher-ranked wrestlers. Let's start with #14 Cobe Siebrecht. Yes, he recorded impressive wins over #8 Will Lewan, Brayton Lee, #18 Garrett Model, #17 Derek Gilcher, #20 Paddy Gallagher, #21 Anthony Artalona, and #12 Trevor Chumbley this year. Siebrecht is an All-American threat…so why is he in this category? At the #14 seed, Siebrecht will potentially wrestle #3 Peyton Robb in the second round! Few are likely predicting Siebrecht comes out on top in that match but his ability to hit a big move should at the very least cause fans everywhere to circle that second-round matchup as one to watch!
Then there's Daniel Cardenas - how is a #6 seed a sleeper? The question we should really be asking is how did Daniel Cardenas get the #6 seed? Yes, he's 22-1 on the year, but he didn't wrestle in most of Stanford's PAC-12 duals because there was a good chance Stanford was going to redshirt him this year. After that, his best win is over #10 Kaden Gfeller with a loss on his record to #16 Jarrett Jacques. Cardenas has flown under the radar all year - could he make a run to the semis or does he drop a match early? Cardenas is an unknown in this bracket and will be fascinating to watch in Tulsa!
Daniel Cardenas' win over Kaden Gfeller:
Derek Holschlag and Tommy Askey are the final two sleepers in this bracket. Holschlag has a win over #10 Kaden Gfeller this year and has #9 Chase Saldate in the first round. While Saldate is tough, that's a winnable match for Holschlag. He would then get the winner of Cesar Alvan and the aforementioned Cardenas. Again, that's a winnable match for Holschlag and likely the best draw he could ask for in order to make the quarter-finals.
Tommy Askey has quietly put together a great year and is riding a 14-match win streak heading into the NCAA Tournament. Askey is also set up with a decent draw at the #24 seed with Will Lewan in the first round. Because Lewan wrestlers every match closely, there's a great chance the Askey-Lewan match will be a tight bout or even go into overtime. Askey is in a great spot to pull off an early upset and set himself up for a run in this bracket.
Tommy Askey's win over Derek Holschlag at the 2022 CKLV:
Kozak's Predictions
Austin O'Connor has proven throughout the season that he's separated himself from the field and I believe he'll prove it once again by winning this bracket Saturday night in Tulsa. O'Connor will have to navigate tough matches from the quarter-finals on but I believe the real landmines are down in the bottom side of the bracket with #6 Bryce Andonian, #3 Peyton Robb, and #2 Levi Haines battling it out for a spot in the finals.
Full All-American predictions with round of 12 finishers:
Austin O'Connor, North Carolina
Bryce Andonian, Virginia Tech
Levi Haines, Penn State
Peyton Robb, Nebraska
Josh Humphreys, Lehigh
Jared Franek, North Dakota State
Ed Scott, NC State
Chase Saldate, Michigan State
Round of 12 - Kaden Gfeller (Oklahoma State), Will Lewan (Michigan), Cobe Siebrecht (Iowa), Kendall Coleman (Purdue)
---
165 Pounds
The Favorites
#1 David Carr, Iowa State
#2 Keegan O'Toole, Missouri
We'll get to the cavalcade of contenders momentarily, and while they all have arguments to be made for being considered in this top tier, there is only one wrestler who is undefeated on the season (and has wins over the #2, #3, #4 & #5 seeds), and that's 2021 157-pound NCAA champ David Carr.
There's also only one wrestler who took Carr to overtime, and that's 2022 165-pound national champ Keegan O'Toole, hence our short list of favorites.
Carr also got the better of O'Toole when they met in a regular-season dual meet. Luckily for O'Toole, he won't see Carr on the championship side unless they both make the NCAA finals, as they earned the #1 and #2 seed. The first match was a solid 7-2 decision for Carr (which you can watch below). The rematch was much closer despite ending with a pinfall for Carr (you can watch the final 5 seconds of that match here).
Will we see a third match between these two NCAA champs in just 32 days? We will if they can maneuver through the gauntlet of contenders we are about to discuss below.
Contenders
#3 Julian Ramirez, Cornell
#4 Quincy Monday, Princeton
#5 DJ Hamiti, Wicconsin
#6 Michael Caliendo, North Dakota State
#7 Patrick Kennedy, Iowa
#8 Cam Amine, Michigan
#9 Carson Kharchla, Ohio State
#10 Matthew Olguin, Oregon State
#11 Shane Griffith, Stanford 9 seed
When the 2021 165-pound champ is ranked #11 and drew the #9 seed, it should come as no surprise that we end up with a lengthy list of contenders. Which means at least a few of these highly ranked and accomplished wrestlers will be on the outside looking in next Saturday in Tulsa.
This bracket was also constructed in a way that will probably produce a lot of rematches well before a potential Carr vs O'Toole round 3 in the finals.
The first big rematch we might see is between Griffith and Olguin, who are the #8 and #9 seed respectively, and thus would meet in the second round. Olguin beat Griffith twice, both by narrow margins; 3-2 in the final dual of the season and in sudden victory in the Pac-12 finals.
It's been a breakout season for Olguin as the redshirt junior with sophomore eligibility is ranked in the top 10 for the first time in his career. He also took Quincy Monday to overtime in dual meet earlier this year, which you can watch below.
Speaking of Monday, another rematch lurking in the bracket is a quarterfinal bout between #4 seed Julian Ramirez and #5 seed Quincy Monday. Ramirez got the dub in both the regular season dual and the finals of the EIWA, the latter of which was an absolute war, and which you can watch below.
Monday's only losses on the year were to Ramirez. He also has an unofficial loss to David Carr in the NWCA All-Star Classic, which was not factored into qualification and seeding formulae.
Big Ten rivals Cam Amine and Pat Kennedy should hit in the second round. Kennedy defeated Amine, an 2022 & 2021 All-American, in his first Big Ten Tournament by the score of 3-2.
The winner of that rematch will likely face off against another familiar foe in true sophomore returning All-American DJ Hamiti, the #3 seed, in the quarterfinals. Amine beat Hamiti in a dual meet this year and at NCAAs last season, however, Hamiti beat Kennedy in the Big Ten finals last week, 9-6, which you can watch below (go to the 55th minute of the video if doesn't load up when you hit play).
#10 seed Carson Kharchla, last year's 7th placer at 165, could see redshirt freshman #7 seed Michael Caliendo in the second round. If so, we'd be seeing a new matchup for a change of pace, as those two haven't met before in college. Caliendo is having a tremendous first year in the varsity lineup for the Bison, finishing as runner-up at the Southern Scuffle and Big 12 Tournament. His only losses on the season were twice to O'Toole and once to Griffith, which you can watch below.
With all the familiarity in the upper seeds, the big questions for this bracket will be if wrestlers can flip the scripts and reverse past results, or if it'll be more of the same and a repeat of the historical record.
Sleepers & Landmines
#22 Tanner Cook, South Dakota State
#23 Wyatt Sheets, Oklahoma State
If you see Tanner Cook in your path on a bracket, you're going to want to match-plan around his style, which includes a heavy dose of gator bacon/flying cement jobs. Don't believe me? Watch this!
Wyatt Sheets is the most dangerous man in the county with a seed in the 30s, as he placed 8th in 2021 from the #33 seed. He was posed for another run in 2022 with the #31 seed but got stopped by David Carr in the 2nd consolation round after Carr was upset in his second bout of the tournament.
This year Sheets is the 31st seed again and will have O'Toole in the first round. Assuming an O'Toole victory, Sheets will be in the consolation bout with a match against with either 18-seed Maxx Mayfield or 15-seed Justin McCoy. A win there and it's either 17-seed Austin Yant or 16-seed Joshua Ogunsanya. No gimmies by any stretch of the imagination but wins there would put Sheets two victories shy of another podium placement. Stranger things have happened, like Sheets' 2021 NCAA Tournament!
Spey's Predictions
Griffith and Olguin at 8 and 9 seeds and Hamiti, Kennedy and Amine at 3, 6 & 11 make this a very difficult bracket to predict (not that any of the brackets are ever particularly easy). I'm going with Amine over Kennedy and Hamiti over Amine, in a flipping of the script in both instances.
I'm sticking to my script-flipping guns with Griffith and Olguin too, as I've got Griffith winning round 3 with his Beaver rival.
With Monday and Ramirez, however, I'm going chalk and penciling in Ramirez for a third victory over his Ivy rival.
Likewise, I've got Carr staying undefeated on the season, which includes another win over O'Toole in the finals.
The round of 12 is going to be excruciatingly bloody at this weight this year. I've got Kharchla, Kennedy, Olguin and Northern Illinois' Izzak Olejnik all falling one match shy of the podium. However, the confidence level is very low for those picks, and I would not be the least bit surprised if all four reach All-American honors, making a mockery of my prognostication powers in the process.
Full All-American predictions with round of 12 finishers:
David Carr, Iowa State
Keegan O'Toole, Missouri
DJ Hamiti, Wisconsin
Michael Caliendo, North Dakota State
Julian Ramirez, Cornell
Shane Griffith, Stanford
Quincy Monday, Princeton
Cam Amine, Michigan
Round of 12: Patrick Kennedy, Iowa; Carson Kharchla, Ohio State; Matthew Olguin, Oregon State; Izzak Olejnik, Northern Illinois
---
174 Pounds
The Favorite
#1 — Carter Starocci (Penn State)
There's only one favorite here: Carter Starocci. The Penn State star is the class of the field and hasn't really been tested — even if a close score or two says otherwise. Although it doesn't count for seeding, Starocci's 2-0 win over Virginia Tech's Mekhi Lewis at the All-Star meet got his season off to a solid start and he hasn't slowed down since.
Starocci notched bonus points in 14 of his 19 wins and has a 6-1 win over second-seeded Mikey Labriola of Nebraska. He's good on his feet, tough on top, and can get out from underneath. That's a winning combination at the national tournament.
The Erie, Pennsylvania, native is the returning two-time NCAA champion and is a solid pick to get his third title this season.
Watch highlights from Carter Starocci's 2022 NCAA Championship finals match against Mekhi Lewis
The Contenders
#2 — Mikey Labriola (Nebraska)
#3 — Mekhi Lewis (Virginia Tech)
#4 — Chris Foca (Cornell)
Lewis (18-1) is a 2019 NCAA champion at 165 pounds who reached the finals against Starocci in last year's NCAA Championships. Starocci ultimately won in tiebreakers in the most exciting match of the finals — perhaps the entire tournament.
The Hokie star will need to recreate that magic if he wants a return trip to the finals against Starocci. And he certainly has the tools. Lewis is dangerous on his feet, and his ACC finals match against NC State's Alex Faison showed he can pull out gritty wins in tiebreakers.
Mikey Labriola (25-1) enters with a lone loss to Starocci but a 3-1 sudden victory win over Lewis at the Cliff Keen-Las Vegas Invite earned him the second seed. Labriola is a control wrestler who doesn't always win big — he just wins.
The Easton, Pennsylvania, native placed sixth in 2019, third in 2021, and seventh in 2022. His senior season needs to be his time to shine, and he has a favorable path to the semifinals where he is expected to face Lewis.
Cornell's Chris Foca (24-1) is on the same side as Starocci where the two will presumably meet in the semifinals. Foca has a 3-2 loss against Lewis at CKLV but has been a steady force at the weight all season.
The Big Red star is funky, can scramble, and sometimes goes big. Foca can put people on their backs, which is good news for Cornell as it looks to snag a team trophy. The Cliffside Park, New Jersey, native was the 14-seed last year and went 1-2 but should improve upon that outcome during his sophomore campaign. A semifinal win over Starocci seems unlikely, but Foca is dangerous enough to make the match intriguing. He lost 3-2 to Starocci last year, so there's reason to believe can keep it close again.
Mikey Labriola earned his biggest win of the season at the Cliff Keen-Las Vegas Invite
Sleepers & Landmines
#11 — Nelson Brands (Iowa)
#17 — Donnell Washington (Indiana)
#18 — Tate Picklo (Oklahoma)
There are few landmines to navigate if Starocci is the favorite and Labriola, Lewis, and Foca are contenders.
Washington handed Starocci a 10-9 loss during the Starocci's first official college match, so he has to be a landmine regardless of where he's positioned in the bracket. Starocci defeated Washington 11-3 on February 5, but it makes for an interesting second-round matchup if Washington can get past Sam Wolf of Air Force.
Nelson Brands is 10-6 on the season but is difficult to score on. He only has one bonus point win this season and all of his losses were by three points or less. Brands fell to Starocci 2-1 and Labriola 5-2, but can he score enough points to overtake one of them at some point during the tournament?
Brands' first-round match is against NC State's Alex Faison, who took Lewis into tiebreakers in the ACC conference finals. Expect that match to go down to the wire, and expect that match to impact the team race. The Hawkeyes and the Wolfpack are fighting for hardware, so an early-round win will help.
Oklahoma's Tate Picklo started the season at 184 before cutting down to 174. He is 22-8 on the season over two weights and has the potential to reach the podium. The Mustang, Oklahoma, native has a diverse array of offense but he has wrestled close matches all season. Picklo can be dangerous if he decides to open it up and pour it on.
Tate Picklo defeated Northern Iowa's Lance Runyon earlier this season.
Klingman's Predictions
Unlike 141 and 197, this weight seems predictable weight class on paper. Top-seeded Cater Starocci defeated second-seeded Mikey Labriola. Second-seeded Labriola defeated third-seeded Mekhi Lewis. Third-seeded Mekhi Lewis defeated fourth-seeded Chris Foca.
The top four seem like solid picks to arrange themselves in the top four. Starocci should reach the finals for the third time, and the prospect of a Lewis-Labriola rematch in the semis is compelling.
Ohio State, Missouri, and Oklahoma State need placement points, which means Smith, Plott, and Mocco have added reasons to place high. Ruth has shown glimpses of high-end potential and this could be his breakthrough. Reaching the podium would be a big step for him and for the program.
1. Carter Starocci (Penn State)
2. Mekhi Lewis (Virginia Tech)
3. Mikey Labriola (Nebraska)
4. Chris Foca (Cornell)
5. Ethan Smith (Ohio State)
6. Dustin Plott (Oklahoma State)
7. Peyton Mocco (Missouri)
8. Edmond Ruth (Illinois)
Round of 12 finishers: Bailee O'Reilly (Minnesota), Nelson Brands (Iowa), Donnell Washington (Indiana), Rocky Jordan (Chattanooga)
---
184 Pounds
The Favorite
#1 Aaron Brooks, Penn State
Despite being the #3 seed, two-time NCAA champ Aaron Brooks has earned favorite status. He's a combined 5-0 in college against Keckeisen and Hidlay who are seeded ahead of him and has stepped his bonus rate up to 76.92% this season.
Brooks' #3 seed isn't egregious. He's 12-1 on the year with a loss to #5 seed Marcus Coleman from the Collegiate duals, and his wins haven't been that strong. On top of that, his victory over Parker Keckeisen at the NWCA All-Star Classic didn't officially count on his record. So while the seed isn't necessarily problematic, Brooks is still the favorite.
Brooks over Keckeisen at the All-Star Classic
His status at #3 does set up an interesting semifinal rematch with Trent Hidlay who he's narrowly defeated in the NCAA championships each of the last two seasons. Their 2021 finals showdown was a 3-2 win for Brooks while their 2022 semifinal went to sudden victory where Brooks won 6-4. Before a potential final with Keckeisen or semifinal with Hidlay, Brooks is seeded to face Kaleb Romero in the quarterfinals, Will Feldkamp in the second round, and Matthew Waddell in the first round.
Contenders
#2 Parker Keckeisen, Northern Iowa
#3 Trent Hidlay, NC State
#4 Marcus Coleman, Iowa State
#5 Kaleb Romero, Ohio State
#6 Trey Munoz, Oregon State
While Brooks is the clear favorite, this weight has no shortage of contenders. The top half of the bracket features top-seeded Parker Keckeisen, #5 seed Marcus Coleman, and #4 seed Trey Munoz. On that side, Keckeisen has had both the strongest season and career. He's finished 3rd the last two seasons and has registered his highest bonus rate of 65.22% over the course of his 22-1 2022-23 season. He's never wrestled the #4 seed Munoz but is 4-0 against the #5 seed Coleman.
Parker Keckeisen's interview after winning Big 12s
Trey Munoz, the #4 seed, is 24-1 on the year with his lone loss coming against Nebraska's Lenny Pinto who happens to be seeded 13th and is projected to have a rematch with Munoz in round 2. Should he flip the script on Pinto, he will see Coleman, who he beat in a dual in December. Munoz is looking for his first All-American honor. Coleman is 19-3 this year. His win over Aaron Brooks has been the high water mark of his season. Other than his loss to Munoz, his only two defeats this year came at the hands of top-seeded Keckeisen.
Trent Hidlay and Kaleb Romero are the two most likely contenders on the bottom half of the bracket. The challenge for Romero is that he has a potential quarterfinal against Brooks who has defeated him three times in the last two seasons. Their matches at 2022 NCAAs and 2023 Big Tens were both major decisions for Broooks, but Romero did keep their bout in this season's dual to a 3-2 decision.
Hear from Trent Hidlay after his 3rd ACC title
NC State's Trent Hidlay has given Brooks some of his toughest battles over the last two years. To get to Brooks, however, Hidlay will probably need to get past Rutgers' Brian Soldano, one of the most dangerous wrestlers in the bracket, and Virginia Tech's Hunter Bolen who he's wrestled six times in his career. All six of those matches have been decided by one or two points, and two of them have needed overtime. Bolen won the first three matches in the series, but Hidlay has won the most recent three.
Sleepers & Landmines
Gavin Kane, North Carolina
Lenny Pinto, Nebraska
Brian Soldano, Rutgers
North Carolina's Gavin Kane has been surging at the right time. At the beginning of the season, he was 6-4, but he enters the postseason at 21-6 with a victory over Bolen at the ACC Championships. He could see Kaleb Romero in the second round in a rematch from November that Romero won 6-4. His path to All-American honors will likely require him to beat someone he's lost to in the past, but he's shown the ability to do that.
Dangerous freshmen Lenny Pinto and Brian Soldano have been two of the more entertaining wrestlers to watch in this weight class this season, and both are in positions in the bracket to cause chaos. Pinto is seeded to see Trey Munoz in round 2, a highly-seeded opponent he's already defeated this year. Many people will be circling that match as a potential upset, but they should be circling all of Pinto's bouts as must-watch matches. Soldano's high-risk style also makes his matches appointment viewing. He's not afraid to go to his back to put his opponents on theirs, and he's capable of pinning just about anyone.
Lenny Pinto's victory over Trey Munoz at CKLV
Bray's Predictions
Despite Brooks' loss to Coleman earlier this season, he's still the man to beat at 184 lbs. The rest of this weight is packed with returning All-Americans who may make podium spots for first-time AAs tough to come by.
1. Aaron Brooks, Penn State
2. Parker Keckeisen, Northern Iowa
3. Trent Hidlay, NC State
4. Marcus Coleman, Iowa State
5. Kaleb Romero, Ohio State
6. Trey Munoz, Oregon State
7. Hunter Bolen, Virginia Tech
8. Matt Finesilver, Michigan
Round of 12 - Travis Wittlake (Oklahoma State), Gavin Kane (North Carolina), Abe Assad (Iowa), Isaiah Salazar (Minnesota)
---
197 Pounds
The Favorite
#1 — Nino Bonaccorsi (Pittsburgh)
Bonaccorsi, a 2021 national finalist, earned the top seed following a 16-0 season. He reached the Round of 12 in 2022 and missed the podium, but his consistent season makes him the favorite entering the tournament.
His wins over #5 Michael Beard (Lehigh), #6 Isaac Trumble (North Carolina State), #11 Jaxon Smith (Maryland), #12 Zac Braunagel (Illinois), and #13 Yonger Bastida (Iowa State) prove he can go with anyone. And he is the only undefeated wrestler in the bracket.
The Pittsburgh star does not have an enviable quad, though. He will likely face either Braxton Amos (Wisconsin) or Owen Pentz (North Dakota State) in the second round, and both are tough outs. If everything goes to chalk, he'll have Allred or Dean in the quarterfinals. That's a tough three-match set to start a title run.
Bonaccorsi is the favorite solely because of his perfect season, but take this prediction at your own peril. The entire bracket could fall apart early.
Hear from Nino Bonaccorsi after winning his ACC title.
Contenders
#2 — Bernie Truax (Cal Poly)
#3 — Rocky Elam (Missouri)
#4 — Ethan Laird (Rider)
#5 — Michael Beard (Lehigh)
#6 — Isaac Trumble (North Carolina State)
#7 — Tanner Sloan (South Dakota State)
#8 — Silas Allred (Nebraska)
#9 — Max Dean (Penn State)
#10 — Jacob Cardenas (Cornell)
#11 — Jaxon Smith (Maryland)
#12 — Zac Braunagel (Illinois)
#13 — Yonger Bastida (Iowa State)
#14 — Jacob Warner (Iowa)
#15 — Luke Surber (Oklahoma State)
It seems ridiculous to list 14 contenders when there are 33 wrestlers in a bracket, but this weight warrants it. Dean defeated Warner in last year's NCAA tournament finals and they are seeded #9 and #14, respectively.
Dean has reached the championship finals twice, so he has more than earned contender status. He has a 6-0 win over Bonaccorsi but that was back in 2019 when they were at 184 pounds.
Warner (15-6) has a knack for coming through in the clutch at nationals, placing seventh, fourth, and second each of the past three contested seasons. This is the third time Warner has entered the NCAA Championships with six losses, so don't be surprised if he reaches the podium for a fourth time. Iowa needs his points, too. The time is now for the Hawkeye star.
Everyone else on the list has a reason to believe he can reach the finals following results from the season. Here's a look at how the top 10 seeds have faired against the field.
No. 2 Bernie Truax (13-1) has wins over #11 Smith and #5 Beard but was pinned by #6 Trumble.
No. 3 Rocky Elam (10-1) has wins over #15 Surber, #13 Bastida, and #7 Sloan but lost to #15 Surber.
No. 4 Ethan Laird (25-1) has a win over #9 Dean but lost by fall to #16 Pentz.
No. 5 Michael Beard (19-3) has wins over #15 Surber, #10 Cardenas, #9 Dean, and #6 Trumble but lost to #1 Bonaccorsi, #2 Truax, and #10 Cardenas.
No. 6 Isaac Trumble (19-4) has wins over #12 Braunagel, #8 Allred, and #2 Truax but lost to #21 Andy Smith (Virginia Tech), #5 Beard, and twice to #1 Bonaccorsi.
No. 7 Tanner Sloan (23-2) has wins over #8 Allred, and #15 Surber but lost to #21 Smith and #3 Elam.
No. 8 Silas Allred (26-5) has wins over #12 Braunagel and #9 Dean but losses to #14 Warner, #7 Sloan, and twice to #6 Trumble.
No. 9 Max Dean (20-3) has wins over #14 Warner and #13 Bastida but losses to #8 Allred, #5 Beard, and #4 Laird.
No. 10 Jacob Cardenas (16-3) has a win over #5 Beard but losses to #17 Braxton Amos and Beard.
Also notice that there is strong conference representation at the top. No. 8 Silas Allred is the highest-seeded wrestler from the Big Ten, which is further proof that this is the deepest and most chaotic weight of the 10.
Truax is a storyline to follow as he continues to pack on the pounds during his college career. He started his career at 149 pounds as a true freshman then moved up to 165 where he qualified for the 2020 COVID-nationals that were canceled.
His recent placing looks like this: fourth at 174 in 2021 and fourth at 184 in 2022. He's at 197 this season as a junior and has a chance to reach the finals. Truax will likely have to get through Surber in the second round, then Sloan or Cadenas in the quarters. No path is straight or easy at this weight.
Former Penn State teammates Michael Beard and Max Dean faced off earlier this season
Sleepers & Landmines
#17 — Braxton Amos (Wisconsin)
#21 — Andy Smith (Virginia Tech)
#22 — Michial Foy (Minnesota)
#26 — Gavin Hoffman (Ohio State)
It's not fair to pick four, but listing every wrestler left in the weight is absurd. Amos is a 2021 U20 World freestyle champion and Greco bronze medalist who could make this a breakthrough tournament. His losses are typically close, and he has a couple of nice wins this season. He'll likely face Bonaccori if he wins his opening match over Pentz.
Andy Smith has seven losses on the season but his hit list makes him a dangerous matchup. He has wins over #6 Trumble and #10 Cardenas — even though Trumble won his revenge match over Smith at the ACC Championships.
Foy is down to his super senior season but hasn't reached the podium yet. He has wins over Amos, Warner, and Surber but his 15-11 record doesn't make him a solid pick to place. The Golden Gopher could be a bracket-buster since he keeps matches close and has an array of throws in his arsenal.
And you have to include Gavin Hoffman, a sixth-place finisher at last year's NCAA Championship who is 16-7 on the season. That's not an enviable first-round matchup for South Dakota State's Tanner Sloan.
Gavin Hoffman upset Nino Bonaccorsi at last year's NCAA Championships
Klingman's Predictions
Bonaccorsi is listed as the favorite but this is still Dean's weight class to win. He's the reigning champion and you have to beat the man if you want to be the man. Dean has three losses this season but the NCAA Championships are a different animal.
Elam has wrestled a limited schedule but his quad is favorable to reach the finals. Running into Caffey or Warner in the second round will be a test; however, he's capable of defeating both and it will be the first time he's faced either in college.
Truax has placed fourth in the past two seasons so we'll see if he can continue the trend by falling to Bonaccorsi for third. Iowa needs Warner, so it will be important for him to stay alive if he loses at some point during the tournament.
Full All-American predictions with Round of 12 finishers:
1. Max Dean, Penn State
2. Rocky Elam, Missouri
3. Nino Bonaccorsi, Pitt
4. Bernie Truax, Cal Poly
5. Jacob Warner, Iowa
6. Michael Beard, Lehigh
7. Isaac Trumble, NC State
8. Ethan Laird, Rider
Round of 12 finishers - Silas Allred (Nebraska), Yonger Bastida (Iowa State), Jacob Cardenas (Cornell), Luke Surber (Oklahoma State)
---
285 Pounds
The Favorites
#1 Mason Parris, Michigan
#2 Gerg Kerkvliet, Penn State
Wyatt Henrickson of Air Force is 25-1 and earned the number two seed, however, he's ranked fourth and lost to Mason Parris 12-5 (his only loss of the year). On the other hand, Greg Kerkvliet is 14-2, with both of those losses coming at the hands of Parris, 3-1 in regulation and 5-3 in sudden victory in the Big Ten Finals.
The 2023 Big Ten finals match starts at the 43rd minute of this video:
Mason Parris, meanwhile, is the undisputed number on seed with a 28-0 record. While we would not be shocked if Wyatt made the finals and beat Kerkvliet along the way, we understand that the seeding committee is not allowed to take the previous season into account, so they can't factor in Hendrickson going undefeated in the 2021-22 regular season, earning the #5 seed, and then losing to Tate Orndorff and Christian Lance at the 2022 NCAAs. This preview, however, is free to take a more holistic approach.
As such, as much as we respect and admire Wyatt Hendrickson's wrestling ability, and indeed would be thrilled if he won a national title as well, we are, for the purposes of this preview, considering Parris and Kerkvlier the co-favorites, by dint of their overtime Big Ten finals match and their respective records against the field.
Contenders
#3 Tony Cassioppi, Iowa
#4 Wyatt Hendrickson, Air Force
#5 Cohlton Schultz, Arizona State
#6 Sam Schulyer, Iowa State
#7 Lucas Davison, Northwestern
#8 Zach Elam, Missouri
#9 Owen Trephan, NC State
The next tier of heavyweight contenders includes two-time All-American #4 seed Tony Cassioopi, the #2 seed Wyatt Hendrickson, and last year's NCAA runner-up and #5 seed Cohlton Schultz.
That sets Cassioppi and Schultz up for an epic quarterfinal bout between a pair of two-time All-Americans. These two titans haven't clashed collegiately since 2021, when they met twice in the NCAA Tournament, with Big Cass winning on both the front and backside of the bracket.
Watch highlights of their NCAA quarterfinal bout from 2021:
Hendrickson, meanwhile, has a scheduled appointment with the seven seed, Owen Trephan of NC State by way of South Carolina and Blair Academy. Trephan is in his fourth year in Raleigh where he is in the midst of a breakout season, winning ACCs in his first stint as the Wolfpack's starting 285-pounder.
Owen is also looking to become the first All-American from South Carolina since Nebraska's TJ Dudley, who was a three-time AA from 2015 to 2017. Hendrickson is attempting to break an even longer streak for the Air Force Academy, who haven't had a national placer since 2003, when Kevin Hoy, also a heavyweight, made the 2003 NCAA finals.
Joining Trephan and Hendrickson in the bottom quarter of the bracket is the 10 seed, Zach Elam, who has won eight total matches in his three previous trips to the NCAAs but has yet to reach the final eight, losing twice in the blood round and once in the round of 16. Elam will likely have Trephan in round 2 and, if he wins there, Hendrickson in the quarters.
Iowa State's heavyweight, Sam Schuyler, was runner-up at Big 12s and has wins over Elam and Trent Hillger. For his efforts, the 2022 transfer from Buffalo was awarded the #8 seed, and will have to defeat #1 seed Mason Parris in the quarters to guarantee an All-American finish.
Watch Schuyler defeat Elam in the final dual of the season for both teams:
Northwestern's Lucas Davison finds himself in a similar predicament, having received an unfavorable seed at #9, two spots lower than his national ranking. That puts last year's sixth-placer on a path for Schuyler in round two, and then Parris in the quarters.
Trephan getting the seven seed makes life tougher for both Schuyler and Davison, who are both ranked above the Wolfpacker, but no path to the podium is ever easy!
Sleepers & Landmines
#10 Tate Orndorff, Ohio State
#15 Hunter Catka, Virginia Tech
#23 Nathan Taylor, Lehigh
HM Jaron Smith, Maryland
Can Tate Orndorff, an All-American at Ohio State, really be a sleeper? No, of course not. That is why we say "& Landmines". Orndorff received the #16 seed, however, and assuming he loses to Mason Parris in the 2nd round (something he's never done in three tries), he'll be in the consolation by Friday morning where he could then be responsible for ending a handful of seasons (and possibly careers).
Catka was 0-4 in overtime bouts this year, suggesting his talent level resides above where he was seeded, which is all the way down at #22. Similarly, Nathan Taylor just defeated the #6 seed Slavikouski in the EIWA semifinals, showing his potential exceeds his #21 seed.
Watch Taylor defeat Slavikouski:
Spey's Predictions
I went a little crazy and picked Hunter Catka to beat both two-time All-American Trent Hillger and the #6 seed Yaralau Slavikouski, but I feel like my reasons are not completely crazy. Hillger and Catka both have losses to Orndorff and Dayton Pitzer (a true freshman redshirting for Pittsburgh). Hillger lost 7-4 to Orndorff and got pinned by Pitzer. Cata lost 3-1 to Orndorff and lost in sudden victory to Pitzer. Additionally, four of Catka's six losses this season were in overtime and the other two were by 2 points, so I'm taking those margins of victory and applying the transitive property to get Catka>Hillger, though I wouldn't be surprised in the slightest if this premise turns out to be faulty!
And as much as I would love to see a deep run by the Belarussian native Slavikouski, he lost in the EIWA semifinals to Lehigh's Nathan Taylor 5-1, and Taylor is ranked 23rd whereas Catka is ranked 15th. So that's why I'm straying from picking chalk and moving the Big Cat all the way to the quarterfinals from the #22 seed, though I'm still picking Kerkvliet to win and advance to the semis in that match.
I'm also picking Kerkvliet to win a semifinal matchup with Wyatt Hendrickson to set up a Big Ten finals rematch with Mason Parris, where I'm predicting we'll be hailing Parris as the victor.
The backside of this bracket is going to pure chaos, so I won't try and justify any of my consolation picks. They're mostly going to be wrong or non-applicable. That's just something I have to accept!
Full All-American predictions with round of 12 finishers:
Mason Parris, Michigan
Greg Kerkvliet, Penn State
Tony Cassioppi, Iowa
Wyatt Hendrickson, Air Force
Cohlton Schultz, Arizona State
Lucas Davison, Northwestern
Sam Schuyler, Iowa State
Zach Elam, Missouri
Round of 12: Owen Trephan, NC State; AJ Nevills, South Dakota State; Trent Hillger, Wisconsin; Hunter Catka, Virginia Tech