2023 NCAA Championships Watch Party
2023 NCAA Wrestling Championship Preview & Predictions - 174 Pounds
2023 NCAA Wrestling Championship Preview & Predictions - 174 Pounds
A full preview, with predictions, for the 174-pound weight class at the 2023 NCAA Wrestling Championships.
Mar 13, 2023
by Kyle Klingman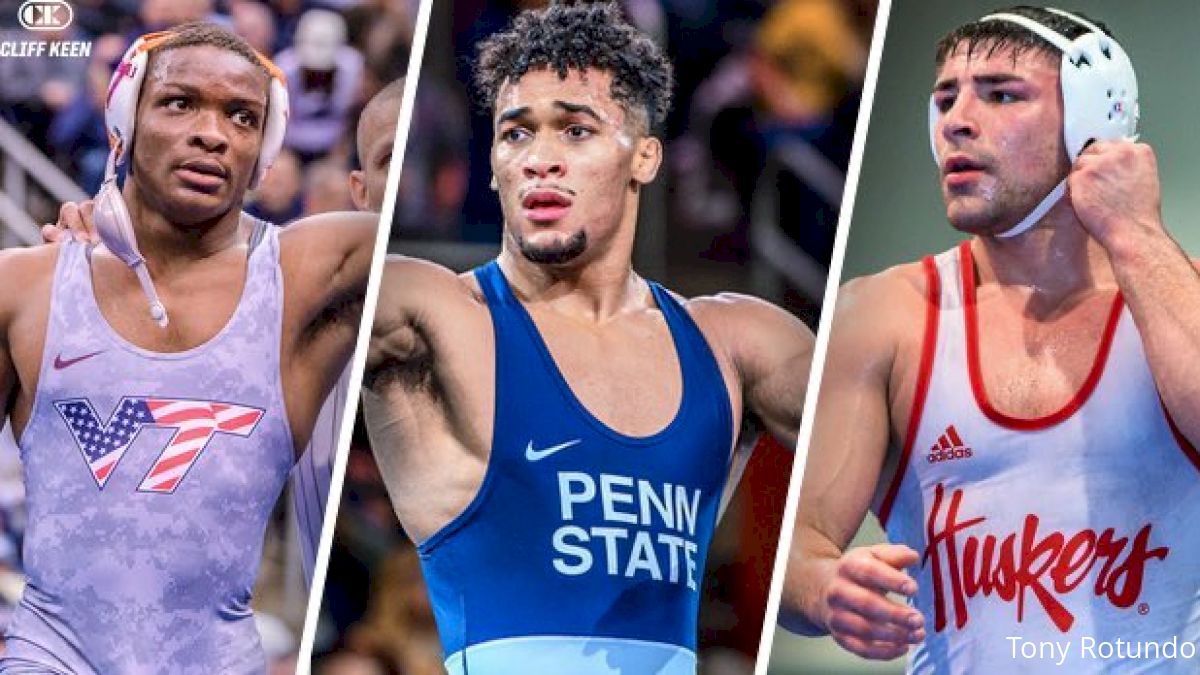 The 174-pound bracket has two returning NCAA champions but is wide open for a new slate of All-Americans. Penn State's Carter Starocci, Nebraska's Mikey Labriola, and Virginia Tech's Mekhi Lewis are solid bets to be in the top three, but the remaining field has several wrestlers capable of securing All-American honors.
Jump to each of the individual weight class previews below along with links to our rankings and the NCAA brackets:
Brackets | Rankings | Mega-Preview | Weight Class Previews: 125, 133, 141, 149, 157, 165, 184, 197, 285
2022 Place Winners
1. Carter Starocci (Penn State)
2. Mekhi Lewis (Virginia Tech)
3. Hayden Hidlay (NC State)
4. Michael Kemerer (Iowa)
5. Logan Massa (Michigan)
6. Dustin Plott (Oklahoma State)
7. Mikey Labriola (Nebraska)
8. Clay Lautt (North Carolina)
The Favorite
#1 — Carter Starocci (Penn State)
There's only one favorite here: Carter Starocci. The Penn State star is the class of the field and hasn't really been tested — even if a close score or two says otherwise. Although it doesn't count for seeding, Starocci's 2-0 win over Virginia Tech's Mekhi Lewis at the All-Star meet got his season off to a solid start and he hasn't slowed down since.
Starocci notched bonus points in 14 of his 19 wins and has a 6-1 win over second-seeded Mikey Labriola of Nebraska. He's good on his feet, tough on top, and can get out from underneath. That's a winning combination at the national tournament.
The Erie, Pennsylvania, native is the returning two-time NCAA champion and is a solid pick to get his third title this season.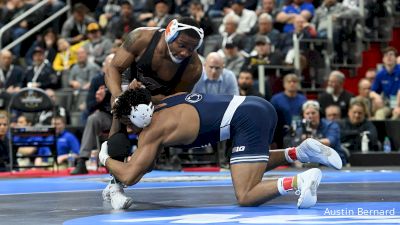 Unlock this video, live events, and more with a subscription!
Get Started
Already a subscriber? Log In
Watch highlights from Carter Starocci's 2022 NCAA Championship finals match against Mekhi Lewis
The Contenders
#2 — Mikey Labriola (Nebraska)
#3 — Mekhi Lewis (Virginia Tech)
#4 — Chris Foca (Cornell)
Lewis (18-1) is a 2019 NCAA champion at 165 pounds who reached the finals against Starocci in last year's NCAA Championships. Starocci ultimately won in tiebreakers in the most exciting match of the finals — perhaps the entire tournament.
The Hokie star will need to recreate that magic if he wants a return trip to the finals against Starocci. And he certainly has the tools. Lewis is dangerous on his feet, and his ACC finals match against NC State's Alex Faison showed he can pull out gritty wins in tiebreakers.
Mikey Labriola (25-1) enters with a lone loss to Starocci but a 3-1 sudden victory win over Lewis at the Cliff Keen-Las Vegas Invite earned him the second seed. Labriola is a control wrestler who doesn't always win big — he just wins.
The Easton, Pennsylvania, native placed sixth in 2019, third in 2021, and seventh in 2022. His senior season needs to be his time to shine, and he has a favorable path to the semifinals where he is expected to face Lewis.
Cornell's Chris Foca (24-1) is on the same side as Starocci where the two will presumably meet in the semifinals. Foca has a 3-2 loss against Lewis at CKLV but has been a steady force at the weight all season.
The Big Red star is funky, can scramble, and sometimes goes big. Foca can put people on their backs, which is good news for Cornell as it looks to snag a team trophy. The Cliffside Park, New Jersey, native was the 14-seed last year and went 1-2 but should improve upon that outcome during his sophomore campaign. A semifinal win over Starocci seems unlikely, but Foca is dangerous enough to make the match intriguing. He lost 3-2 to Starocci last year, so there's reason to believe can keep it close again.
Unlock this video, live events, and more with a subscription!
Get Started
Already a subscriber? Log In
Mikey Labriola earned his biggest win of the season at the Cliff Keen-Las Vegas Invite
Sleepers & Landmines
#11 — Nelson Brands (Iowa)
#17 — Donnell Washington (Indiana)
#18 — Tate Picklo (Oklahoma)
There are few landmines to navigate if Starocci is the favorite and Labriola, Lewis, and Foca are contenders.
Washington handed Starocci a 10-9 loss during the Starocci's first official college match, so he has to be a landmine regardless of where he's positioned in the bracket. Starocci defeated Washington 11-3 on February 5, but it makes for an interesting second-round matchup if Washington can get past Sam Wolf of Air Force.
Nelson Brands is 10-6 on the season but is difficult to score on. He only has one bonus point win this season and all of his losses were by three points or less. Brands fell to Starocci 2-1 and Labriola 5-2, but can he score enough points to overtake one of them at some point during the tournament?
Brands' first-round match is against NC State's Alex Faison, who took Lewis into tiebreakers in the ACC conference finals. Expect that match to go down to the wire, and expect that match to impact the team race. The Hawkeyes and the Wolfpack are fighting for hardware, so an early-round win will help.
Oklahoma's Tate Picklo started the season at 184 before cutting down to 174. He is 22-8 on the season over two weights and has the potential to reach the podium. The Mustang, Oklahoma, native has a diverse array of offense but he has wrestled close matches all season. Picklo can be dangerous if he decides to open it up and pour it on.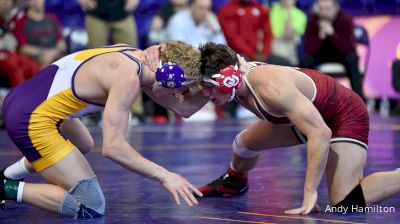 Unlock this video, live events, and more with a subscription!
Get Started
Already a subscriber? Log In
Tate Picklo defeated Northern Iowa's Lance Runyon earlier this season.
Predictions
Unlike 141 and 197, this weight seems predictable weight class on paper. Top-seeded Cater Starocci defeated second-seeded Mikey Labriola. Second-seeded Labriola defeated third-seeded Mekhi Lewis. Third-seeded Mekhi Lewis defeated fourth-seeded Chris Foca.
The top four seem like solid picks to arrange themselves in the top four. Starocci should reach the finals for the third time, and the prospect of a Lewis-Labriola rematch in the semis is compelling.
Ohio State, Missouri, and Oklahoma State need placement points, which means Smith, Plott, and Mocco have added reasons to place high. Ruth has shown glimpses of high-end potential and this could be his breakthrough. Reaching the podium would be a big step for him and for the program.
1. Carter Starocci (Penn State)
2. Mekhi Lewis (Virginia Tech)
3. Mikey Labriola (Nebraska)
4. Chris Foca (Cornell)
5. Ethan Smith (Ohio State)
6. Dustin Plott (Oklahoma State)
7. Peyton Mocco (Missouri)
8. Edmond Ruth (Illinois)
Round of 12 finishers: Bailee O'Reilly (Minnesota), Nelson Brands (Iowa), Donnell Washington (Indiana), Rocky Jordan (Chattanooga)