2023 NCAA Championships Watch Party
2023 NCAA Wrestling Championship Preview & Predictions - 149 Pounds
2023 NCAA Wrestling Championship Preview & Predictions - 149 Pounds
A full preview, with predictions, for the 174-pound weight class at the 2023 NCAA Wrestling Championships.
Mar 13, 2023
by David Bray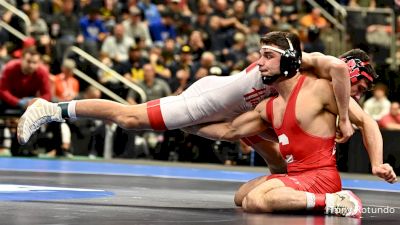 Unlock this video, live events, and more with a subscription!
Get Started
Already a subscriber? Log In
Cornell's Yianni Diakomihalis is chasing four-time NCAA champ status in a deep field. He's the clear favorite, but this bracket still has plenty of intrigue.
Jump to each of the individual weight class previews below along with links to our rankings and the NCAA brackets:
Brackets | Rankings | Mega-Preview | Weight Class Previews: 125, 133, 141, 157, 165 174, 184, 197, 285
2022 Top 8 Finishers
1. Yianni Diakomihalis, Cornell
2. Ridge Lovett, Nebraska
3. Bryce Andonian, Virginia Tech]
4. Austin Gomez, Wisconsin
5. Sammy Sasso, Ohio State
6. Jonathan Millner, Appalachian State
7. Tariq Wilson, NC State
8. Kyle Parco, Arizona State
149 Pound Bracket
The Favorite
#1 Yianni Diakomihalis, Cornell
Not every weight has a true, stand-alone favorite, but 149 lbs does. Yianni is looking for his fourth NCAA title, an accomplishment that he would be only the fifth or sixth person to accomplish (depending on Spencer Lee's performance and the finals weight class order).
How good has Yianni been? The Cornell three-timer is 110-2 in his career with nearly six years between his two college losses to Jaydin Eierman and Austin Gomez. Oh, and he won a silver medal at the World Championships during his college career as well.
Despite Yianni's nearly flawless career, he did lose his opening match of the season 9-3 to Austin Gomez during a Cornell vs Wisconsin dual in November. If Yianni were to meet Gomez again, it likely wouldn't happen until the finals as Gomez is on the opposite side of the bracket in the #15 seed.
If seeds hold, Yianni's path through the bracket would include Anthony White of Rutgers, Colin Realbuto of UNI, Max Murin of Iowa or Jonathan Millner of Appalachian State in the quarterfinals, Caleb Henson of Virginia Tech or Paniro Johnson of Iowa State in the Semifinals, and either Sammy Sasso of Ohio State or Kyle Parco of Arizona State in the finals.
Check out highlights from Yianni's impressive EIWA performance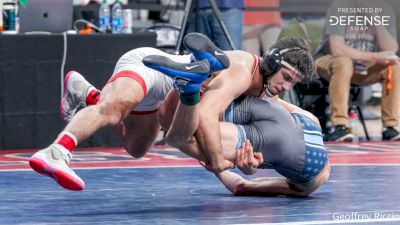 Contenders
#2 Sammy Sasso, Ohio State
#3 Kyle Parco, Arizona State
#4 Caleb Henson, Virginia Tech
#5 Yahya Thomas, Northwestern
#6 Jonathan Millner, Appalachian State
#7 Paniro Johnson, Iowa State
#9 Austin Gomez, Wisconsin
Despite having such a clear favorite, this weight class has no shortage of contenders. Austin Gomez currently has the lowest ranking of anyone in this group, but his name belongs at the top of this list as he's only one of two humans to beat Yianni in college competition. Gomez has battled injuries during the back half of the season which landed him the #15 seed. He has a brutal path through the bracket, but if he's healthy, he's definitely a contender.
The other two elder statesmen in this group, Yahya Thomas and Jonathan Millner, both started their college careers in the 2017-18 season like Yianni and Gomez, but neither has faced Yianni during that time. Both have achieved All-American honors as Yahya finished 3rd in 2021 and Millner finished 8th and 6th in 2021 and 2022 respectively. Thomas beat Millner 2-1 for 3rd at CKLV.
Yahya Thomas vs Jonathan Millner at CKLV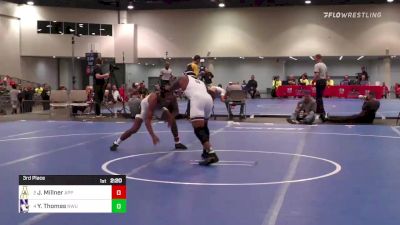 Unlock this video, live events, and more with a subscription!
Get Started
Already a subscriber? Log In
On the opposite end of the age spectrum, true freshman Caleb Henson and redshirt freshman Paniro Johnson have proven to be hungry and capable this season. Henson was the ACC champ in his first attempt, and his hit list includes All-Americans Sammy Sasso, Jaden Abas, Monathan MIllner, and Zach Sherman. He lost a 6-2 decision to Yianni in January.
Hear from Caleb Henson after ACCs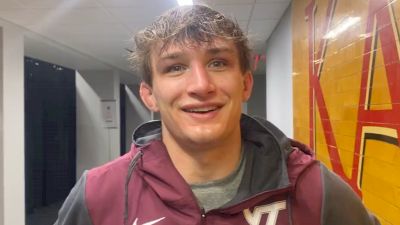 Johnson won the Big 12 and has wins over All-Americans Austin Gomez and Brock Mauller. Henson and Johnson are the #4 and #5 seeds and could meet in a highly anticipated quarterfinal with a potential Yianni semifinal match on the line.
Paniro Johnson's passionate post-Big 12 interview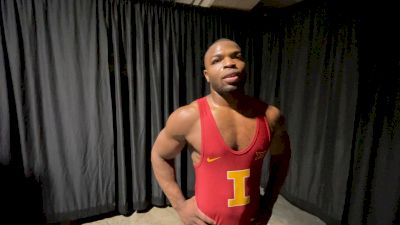 Two-time All-Americans Sammy Sasso and Kyle Parco also loom large in the bottom half of the bracket. Sasso was an NCAA finalist in 2021 and a 5th-place finisher in 2022. Yianni beat him twice last season. Parco finished 6th and 8th in 2021 and 2022 respectively. He fell to Yianni in January this year. Sasso and Parco could meet in this year's NCAA semifinal.
Yianni's 8-2 decision over Parco in January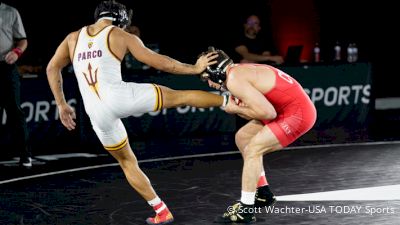 Unlock this video, live events, and more with a subscription!
Get Started
Already a subscriber? Log In
Sleepers & Landmines
Max Murin, Iowa
Doug Zapf, Penn
Shayne Van Ness, Penn State
It's strange to consider Max Murin and Doug Zapf sleepers since they've been competing at a high level since 2017 and 2018 respectively, but neither has reached the All-American podium yet, and both are certainly capable. Zapf started his career at 133 lbs, qualified for NCAAs at 141 lbs in 2020, then moved all the way up to 157 lbs last season where he was also an NCAA qualifier. 149 lbs has been a nice weight for Zapf this season, and he had a victory over #4 seed Caleb Henson in the Keystone Classic finals in November. If Zapf can get past another tough freshman, Paniro Johnson, in the round of 16, he could see Henson again in the quarterfinals.
Murin has reached the blood round three times in his NCAA career and is looking to stand on the podium in his sixth and final season. He's has been a steady force for the Hawkeyes throughout his career, and he'd love to put significant team points on the board in Tulsa. Murin will probably see App State's Jonathan Millner in the round of 16. Millner had his number a year ago, so Murin would need to flip that script. If he loses in the round of 16, he would be seeded to see Brock Mauller in the round of 12.
Penn State's Shayne Van Ness is 19-6 in his freshman season for Penn State. He hasn't had a breakout performance for the Nittany Lions yet, but he's been in every match he's wrestled in his brutal Big Ten schedule. He sits in the super-freshman quarter and could see Caleb Henson in the round of 12 followed by either Paniro Johnson or Doug Zapf in the quarterfinal if he can get by Henson. That quarterfinal is fascinating because Johnson, Van Ness, and Henson are all freshmen, and Zapf is looking to make the podium for the first time. Someone may be poised for a breakout performance there.
Predictions
Yianni has been the man to beat throughout his entire career, and that doesn't appear to be changing now or as he transitions to full-time freestyle at the end of the season. The rest of this bracket is packed with intrigue, especially the consolation rounds of 16 and 12. There will be a bunch of excellent wrestlers outside the top 8.
Full All-American predictions with round of 12 finishers:
1. Yianni Diakomihalis, Cornell
2. Sammy Sasso, Ohio State
3. Kyle Parco, Arizona State
4. Paniro Johnson, Iowa State
5. Caleb Henson, Virginia Tech
6. Yahya Thomas, Northwestern
7. Jonathan Millner, Appalachian State
8. Brock Mauller, Missouri
Round of 12 - Austin Gomez (Wisconsin), Michael Blockhus (Minnesota), Doug Zapf, (Penn), Max Murin (Iowa)