2023 NCAA Championships Watch Party
2023 NCAA Wrestling Championship Preview - 165 Pounds
2023 NCAA Wrestling Championship Preview - 165 Pounds
A full preview, with predictions, for the 165-pound weight class at the 2023 NCAA Wrestling Championships.
Mar 13, 2023
by Andrew Spey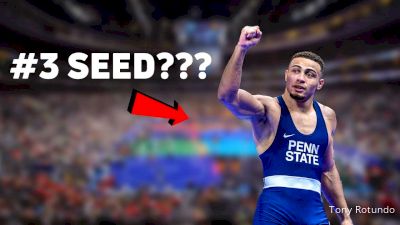 165 has been the marquee weight class throughout the 2022-23 season, with arguably the deepest pool of talent of any division. While other brackets will still have arguments for being the toughest, but no other weight class can boast of having more than one former NCAA champion, let alone three titlists (David Carr, Keegan O'Toole, and Shane Griffith), as 165 can claim.
Jump to each of the individual weight class previews below along with links to our rankings and the NCAA brackets:
Brackets | Rankings | Mega-Preview | Weight Class Previews: 125, 133, 141, 149, 157, 174, 184, 197, 285
The weight class only grew stronger as the year progressed, as Quincy Monday's tergiversation over weight classes ended, and he joined David Carr in bumping up from 157 to 165. Add seven other returning All-Americans, throw in some celery, a couple of carrots, and baby, you got a stew going.
Favorites
#1 David Carr, Iowa State
#2 Keegan O'Toole, Missouri
We'll get to the cavalcade of contenders momentarily, and while they all have arguments to be made for being considered in this top tier, there is only one wrestler who is undefeated on the season (and has wins over the #2, #3, #4 & #5 seeds), and that's 2021 157-pound NCAA champ David Carr.
There's also only one wrestler who took Carr to overtime, and that's 2022 165-pound national champ Keegan O'Toole, hence our short list of favorites.
Carr also got the better of O'Toole when they met in a regular-season dual meet. Luckily for O'Toole, he won't see Carr on the championship side unless they both make the NCAA finals, as they earned the #1 and #2 seed. The first match was a solid 7-2 decision for Carr (which you can watch below). The rematch was much closer despite ending with a pinfall for Carr (you can watch the final 5 seconds of that match here).
Will we see a third match between these two NCAA champs in just 32 days? We will if they can maneuver through the gauntlet of contenders we are about to discuss below.
Contenders
#3 Julian Ramirez, Cornell
#4 Quincy Monday, Princeton
#5 DJ Hamiti, Wicconsin
#6 Michael Caliendo, North Dakota State
#7 Patrick Kennedy, Iowa
#8 Cam Amine, Michigan
#9 Carson Kharchla, Ohio State
#10 Matthew Olguin, Oregon State
#11 Shane Griffith, Stanford 9 seed
When the 2021 165-pound champ is ranked #11 and drew the #9 seed, it should come as no surprise that we end up with a lengthy list of contenders. Which means at least a few of these highly ranked and accomplished wrestlers will be on the outside looking in next Saturday in Tulsa.
This bracket was also constructed in a way that will probably produce a lot of rematches well before a potential Carr vs O'Toole round 3 in the finals.
The first big rematch we might see is between Griffith and Olguin, who are the #8 and #9 seed respectively, and thus would meet in the second round. Olguin beat Griffith twice, both by narrow margins; 3-2 in the final dual of the season and in sudden victory in the Pac-12 finals.
It's been a breakout season for Olguin as the redshirt junior with sophomore eligibility is ranked in the top 10 for the first time in his career. He also took Quincy Monday to overtime in dual meet earlier this year, which you can watch below.
Speaking of Monday, another rematch lurking in the bracket is a quarterfinal bout between #4 seed Julian Ramirez and #5 seed Quincy Monday. Ramirez got the dub in both the regular season dual and the finals of the EIWA, the latter of which was an absolute war, and which you can watch below.
Monday's only losses on the year were to Ramirez. He also has an unofficial loss to David Carr in the NWCA All-Star Classic, which was not factored into qualification and seeding formulae.
Big Ten rivals Cam Amine and Pat Kennedy should hit in the second round. Kennedy defeated Amine, an 2022 & 2021 All-American, in his first Big Ten Tournament by the score of 3-2.
The winner of that rematch will likely face off against another familiar foe in true sophomore returning All-American DJ Hamiti, the #3 seed, in the quarterfinals. Amine beat Hamiti in a dual meet this year and at NCAAs last season, however, Hamiti beat Kennedy in the Big Ten finals last week, 9-6, which you can watch below (go to the 55th minute of the video if doesn't load up when you hit play).
#10 seed Carson Kharchla, last year's 7th placer at 165, could see redshirt freshman #7 seed Michael Caliendo in the second round. If so, we'd be seeing a new matchup for a change of pace, as those two haven't met before in college. Caliendo is having a tremendous first year in the varsity lineup for the Bison, finishing as runner-up at the Southern Scuffle and Big 12 Tournament. His only losses on the season were twice to O'Toole and once to Griffith, which you can watch below.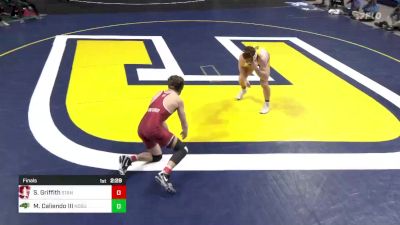 Unlock this video, live events, and more with a subscription!
Get Started
Already a subscriber? Log In
With all the familiarity in the upper seeds, the big questions for this bracket will be if wrestlers can flip the scripts and reverse past results, or if it'll be more of the same and a repeat of the historical record.
Sleepers & Landmines
#22 Tanner Cook, South Dakota State
#23 Wyatt Sheets, Oklahoma State
If you see Tanner Cook in your path on a bracket, you're going to want to match-plan around his style, which includes a heavy dose of gator bacon/flying cement jobs. Don't believe me? Watch this!
Wyatt Sheets is the most dangerous man in the county with a seed in the 30s, as he placed 8th in 2021 from the #33 seed. He was posed for another run in 2022 with the #31 seed but got stopped by David Carr in the 2nd consolation round after Carr was upset in his second bout of the tournament.
This year Sheets is the 31st seed again and will have O'Toole in the first round. Assuming an O'Toole victory, Sheets will be in the consolation bout with a match against with either 18-seed Maxx Mayfield or 15-seed Justin McCoy. A win there and it's either 17-seed Austin Yant or 16-seed Joshua Ogunsanya. No gimmies by any stretch of the imagination but wins there would put Sheets two victories shy of another podium placement. Stranger things have happened, like Sheets' 2021 NCAA Tournament!
Predictions
Griffith and Olguin at 8 and 9 seeds and Hamiti, Kennedy and Amine at 3, 6 & 11 make this a very difficult bracket to predict (not that any of the brackets are ever particularly easy). I'm going with Amine over Kennedy and Hamiti over Amine, in a flipping of the script in both instances.
I'm sticking to my script-flipping guns with Griffith and Olguin too, as I've got Griffith winning round 3 with his Beaver rival.
With Monday and Ramirez, however, I'm going chalk and penciling in Ramirez for a third victory over his Ivy rival.
Likewise, I've got Carr staying undefeated on the season, which includes another win over O'Toole in the finals.
The round of 12 is going to be excruciatingly bloody at this weight this year. I've got Kharchla, Kennedy, Olguin and Northern Illinois' Izzak Olejnik all falling one match shy of the podium. However, the confidence level is very low for those picks, and I would not be the least bit surprised if all four reach All-American honors, making a mockery of my prognostication powers in the process.
Full All-American predictions with round of 12 finishers:
David Carr, Iowa State
Keegan O'Toole, Missouri
DJ Hamiti, Wisconsin
Michael Caliendo, North Dakota State
Julian Ramirez, Cornell
Shane Griffith, Stanford
Quincy Monday, Princeton
Cam Amine, Michigan
Round of 12: Patrick Kennedy, Iowa; Carson Kharchla, Ohio State; Matthew Olguin, Oregon State; Izzak Olejnik, Northern Illinois