2023 NCAA Championships Watch Party
2023 NCAA Wrestling Championship Preview - 157 Pounds
2023 NCAA Wrestling Championship Preview - 157 Pounds
A full preview, with predictions, for the 157-pound weight class at the 2023 NCAA Wrestling Championships.
Mar 11, 2023
by Jon Kozak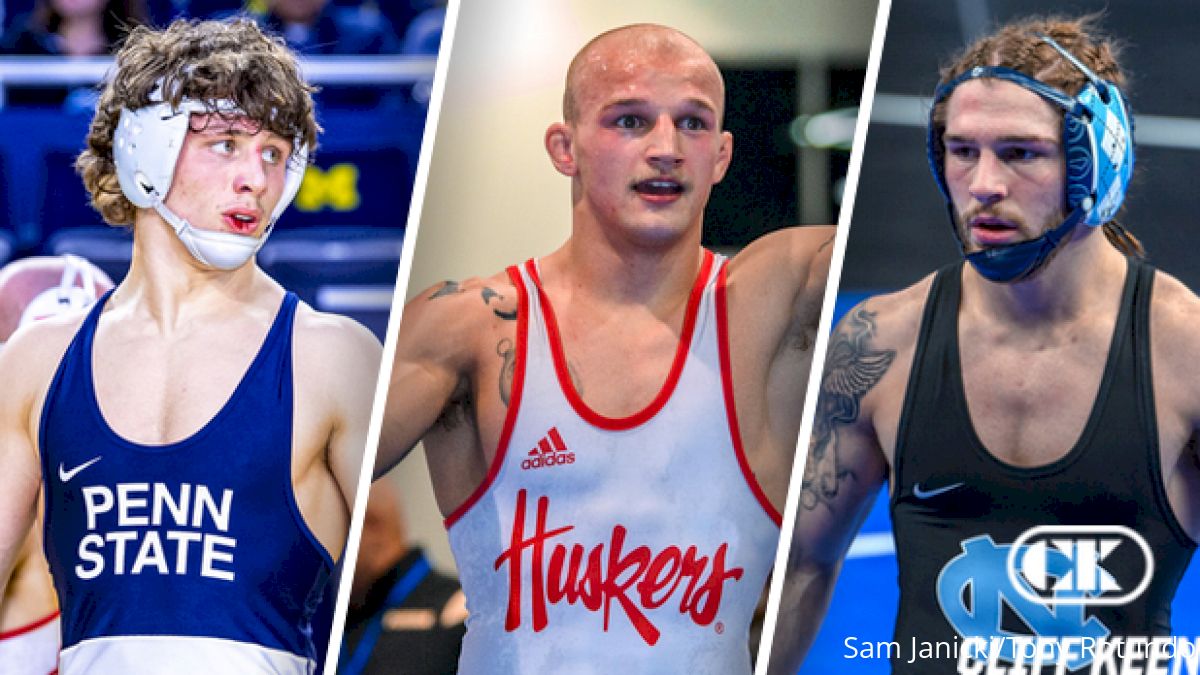 157 pounds at the 2023 NCAA Championships is primed to be one of the best weight classes of the tournament. With only 4 past All-Americans in the field, the podium is WIDE OPEN for a number of contenders to fight their way to the top 8. Check out the article below for a full preview of the weight along with our All-American predictions.
Jump to each of the individual weight class previews below along with links to our rankings and the NCAA brackets:
Brackets | Rankings | Mega-Preview | Weight Class Previews: 125, 133, 141, 149, 165 174, 184, 197, 285
157 Pound Bracket
Favorites
Austin O'Connor is looking to end his career with his second NCAA title and fourth All-American finish in Tulsa. As a freshman, O'Connor placed 3rd in 2019 and followed that up with an NCAA title in 2021 (both at 149 pounds). Last year, O'Connor bumped up to 157 and gutted out an 8th-place finish after tearing his ACL! Fully healthy this year, O'Connor has put together an incredible season at 18-0 with 14 coming by bonus points (4 pins, 4 techs, and 6 majors). Beyond that, O'Connor has notched impressive wins over #6 Bryce Andonian (2), #7 Ed Scott, Jake Keating (2), #21 Anthony Artalona, #22 Tommy Askey, and #24 Corbyn Munson. At the #1 seed, O'Connor is the favorite to reach the finals but will likely be tested by either #8 Will Lewan or #7 Ed Scott in the quarters and #5 Josh Humphreys or #4 Jared Franek in the semis.
Hear from Austin O'Connor after winning the recent ACC Championships: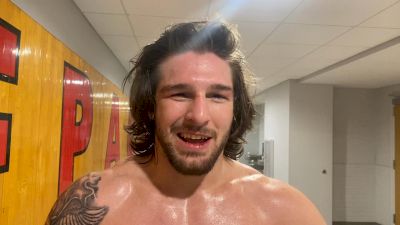 For most of the early season, the question on Penn State fans' minds was whether Levi Haines was ready to start this year. That question is long gone now with Haines winning the Big 10 title and recording wins over #3 Peyton Robb, #13 Kendall Coleman, and #17 Derek Gilcher (and many other ranked wrestlers in the regular season). Haines has made incredible progress in his freshman season and is capable of winning a title this year. He's increased his point scoring as the season has progressed and has that special attribute of winning matches when they matter the most. Haines will likely face #6 Bryce Andonian and #3 Peyton Robb in the quarters and semis respectively so his run to the finals won't come without big tests along the way!
Levi Haines after winning Big 10s: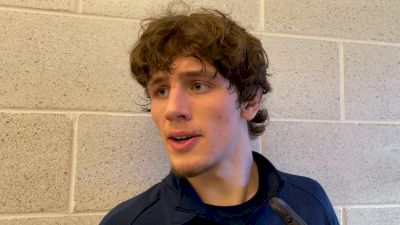 Up until his loss to Haines in the Big 10 finals, many were picking Peyton Robb to win NCAAs this year. During the year, Robb notched notable wins over #4 Jared Franek, #7 Ed Scott, #9 Chase Saldate, #13 Kendall Coleman, and a number of other ranked wrestlers (16 of his 25 wins were against ranked opponents). While the Big 10 finals loss may have slowed down the hype train slightly, no one should be surprised if Peyton Robb comes away from Tulas with the NCAA Champion trophy in his hands.
Peyton Robb's win over Ed Scott in the 2022 CKLV semis: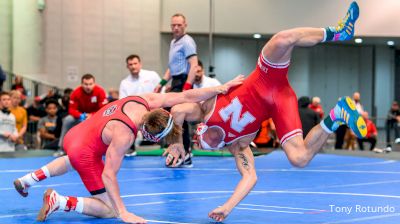 Unlock this video, live events, and more with a subscription!
Get Started
Already a subscriber? Log In
Contenders
Jared Franek's only loss on his record happened in the first match of the season - a 7-4 decision to Peyton Robb. Since then, Franek has rallied off 22 straight wins including notable ranked victories over #16 Jarrett Jacques, #13 Kendall Coleman, #15 Jacob Wright, and #10 Kaden Gfeller. As the #4 seed, Franek will likely have to get by #5 Josh Humphreys (who will talk about in a minute) and the aforementioned O'Connor. Franek wrestles a great style to take out both of those undefeated wrestlers - he's challenging to score on, gets away from the bottom quickly, and capitalizes at a high percentage when he gets his hand locked around a leg. Franek might not be flashy, but he's a dangerous threat to any of the top 3 in this weight.
Jared Franek after winning Big 12: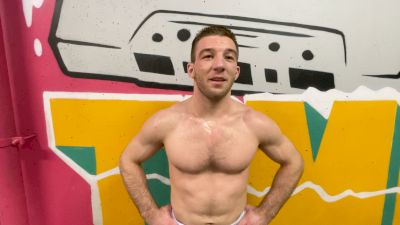 Josh Humphreys is currently 16-0 on the year and had a legitimate case at being the #2 seed (or at least ranked) wrestler in the country. Along with the undefeated record, Humphreys defeated Peyton Robb at last year's NCAA tournament and only suffered losses to Ryan Deakin and Austin O'Connor. Humphreys might be the best top wrestler in the country at 157 pounds, but at the #5 seed, he received a tough draw with an opening round match against Paddy Gallagher and likely matches against Kendall Coleman and Jared Franek to reach the finals. Humphreys will be looking to end his college career in Tulsa with his first All-American finish and with his career highlighted by wins over All-Americans Quincy Monday (3), Kaleb Young, Wyatt Sheets, and Hunter Willits - all signs point to Humphreys reaching the podium this year.
Josh Humphreys win in the 2023 EIWA finals over Anthony Artalona: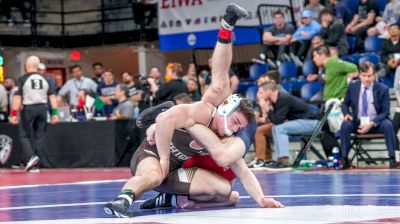 Unlock this video, live events, and more with a subscription!
Get Started
Already a subscriber? Log In
Anything can happen (and usually does) when Bryce Andonian takes the mat on the big stage. Andonian put on a show at last year's NCAA tournament when he made the semi-finals of the NCAA tournament pinning Austin Gomez and going on to take 3rd place. While Andonian wrestled a limited schedule this season coming back from injury, his wins over Ed Scott and Jake Keating prove he's still a dangerous man. Andonian is the #7 seed in the bracket and will likely face #10 Kaden Gfeller in the second round followed by #2 Levi Haines in the quarters. That's not the most ideal draw to make a run to the finals but it's unlikely that matters to the fearless Bryce Andonian.
Andonian talked about his exciting style and his incredible run at last year's NCAA tournament: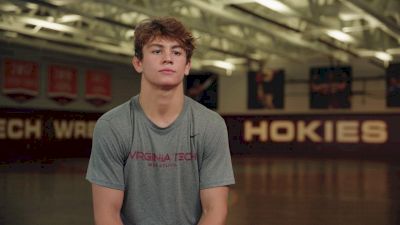 Sleepers & Landmines
There are an almost endless number of All-American contenders in the 157-pound bracket at NCAAs. No one should be surprised if #7 Ed Scott, #8 Will Lewan, #10 Kaden Gfeller, #9 Chase Saldate, #12 Trevor Chumbley, or #13 Kendall Coleman finish in the top 8 of this weight class. For that reason, I'm not including them in the "sleepers & landmines" category.
The above 4 wrestlers all fit the category better in that they would be surprise All-Americans OR they have the ability to "blow up" the bracket by upsetting higher-ranked wrestlers. Let's start with #14 Cobe Siebrecht. Yes, he recorded impressive wins over #8 Will Lewan, Brayton Lee, #18 Garrett Model, #17 Derek Gilcher, #20 Paddy Gallagher, #21 Anthony Artalona, and #12 Trevor Chumbley this year. Siebrecht is an All-American threat…so why is he in this category? At the #14 seed, Siebrecht will potentially wrestle #3 Peyton Robb in the second round! Few are likely predicting Siebrecht comes out on top in that match but his ability to hit a big move should at the very least cause fans everywhere to circle that second-round matchup as one to watch!
Then there's Daniel Cardenas - how is a #6 seed a sleeper? The question we should really be asking is how did Daniel Cardenas get the #6 seed? Yes, he's 22-1 on the year, but he didn't wrestle in most of Stanford's PAC-12 duals because there was a good chance Stanford was going to redshirt him this year. After that, his best win is over #10 Kaden Gfeller with a loss on his record to #16 Jarrett Jacques. Cardenas has flown under the radar all year - could he make a run to the semis or does he drop a match early? Cardenas is an unknown in this bracket and will be fascinating to watch in Tulsa!
Daniel Cardenas' win over Kaden Gfeller: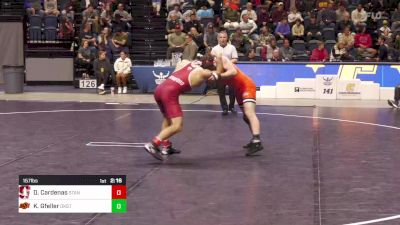 Unlock this video, live events, and more with a subscription!
Get Started
Already a subscriber? Log In
Derek Holschlag and Tommy Askey are the final two sleepers in this bracket. Holschlag has a win over #10 Kaden Gfeller this year and has #9 Chase Saldate in the first round. While Saldate is tough, that's a winnable match for Holschlag. He would then get the winner of Cesar Alvan and the aforementioned Cardenas. Again, that's a winnable match for Holschlag and likely the best draw he could ask for in order to make the quarter-finals.
Tommy Askey has quietly put together a great year and is riding a 14-match win streak heading into the NCAA Tournament. Askey is also set up with a decent draw at the #24 seed with Will Lewan in the first round. Because Lewan wrestlers every match closely, there's a great chance the Askey-Lewan match will be a tight bout or even go into overtime. Askey is in a great spot to pull off an early upset and set himself up for a run in this bracket.
Tommy Askey's win over Derek Holschlag at the 2022 CKLV: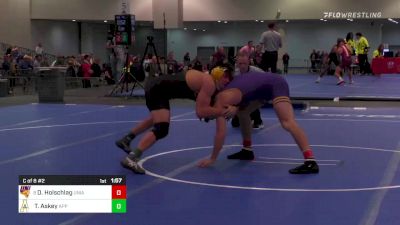 Unlock this video, live events, and more with a subscription!
Get Started
Already a subscriber? Log In
Predictions
Austin O'Connor has proven throughout the season that he's separated himself from the field and I believe he'll prove it once again by winning this bracket Saturday night in Tulsa. O'Connor will have to navigate tough matches from the quarter-finals on but I believe the real landmines are down in the bottom side of the bracket with #6 Bryce Andonian, #3 Peyton Robb, and #2 Levi Haines battling it out for a spot in the finals.
Full All-American predictions with round of 12 finishers:
Austin O'Connor, North Carolina
Bryce Andonian, Virginia Tech
Levi Haines, Penn State
Peyton Robb, Nebraska
Josh Humphreys, Lehigh
Jared Franek, North Dakota State
Ed Scott, NC State
Chase Saldate, Michigan State
Round of 12 - Kaden Gfeller (Oklahoma State), Will Lewan (Michigan), Cobe Siebrecht (Iowa), Kendall Coleman (Purdue)