2023 NCAA Championships Watch Party
2023 NCAA Wrestling Championship Preview & Predictions - 133 Pounds
2023 NCAA Wrestling Championship Preview & Predictions - 133 Pounds
A full preview, with predictions, for the 133-pound weight class at the 2023 NCAA Wrestling Championships.
Mar 14, 2023
by JD Rader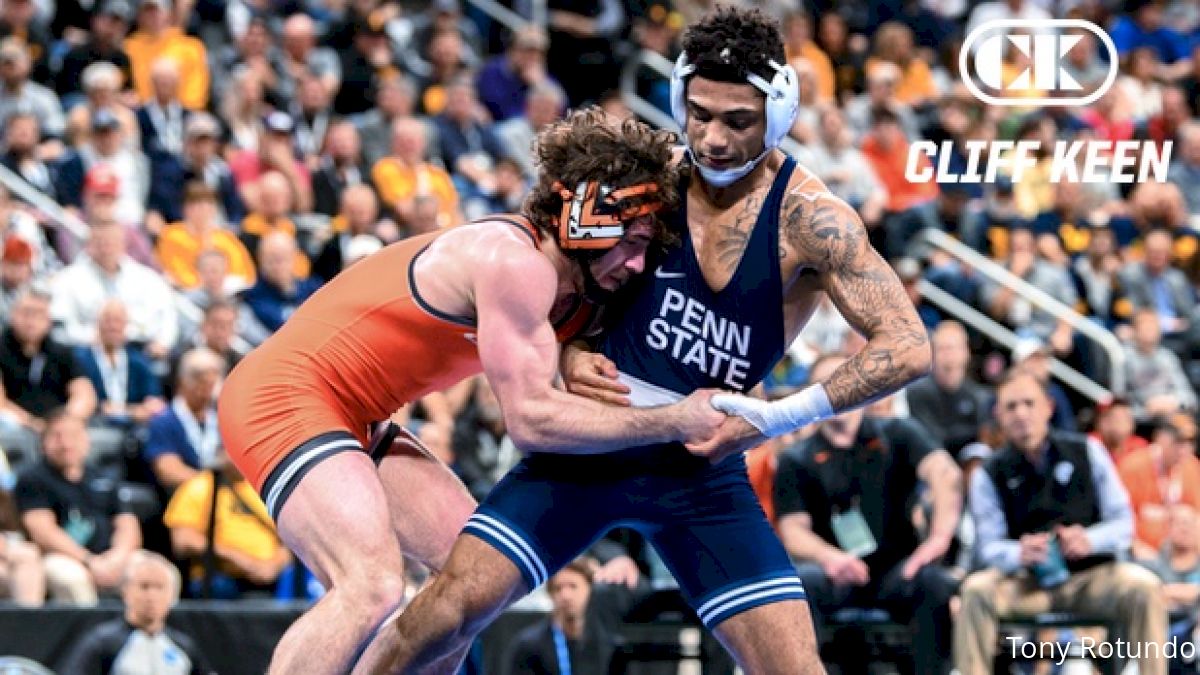 Can anyone prevent a third-straight Daton Fix vs Roman Bravo-Young NCAA final? The odds are unlikely, but come March, anything can happen!
Jump to each of the individual weight class previews below along with links to our rankings and the NCAA brackets:
Brackets | Rankings | Mega-Preview | Weight Class Previews: 125, 141, 149, 157, 165 174, 184, 197, 285
The Favorites
#1 Roman Bravo-Young, Penn State
#2 Daton Fix, Oklahoma State
As previously stated, these two have met in the NCAA finals the past two years. While Bravo-Young is 2-0. those matches were both very close. Prior to a 3-2 victory in 2022, it took sudden victory for RBY to win in 2021.
Watch RBY and Fix's two NCAA finals below.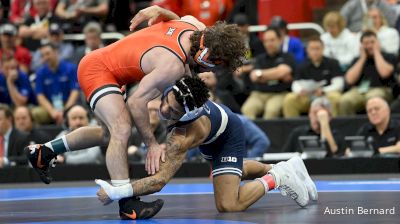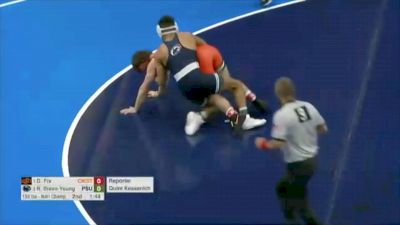 Unlock this video, live events, and more with a subscription!
Get Started
Already a subscriber? Log In
Can Fix flip the result this year? Considering he's one of the best pound-for-pound wrestlers in America (not just NCAA), he's definitely got a shot. It obviously won't be easy. Fix has never taken RBY down. Bravo-Young is riding a 52-match win streak into NCAAs that has spanned the past three seasons. The streak is second only to Spencer Lee.
Contenders
#3 Vito Arujau, Cornell
#4 Michael McGee, Arizona State
#5 Michael Colaiocco, Penn
#7 Kai Orine, NC State
#8 Sam Latona, Virginia Tech
#10 Aaron Nagao, Minnesota
The main opposition standing in between Fix - RBY III will be Vito Arujau. While Fix has been more consistent in their college careers, don't forget, Arujau beat Fix at the 2021 Olympic Trials. Arujau scored two takedowns to Fix's zero in that match. With the right game plan and execution, Arujau could upset Fix.
With his quickness, low single, slide-by, and savvy mat game, Michael McGee is a tough out for anyone. With his only two losses this season both coming to Arujua, he has rightfully earned the #4 seed.
Kai Orine proved how dangerous he is at ACCs when he took out both Sam Latona and Micky Phillippi en route to the title. He then proceeded to give us an A+ celebration.
Oh HELL yeah brother. We've got ourselves a BAD MAN down in North Carolina @BarstoolPack pic.twitter.com/5WjF39ObzC

— Barstool Sports (@barstoolsports) March 6, 2023
Orine split with Latona on the year, losing 3-1 in the dual and took a couple of weird losses early in the year, but if he can channel the same energy he had at ACCs, he's a bad man.
I hesitated to put Michael Colaiocco in the contenders category considering he was majored by 8-0 by Vito at EIWAs. However, with wins over Lucas Byrd and Chris Cannon on the year, he deserves a mention.
Similar to Orine, conferences was sort of Aaron Nagao's coming out party. He took out Lucas Byrd and Jesse Mendez en route to making the finals. And while he lost to RBY 5-2, he did ride him out the entire third period. Top game like that is a huge asset that can pay dividends at NCAAs. Not even Fix has been able to ride RBY like that.
Sleepers & Landmines
18-seed Jason Shaner, Oregon State
23-seed Wyatt Henson, Oklahoma
What Chris Pendleton and co. have done at Oregon State is tremendous and Jason Shaner is a great example. A transfer from Clackamas Community College, Shaner has beaten Sam Latona and Kai Orine this season. He's taken his losses too (he's the #18 for a reason), but I like his draw. I have him falling to Nagao on the backside, but if he can upset him that would set up a rematch with Latona.
Wyatt Henson was having a pretty average season going into Big 12s sitting at around a .500 record. However, after losing in the first round to Cody Phippen, he went ultimate road warrior and came all the way back for 3rd place. That says a lot about a guy and it really impressed me. He's battle-tested coming into Tulsa and I wouldn't be shocked to see him pull off an upset on the backside.
Predictions
I'm not predicting anything too crazy. I do have nine-seed Micky Phillippi finishing in sixth. As a 3X bloodround guy on his last hoorah, I think Philllippi does what he has to and looks good on the backside. I also have 10-seed Lucas Byrd taking out Jesse Mendez in the bloodround, but Mendez did beat him at the Michigan State open, so I wouldn't be surprised to see Mendez make the podium. Mendez had a large lead on Nagao in the Big Ten semis before Nagao was able to change things with his top game. Mendez then fell to 6th place. If Mendez keeps his lead against Nagao and makes the Big Ten finals, we're looking at him in a completely different way coming into this tournament.
Full All-American predictions with round of 12 finishers:
Roman Bravo-Young, Penn State
Daton Fix, Oklahoma State
Vito Arujau, Cornell
Michael McGee, Arizona State
Sam Latona, Virginia Tech
Micky Phillippi, Pitt
Kai Orine, NC State
Lucas Byrd, Illinois
R12: Michael Colaiocco, Penn, Dylan Ragusin, Michigan, Jesse Mendez, Ohio State, Aaron Nagao, Minnesota