2023 NCAA Championships Watch Party
2023 NCAA Wrestling Championship Preview - 285 Pounds
2023 NCAA Wrestling Championship Preview - 285 Pounds
A full preview, with predictions, for the 285-pound weight class at the 2023 NCAA Wrestling Championships.
Mar 13, 2023
by Andrew Spey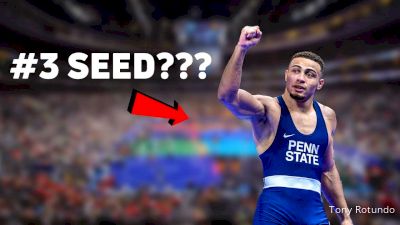 The most notable difference between this year's and last year's heavyweight bracket is the absence of Olympic gold medalist Gable Steveson, who chose not to utilize his final season of college eligibility (a contract with the WWE had a lot to do with that decision). Luckily for wrestling fans, the talent pool for the ultimate weight class has never been deeper, and this year's 285-pound bracket is replete with world-class athletes of the highest caliber.
Jump to each of the individual weight class previews below along with links to our rankings and the NCAA brackets:
Brackets | Rankings | Mega-Preview | Weight Class Previews: 125, 133, 141, 149, 157, 165 174, 184, 197
The Favorites
#1 Mason Parris, Michigan
#2 Gerg Kerkvliet, Penn State
Wyatt Henrickson of Air Force is 25-1 and earned the number two seed, however, he's ranked fourth and lost to Mason Parris 12-5 (his only loss of the year). On the other hand, Greg Kerkvliet is 14-2, with both of those losses coming at the hands of Parris, 3-1 in regulation and 5-3 in sudden victory in the Big Ten Finals.
The 2023 Big Ten finals match starts at the 43rd minute of this video:
Mason Parris, meanwhile, is the undisputed number on seed with a 28-0 record. While we would not be shocked if Wyatt made the finals and beat Kerkvliet along the way, we understand that the seeding committee is not allowed to take the previous season into account, so they can't factor in Hendrickson going undefeated in the 2021-22 regular season, earning the #5 seed, and then losing to Tate Orndorff and Christian Lance at the 2022 NCAAs. This preview, however, is free to take a more holistic approach.
As such, as much as we respect and admire Wyatt Hendrickson's wrestling ability, and indeed would be thrilled if he won a national title as well, we are, for the purposes of this preview, considering Parris and Kerkvlier the co-favorites, by dint of their overtime Big Ten finals match and their respective records against the field.
Contenders
#3 Tony Cassioppi, Iowa
#4 Wyatt Hendrickson, Air Force
#5 Cohlton Schultz, Arizona State
#6 Sam Schulyer, Iowa State
#7 Lucas Davison, Northwestern
#8 Zach Elam, Missouri
#9 Owen Trephan, NC State
The next tier of heavyweight contenders includes two-time All-American #4 seed Tony Cassioopi, the #2 seed Wyatt Hendrickson, and last year's NCAA runner-up and #5 seed Cohlton Schultz.
That sets Cassioppi and Schultz up for an epic quarterfinal bout between a pair of two-time All-Americans. These two titans haven't clashed collegiately since 2021, when they met twice in the NCAA Tournament, with Big Cass winning on both the front and backside of the bracket.
Watch highlights of their NCAA quarterfinal bout from 2021: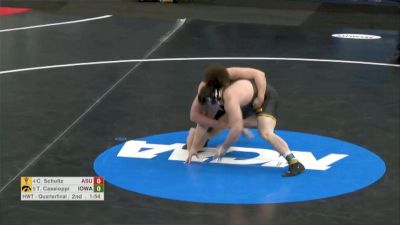 Unlock this video, live events, and more with a subscription!
Get Started
Already a subscriber? Log In
Hendrickson, meanwhile, has a scheduled appointment with the seven seed, Owen Trephan of NC State by way of South Carolina and Blair Academy. Trephan is in his fourth year in Raleigh where he is in the midst of a breakout season, winning ACCs in his first stint as the Wolfpack's starting 285-pounder.
Owen is also looking to become the first All-American from South Carolina since Nebraska's TJ Dudley, who was a three-time AA from 2015 to 2017. Hendrickson is attempting to break an even longer streak for the Air Force Academy, who haven't had a national placer since 2003, when Kevin Hoy, also a heavyweight, made the 2003 NCAA finals.
Joining Trephan and Hendrickson in the bottom quarter of the bracket is the 10 seed, Zach Elam, who has won eight total matches in his three previous trips to the NCAAs but has yet to reach the final eight, losing twice in the blood round and once in the round of 16. Elam will likely have Trephan in round 2 and, if he wins there, Hendrickson in the quarters.
Iowa State's heavyweight, Sam Schuyler, was runner-up at Big 12s and has wins over Elam and Trent Hillger. For his efforts, the 2022 transfer from Buffalo was awarded the #8 seed, and will have to defeat #1 seed Mason Parris in the quarters to guarantee an All-American finish.
Watch Schuyler defeat Elam in the final dual of the season for both teams: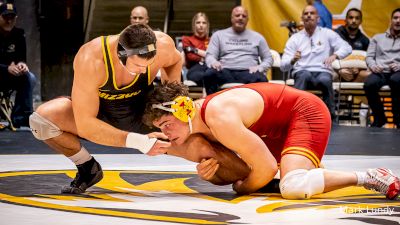 Unlock this video, live events, and more with a subscription!
Get Started
Already a subscriber? Log In
Northwestern's Lucas Davison finds himself in a similar predicament, having received an unfavorable seed at #9, two spots lower than his national ranking. That puts last year's sixth-placer on a path for Schuyler in round two, and then Parris in the quarters.
Trephan getting the seven seed makes life tougher for both Schuyler and Davison, who are both ranked above the Wolfpacker, but no path to the podium is ever easy!
Sleepers & Landmines
#10 Tate Orndorff, Ohio State
#15 Hunter Catka, Virginia Tech
#23 Nathan Taylor, Lehigh
HM Jaron Smith, Maryland
Can Tate Orndorff, an All-American at Ohio State, really be a sleeper? No, of course not. That is why we say "& Landmines". Orndorff received the #16 seed, however, and assuming he loses to Mason Parris in the 2nd round (something he's never done in three tries), he'll be in the consolation by Friday morning where he could then be responsible for ending a handful of seasons (and possibly careers).
Catka was 0-4 in overtime bouts this year, suggesting his talent level resides above where he was seeded, which is all the way down at #22. Similarly, Nathan Taylor just defeated the #6 seed Slavikouski in the EIWA semifinals, showing his potential exceeds his #21 seed.
Watch Taylor defeat Slavikouski:
Unlock this video, live events, and more with a subscription!
Get Started
Already a subscriber? Log In
Predictions
I went a little crazy and picked Hunter Catka to beat both two-time All-American Trent Hillger and the #6 seed Yaralau Slavikouski, but I feel like my reasons are not completely crazy. Hillger and Catka both have losses to Orndorff and Dayton Pitzer (a true freshman redshirting for Pittsburgh). Hillger lost 7-4 to Orndorff and got pinned by Pitzer. Cata lost 3-1 to Orndorff and lost in sudden victory to Pitzer. Additionally, four of Catka's six losses this season were in overtime and the other two were by 2 points, so I'm taking those margins of victory and applying the transitive property to get Catka>Hillger, though I wouldn't be surprised in the slightest if this premise turns out to be faulty!
And as much as I would love to see a deep run by the Belarussian native Slavikouski, he lost in the EIWA semifinals to Lehigh's Nathan Taylor 5-1, and Taylor is ranked 23rd whereas Catka is ranked 15th. So that's why I'm straying from picking chalk and moving the Big Cat all the way to the quarterfinals from the #22 seed, though I'm still picking Kerkvliet to win and advance to the semis in that match.
I'm also picking Kerkvliet to win a semifinal matchup with Wyatt Hendrickson to set up a Big Ten finals rematch with Mason Parris, where I'm predicting we'll be hailing Parris as the victor.
The backside of this bracket is going to pure chaos, so I won't try and justify any of my consolation picks. They're mostly going to be wrong or non-applicable. That's just something I have to accept!
Full All-American predictions with round of 12 finishers:
Mason Parris, Michigan
Greg Kerkvliet, Penn State
Tony Cassioppi, Iowa
Wyatt Hendrickson, Air Force
Cohlton Schultz, Arizona State
Lucas Davison, Northwestern
Sam Schuyler, Iowa State
Zach Elam, Missouri
Round of 12: Owen Trephan, NC State; AJ Nevills, South Dakota State; Trent Hillger, Wisconsin; Hunter Catka, Virginia Tech