2023 NCAA Championships Watch Party
2023 NCAA Wrestling Championship Preview - 184 Pounds
2023 NCAA Wrestling Championship Preview - 184 Pounds
A full preview, with predictions, for the 184-pound weight class at the 2023 NCAA Wrestling Championships.
Mar 14, 2023
by David Bray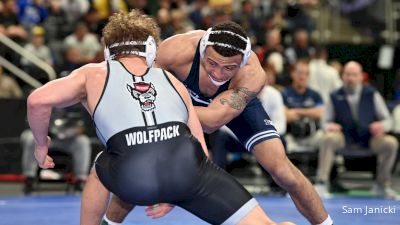 Unlock this video, live events, and more with a subscription!
Get Started
Already a subscriber? Log In
Aaron Brooks is looking for his third straight NCAA title at 184 lbs this weekend in Tulsa in a field that he's pretty familiar with. Here's what you need to know before the action goes down.
Jump to each of the individual weight class previews below along with links to our rankings and the NCAA brackets:
Brackets | Rankings | Mega-Preview | Weight Class Previews: 125, 133, 141, 149, 157, 165 174, 197, 285
2022 Top 8 Finishers
1. Aaron Brooks, Penn State
2. Myles Amine, Michigan
3. Parker Keckeisen, Northern Iowa
4. Bernie Truax, Cal Poly
5. Trent Hidlay, NC State
6. Kaleb Romero, Ohio State
7. Marcus Coleman, Iowa State
8. Jonathan Loew, Cornell
184 Pound Bracket
The Favorite
#1 Aaron Brooks, Penn State
Despite being the #3 seed, two-time NCAA champ Aaron Brooks has earned favorite status. He's a combined 5-0 in college against Keckeisen and Hidlay who are seeded ahead of him and has stepped his bonus rate up to 76.92% this season.
Brooks' #3 seed isn't egregious. He's 12-1 on the year with a loss to #5 seed Marcus Coleman from the Collegiate duals, and his wins haven't been that strong. On top of that, his victory over Parker Keckeisen at the NWCA All-Star Classic didn't officially count on his record. So while the seed isn't necessarily problematic, Brooks is still the favorite.
Brooks over Keckeisen at the All-Star Classic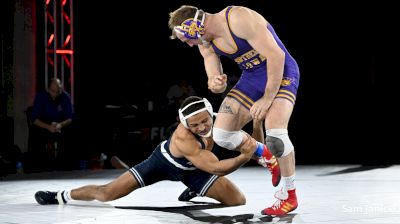 Unlock this video, live events, and more with a subscription!
Get Started
Already a subscriber? Log In
His status at #3 does set up an interesting semifinal rematch with Trent Hidlay who he's narrowly defeated in the NCAA championships each of the last two seasons. Their 2021 finals showdown was a 3-2 win for Brooks while their 2022 semifinal went to sudden victory where Brooks won 6-4. Before a potential final with Keckeisen or semifinal with Hidlay, Brooks is seeded to face Kaleb Romero in the quarterfinals, Will Feldkamp in the second round, and Matthew Waddell in the first round.
Contenders
#2 Parker Keckeisen, Northern Iowa
#3 Trent Hidlay, NC State
#4 Marcus Coleman, Iowa State
#5 Kaleb Romero, Ohio State
#6 Trey Munoz, Oregon State
While Brooks is the clear favorite, this weight has no shortage of contenders. The top half of the bracket features top-seeded Parker Keckeisen, #5 seed Marcus Coleman, and #4 seed Trey Munoz. On that side, Keckeisen has had both the strongest season and career. He's finished 3rd the last two seasons and has registered his highest bonus rate of 65.22% over the course of his 22-1 2022-23 season. He's never wrestled the #4 seed Munoz but is 4-0 against the #5 seed Coleman.
Parker Keckeisen's interview after winning Big 12s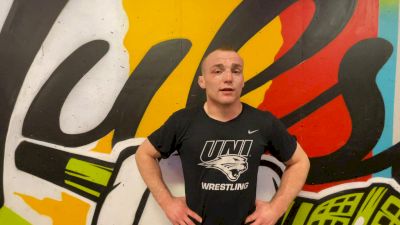 Trey Munoz, the #4 seed, is 24-1 on the year with his lone loss coming against Nebraska's Lenny Pinto who happens to be seeded 13th and is projected to have a rematch with Munoz in round 2. Should he flip the script on Pinto, he will see Coleman, who he beat in a dual in December. Munoz is looking for his first All-American honor. Coleman is 19-3 this year. His win over Aaron Brooks has been the high water mark of his season. Other than his loss to Munoz, his only two defeats this year came at the hands of top-seeded Keckeisen.
Trent Hidlay and Kaleb Romero are the two most likely contenders on the bottom half of the bracket. The challenge for Romero is that he has a potential quarterfinal against Brooks who has defeated him three times in the last two seasons. Their matches at 2022 NCAAs and 2023 Big Tens were both major decisions for Broooks, but Romero did keep their bout in this season's dual to a 3-2 decision.
Hear from Trent Hidlay after his 3rd ACC title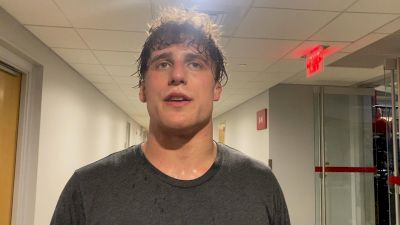 NC State's Trent Hidlay has given Brooks some of his toughest battles over the last two years. To get to Brooks, however, Hidlay will probably need to get past Rutgers' Brian Soldano, one of the most dangerous wrestlers in the bracket, and Virginia Tech's Hunter Bolen who he's wrestled six times in his career. All six of those matches have been decided by one or two points, and two of them have needed overtime. Bolen won the first three matches in the series, but Hidlay has won the most recent three.
Sleepers & Landmines
Gavin Kane, North Carolina
Lenny Pinto, Nebraska
Brian Soldano, Rutgers
North Carolina's Gavin Kane has been surging at the right time. At the beginning of the season, he was 6-4, but he enters the postseason at 21-6 with a victory over Bolen at the ACC Championships. He could see Kaleb Romero in the second round in a rematch from November that Romero won 6-4. His path to All-American honors will likely require him to beat someone he's lost to in the past, but he's shown the ability to do that.
Dangerous freshmen Lenny Pinto and Brian Soldano have been two of the more entertaining wrestlers to watch in this weight class this season, and both are in positions in the bracket to cause chaos. Pinto is seeded to see Trey Munoz in round 2, a highly-seeded opponent he's already defeated this year. Many people will be circling that match as a potential upset, but they should be circling all of Pinto's bouts as must-watch matches. Soldano's high-risk style also makes his matches appointment viewing. He's not afraid to go to his back to put his opponents on theirs, and he's capable of pinning just about anyone.
Lenny Pinto's victory over Trey Munoz at CKLV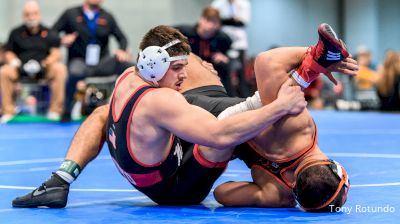 Unlock this video, live events, and more with a subscription!
Get Started
Already a subscriber? Log In
Predictions
Despite Brooks' loss to Coleman earlier this season, he's still the man to beat at 184 lbs. The rest of this weight is packed with returning All-Americans who may make podium spots for first-time AAs tough to come by.
1. Aaron Brooks, Penn State
2. Parker Keckeisen, Northern Iowa
3. Trent Hidlay, NC State
4. Marcus Coleman, Iowa State
5. Kaleb Romero, Ohio State
6. Trey Munoz, Oregon State
7. Hunter Bolen, Virginia Tech
8. Matt Finesilver, Michigan
Round of 12 - Travis Wittlake (Oklahoma State), Gavin Kane (North Carolina), Abe Assad (Iowa), Isaiah Salazar (Minnesota)