2023 NCAA Championships Watch Party
2023 NCAA Wrestling Championship Preview & Predictions - 141 Pounds
2023 NCAA Wrestling Championship Preview & Predictions - 141 Pounds
A full preview, with predictions, for the 141 pound weight class at the 2023 NCAA Wrestling Championships.
Mar 11, 2023
by Jon Kozak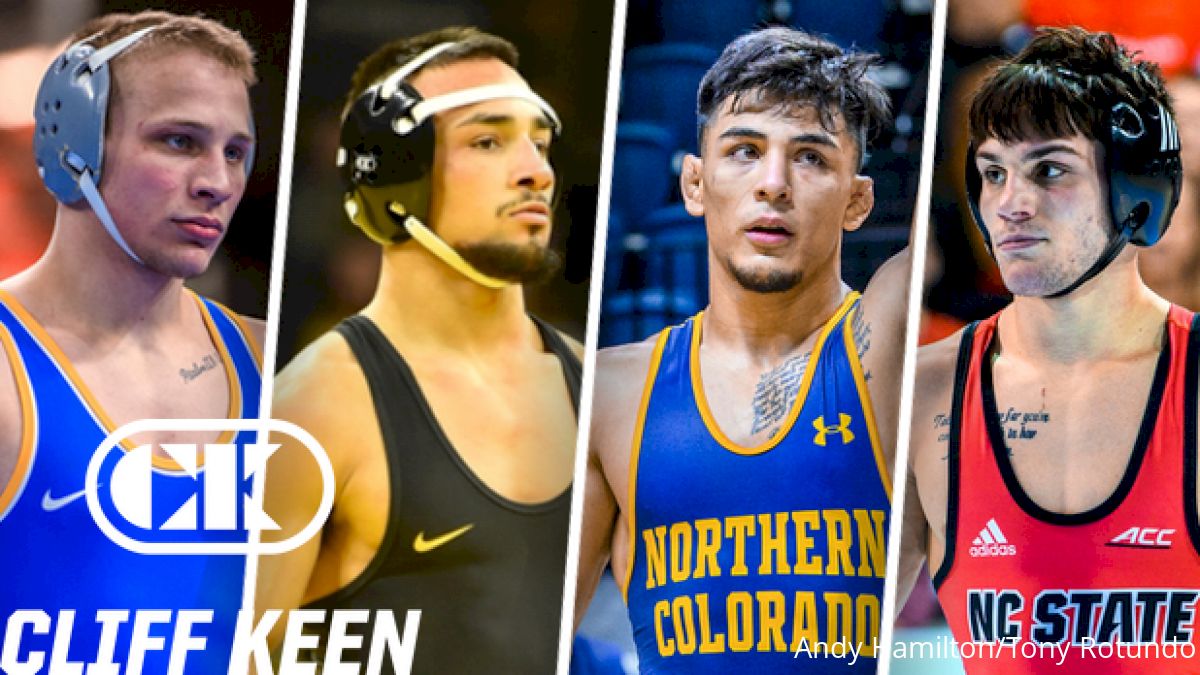 141 pounds at the 2023 NCAA Championships has it all - 2 clear favorites, a number of worthy contenders, and a host of wrestlers who could shake up the bracket to earn All-American honors. Take a look at the below article for a preview and prediction for this outstanding weight in Tulsa!
Jump to each of the individual weight class previews below along with links to our rankings and the NCAA brackets:
Brackets | Rankings | Mega-Preview | Weight Class Previews: 125, 133, 149, 157, 165 174, 184, 197, 285
141 Pound Bracket
The Favorites
Andrew Alirez and Real Woods have been the best wrestlers at 141 pounds all year. Alirez announced his presence early in the season when he knocked off the #1 Cole Matthews at the NWCA All-Star Classic in November. Since then, he's done nothing but win - compiling a 23-0 record with 8 different ranked wins and 18 by bonus points (6 pins, 5 techs, and 7 majors). Along with being one of the favorites to win a title, Alirez is also looking to earn his first All-American honors after failing to place in 2020 (because of covid), missing 2021 with an injury, and losing 1 match shy of the podium last season.
Andrew Alirez's win over Cole Matthews at the NWCA All-Star Classic: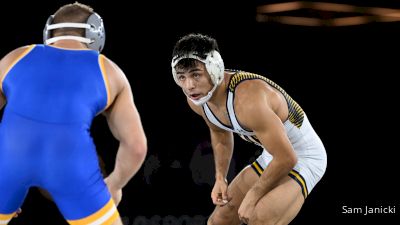 Unlock this video, live events, and more with a subscription!
Get Started
Already a subscriber? Log In
Like Alirez, Real Woods has been a title favorite since the beginning of the season and has only proved himself worthy of that description. Woods is 16-0 on the year with notable wins over Brock Hardy (X2), Frankie Tal-Shahar, Beau Bartlett, Parker Filius, and a number of other ranked wrestlers. Along with reaching the podium last season with a 6th-place finish, Real Woods also recorded a win over the aforementioned Andrew Alirez at the 2022 Southern Scuffle. As the #1 seed at NCAs, Woods will likely have to wrestle #4 seed Brock Hardy for the 3rd time this season or #5 seed Ryan Jack in the semi-finals for a chance at the potential showdown with Alirez in the finals.
Woods' win over Alirez from the 2022 Scuffle: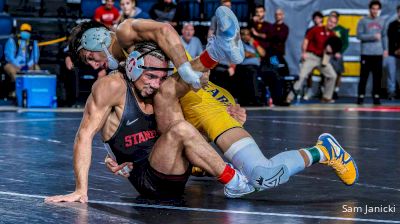 Unlock this video, live events, and more with a subscription!
Get Started
Already a subscriber? Log In
Contenders
While Alirez and Hardy have been the clear #1 and #2 wrestlers all season, the above four have established themselves as the next tier. These four might be underdogs, but no one should be shocked if Matthews, Jack, Hardy, or Bartlett make the finals. Cole Matthews placed 5th at last year's NCAA tournament highlighted by a win over the 1 seed Real Woods, 7-3. Matthews lost to Andrew Alirez and Jordan Titus this year, but his wins over #3 Ryan Jack (2), #7 Lachlan McNeil, and #10 Tom Crook prove Matthews is still a force to be reckoned with and a contender to win an NCAA title this year.
Highlights of Cole Matthews' win over Real Woods at last year's NCAA Tournament: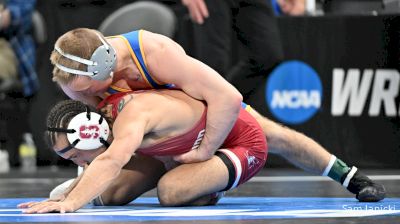 Unlock this video, live events, and more with a subscription!
Get Started
Already a subscriber? Log In
Ryan Jack and Brock Hardy have split matches this year with Jack winning the first meeting in November and Hardy getting revenge at the CKLV in December. Jack has compiled a list of impressive wins with only losses to Hardy and Matthews. This year, Jack has ranked wins over #7 Lachlan McNeil (2), #10 Tom Crook (2), #15 Cael Happel, #24 Malyke Hines, and #22 Josh Koderhandt.
On top of his losses to Woods and Jack, Hardy took 2 "random" losses in the regular season to Emilio Ysaguirre and Dylan Droegemueller. Despite those losses, Hardy has 15 ranked wins on the year and his competitive matches to Real Woods show us how close he is to the top of this weight class.
Hardy's win over Jack from the 2022 CKLV: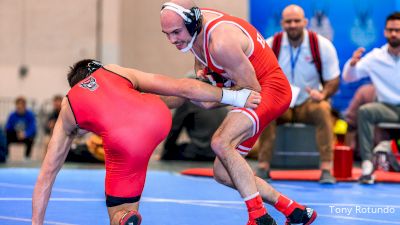 Unlock this video, live events, and more with a subscription!
Get Started
Already a subscriber? Log In
Then there's Beau Bartlett. Many might leave him out of this list of "contenders" for his losses against Hardy and Woods. Aside from those losses, Bartlett has been the model of consistency with wins over #17 Dylan D'Emilio (2), #14 Parker Filius, HM Cole Mattin, HM Kal Miller, HM Joey Olivieri, #7 Lachlan McNeil, #16 Cleveland Belton, HM Shannon Hanna, and #24 Malyke Hines. Bartlett wrestles a great style to make a deep run in this tournament - he's incredibly hard to score on and finishes almost every time when he gets his hands locked around a leg. Bartlett will be in every match and absolutely capable of defeating anyone in the country at 141 pounds.
Sleepers & Landmines
This isn't hyperbole - I wouldn't be surprised if half of the wrestlers in this bracket reached the podium. Vince Cornella, Allan Hart, Mosha Schwartz, Lachlan McNeil, Clay Carlson, and a hose of others are legitimate All-American contenders. However, I don't think those wrestlers fit the category of a "sleeper or landmine."
Instead, I chose to limit this category to guys seeded outside of the top 12 that could really "blow things up" in this bracket. First up is the #14 seed - Cael Happel. Up until Big 12s, Happel was a top 10 wrestler with wins on the season over #10 Tom Crook, #13 Clay Carlson, #17 Dylan D'Emilio, HM Jordan Titus, #20 Casey Swiderski, and HM Joe Zargo. While his 0-2 performances at Big 12s is concerning, no one should be surprised if Happel goes on a run to make the podium.
Last year Oregon State had an outstanding performance at NCAAs and Grant Willits placed 4th from the #8 seed at 141 with wins over Cole Matthews and Chad Red. This year, Cleveland Belton is Oregon State's 141-pounder. Belton is the #21 seed but is set up in a great spot to make some noise in Tulsa. In round one, Belton has #14 Parker Filius - who Belton defeated 3-2 at the 2022 CKLV earlier this year. Should he win that match, Belton will likely #4 face Ryan Jack in round 2. Though he's an underdog in that match based on a 6-1 head-to-head loss from earlier this year, he should be capable of keeping the match close and competitive.
Belton's win over Filius at the 2022 CKLV: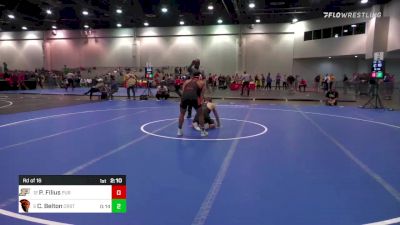 Unlock this video, live events, and more with a subscription!
Get Started
Already a subscriber? Log In
Jordan Titus and Casey Swiderski are two freshmen to keep an eye on in this bracket. Titus showed off his potential when he defeated #3 Cole Matthews earlier this year, 3-1. Titus is the #29 seed and will face #4 Brock Hardy in round 1. I don't have the guts to pick an upset there but I'm absolutely going to be watching because of Titus' potential.
Finally, Casey Swiderski. Many hopped on the Swiderski hype train at the beginning of the year when he defeated national qualifier HM Joe Zargo and wrestled #2 Real Woods to a close, 3-2 decision loss early in the season. However, many abandoned that train when Swiderski looked to be dealing with an injury and lost 7 of 8 matches from late January through February. However, Swiderski's 4th place performance at Big 12s with wins over #15 Cael Happel and HM Job Greenwood suggests he may have righted the ship and is ready to reach the podium in Tulsa.
Casey Swiderski had big expectations heading into his freshman year at Iowa State:
Predictions
Andrew Alirez has been so impressive all year and I believe he'll prove that he's the best wrestler in the country against Real Woods in the finals on Saturday night. That match should be incredibly close but I favor Alirez who has shown to have the more high-powered offense. Beyond that, Woods has the tendency to slow down toward the end of matches, leaving me wondering if he'll get upset prior to reaching the finals. Regardless of what happens, this weight will be one of the most exciting in the country!
Full All-American predictions with round of 12 finishers:
Andrew Alirez, Northern Coloardo
Real Woods, Iowa
Cole Matthews, Pitt
Brock Hardy, Nebraska
Lachlan McNeil, North Carolina
Ryan Jack, NC State
Beau Bartlett, Penn State
Cael Happel, Northern Iowa
Round of 12 finishers - Vince Cornella (Cornell), Casey Swiderski (Iowa State), Cleveland Belton (Oregon State) Allan Hart (Missouri)