2022-23 NCAA Weight Class Previews
2022-23 NCAA 125-Pound Preview: The Return Of Spencer Lee
2022-23 NCAA 125-Pound Preview: The Return Of Spencer Lee
Prepare for the upcoming NCAA D1 wrestling season with our resplendent 125-pound preview.
Jul 17, 2022
by Andrew Spey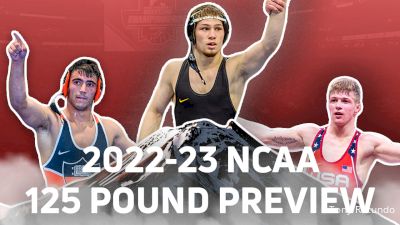 The last three years of NCAA wrestling have been anything but typical and the next few seasons are primed to stay on the peculiar end of the spectrum thanks to the extra year of eligibility granted to every wrestler who participated in the 2021 season.
Preseason Previews: 125 | 133 | 141 | 149 | 157 | 165 | 174 | 184 | 197 | 285
Plus there's the whole NIL thing that's completely changing the collegiate landscape as we know it (or as it was once known), but we don't have time to get into that right now, we have a 2022-23 weight class to preview!
We're starting at 125-pounds, but you can stop reading this preview now and wait for the rest of the previews to get published and then read them in any order you want, if you're not into the whole sequential vibe.
That extra year of eligibility we mentioned earlier has made keeping tracking of who's graduated and who's coming back a more complicated task than ever. So we're starting this preview with all the major moves we've identified.
Healed
Spencer Lee, Iowa
Robert Howard, Penn State
Jaret Lane, Lehigh
Liam Cronin, Nebraska
The biggest news for the lightest division, and perhaps all of D1 wrestling, is the return of three-time NCAA champ, Hawkeye talisman, and Pokemon enthusiast, Spencer Lee.
Penn State faithful will be happy to see the return of 2021 round of 16 finisher, Robbie Howard, as they look to break their 125-pound curse that has been lingering in Happy Valley since the departure of Nittany Lion great, Nico Megaludis.
Fellow Keystone State inhabitant Lehigh is also regaining the services of a 2021 round of 16 finisher in Jaret Lane, who suffered a season-ending injury late in the 2022 season.
Liam Cronin is a two-time national qualifier who started his career in Indiana before transferring to the Huskers. He returns to the lineup after a hard-earned convalescence.
Departed
Nick Suriano, Michigan
Drew Hildebrandt, Penn State
Devin Schroder, Purdue
Korbin Meink, Campbell
Jacob Allen, Navy
Fabian Gutierrez, Chattanooga
Jared Van Vleet, Air Force
The collegiate wrestling world won't be the same without Nicky Pushups. The two-time national champ finally exhausted his eligibility at his third Big Ten school. The community anxiously awaits his next move in the professional realm.
Hildebrandt and Schroder came back for one more bite at the apple but fell agonizingly short of the podium. Meink, Allen, Fab Guti and Van Vleet also end their careers after long stretches in the national rankings.
Bumping Up
Sam Latona, Virginia Tech
Taylor LaMont, Wisconsin
Brody Teske, TBD
Jace Koelzer, Northern Colorado
Bryce West, Northern Illinois
Alabama native and 2021 All-American Sam Latona will move up to 133 now that two-time All-American Korbin Myers has exhausted his eligibility in Blacksburg. 2021 All-American Taylor LaMont will also bump up after transferring as a grad student from Utah Valley to Wisconsin.
It's also not official yet but word is Brody Teske, who just recently entered the transfer portal after getting a degree from UNI, will wrestle 133 next season, wherever that may be.
Redshirting
Drake Ayala, Iowa
Iowa native Drake Ayala proved he was the real deal, filling in for an injured Spencer Lee and making the NCAA tournament as a true freshman. He'll don the redshirt he was wearing for the first half of last season now that Lee is back in the lineup.
Bumping Down
Matt Ramos, Purdue
Most folks move from 125 to 133 (or higher), but Matt Ramos is bucking the trend. Ramos finished in the round of 12 at 133 last season for the Boilermakers, and also brings some impressive freestyle credentials to the mat, having won a UWW U17 World Championship gold medal.
Coming Off Redshirt
Braxton Brown, Maryland
Eddie Ventresca, Virginia Tech
Josh Jones, George Mason
Stevo Poulin, Northern Colorado
Blake West, Northern Illinois
A bevy of worthies are coming off solid redshirt campaigns and can be expected to contribute to their respective programs this season.
Back Off The Bench
Jack Medley, Michigan
Kase Mauger, Utah Valley
Diego Sotelo, Harvard
Anthony Molton, Campbell
As the only NCAA sport with weight divisions, wrestling can be exceedingly unforgiving when it comes to trying to fit all the talent in the practice room on to a starting lineup. Take Jack Medley for example, who started for the Maize and Blue in the 2020 and 2021 seasons but was relegated to the bench after the addition of Nick Suriano to the roster for the 2022 season.
Mauger, Sotelo, and Molton will also look to make noise on the varsity level after ceding weights to teammates in 2022.
True Freshmen
Troy Spratley, Minnesota
Nico Provo, Stanford
Cory Land, Northern Iowa
Jore Volk, Wyoming
Gabe Whisenhunt, Oregon State
Nicolar Rivera, Wisconsin
Above is a far from complete list of true freshman, most of whom, if not all of whom, will redshirt this season, though they remain talents on which you should keep at least one eye.
Now for the prognosticating part of the preview.
Favorites
The subject of Lee's knees has been a prominent one for Iowa Hawkeye fans since Spencer tore his ACL in the 2019 NCAA finals. Lee injured his other knee in the 2021 Big Ten Championships and was finally forced to sit out most of the 2022-23.
January 2, 2022
Two surgeries and one medical redshirt later and Lee is back in action and ready for one final run at NCAA glory.
Should Spencer win his fourth title, he'll become the first Hawkeye in their insanely illustrious history to obtain four individual crowns.
Lee will have plenty of competition, but if healthy, expect Spencer to treat a fourth NCAA championship as if it were a prized pokemon; he's simply got to catch 'em all.
Watch highlights from Spencer's third NCAA title: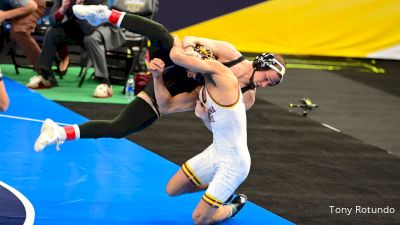 Unlock this video, live events, and more with a subscription!
Get Started
Already a subscriber? Log In
Contenders
Simmering just below the volcanic popularity of Spencer Lee is a competitive pool of wrestling magma featuring perhaps college wrestling's best current rivalry in Cornell's Vito Arujau and Princeton's Pat Glory.
These two East Coast Ivy Leaguers have been going at it on the collegiate level since 2019. The current record sits at 3-2 in Glory's favor, with the Princeton Pat also owning the most recent win from the 2022 NCAA semifinals.
Vito beat Glory at the 2022 EIWA finals, which you can watch below.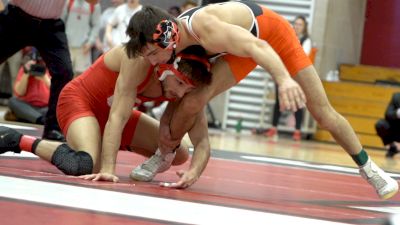 Unlock this video, live events, and more with a subscription!
Get Started
Already a subscriber? Log In
But Glory got revenge at NCAAs: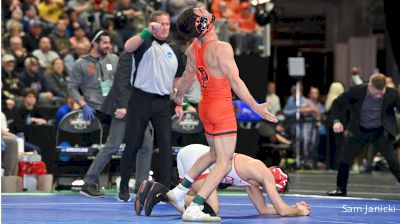 Unlock this video, live events, and more with a subscription!
Get Started
Already a subscriber? Log In
Three Big Ten and two Pac-12 All-Americans from 2022 are also returning to the mix and will be favored to return to the podium in Tulsa, where the 2023 NCAAs are being held: Northwestern's Michael DeAugustino (4th place), Minnesota's Pat McKee (5th place), Arizona State's Brandon Courtney (6th place), Wisconsin's Eric Barnett (7th place), and Oregon State's Brandon Kaylor (8th place).
Other contenders include a brace of North Carolinian collegians in Wolfpacker Jakob Camacho and App State's Caleb Smith, as well as West Virginia's Killian Cardinale, an exile of the shamefully shuttered Old Dominion program who is taking advantage of his extra year of eligibility to return to the Mountaineer program for one more shot at a title.
Additionally, 2018 U17 world champ Matt Ramos figures to factor into the medal mix in March. The Boilermaker reached the round of 12 last season up at 133-pounds.
Landmines
Malik Heinselman and Robbie Howard are a pair of Big Ten bluebloods who could upend any bracket from any seed.
Finally (although this list of potential NCAA obstacles is far from complete), Lock Haven's Anthony Noto took a sterling 30-1 record into NCAAs and defeated Penn State's Drew Hildebrandt in sudden victory in the first round of the tournament in the most talked about match of the session. Now entering just his third year out high school, Noto's potential is sky high.
Watch highlights from that memorable Round of 32 match below: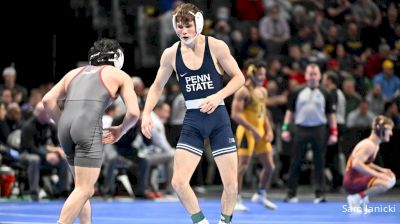 Unlock this video, live events, and more with a subscription!
Get Started
Already a subscriber? Log In
Spredictions
1) Lee; 2) Glory; 3) Arujau; 4) McKee; 5) DeAugustino; 6) Courtney, 7) Barnett; 8) Cardinale; R12) Camacho; R12) Howard; R12) Ramos; R12) Kaylor