2022-23 NCAA Weight Class Previews
2022-23 NCAA 141-Pound Preseason Preview: A Wide Open Weight
2022-23 NCAA 141-Pound Preseason Preview: A Wide Open Weight
Prepare for the upcoming NCAA D1 wrestling season with our 141-pound preview.
Jul 30, 2022
by JD Rader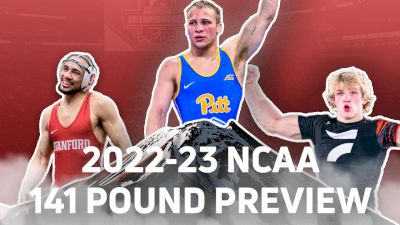 While most weight classes have a lot of familiar faces due to the extra year of eligibility granted by the NCAA, there was a mass exodus at 141 lbs after the 2021-2022 season. 1-5 in FloWrestling's final season ranking all graduated and moved on. This leaves 141 lbs as one of the most up-for-grabs and intriguing weight classes of the season!
Other preseason weight class previews: 125 | 133
Departed
Nick Lee, Penn State
Sebastian Rivera, Rutgers
Jaydin Eierman, Iowa
Chad Red, Nebraska
Kizhan Clarke, North Carolina
Grant Willits, Oregon State
Stevan Micic, Michigan
Dylan Duncan, Illinois
Ian Parker, Iowa State
Dresden Simon, Central Michigan
Like I said, a mass exodus of talent. It's been entertaining watching Nick Lee fight for supremacy the past two seasons over Jaydin Eierman and Sebastian Rivera. And I won't be forgetting Kizhan Clarke's NCAA finals run anytime soon. A truly fun group of wrestlers who I will miss watching.
Returning 2022 All-Americans
Cole Matthews, Pitt (5th)
Real Woods, Stanford (6th)
Jake Bergeland, Minnesota (7th)
CJ Composto, Penn (8th)
Despite the incredible loss of talent to this weight class, half of last year's All-Americans will be returning. While I don't want to discredit these wrestlers' accomplishments, part of that is due to the older wrestlers lack of ability to stay healthy at the NCAA tournament.
Watch Jake Bergeland defeat Andrew Alirez in the bloodround below.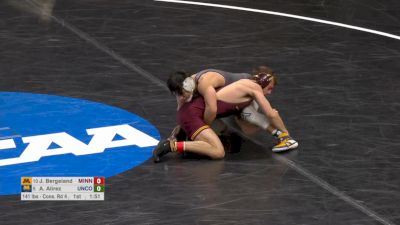 Unlock this video, live events, and more with a subscription!
Get Started
Already a subscriber? Log In
Healed
Jesse Vasquez, Arizona State
The #21 overall prospect in the class of 2020, Jesse Vasquez was a 4X California state champion coming out of high school. He earned the 141 lbs starting spot at Arizona State after redshirting a year and went 7-1 before suffering a season-ending injury.
Bumping Up From 133
Sammy Alvarez, Rutgers
Jordan Titus, West Virginia
Sammy Alvarez's weight has notoriously been an issue for him the past two seasons. He even was unable to make 133 lbs for the Big Ten Tournament in 2021. He should perform much better up a weight.
Jordan Titus competed at 133 while in redshirt last season, but will be moving up and taking over the 141 lbs starting spot for the Mountaineers. He went 20-7 last season while competing unattached, winning the Ohio Intercollegiate and Edinboro Opens.
Moving Down From 149
Beau Bartlett, Penn State
With 2X national champion Nick Lee holding down the 141 spot, it's clear why Beau Bartlett has been competing at 149 despite many believing his optimal weight class would be 141.
Coming Off Redshirt
Vince Cornella, Cornell
Wyatt Henson, Oklahoma
Lachlan McNeil, North Carolina
Jordan Titus, West Virginia
Ethen Miller, Maryland
Vince Cornella, Wyatt Henson, Lachlan McNeil, Ethen Miller and the aforementioned Jordan Titus are all 2nd year college wrestlers who I've circled that could have an impact. Wyatt Henson will be in an interesting roster battle with another Oklahoma transfer in, Mosha Schwartz.
Rider's McKenzie Bell redshirted last season after qualifying for the national tournament as a true freshman in 2021.
True Freshman Who Could Be In The Mix
Casey Swiderski, Iowa State
Ryan Crookham, Lehigh
Ismael Ayoub, Nebraska
Nash Singleton, Oregon State
Michael Gioffre, Virginia
Garrett Grice, Virginia
In recent exciting news, Kevin Dresser confirmed that the plan is to start #2 overall recruit, Casey Swiderski. With the departure of a lot of the top talent at the weight class, many are saying that Swiderski could compete for a spot on the podium come March.
At one point, Ryan Crookham was considered to be the #1 overall recruit in the class of 2022. Injuries have plagued his last two years in high school, but if he can remain healthy, he will be a factor on the national level.
On-Paper-Favorites
Cole Matthews, Pitt
Real Woods, Iowa
The two odds-on favorites to win are going to be the two highest returning place winners, Cole Matthews and Real Woods. Although many would probably consider Woods to be the sole favorite, with the help of a big six-point through, Matthews defeated Woods for 5th place at last year's NCAAs.
Watch Matthews throw Woods to his back and defeat him at NCAAs last year below.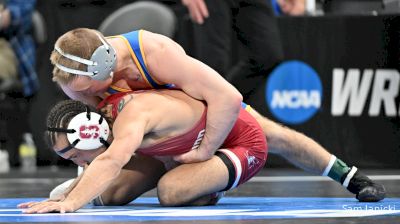 Unlock this video, live events, and more with a subscription!
Get Started
Already a subscriber? Log In
Don't count Woods out, however. He'll have a slightly different look and training regime this year as he transferred to the University of Iowa. People also forget how good Woods looked with a full normal season of training. In 2020, Woods was the #3 seed at NCAAs behind Luke Pletcher and Nick Lee.
Contenders
Jakob Bergeland, Minnesota
CJ Composto, Penn
Andrew Alirez, Northern Colorado
Clay Carlson, SDSU
Allan Hart, Missouri
These guys won't bring in the Vegas money to win the title, but they've got the skill if they can put it all together and things fall in the right way to get it done in Tulsa. Alirez, Carlson, and Hart meet several times throughout the year and often trade wins and losses. While this is fortunate for fans, it makes things rather hard to predict and rank.
Watch Clay Carlson break down his exciting CKLV final with Andrew Alirez below.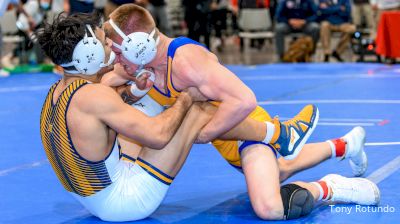 All-American Threats
Carter Young, Oklahoma State
Beau Bartlett, Penn State
Frankie Tal Shahar, Northwestern
Ryan Jack, Northwestern
Dylan D'Emilio, Ohio State
Joseph Zargo, Wisconsin
Parker Filius, Purdue
Dylan Droegemueller, NDSU
Matthew Kazimir, Columbia
Casey Swiderski, Iowa State
All eight of these guys are national qualifiers, but not one podium finish between them. I expect that to change this year.
Landmines
Brock Hardy, Nebraska
Josh Mason, Bloomsburg
Cael Happel, Northern Iowa
The guys you don't want to draw first round at NCAAs. Brock Hardy was a top-10 recruit coming out of the class of 2018. He was used selectively in 2021 at 149 lbs before losing the spot to Ridge Lovett. Turned out not to be too bad. Josh Mason is a national qualifier with very good pinning capabilities. Cael Happel is typical Panther Train tough as hell.
Predictions
1) Woods 2) Matthews 3) Carlson 4) Bergeland 5) Young 6) Alirez 7) Swiderski 8) Composto