2022-23 NCAA Weight Class Previews
2022-23 NCAA 133-Pound Preseason Preview: Will RBY Win 3rd Straight Title?
2022-23 NCAA 133-Pound Preseason Preview: Will RBY Win 3rd Straight Title?
An early preview of the 2022-23 NCAA D1 133-pound field
Jul 31, 2022
by Jon Kozak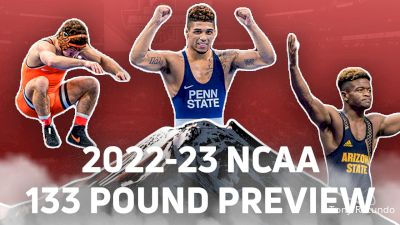 133-pounds during the 2022-23 season will be incredible! The story lines are endless…Roman Bravo-Young coming back to attempt to win his third-straight NCAA title. Daton Fix looking to win his first NCAA title after finishing runner-up THREE TIMES. Will anyone get in the way of another rematch between Fix and RBY in the NCAA finals?
Then there are Ohio State's true freshmen in Nic Bouzakis and Jesse Mendez. Will either go right away and contend for All-American honors?
Or what about the returning All-Americans - will guys like Michael McGee, Chris Cannon, or Lucas Byrd be able to break through the top 2? We will explore all of the aforementioned questions and many more in the preview below to get you prepared for the upcoming season at 133-pounds!
However, before we do that, let's spend some time diving into the various ways next year's field will look different from the 2021-22 season. The extra year of eligibility granted from the Covid season combined with redshirts, injuries, transfers, and weight changes will alter the 133-pound landscape significantly this year.
Other preseason weight class previews: 125 | 141
Departed
2021-22 133-pound starters not returning:
It's hard to imagine the 133-pound field without Austin DeSanto, but sadly, he is out of eligibility and has moved on to his senior-level career. Along with DeSanto, All-Americans Korbin Myers and Devan Turner have exhausted their eligibility making room for some new faces on the podium next March.
Bumping Out
2021-22 133-pound starters changing weights
Lehigh's Malyke Hines will be moving up to 141 while Purdue's Matt Ramos will go the other way and drop to 125. As a national qualifier, Hines had an up and down year, highlighted by wins over Micky Phillippi and Josh Koderhandt. Ramos made the round of 12 at NCAAs with impressive victories over Kai Orine, Rayvon Foley, and All-American Lucas Byrd.
Moving In
Wrestlers entering 133-pounds that wrestled a different weight last season:
While there are 3 All-Americans graduating from last year's 133-pound field, there look to be 2 former All-Americans coming into the weight from 125 in Sam Latona and Taylor Lamont. Both Latona and LaMont reached the podium in 2021 but came up just short finishing in the round of 12 at last year's NCAA tournament. Their addition to the weight, along with a host of others, will add depth to an already loaded weight.
Coming Off Redshirt
Projected 133-pound starters that were in redshirt last season:
Of the above wrestlers coming off a redshirt, Wyatt Henson and Boo Dryden look to be the most dangerous to the 133-pound field. Henson spent his time in redshirt for the Iowa Hawkeyes but will be in the running to start for the Oklahoma Sooners in the upcoming season if he goes 133. During his redshirt year, Henson put together an 18-2 record at 141 most notably defeating NCAA qualifier Quinn Kinner and losing a 1-0 match to Andrew Alirez.
Also a transfer, Boo Dryden stayed within the Big 10 going from Minnesota to Nebraska. Dryden went undefeated in his redshirt year last season compiling a 14-0 record, however, only 2 of his matches came against Division 1 competition. In the 2020-21 season, Dryden qualified for NCAA's but went 1-2.
Back Off The Bench
Projected 133-pound starters that were 2nd-string last season:
With many of the seniors departing, or starters moving weights, there are a number of wrestlers who were second string last year but will make an impact as the starter this year. Aaron Nagao and Cullan Schriever are the two worth diving into from the above list. Nagao's best performance last year was at the Southern Scuffle where he finished runner-up to Rayvon Foley but defeated NCAA qualifier Codi Russell. Cullan Schriever will replace Austin DeSanto as Iowa's starter and looks to have the ability to contend for All-American honors. Schriever went 15-5 last season in mostly open tournaments and started 2 duals for the Hawkeyes against Northwestern and Illinois. In those matches, Schriever showed potential by losing close decisions to All-Americans Chris Cannon and Lucas Byrd.
True Freshman
Nic Bouzakis, Ohio State
Jesse Mendez, Ohio State
Still three months out from the start of the season, it doesn't look like we'll see many true freshmen start this year at 133. However, the Ohio State Buckeyes have two strong options in Mendez and Bouzakis. With the new rules allowing for a true freshman to wrestle attached up to 5 times throughout the season, we should see Mendez and Bouzakis don the Ohio State single this year. Depending on how they perform, expect to see one of these blue chip recruits competing at the Big 10 and NCAA Tournament in March.
Favorites
The best wrestlers in the field:
If the last two year's have shown us anything, it's clear the weight class belongs to Roman Bravo-Young with Daton Fix nipping at his heels. RBY is on a 36-match win streak dating back to the beginning of the 2021 season and will likely wrestle a shortened season next year. He's been vocal about wrestling in an international tournament in the fall and limiting his total number of weigh-ins. Expect the bulk of RBY's matches to come in January and February during the Big 10 dual season as he prepares to make his final run at his third straight NCAA title. That shortened season shouldn't hinder his performance at NCAA's as the last 2 year's have shown us RBY performs the best when it matters most.
On the other side of things, Daton Fix has lost 3 straight NCAA titles in some of the closest matches imaginable. In order for Fix to defeat RBY and win his first title, he likely has to get a takedown over the Nittany Lion, which hasn't happened in the over 14 combined minutes they've wrestled in their 2 NCAA finals matches. The silver lining of Fix not making the world team is that his sole focus will be on winning NCAAs. If you're a Cowboy fan, you're hoping that extra folkstyle emphasis will be enough to get him over the hump and win his first NCAA title.
Highlights of Roman Bravo-Young's win over Daton Fix in the 2022 NCAA Finals: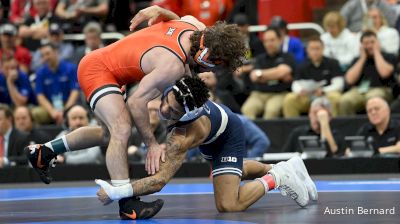 Contenders
The group that will present the most potential to All-American or challenge the favorites:
There are 5 returning or former All-Americans who will likely be in the 133-pound field and have the best chance (though unlikely) to break into the top 2 - Michael McGee, Lucas Byrd, Chris Cannon, Sam Latona, and Taylor LaMont.
Michael McGee's win in the consi-semis at the 2021 NCAA Tournament: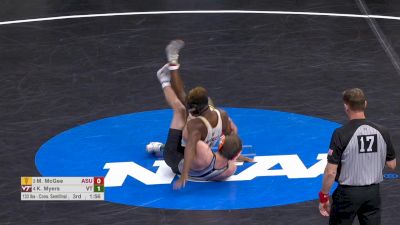 Unlock this video, live events, and more with a subscription!
Get Started
Already a subscriber? Log In
All 5 are interesting for different reasons. McGee has shown great progression over the past 5 years and wrestled Daton Fix to a tough, 5-1 loss at last year's NCAA tournament. Lucas Byrd, like McGee, has made significant gains in his college career but has surprisingly never wrestled Fix or Bravo-Young. Byrd's close matches with Austin DeSanto show he's capable of presenting a unique challenge to the top 2. Then there's Chris Cannon - the model of consistency with two, 7th place finishes at the last two NCAA tournaments. While he's unlike to make the finals, we shouldn't be surprised to see Cannon climb the podium this season. It's also important to note Cannon still has 3 years of eligibility left and will be a legitimate title threat for years to come.
Lucas Byrd's win over Dylan Ragusin to earn AA honors at the 2022 NCAA Tournament: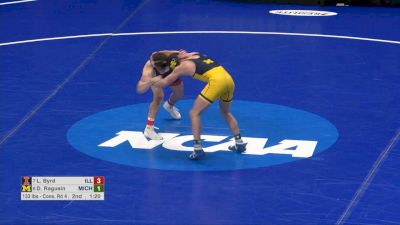 Unlock this video, live events, and more with a subscription!
Get Started
Already a subscriber? Log In
Then there's Latona and LaMont coming up from 125. Both had up and down performances last season with "head-scratching" losses likely attributed to their heavy weight cut. Up at 133, we should expect to see greater consistency from both of these former AA's. Like Cannon, Latona still has 3 years of eligibility remaining and will likely settle at 133 pounds for the remainder of his college career. LaMont is in his 7th year but will don a new singlet next year after transferring to Wisconsin. Austin Gomez found new life as a Badger last season - maybe LaMont will find the same spark under coach Bono this year.
Landmines
The group that isn't projected to All-American right now but has big potential:
There are a number of wrestlers you could put in this category because of the depth of 133 pounds. For me, guys like Dylan Ragusin, Micky Phillippi, and RayVon Foley don't fit the mold of a landmine. Everyone knows they have the potential to earn All-American honors because of their past wins - they just haven't been able to "get the job done" at NCAAs.
With that being said, my 4 landmines for this upcoming NCAA season are Kai Orine, Michael Colaiocco, Wyatt Henson, and Cullan Schriever. Colaiocco and Orine are currently ranked #11 and #12 respectively in our Insanely Early NCAA Rankings. They both have the potential to break into the top 5 at this weight. Meanwhile, Wyatt Henson and Cullan Schriever are nowhere to be found in the top 24. That should change quickly as I believe they both have the ability to contend for All-American honors this season and could be a major landmine to anyone currently in the rankings.
Kai Orine's win over All-American Devan Turner from the 2020 Southern Scuffle: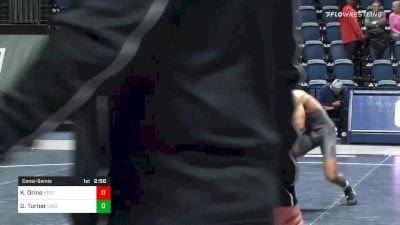 Unlock this video, live events, and more with a subscription!
Get Started
Already a subscriber? Log In
Finally, I'm going to throw Nic Bouzakis in as a landmine. I believe he'll get the start at 133 pounds for the Buckeyes and could make major waves in this field. Can he break through and make the finals? Probably not but Bouzakis should be able to contend for All-American honors and take out some established contenders.
Predictions
1) Roman Bravo-Young, 2) Daton Fix, 3) Lucas Byrd, 4) Sam Latona, 5) Michael McGee, 6) Kai Orine, 7) Dylan Ragusin, 8) Nic Bouzakis