2022-23 NCAA Weight Class Previews
2022-23 NCAA 197-Pound Preseason Preview: Max Dean Leads Crowded Field
2022-23 NCAA 197-Pound Preseason Preview: Max Dean Leads Crowded Field
Prepare for the upcoming NCAA D1 wrestling season with our 197-pound preview.
Aug 30, 2022
by Kyle Klingman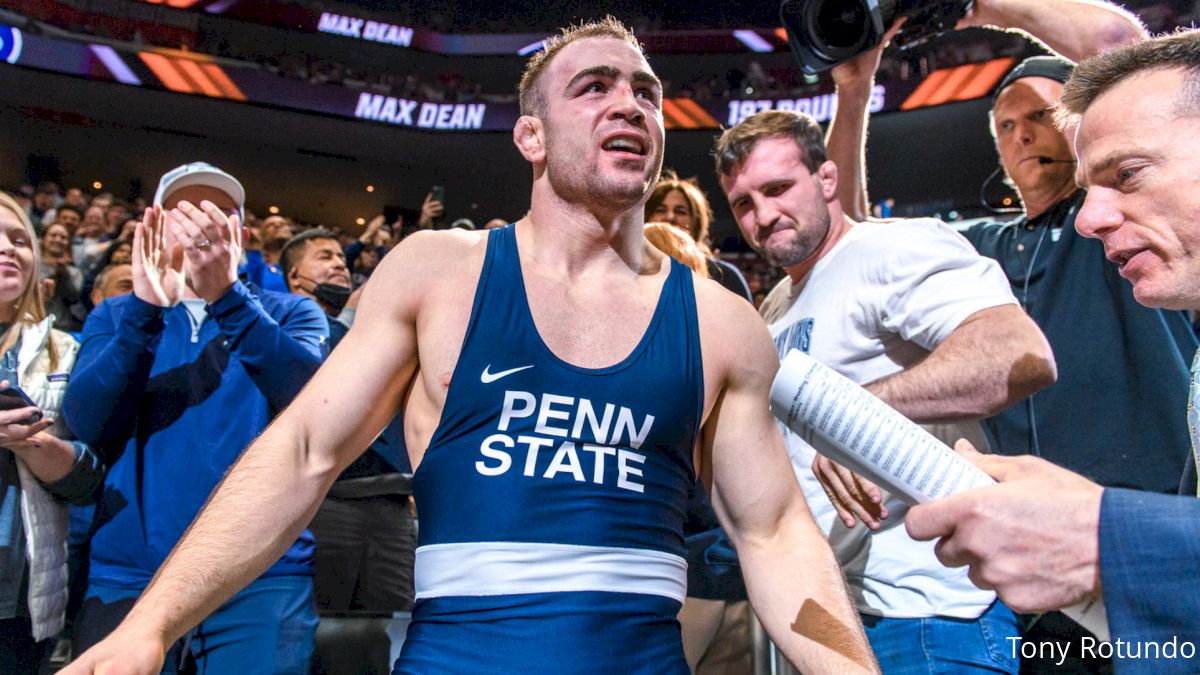 This weight is similar to last season where the field is deep and at least 20 different wrestlers have a legitimate shot of finding their way to the podium. Returning champion Max Dean of Penn State is the favorite after a 23-1 season.
The top national place winners from 2022 return this season, including Iowa's Jacob Warner (2nd), Wyoming's Stephen Buchanan (3rd), Missouri's Rocky Elam (4th), Iowa State's Yonger Bastida (5th), and Ohio State's Gavin Hoffman (6th). Pittsburgh's Nino Bonaccorsi reached the finals in 2021 while Binghamton's Lou DePrez finished eighth that year. Michael Beard placed seventh in 2021 for Penn State but was Dean's backup last season and has since transferred to Lehigh.
Bonaccorsi's past four seasons offer clues about how unpredictable this weight can be. He reached the Round of 12 as a freshman in 2019, didn't compete in 2020 due to COVID, placed second in 2021, and reached the Round of 12 in 2022 after losing his second match of the tournament.
Last year's placings will have no bearing on what will happen in 2023. Expect this to be the most unpredictable of the 10, and don't be surprised if several All-Americans from 2022 don't repeat.
Preseason Previews:125 | 133 | 141 | 149 | 157 | 165 | 174 | 184 | 197 | 285
Departed
Eric Schultz, Nebraska
Greg Bulsak, Rutgers
Pat Brucki, Michigan
Alan Clothier, Northern Colorado
Jack Brown, Army
Tristen Guaman, Northern Illinois
Kayne Hutchinson, Air Force
Chris Kober, Campbell
Arick Lopez, Cal Baptist
Matt Correnti, RIder
Cade Wilson, Brown
Nunzio Crowley, Long Island
Jackson Moomau, West Virginia
Jake Woodley, Oklahoma
Parker McClellan, Lock Haven
Josh Loomer, Cal State Bakersfield
Michael Waszen, Franklin & Marshall
Schultz placed seventh last year but hadn't reached the Round of 12 up until that point. Bulsak was 1-6 over three national tournaments and finally reached the podium in 2022. Michigan's Pat Brucki finished fourth in 2019 when he was at Princeton but only reached the Round of 16 last season. All three are gone, but they are reminders of how chaotic and unpredictable this weight class can be.
Returning 2022 All-Americans
Max Dean, Penn State (1st)
Jacob Warner, Iowa (2nd)
Stephen Buchanan}, Wyoming (3rd)
Rocky Elam Missouri (4th)
Yonger Bastida, Iowa State (5th)
Gavin Hoffman, Ohio State (6th)
The top six wrestlers from last year return with Bonaccorsi, Beard, and DePrez placing in 2021. Dean has reached the NCAA tournament finals twice (2nd in 2019 for Cornell at 184 and 1st in 2022 at 197 for Penn State). The Nittany Lion star is a safe bet to place high.
Warner has good national tournaments, placing seventh in 2019, fourth in 2021, and second in 2022. Buchanan lost to Warner in the semis but wrestled back for third, defeating Elam, a 2021 Junior World champion, in the consolation finals.
These four seem like solid bets to reach the podium again but there are landmines they must face, including the three returning placers from 2021.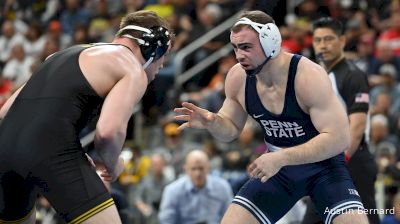 Unlock this video, live events, and more with a subscription!
Get Started
Already a subscriber? Log In
Watch highlights of Max Dean's win the 2022 NCAA tournament finals
Bumping up from 184 pounds
Bernie Truax, Cal Poly
Zac Braunagel, Illinois
Two of those landmines are Truax and Braunagel. Truax began his career at 149 pounds, qualified for nationals at 165 in 2020, placed fourth at 174 in 2021, and fourth at 184 in 2022. He'll try his hand at 197 this year after reaching the semifinals last season.
Illinois coach Mike Poeta has indicated that Braunagel, a three-time national qualifier at 184, might be moving up a weight this season. If so, expect him to be a factor here, as well.
Moving Down From 285 Pounds
Tyler Bagoly, Clarion
Bagoly spent his first two years at 184 pounds then bumped up to 285 for the next three. He's moving down to 197 for this season after missing out on the national tournament in 2022, but qualified for the 2020 COVID-canceled NCAA Championships.
Coming Off Of Redshirt
Ethan Laird, Rider
Jaxon Smith, Maryland
Tate Picklo, Oklahoma
Elijah Sobas, Cal Baptist
Andrew Wilson, Gardner-Webb
As if 197 wasn't deep enough, there are a handful of redshirts who will make things interesting. Laird is a three-time national qualifier who reached the Round of 12 in 2021 while Smith and Picklo have each made an age-level World team. Smith recently finished fifth at the U20 Freestyle World Championships while Picklo made a U17 Greco World team in 2019. All three will make an immediate impact on their teams this season.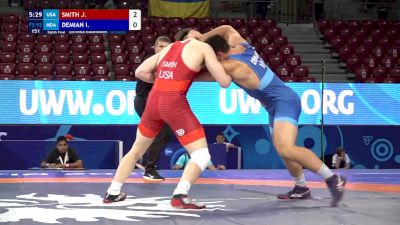 Unlock this video, live events, and more with a subscription!
Get Started
Already a subscriber? Log In
Jaxon Smith wrestled at the U20 World Championships this year
Favorite
Max Dean, Penn State
It's hard to argue against a returning national champion who avenged his only loss of last season during the B10 Championships. Dean has gone 8-2-1 at NCAA Championships and appears to be getting better. He's the pick here until someone proves otherwise.
Contenders
Jacob Warner, Iowa
Stephen Buchanan, Wyoming
Rocky Elam, Missouri
Nino Bonaccorsi, Pittsburgh
Warner and Bonaccorsi are returning finalists, so both have proven they can make a championship run. Elam has placed fifth and fourth at the NCAA Championships and his U20 World title proves he can win big tournaments. Buchanan entered as the two seed, lost to Warner in the semifinals, and bounced back for third. His body of work shows that he is a consistent performer and can make a run at the title in 2023.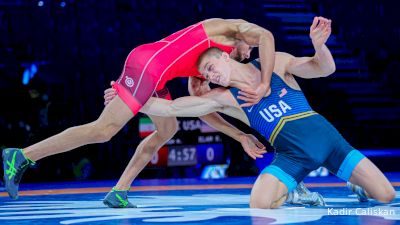 Unlock this video, live events, and more with a subscription!
Get Started
Already a subscriber? Log In
Rocky Elam broke down his gold medal match from the 2021 Junior World Championships
All-American Threats
Yonger Bastida, Iowa State
Gavin Hoffman, Ohio State
Michael Beard, Lehigh
Lou DePrez, Binghamton
Cam Caffey, Michigan State
Tanner Sloan, South Dakota State
Kordell Norfleet, Arizona State
Ethan Laird, Rider
Jaxon Smith, Maryland
Tate Picklo, Oklahoma
Bernie Truax, Cal Poly
Most who qualify for the NCAA Championships in this weight will be All-American threats, but the above 11 are worth mentioning. Whether it's on the championship side or consolations, every match should have some level of intrigue. The quarterfinals and the Round of 12 are eight matches you won't want to miss.
Landmines
Braxton Amos, Wisconsin
Zac Braunagel, Illinois
Thomas Penola, Purdue
It's a joke, really, to point out only three landmines since this weight is a powder keg waiting to happen. Amos is a Senior-level Greco World teamer at 97 kilograms this year and a U20 World champion in 2021. This isn't his ideal weight (215 pounds would be perfect) but he has the potential to win big matches. Braunagel is likely moving up and he has a track record of beating bigger guys in freestyle so he's someone you should look out for. Purdue hasn't had an All-American since Tony Ersland took over so Penola has added motivation to change that this season.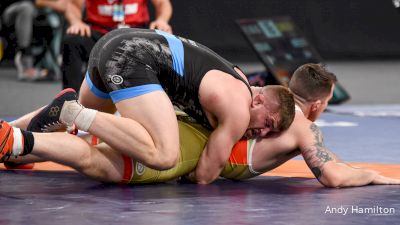 Unlock this video, live events, and more with a subscription!
Get Started
Already a subscriber? Log In
Braxton Amos will represent the United States at the 2022 Greco-Roman World Championships
Predictions
1. Max Dean, Penn State
2. Stephen Buchanan, Wyoming
3. Jacob Warner, Iowa
4. Rocky Elam, Missouri
5. Michael Beard, Lehigh
6. Nino Bonaccorsi, Pittsburgh
7. Gavin Hoffman, Ohio State
8. Bernie Truax, Cal Poly