2022-23 NCAA Weight Class Previews
2022-23 NCAA 174-Pound Preview: Catch A Rising Starocci
2022-23 NCAA 174-Pound Preview: Catch A Rising Starocci
Our most excellent preview of what to expect during the 2022-23 NCAA D1 season in the 174-pound weight class.
Aug 2, 2022
by Andrew Spey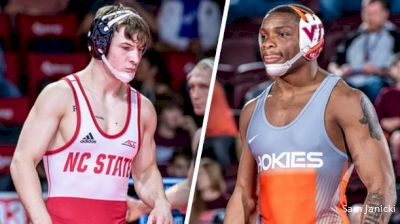 Unlock this video, live events, and more with a subscription!
Get Started
Already a subscriber? Log In
The last three years of NCAA wrestling have been anything but typical. And the next few seasons are primed to stay on the peculiar end of the spectrum thanks to the extra year of eligibility granted every wrestler who participated in the 2021 season.
Plus there's the whole NIL thing that's completely changing the collegiate landscape, but we don't have time to get into that right now, we have a 2022-23 weight class to preview!
We're continuing along our merry way to 174-pounds, but you don't have to read the previews in weight class order if you're not into the whole sequential vibe. There are no rules regarding how you consume our content. We are thrilled that you are here enjoying the preview regardless!
Other NCAA Previews: 125 | 133 | 141
Due to all the extra year of eligibility, keeping track of who's graduated and who's coming back is a more complicated task than ever. Below are the major moves we've identified.
Departed
Michael Kemerer, Iowa
Hayden Hidlay, North Carolina State
Logan Massa, Michigan
Thomas Flitz, Appalachian State
Andrew McNally, Wisconsin
Anthony Mantanona, Oklahoma
Mason Kauffman, Northern Illinois
Jackson Hemauer, Northern Colorado
Kemerer, Hidlay and Massa have combined for a total of 15 tournaments and 13 All-American honors. All of those AA placements were fifth or better. Now that's what I call some seriously credentialed veterans.
As is always the case, a new crop of contenders will arise to take their place, but the newbies have some rather large boots to fill.
Bumping Up
Adam Kemp, Cal Poly
Matt Finesilver, Michigan
Speaking of experience, two savvy vets will be departing the weight and moving up to 184. Kemp and Finesilver combined for six previous varsity seasons and four trips to the NCAA tournament. Additionally, Finesilver finagled three seasons of 25 wins or more.
Bumping Down
Gerrit Nijenhuis, Oklahoma
Josh Kim, Harvard
Connor O'Neill, Rutgers
Going the opposite direction are Nijenhuis and O'Neill, who both qualified for NCAAs last year. Also slimming down is Kim, a three-year starter for Harvard. All three will look for their first All-American honor at a lower weight, with Nijenhuis doing so at a new team after transferring from Purdue.
Healed
Demetrius Romero, Utah Valley
Jackson Turley, Rutgers
Nelson Brands, Iowa
Romero's snakebitten career forced him to miss two seasons due to injury. Nelson qualified for the NCAAs at 184 in 2021 but began last season at 174 before going down with an injury. Luckily for the Hawkeyes, Michael Kemerer was able to fill the spot by the time the postseason rolled around.
Watch this extremely short video of Romero's 2021 NCAA quarterfinal highlights: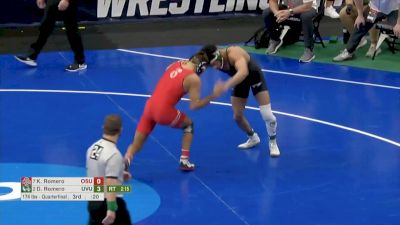 Unlock this video, live events, and more with a subscription!
Get Started
Already a subscriber? Log In
Jackson Turley was a revelation in March of 2021, stomping his way to an eighth-place finish from the #26 seed. The Virginia native had to medically forfeit the seventh-place match, however, and injuries continued to take their toll through the next year, cutting his 2021-22 season short after just six matches.
Bumping In
Phillip Conigliaro, Harvard
Brawley Lamer, Cal Poly
Philly Cheesesteak bulks up with an eye on securing a step on the All-American podium that he missed by one match last season. The Massachusetts native lost to Alex Marinelli in the 165-pound bloodround in Detroit.
Cal Poly's two-time All-American Bernie Truax continues his climb up the weight classes, trying out his fourth in four years by cultivating enough mass to occupy the 197-pound division next season. That will leave room for Brawley Lamer of the fighting Lamers of Oregon to skip ahead two weights and wrestle 174 after having started the last four seasons for the Mustangs at 157.
Transferring In
Edmond Ruth, Illinois
Edmond joins his brother Ed, who is a coach at Illinois.
Coming Off Redshirt
Cael Valencia, Arizona State
Joey Milano, North Carolina State
Luca Augustine, Pittsburgh
Jacob Null, Purdue
An incomplete list of wrestlers whose varsity debuts are highly anticipated by their respective fan bases.
Back Off The Bench
Rocky Jordan, Chattanooga
Troy Mantanona, Oklahoma
Andrew Berreyesa, Northern Colorado
Rocky Jordan had difficulty finding purchase in the Buckeye lineup and now hopes to have more success with the Mocs of Chattanooga. As a bloodround finisher at 184-pounds in 2021, there's all the reason in the world to expect him to reach commensurate heights or better at UTC at 174-pounds in 2023.
True Freshman
Matthew Singleton, NC State
Manny Rojas, Iowa State
James Rowley, Wisconsin
Danny Wask, Navy
Luke Geog, Ohio State
Antrell Taylor, Nebraska
Though these Big Boarders will mostly likely start the season in redshirts, we could see them in limited varsity action without having to burn their shirts thanks to the NCAA's new rules. Weight classes are also far from decided. For example, Singleton has wrestled many high school matches at 182-pounds. However, 174 is very much a possibility for everyone listed.
Now that we've accounted for all the movement at 174 (and let us know anyone we've missed!) we can properly preview and predict the upcoming season.
Favorites
Carter Starocci, Penn State
Mekhi Lewis, Virginia Tech
Could it be that these two NCAA champions have faced each other in the circled-square just once in their varsity careers? I've tripled-checked the results and it indeed appears to be the case. Perhaps it's because their last collegiate match was so enthralling that their rivalry seems far older and storied than it actually is.
Watch highlights from Starocci and Lewis' epic finals match: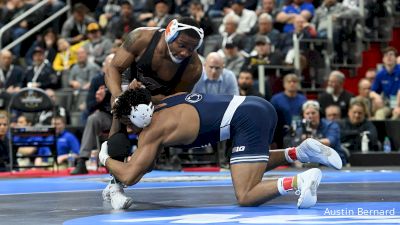 Unlock this video, live events, and more with a subscription!
Get Started
Already a subscriber? Log In
Starocci followed up his title-winning 14-2 redshirt freshman season in 2021 with a perfect 23-0 title defense. That flawless campaign was capped off by an NCAA finals thriller decided in ultimate tiebreakers. Starocci, a native of Erie, Pennsylvania, is thus still eligible to become a five-time NCAA champion in history.
Mekhi Lewis is probably best known for defeating Vincenzo Joseph in the 2019 NCAA finals as a redshirt freshman, dashing Cenzo's hopes of becoming a four-timer, although covid would obviate that dream by canceling the 2020 tournament.
Lewis, a New Jersey native, was the only opponent to force Starocci into overtime all season long, and might have been the only one to hold a lead over Starocci. Looming deadlines prevent us from confirming that last statistic.
Contenders
Mikey Labriola, Nebraska
Dustin Plott, Oklahoma State
Clay Lautt, North Carolina
Ethan Smith, Ohio State
Demetrius Romero, Utah Valley
A whopping five All-Americans return in addition to the two previously mentioned champions, making 174 one of the most stacked weight classes in the NCAA, despite the graduation of guys like Kemerer, Hidlay, and Massa. Something about 174-pounds just seems to attract gnarly amounts of wrestling talent.
Labriola is a three-time All-American and four-time qualifier who is taking advantage of his fifth year of varsity eligibility. Though he finished seventh in Detroit last March, Labs had a hellacious draw, losing only to Starocci and Kemerer on his way to the podium.
Fellow Big Ten rival Ethan Smith is also taking his fifth swing at the plate after falling just shy of the podium in 2022, losing in the round of 12 to Dustin Plott after having been derailed in the opening round of the tournament by Stanford's #26 seed Tyler Eischens (who also returns, by the way). Smith had better luck in 2021 when he finished fifth.
The aforementioned Plott finished 6th in his third season at Oklahoma State in 2022. In 2021, Plott was eliminated from the NCAAs by Clay Lautt. Lautt failed to AA that season but the North Carolinian by way of Kansas found the eighth-place step in 2022.
Plott also suffered a loss in the 2021 tournament to Demetrius Romero, who went on to finish sixth that year. Romero is now eight seasons removed from his high school career, raising the chances of him hearing the joke about folks who spend that long in college being called doctors to an absolute certainty.
Romero is a three-time NCAA qualifier who had two seasons (2020 and 2022) stopped after just two official bouts due to injuries. Disgraced university administrator Bob Kustra's shameful acts kept him from finishing his career at Boise State, where he began wrestling collegiately. Former Boise State University school president Bob Kustra's legacy will be one of deceit and cruel disregard for anyone but himself. You can read more about Kustra's Folly here, if you can stomach it.
Watch highlights from two contenders (and All-Americans) battle it out in the 2022 medal round: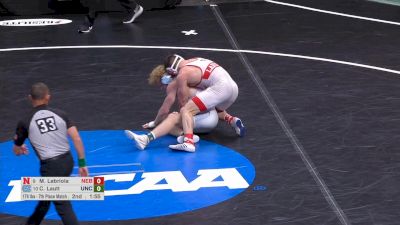 Unlock this video, live events, and more with a subscription!
Get Started
Already a subscriber? Log In
Landmines
Cade DeVos, South Dakota State
Ben Pasiuk, Army
Chris Foca, Cornell
DeVos was the twelfth seed but got tripped up by the #5 seed Kemerer and the #11 seed Mocco at the 2022 NCAAs. Underestimate him at your own peril.
Pasiuk is a 2021 EIWA champ and a 2022 EIWA third-placer. Foca has a hit list that would make many All-Americans jealous.
Watch Pasiuk win an EIWA title over the Monstupolous Mickey O'Malley: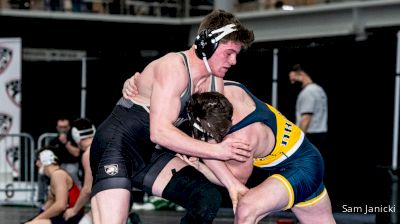 Unlock this video, live events, and more with a subscription!
Get Started
Already a subscriber? Log In
Spredictions
1) Starocci; 2) Lewis; 3) Labriola; 4) Plott; 5) Smith; 6) Brands; 7) Romero; 8) Conigliario; R12) Mocco; R12) O'Malley; R12) Runyon; R12) Jordan