2020 Super 32
At 195lbs, Will Shumate Punch Through At Super 32?
At 195lbs, Will Shumate Punch Through At Super 32?
Athletic big men will be on display in this year's 195lbs Super 32 field!
Oct 19, 2020
by David Bray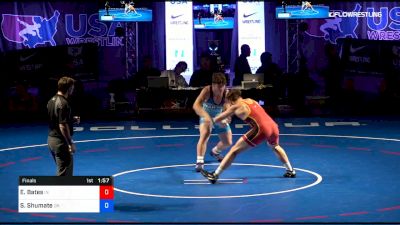 Unlock this article, live events, and more with a subscription!
Get Started
Already a subscriber? Log In
Before his loss to Tate Picklo at Who's #1, Seth Shumate was the consensus top dog at 195lbs. He'll work to prove why he's regarded as one of the top prospects in the class of 2022 while a solid group of challengers will try to take their shots at the 195 favorite.
Watch the Super 32 Challenge LIVE on FloWrestling
Saturday & Sunday, October 24-25, 2020
Can Shumate Punch Through at Super 32?
Seth Shumate is the #2 man at this weight, and his titles at Fargo and Iron Man give him the strongest resume of anyone in the bracket. He's the favorite, but it's worth noting that he hasn't made it on the podium in his first two attempts. He had 3-2 performances as a freshman and as a sophomore, but the Buckeye bound junior is too good to count out.
The #5-ranked Brandon Hoselton knows how to get it done at Super 32 as he was a finalist at this weight a year ago. Hoselton's path to the finals last year went through Indiana champ #7 (220lbs) Evan Bates. The match was a quick one as Hoselton countered a Bates shot with a throw that ended with a first-period fall. Both Indiana state champs are uncommitted seniors and fascinating prospects. They'll present serious challenges to Shumate.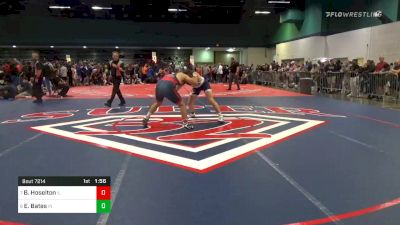 Unlock this video, live events, and more with a subscription!
Get Started
Already a subscriber? Log In
All of these guys have seen action this fall. Shumate dropped a tough battle at Who's #1, Hoselton went undefeated up at 220 at the AWA Duals, and Bates finished second at the IndianaMat Hoosier Preseason Open dropping his finals match to #18 Logan Shephard who will be competing in the 220 bracket at Super 32.
Who Could Climb the Rankings?
Two more top-10 195-pounders sit at the top of this weight in #9 Martin Cosgrove of New Jersey and #10 Gavin Nelson of Minnesota. Cosgrove has gone 17-0 this fall between the Olympic Club Duals and Battle at the Burgh while Nelson is ready to prove himself at 195 since moving up from his Minnesota state finals appearance at 170 this spring. These two met at last year's Super 32 where Cosgrove got the 5-0 win.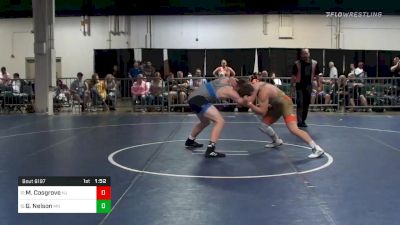 Unlock this video, live events, and more with a subscription!
Get Started
Already a subscriber? Log In
Franklin Cruz sits at #11 in the rankings while Michael Tal-Shahar occupies the #17 spot. Cruz, the Colorado native was a Reno champ last year and has long been capable of achieving at high levels at this weight. Tal-Shahar's highs are really high, but he also drops matches from time to time. For example, he beat Gavin Nelson at last year's Super 32 and went undefeated this fall at Rocky Mountain Nationals, but on the flip side, he finished seventh at the Grappler Fall Classic with two uncharacteristic losses.
Christian Carroll is surging this fall after an outstanding showing at the Grappler Fall Classic. He was injured last season, so his name might have slipped some people's minds. Also, he was at 160 at this event last year, but his results at GFC came at 220 where he took out #9 Noah Pettigrew and #16 Juan Mora. 195 seems to be his weight for the remainder of the season, and he could be a serious factor in this bracket.
Cosgrove, Nelson, Cruz, Carroll, and Tal-Shahar all present problems for the top guys at this weight, and if they're locked-in, they could do some serious damage.
Don't count the unranked guys out at this weight either. In particular, Cornell commit Jack Darrah has seen a lot of action this fall with an undefeated weekend at Rocky Mountain Nationals and a solid showing at Battle at the Burgh. A couple of college commits are worth watching here as well. Wyoming bound Dorian Walters and future Oregon State Beaver Isaiah Anderson both have solid results and could do some damage here.
Ranked 195-Pounders
#2 Seth Shumate, 11th Dublin Coffman, OH - Ohio St
#5 Brandon Hoselton, 12th Prairie Central, IL
#7 Evan Bates, 12th Chesterton High School, IN
#9 Martin Cosgrove, 11th Camden Catholic, NJ - Penn
#10 Gavin Nelson, 10th Simley, MN
#11 Franklin Cruz, 12th Pomona, CO - Northern Colorado
#15 Christian Carroll, 10th Penn High School, IN
#17 Michael Talshahar, 11th American Heritage, FL
Unranked Guys to Watch
Aiden Warren, 12th Perry Meridian, IN
Caden Rogers, 11th Malvern Prep, PA
Conor Maslanek, 12th Pelham, NH
Dorian Walters, 12th Lathrop High School, MO - Wyoming
Holden Cypher, 11th Millbrook High School, NC
Isaiah Anderson, 11th Chiawana, WA - Oregon State
Jack Darrah, 11th CBC MO - Cornell
Jack Forbes, 12th Columbine High School, CO
Joey Braunagel, 12th Althoff Catholic High School, IL
Jon List, 12th Wadsworth, OH
Luke Duthie, 12th Wyoming Seminary, PA
Noah Wenzel, 9th Dakota, IL
Talmage Carman, 12th Herriman High School, UT
Other Weight Class Previews
106 - Super 32 Could Determine The #1 Spot At 106
113 - 113 Is Wide Open At Super 32
120 - Ranked Wrestlers And Returning Champ At 120
126 - Can Ayala Keep The Momentum Rolling Up At 126 At Super 32?
132 - Can Anyone Take Out The Champ At 132?
138 - Who Will Bring Home The Belt At 138?
145 - 145 At Super 32 Could Be A Breakout Tournament For Multiple Wrestlers
152 - Can Anthony Ferrari Survive The Super 32 152-Pound Gauntlet?
160 - The Parity At 160lbs Makes It A Must-Watch Weight At Super 32
170 - Who Breaks Through at 170?
182 - Rylan Rogers Will Have To Navigate An Incredible 182 Field
220 - High-Flying Big Men Headline 220lbs At Super 32