2020 Super 32
Super 32 Could Determine The #1 Spot At 106
Super 32 Could Determine The #1 Spot At 106
Without most of the major events on the summer and fall calendar, the pecking order at 106 has been muddy. Super 32 should clear that up.
Oct 13, 2020
by David Bray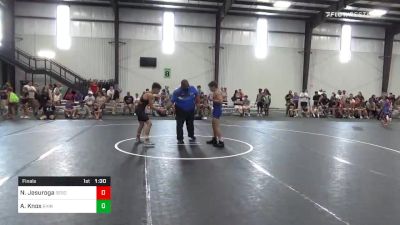 Unlock this video, live events, and more with a subscription!
Get Started
Already a subscriber? Log In
Unlock this article, live events, and more with a subscription!
Get Started
Already a subscriber? Log In
More than half of the nation's top 20 at 106lbs will throw their hats in the ring to take home the belt at the prestigious 2020 Super 32 Challenge. Throw in a scrappy group of talent from just outside the rankings, and we have a loaded field of lightweights that will teach us a lot about this young weight class moving forward.
Watch the Super 32 Challenge LIVE on FloWrestling
Saturday & Sunday, October 24-25, 2020
Will #1 & #2 Stay At The Top?
The top two wrestlers in the nation highlight this stacked bracket. Vinny Kilkeary's #1 ranking is bolstered by his Pennsylvania state title that included dramatic wins in the quarters, semis, and finals. If you haven't seen his overtime fall in the state finals, you need to, but perhaps even more dramatic was his 25-point semis bout with Tyler Kasak. Kilkeary has taken a couple of losses to eighth grade stars Vince Bouzakis and Dalton Perry. He list to Bouzakis at the Olympic Club Duals and lost to Perry at PA Power's True Power event this weekend. He remains #1 heading into Super 32 since we don't have updated rankings after the weekend.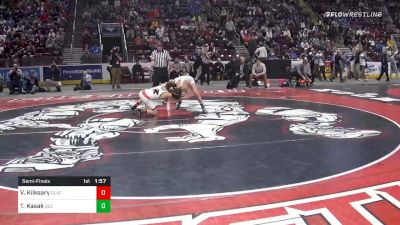 Unlock this video, live events, and more with a subscription!
Get Started
Already a subscriber? Log In
The second-ranked man in this weight is Nathanael Jesuroga, a product of Southeast Polk High School in Iowa. Jesuroga most recently competed against Minnesota state champ Tyler Wells at IA Wrestle's Night of Conflict. Jesuroga's win there suggests that he's ready to go against top-flight competition next week.
Major Depth at 106
One of the top threats to dethrone #1 and #2 is 4th ranked Nikolaus O'Neill of Malvern Prep. The freshman went 9-0 in a deep field a few weeks ago at Battle at the Burgh. He's been wrestling up at 113 during the pre-season, but he'll be coming down to 106 for this event and for the season.
St. Charles, Illinois freshman Benjamin Davino holds down the #9 spot in the rankings while Dundee, Michigan sophomore Braeden Davis checks in at #11. Davino has had a solid Fall, and Davis recently took home the title from the Grappler Fall Classic. Another Michigan light weight, Drew Heethuis checks in at #12. He was the runner-up to Davis at the Grappler Fall Classic. While Davis got the better of Heethuis this time, Heethius has also won in that rivalry, and these two Michigan hammers have a solid rivalry brewing.
The five remaining ranked 106-pounders have all been active during this pandemic season. They are #15 Beric Jordan of Graham, OH; #17 Zan Fugitt of Nixa, MO; #18 Alan Koehler of Prior Lake, MN; #19 Caleb Thoennes of St. Michael Albertvill, MN; and #20 Ethan Rivera of Lake Highland Prep, FL.
Jordan finished third at the IndianaMat Hoosier Preseason Open and most recently went undefeated at the AWA Duals. Fugitt and Koehler have each wrestled in multiple events this off-season and traded wins this fall at Rocky Mountain Nationals and Stike Zone.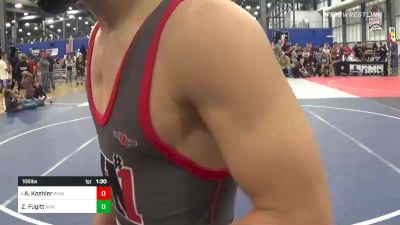 Unlock this video, live events, and more with a subscription!
Get Started
Already a subscriber? Log In
Caleb Thoenes's Rocky Mountain Nationals title and solid wins are what earned him a spot in the rankings, Florida state champ Ethan Rivera rounds out the top 20.
Who Makes a Jump?
Don't be surprised if these rankings get significantly shuffled after Super 32. These youngsters have had fewer chances than normal to prove themselves, and some haven't competed in months. Add to that the fact that 14 high-profile watchlist guys are also in this bracket, and we could see some absolute madness.
One guy who is not currently in the rankings but should be is Anthony Knox. He was #4 in September, but I took him out after hearing that he had reclassified as an eighth grader. Since he's registered here as a ninth grader, he should be ranked. He should make serious noise.
Marcello Milani, looked solid at the Grappler Fall Classic and could go on a run here as could Justin Gates who won the IndianaMat Hoosier Preseason Open. Giani Silvestri already had a New York state title under his belt before his first day of high school, and he could be a problem here as well. Also be sure to keep your eyes on Max Hermes. Like everyone else in Ohio, he didn't get to compete at the State Championships last year, but he's for real.
Ranked 106-Pounders
1 Vinny Kilkeary, 10th Greater Latrobe, PA
2 Nathanael Jesuroga, 10th South east polk, IA
4 Nikolaus O'Neill, 9th Malvern Prep, PA
9 Benjamin Davino, 9th Saint Charles East, IL
11 Braeden Davis, 10th Dundee High School, MI
12 Drew Heethuis, 10th Detroit Central Catholic, MI
15 Beric Jordan, 9th Graham High School, OH
17 Zan Fugitt, 10th Nixa, MO
18 Alan Koehler, 10th Prior Lake, MN
19 Caleb Thoennes, 11th St. Michael Albertiville, MN
20 Ethan Rivera, 9th Lake Highland Prep, FL
Unranked Guys To Watch
Caleb Uhorchuk, 10th Signal Mountain High School, TN
Gianni Silvestri, 9th Tioga Center, NY
Jacob Carson, 10th Pleasant Grove High School, UT
Jaxon Joy, 9th Wadsworth, OH
Marcello Milani, 10th Orchard Lake St. Mary's, MI
Dillon Campbell, 9th Legacy Christian Academy, OH
Anthony Knox, 9th Bergen Catholic, NJ
Drew Gorman, 8th Homeschool, GA
Isaiah Quintero, 9th El Dorado High School, CA
Aden Valencia, 9th Ann Sobrato High School, CA
Max Hermes, 10th Milan Edison, OH
Logan Swensen, 9th Wayzata High School, MN
Conor Collins, 10th Southern Regional, NJ
Reid Spurley, 9th Mineral Point High School, WI
Other Weight Class Previews
113 - 113 Is Wide Open At Super 32
120 - Ranked Wrestlers And Returning Champ At 120
126 - Can Ayala Keep The Momentum Rolling Up At 126 At Super 32?
132 - Can Anyone Take Out The Champ At 132?
138 - Who Will Bring Home The Belt At 138?
145 - 145 At Super 32 Could Be A Breakout Tournament For Multiple Wrestlers
152 - Can Anthony Ferrari Survive The Super 32 152-Pound Gauntlet?
160 - The Parity At 160lbs Makes It A Must-Watch Weight At Super 32
170 - Who Breaks Through at 170?
182 - Rylan Rogers Will Have To Navigate An Incredible 182 Field
195 - At 195lbs, Will Shumate Punch Through At Super 32?
220 - High-Flying Big Men Headline 220lbs At Super 32