2020 Super 32
Can Anthony Ferrari Survive The Super 32 152-Pound Gauntlet?
Can Anthony Ferrari Survive The Super 32 152-Pound Gauntlet?
Everything you need to know about the 152-pound men's high school division at Super 32, coming to you live from Myrtle Beach, SC.
Oct 19, 2020
by Andrew Spey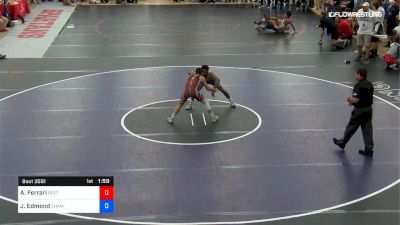 Unlock this video, live events, and more with a subscription!
Get Started
Already a subscriber? Log In
Unlock this article, live events, and more with a subscription!
Get Started
Already a subscriber? Log In
As the only entry ranked in the top five, Anthony Ferrari has to be considered the favorite at 152-pounds, but like every other weight, there will be scads of challengers for the belt. Indeed, this bracket may end up being the most chaotic of them all.
Watch the Super 32 Challenge LIVE on FloWrestling
Saturday & Sunday, October 24-25, 2020
Joining Anthony in the 152-pound field are 12 other wrestlers ranked in the top 20. Five other registrants are just outside the top 20 but made their respective high school class Big Boards. Verily, the floor of the Myrtle Beach Convention Center will be transformed into a veritable abattoir when this weight class gets cooking.
Let's start with a list of all the top 20 wrestlers we should expect to see in the bracket.
#4 Anthony Ferrari, Stillwater, OK
#7 Vinny Zerban, Civic Memorial, IL
#8 (145) Daniel Cardenas, Pomona, CO
#8 Kamdyn Munro, Ricond Hill, GA
#9 RJ Weston, Lassiter, GA
#11 (160) Josh Barr, Davison, MI
#13 Connor Gaynor, Mt Carmel, IL
#14 (145) Caleb Henson, Woodland, GA
#15 Andrew Troczynski, Delbarton, NJ
#16 Nick Sanko, Pittsford, NY
#16 (160) Tyler Lillard, Wyoming Seminary, PA
#17 Nick Vafiadis, New Kent, VA
#18 Paniro Johnson, Eire Cathedral Prep, PA
We haven't seen Ferrari wrestle much since he won the Reno Tournament of Champions in December of 2019. Prior to that, he finished runner-up to Jesse Mendez at the Cadet World Team Trials at 60kg. We'll see if there's any mat rust to shake off, but if Ferrari is good and tuned up (pun very much intended, thank you) then he'll be the favorite to emerge victorious Sunday evening.
Interestingly, one of Ferrari's most recent big wins came back in June at the Cadet trials, where he beat Northwestern commit Carter Young in the quarterfinals. The entire Ferrari clan would later relocate to Stillwater, home of Oklahoma State where big brother AJ is currently enrolled as a freshman. Ferarri and Young are now Pioneer Wrestling teammates at Stillwater High School
You can watch that Ferrari vs Young bout from Akron in the video below: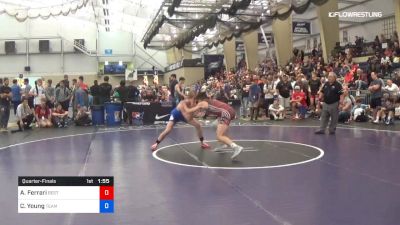 Unlock this video, live events, and more with a subscription!
Get Started
Already a subscriber? Log In
Another strong championship contender is Vinny Zerban, who finished third at the same Cadet Team Trials but at 65kg, five kilograms heavier than the weight at which Ferarri competed. Zerban also placed in the top eight at Fargo and FloNationals and let us know his school list earlier this summer, which you can check out here. Lots of very good school, excellent list, IMO!
Another strong contender is Daniel Cardenas, who we've ranked at 145 — however, we will likely move him into the 152-pound rankings as he also recently won the Freakshow at 152-pounds a week ago. You can watch Cardenas' finals win over Alex Ramirez at that event in the video below.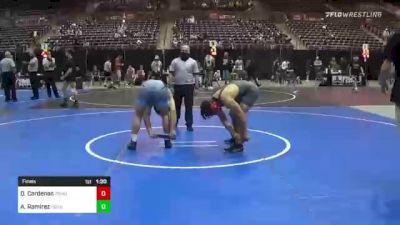 Unlock this video, live events, and more with a subscription!
Get Started
Already a subscriber? Log In
Georgia Stand Up
The impending tsunami of southern talent from the Atlanta region is now crashing on the recruiting shores of programs across the country, a phenomenon we've been expecting for a few years now. RJ Weston has committed to UNI, following the path blazed by Panther assistant coach and fellow Georgia native Lee Roper, but Kamdyn Munro and Caleb Henson are at this point uncommitted and will have plenty of eyes scouting following their performance this weekend.
Munro did himself a favor for when the Super 32 seeding committee convenes, as he beat two ranked wrestlers at the Grappler Fall Classic, Weston and Nick Vafiadis, that will again be in his bracket this weekend.
Henson won a Georgia state title in the spring at 145 and appears to be moving up a weight class. He'll have an opportunity to secure a higher ranking in his new weight class this weekend and do his part to help establish Georgia as one of the new power states in the sport.
Oh Yeah Those Big Boarders
We should probably list them too. So here they are!
#16 Class of 2023, Brayden Thompson, Liberty, IL
#23 Class of 2023, Thor Michaelson, Bremerton, WA
#29 Class of 2023, Grant MacKay, Laurel, PA
#59 Class of 2022, Mitchell Mesenbrink, Arrowhead Union, WI
#87 Class of 2022, Jared Keslar, Connellsville, PA
All of them are uncommitted (as far as we know) so coaches, if you need a future 165/174/184 pounder, here's a good place to start looking!
Sleepers And Landmines
One very capable potential dark horse to keep an eye one is New York state champ and Eastern States placer, Carter Baer of Gouverneur High School in upstate New York. And from the Chicago area, check out Sincere Bailey of Thornton Fractional North High School, who won a 2A Illinois state title along with his two brothers last February.
Additionally, New Jersey powerhouse Bergan Catholic is sending Nate Camiscioli to Myrtle Beach, who is right on the ranking bubble. And from Minnesota, watch out for Fargo Greco runner-up, Cael Swensen.
Other Weight Class Previews
106 - Super 32 Could Determine The #1 Spot At 106
113 - 113 Is Wide Open At Super 32
120 - Ranked Wrestlers And Returning Champ At 120
126 - Can Ayala Keep The Momentum Rolling Up At 126 At Super 32?
132 - Can Anyone Take Out The Champ At 132?
138 - Who Will Bring Home The Belt At 138?
145 - 145 At Super 32 Could Be A Breakout Tournament For Multiple Wrestlers
160 - The Parity At 160lbs Makes It A Must-Watch Weight At Super 32
170 - Who Breaks Through at 170?
182 - Rylan Rogers Will Have To Navigate An Incredible 182 Field
195 - At 195lbs, Will Shumate Punch Through At Super 32?
220 - High-Flying Big Men Headline 220lbs At Super 32