Unlock this article, live events, and more with a subscription!
Get Started
Already a subscriber? Log In
For many, the performance of the evening at this year's epic Who's #1 came from Drake Ayala, who stopped Richie Figueroa's historic quest to be the first-ever to go 3-0 lifetime at the event. Ayala now lays claims the #1 spot at 120-pounds as a result but will be up at 126-pounds in a Super 32 field crowded with elite talent.
Watch the Super 32 Challenge LIVE on FloWrestling
Saturday & Sunday, October 24-25, 2020
Ayala is going to have to replicate the performance level we saw in Austin if he is going to take the Super 32 championship belt in Myrtle Beach. The Fort Dodge native and future Hawkeye is going to have a lot of high-caliber company in his bracket.
Eleven ranked wrestlers, seven ranked at 126, two at 120, and two at 132. 16 Big Boarders including seven in the top 25.
There Is Another WNO Alumnus In The Mix
Ayala's top challenger for the belt will be Jordan Titus, who lost a hellacious scrap with Dean Peterson a few matches before Ayala defeated Figueroa.
The West Viginia commit from Center Moriches, New York, can maintain a high pace for six minutes and has a deadly duck under from neutral. He's also a gamer on top, as he showed in his 9-4 win over Anthony Noto at 2019's Eastern States Classic.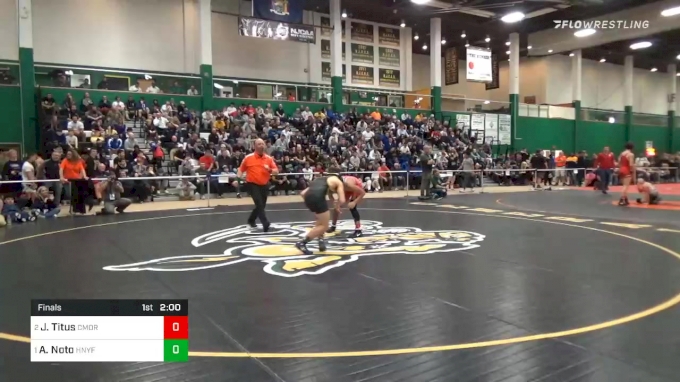 Unlock this video, live events, and more with a subscription!
Get Started
Already a subscriber? Log In
This Field Goes Deep Like A Navy Seal
#1 Ayala and #2 Titus have are the two highest-ranked competitors registered to compete, but there are a host of other nationally ranked wrestlers slated for this division. Let's list them, shall we?
#5 Zeke Seltzer, Indianapolis Cathedral, IN
#6 Dustin Norris, Cincinnati LaSalle, OH
#14 Maxximus Martinez, St John Bosco, CA
#14 (120) Jack Gioffre, Buchanan, CA
#15 Kelly Dunnigan, Don Bosco Prep, NJ
#16 (132) Jackson Arrington, Forest Hills, PA
#18 Dylan Gilcher, Detroit Catholic Central, MI
#18 (132) Camron Lacure, Legacy Christian Academy, OH
#20 Noah Gochberg, Vandegrift, TX
That's 11 ranked guys, meaning at least three top 20 wrestlers in the nation will not make the podium. That's a pretty gnarly bracket no matter how you slice it.
There are also multiple Super 32 alumni in this group. Seltzer, Norris, and Dunnigan all won at least four matches last year but failed to break into the top eight. Martinez and Gilcher wrestler each other twice at Suer 32 in 2019 down at 106 pounds. Martinez won both times, in the quarterfinals and in the third-place match.
You can watch the quarterfinal battle between Martinez and Gilcher below.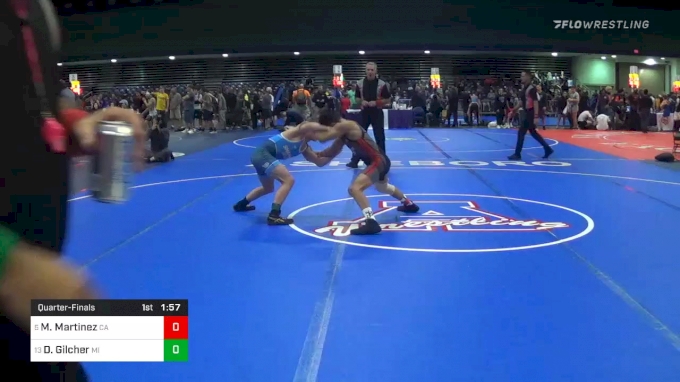 Unlock this video, live events, and more with a subscription!
Get Started
Already a subscriber? Log In
We're Not Done With Contenders Yet
There are five more wrestlers who are on the 2022 and 2023 Big Boards but are just outside the top 20 rankings. Let's list them as well!
#24 Class of 2023, Vince Robinson, Homewood Flossmoor, IL
#45 Class of 2023, Hunter Mason, Greeneville, TN
#46 Class of 2022, Braden Basile, Jesuit-Tampa, FL
#55 Class of 2022, Joseph Cangro, Bergen Catholic, NJ
#83, Class of 2022, Chase Deblaere, Simley, MN
And Still There Are Sleepers and Landmines?
That's right. Despite the plethora of ranked wrestlers signed up to compete at 126, it is a virtual guarantee that we will see some surprises in Myrtle Beach, as new contenders emerge and college coaches scouting for talent take note.
A few potential darkhorse candidates include Eligh Rivera, a sophomore at the powerhouse program of Lake Highland Prep in Central Florida. Also keep an eye out for Ethan Sellers of Colquitt County, Georgia, and Cole Thomas, a junior at Ryle High School in Kentucky. All are part of a surge in high school wrestling in the South that tournaments like Super 32 help foster.
Other Weight Class Previews
106 - Super 32 Could Determine The #1 Spot At 106
113 - 113 Is Wide Open At Super 32
120 - Ranked Wrestlers And Returning Champ At 120
132 - Can Anyone Take Out The Champ At 132?
138 - Who Will Bring Home The Belt At 138?
145 - 145 At Super 32 Could Be A Breakout Tournament For Multiple Wrestlers
152 - Can Anthony Ferrari Survive The Super 32 152-Pound Gauntlet?
160 - The Parity At 160lbs Makes It A Must-Watch Weight At Super 32
170 - Who Breaks Through at 170?
182 - Rylan Rogers Will Have To Navigate An Incredible 182 Field
195 - At 195lbs, Will Shumate Punch Through At Super 32?
220 - High-Flying Big Men Headline 220lbs At Super 32