2020 Super 32
The Parity At 160lbs Makes It A Must-Watch Weight At Super 32
The Parity At 160lbs Makes It A Must-Watch Weight At Super 32
With six of the nation's top 10 in action, Super 32 should set the national stage for 160lbs this season.
Oct 16, 2020
by David Bray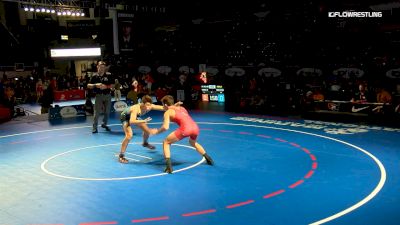 Unlock this video, live events, and more with a subscription!
Get Started
Already a subscriber? Log In
Unlock this article, live events, and more with a subscription!
Get Started
Already a subscriber? Log In
Productive offseasons for some of the nation's top 160-pounders have set up a bracket at 160 that could shake out a lot of different ways. With six wrestlers ranked in the top 10 and nine committed to Division 1 schools, this bracket will set the stage for 160 this year as well as offer previews of matchups we could be seeing for years to come.
Watch the Super 32 Challenge LIVE on FloWrestling
Saturday & Sunday, October 24-25, 2020
Dense Talent at the Top
Of the nine ranked wrestlers in this weight, seven are seniors, and two are juniors. These guys have been around the block which could set up some incredible matches between savvy guys who know a lot about one another. Hamiti, Fields, and Singlton have the rankings and results to make them on-paper favorites to finish at the top here, but they'll have their work cut out for them.
Dean Hamiti, the senior from Illinois is ranked #3 and won his 2019 Fargo title over #4 (170) Matt Singleton, the junior from Georgia. Hamiti and Singleton's Fargo final legitimacy is matched by #4 Derek Fields who punched his ticket to the Akron finals in a wild 26-point semi with Vinny Zerban. The Ohio senior and NC State commit outperformed Hamiti in that bracket giving us a very formidable top three in this weight.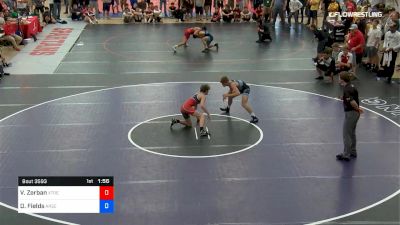 Unlock this video, live events, and more with a subscription!
Get Started
Already a subscriber? Log In
The Contenders are Coming
The pack of ranked guys chasing the favorites is a hungry group that seems poised to break through in Myrtle Beach. Elyria, Ohio, senior #5 Enrique Munguia has had a productive offseason. He was 5-0 at Battle at the Burgh where he had a nice win over AJ Corrado. Erik Gibson, the #7 ranked 160-pound junior from Pennsylvania went 17-0 between Battle at the Burgh and the Olympic Club Duals. He's talked this summer about his commitment to Cornell and his growth since competing at 145lbs last year.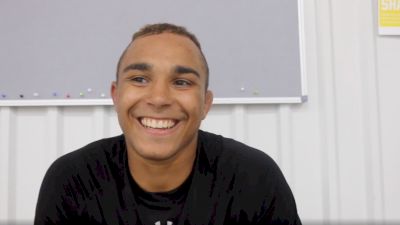 Unlock this video, live events, and more with a subscription!
Get Started
Already a subscriber? Log In
Carson Manville is #9 at 170 and recently moved to the State College area. He went 7-1 at Battle at the Burgh this fall beating Harrison Trahan and falling only to the red-hot Jake Null. Manville's result came at 170, and it will be interesting to see how he looks down two weights from where he competed at last year's Super 32.
Don't count out #13 Aaron Ayzerov, #19 Gavin Quiocho, or #20 Aidan Faria. Ayzerov is coming off a New Jersey state finals appearance, and both Quiocho and Faria have been active on the circuit this fall. Any of those three could go on a run.
Experienced Depth Could Create Early Chaos
With the number of legit guys just outside the rankings in this bracket, don't be surprised if the rounds of 32 and 64 see on-paper upsets. Brown commit AJ Corrado has done a ton of high-level wrestling this fall and shouldn't be discounted. Air Force commit Jack Ganos had a nice win over #11 Josh Barr at the AWA duals and could add more ranked wins to his hit-list next weekend.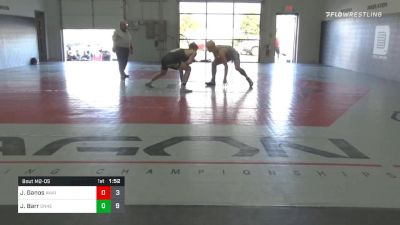 Unlock this video, live events, and more with a subscription!
Get Started
Already a subscriber? Log In
Bucknell commit Antonio Amelio, NC State commit Brant Whitaker, and Lehigh commit Enzo Morlacci are all D1-bound for good reason and could climb the podium. This bracket feels like one with more parity than most, and I fully expect the rankings to look very jumbled after next weekend.
Ranked Wrestlers
#3 Dean Hamiti Jr, 12th Joliet Catholic Academy, IL
#4 Derek Fields, 12th Brunswick, OH - NC State
#4 Matthew Singleton, 11th Woodward Academy, GA
#5 Enrique Munguia, 12th Elyria, OH - Kent State
#7 Erik Gibson, 11th Forest Hills, PA - Cornell
#9 Carson Manville, 12th State College High School, PA
#13 Aaron Ayzerov, 12th Paramus High School, NJ - Columbia
#19 Gavin Quiocho, 12th Parkersburg South High School, WV
#20 Aidan Faria, 12th Cumberland High School, RI
Unranked Wrestlers to Watch
AJ Corrado, 12th Burrell High School, PA - Brown
Antonio Amelio, 12th Seneca Valley, PA - Bucknell
Brant Whitaker, 12th Father Tolton, MO - NC State
Brayden Giannone, 11th Lafayette Senior High School, KY
Cayleb Atkins, 12th Goddard High School, KS
Dylan Kohn, 12th The Master's Academy, FL
Enzo Morlacci, 11th Kiski Area, PA - Lehigh
Gunner Filipowicz, 11th Blessed Trinity, GA
Hunter Lyden, 11th Stillwater, MN
Jack Ganos, 12th Arrowhead HS, WI - Air Force
Landen Johnson, 11th Owatonna - MN
Tate Naaktgeboren, 10th Linn-Mar - IA
Other Weight Class Previews
106 - Super 32 Could Determine The #1 Spot At 106
113 - 113 Is Wide Open At Super 32
120 - Ranked Wrestlers And Returning Champ At 120
126 - Can Ayala Keep The Momentum Rolling Up At 126 At Super 32?
132 - Can Anyone Take Out The Champ At 132?
138 - Who Will Bring Home The Belt At 138?
145 - 145 At Super 32 Could Be A Breakout Tournament For Multiple Wrestlers
152 - Can Anthony Ferrari Survive The Super 32 152-Pound Gauntlet?
170 - Who Breaks Through at 170?
182 - Rylan Rogers Will Have To Navigate An Incredible 182 Field
195 - At 195lbs, Will Shumate Punch Through At Super 32?
220 - High-Flying Big Men Headline 220lbs At Super 32