Unlock this article, live events, and more with a subscription!
Get Started
Already a subscriber? Log In
Iowa took over the #1 spot in the rankings on November 26 and never looked back. Their lead on Penn State has been as large as 69 points, and they are the runaway favorites to win the Big Ten and NCAA Championships. So what will it take for the Hawkeyes to secure their first NCAA team title since 2010?
NCAA Landscape
Before diving into Iowa's title chances, let's establish a bit of context about this year's field. This season, only Penn State and Iowa have been ranked #1 — Penn State until November 19, and Iowa since then.
Every week, each ranked wrestler is assigned the placement and advancement points they would earn if their finish at NCAAs corresponded to their ranking. These do not include bonus points. Team rankings are based on the sum of each team's projected individual points.
Here is the high, low, and average projected score (before bonus points) from each week's rankings for the teams ranked #1-#4 this season:
| | | | |
| --- | --- | --- | --- |
| | High | Low | Average |
| 1st Place Team | 144.5 | 108 | 129.24 |
| 2nd Place Team | 105.5 | 72.5 | 90.32 |
| 3rd Place Team | 70.5 | 49 | 58.12 |
| 4th Place Team | 60 | 47.5 | 53.56 |
The number that I'm most concerned about for the purposes of this Iowa article is 90.32. That is the average number of pre-bonus points projected for the #2 ranked team this season. It's logical to assume that Iowa will want to clear that mark if they hope to beat the #2 team in the NCAA.
Iowa's Season
The Hawkeyes have had close to an ideal season. Not only has their projected team total grown over the course of the season, but they've seen meaningful contributions from each of their starters.
Here's a graph that illustrates how each of Iowa's individuals has contributed to its upward trend throughout the season.
In addition to looking at their week-to-week collective team point projection, it's valuable to see the highest and lowest points that each weight class has been projected to score this year. This table contains the high and low point projections for each of Iowa's starters.
| | | |
| --- | --- | --- |
| | High | Low |
| 125-Lee | 20 | 20 |
| 133-DeSanto | 20 | 16 |
| 141-Murin | 13.5 | 2 |
| 149-Lugo | 20 | 6.5 |
| 157-Young | 16 | 2 |
| 165-Marinelli | 16 | 16 |
| 174-Kemerer | 20 | 13.5 |
| 184-Assad/Wilcke/Brands | 9 | 2 |
| 197-Warner | 16 | 6.5 |
| 285-Cassioppi | 13.5 | 2 |
| | 164 | 86.5 |
The sum of Iowa's highest individual point projections is 164, almost 20 points higher than their collective high of 144.5. This suggests that, even though they have been projected to score an astronomical number of points this year (before bonus), they still have a higher potential.
Iowa's Road to an NCAA Title
If the Hawkeyes wrestle even close to their potential, they should have no trouble winning NCAAs. They have had four wrestlers ranked in the top spot this year, seven ranked in the top two, and nine ranked in the top three.
Spencer Lee seems like their surest shot at an individual NCAA title. He has won two in the past, and while he has only seen one opponent ranked in the top five this year, he has been tested in freestyle, dominating his way through a Senior Nationals bracket that included six NCAA champions.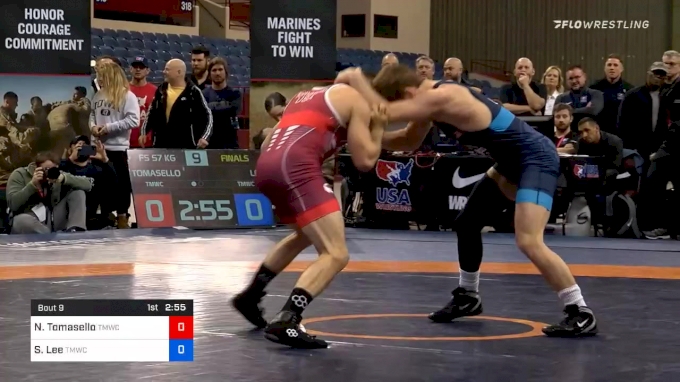 Unlock this video, live events, and more with a subscription!
Get Started
Already a subscriber? Log In
The other three Hawkeyes who have been ranked #1 this year are Austin DeSanto, Pat Lugo, and Mikey Kemerer. DeSanto and Lugo are currently ranked #2 while Kemerer remains #1 after his win over NCAA champion Mark Hall in an undefeated season.
Kaleb Young, Alex Marinelli, and Jacob Warner have all been ranked as high as #2 this year, although only Marinelli finished the regular season that high. Max Murin and Tony Cassioppi both finished the season ranked #3.
The only weight class that has been outside the top three for Iowa is 184. Cash Wilcke, Nelson Brands, and Abe Assad have all started this year, and it sounds like Assad will be the starter in the postseason. While this weight class is Iowa's biggest question mark, Assad is ranked #9 and capable of earning All-American honors.
With all of Iowa's success this year, and with Penn State's injuries, the question seems to be if there is any way Iowa doesn't win the title. The possibility can't be ruled out. The sum of Iowa's starters' lowest projected points is 86.5, a number higher than Penn State has been projected to score for the last six weeks of the season.
Iowa is well-positioned before the start of the postseason, and the data from their individuals' performances this season suggests that this title is theirs to lose.
---
Other Articles in this Series
Can Penn State Run Down An NCAA Title?
Can Ohio State Bring Home Its 6th Straight NCAA Team Trophy?
Can Wisconsin Win An NCAA Team Trophy In Coach Bono's 2nd Season?
Can Powerful Princeton Win A Top 4 Trophy At NCAAs?
Can Minnesota Win An NCAA Team Trophy In Their Home City?
Can Nebraska Win An NCAA Team Trophy?
Can Undefeated NC State Win A Team Trophy In March?
Purdue Is On The Rise, But Are They An NCAA Trophy Team?
Can The UNI Panther Train Roll To An NCAA Team Trophy?
Can Oklahoma State Win An NCAA Team Trophy In An Up And Down Year?