Unlock this article, live events, and more with a subscription!
Get Started
Already a subscriber? Log In
Ever since the weight classes changed in 1999, Cornell and Penn State have separated themselves in terms of producing results at 184. We've broken down the numbers to find out which program is 184 U.
The Series So Far: 125U | 133U | 141U | 149U | 157U | 165U | 174U | 197U | 285U
The battle for 184 supremacy is a contest of Penn State's championship productivity and Cornell's ridiculous consistency. In the end, Rob Koll's squad remains 184 U like they were in 2016 when we first created this series, but Penn State has gained ground.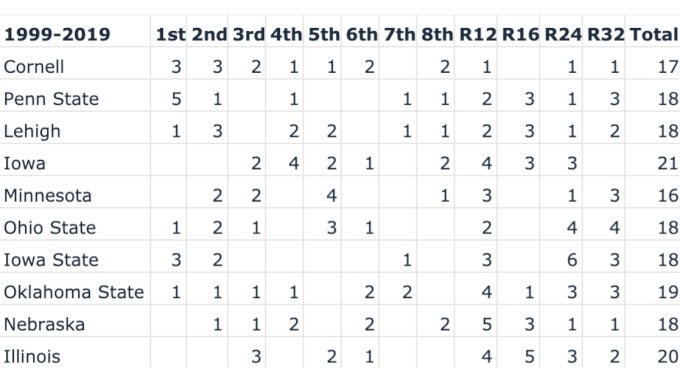 Cornell has put a 184-pounder on the podium 14 times in the new weight class era, all of those finishes coming since 2002. The combination of Clint Wattenberg, Tyler Baier, Joe Mazzurco, and Josh Arnone strung together five AA finishes in six seasons including a run to the finals by Baier.
This feat was surpassed by Steve Bosak, Gabe Dean, and Max Dean who rattled off nine straight podium finishes, five trips to the finals, and three NCAA titles.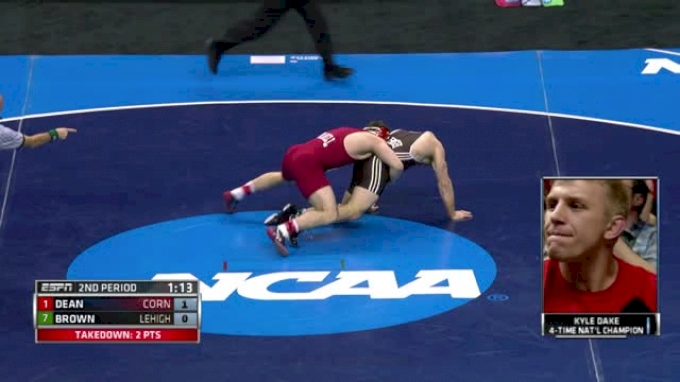 Unlock this video, live events, and more with a subscription!
Get Started
Already a subscriber? Log In
Cornell is king at 184, but Penn State's five NCAA titles since 2011 have moved them closer to the Big Red. Quentin Wright's 2011 NCAA title got the ball rolling for PSU, then Ed Ruth and Bo Nickal each added two titles to their tally.
While Penn State has outpaced the rest of the country in terms of NCAA champions, their nine All-American finishes are fewer than the other teams in the top four.
Cornell and Penn State 184-pounders have met twice in the NCAA finals. The first meeting came in 2012 when Steve Bosak beat Quentin Wright, and the second was in 2017 when Bo Nickal upset Gabe Dean.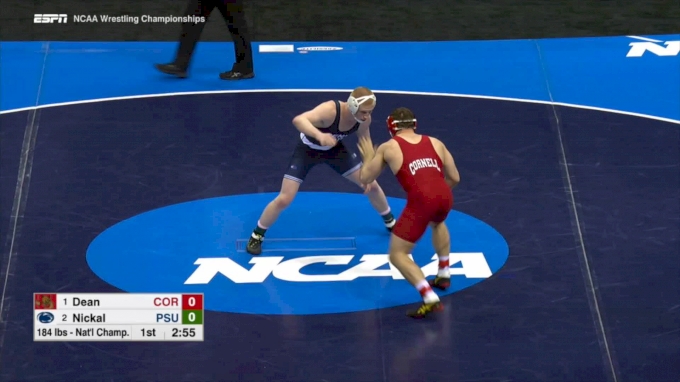 Unlock this video, live events, and more with a subscription!
Get Started
Already a subscriber? Log In
The Lehigh Mountain Hawks have maintained incredible consistency at this weight as well with 10 AA finishes, four NCAA finals appearances, and an NCAA Championship in 2002 for Rob Rohn.
In the period between 2011 and 2015, Lehigh had an NCAA finals appearance every other year, the first two from Robert Hamlin and the third from Nate Brown.
Iowa rounds out the top four, and while they haven't had an NCAA finalist at 184, their 11 All-Americans are the second most of any program. Sammy Brooks, the most recent Hawkeye AA at 184, finished on the podium twice.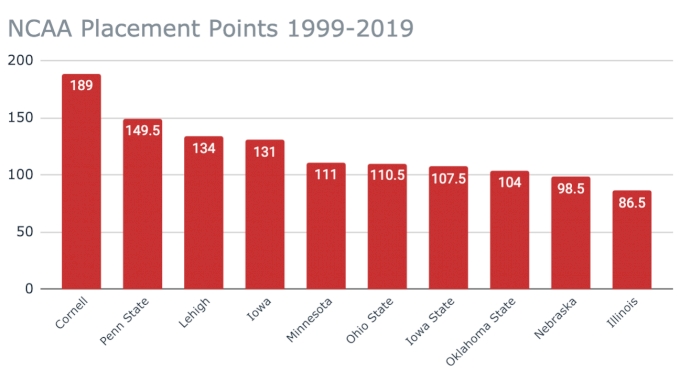 Unfortunately, we'll never know how the 2020 NCAA Championships could have shaped this 184 U data. If the bracket would have played out according to seeds, Aaron Brooks, the No. 3 seed, had the opportunity move Penn State closer to Cornell whose 184-pounder Jonathan Loew was the 28 seed.
Looking forward, Brooks has three years of eligibility remaining and has the potential to put up results that could close the gap on Cornell. On the other hand, Cornell returns NCAA finalist Max Dean to the lineup for the next two seasons and will look to remain in control of this weight class for the foreseeable future. Iowa freshman Abe Assad was the 11 seed this year, and Hawkeye fans believe he will bring productivity back to this weight class.
Top 10 Teams at 184lbs
1. Cornell
2. Penn State
3. Lehigh
4. Iowa
5. Minnesota
6. Ohio State
7. Iowa State
8. Oklahoma State
9. Nebraska
10. Illinois
Key Scorers for Cornell
Clint Wattenberg (2002, 2003): 6, 5
Tyler Baier (2005): 2
Joe Mazzurco (2006): 6
Josh Arnone (2007): 8
Steve Bosak (2011, 2012, 2013): 4, 1, 3
Gabe Dean (2014, 2015, 2016, 2017): 3, 1, 1, 2
Max Dean (2018, 2019): 8, 2
Key Scorers for Penn State
Mark Becks (2003): 7
Eric Bradley (2005, 2006): 4, 8
Quentin Wright (2011, 2012): 1, 2
Ed Ruth (2013, 2014): 1, 1
Bo Nickal (2017, 2018): 1, 1
Key Scorers for Lehigh
John Van Doren (1999): 5,
Rob Rohn (2000, 2002): 5, 1
Travis Frick (2004): 8
Robert Hamlin (2011, 2012, 2013): 2, 4, 2
Nate Brown (2015, 2016): 2, 7
Ryan Preisch (2019): 4
Key Scorers for Iowa
Jessman Smith (2002, 2003): 3, 4
Paul Bradley (2004, 2005): 4, 5
Phil Keddy (2008, 2009, 2010): 6, 4, 8
Grant Gambrall (2011): 3
Ethen Lofthouse (2013): 7
Sammy Brooks (2016, 2017): 8, 4