Unlock this article, live events, and more with a subscription!
Get Started
Already a subscriber? Log In
If you watch college football, you've heard the arguments about which programs consistently produce the finest players at each position — "Tailback U," "Linebacker U," "DB U" — and of course it's fun to argue but difficult to ultimately make those determinations. In wrestling, though, the most meritocratic of sports, we have the ability to actually determine the best school at each weight class!
The Series So Far: 133U | 141U | 149U | 157U
We did this experiment once before, back in 2017. The first iteration was 125 U, and boy did it fire up the Hawkeye fans. I'm not sure they'll be mad this time around, but it was fun to take a look at the champs, All-Americans, and qualifiers at each weight from the prior 15 years. The original plan was to update it after the 2018 season and do a 20-year version for each weight, but it never quite happened.
So what better time than a quarantine to dust off this concept and, now that we've got the time, use data from every year since the weights changed to their current form. Three years ago Spey and I used 15 because we wanted a round number and planned on making it a persistent series every five years. Once again Spey dove into his NCAA data archive to help us figure out which teams to focus on for each weight.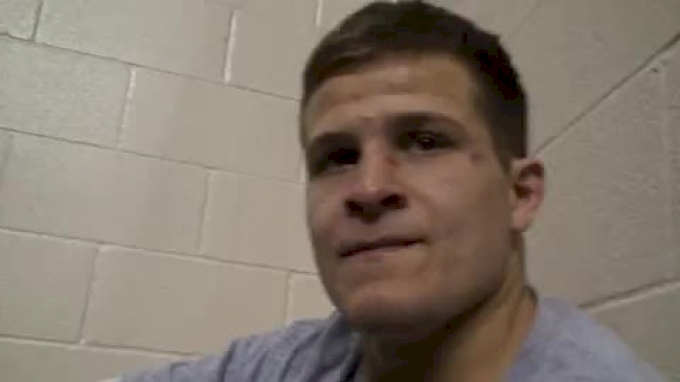 Create a free account to unlock this video!
Get Started
Already a subscriber? Log In
Let's start off with the basic data: Which schools are we going to be looking at in this article? The following schools not only qualified often, but repeatedly put their 125-pounders on the podium at the NCAA tournament.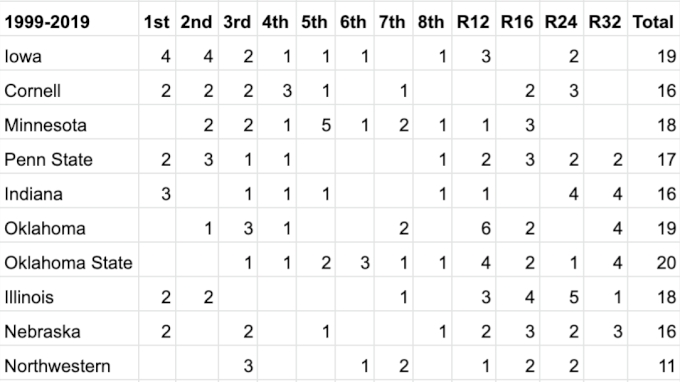 Unsurprisingly, Iowa has the most champs with four and finalists with eight. They're followed by Indiana with three champs while Penn State had five finalists and both Cornell and Illinois put four in the finals. Fresno State also had three titles (all from Stephen Abas), but the program being dropped for over a decade made it difficult to include them here. Even still, Abas helps put them into the top 15 at 125.
Before we get into placement points, let's talk about who some of those champs and finalists were for the schools at the top. Matt McDonough and Spencer Lee won two titles apiece, with McDonough adding another finals appearance as a sophomore. Jody Strittmater, who was Spencer's club coach at Young Guns in high school, made a final in 2001 and Luke Eustice joined that club the next year. Lastly you have future world silver medalist Thomas Gilman in the 2016 finals.
In those 2016 finals, Gilman lost to Nico Megaludis. It's easy to forget now, but Penn State has actually been very good at this weight. Nico was one of the best 125s of his generation and Jeremy Hunter, now an assistant at Illinois, made the finals in 1999 and won the title the next year. In between them, Mark McKnight qualified twice with a fourth-place finish and Brad Pataky made the big dance three times, making the Round of 12 for his best finish.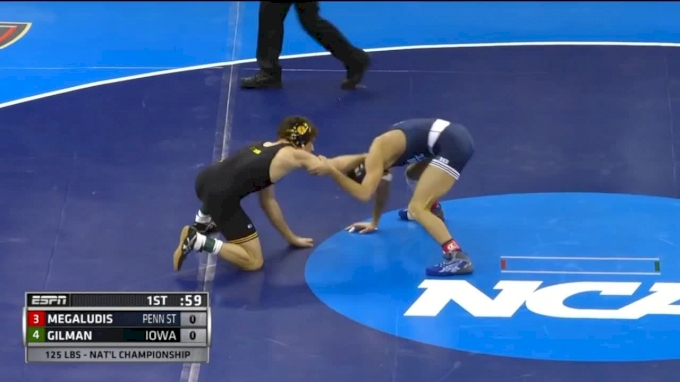 Unlock this video, live events, and more with a subscription!
Get Started
Already a subscriber? Log In
Speaking of Illinois, Jesse Delgado won a pair of titles for the Illini in 2013 and 2014, and Kyle Ott made back-to-back finals in 2004 and 2005. Indiana won three titles in four years between now Princeton assistant Joe Dubuque (05-06) and current Hoosier head coach Angel Escobedo (08). Those guys represent only one-third of the dataset for Indiana, but accounted for all seven of their All-American placements and 93.8% of the team points they accrued.
Focusing on Delgado for a second, he was a huge part of the 125lb landscape during his career. He had a winning record against both Matt McDonough and Nico Megaludis, between them accounting for five titles in seven years. If you're wondering why Illinois is in the top 10 at this weight (and why the neutral danger zone rule exists), start by looking back at the career of Jesse Delgado.
Nebraska fares well when factoring in bonus points. They jump from ninth to seventh thanks to the bonus Jason Powell put up during his time in Lincoln. Powell and Paul Donahoe were both national champs for the Huskers who added in third place finishes. They also got an eighth place finish from Paul Gomez and Tim Lambert qualified four times.
Here's a look at placement point totals since 1999, before we get into total team points at the bottom.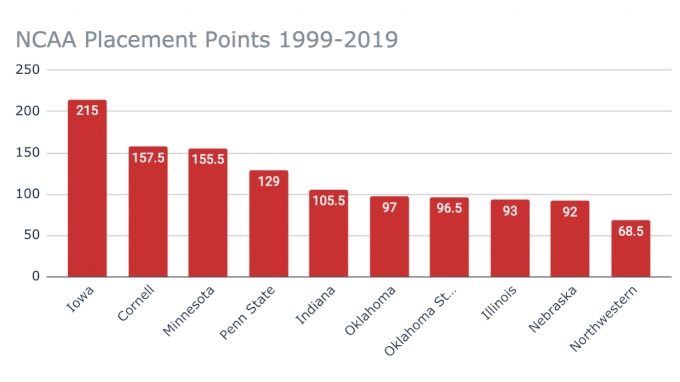 This is where we focus on Cornell, who we named Lightweight U last time around. Their champs were Troy Nickerson and Travis Lee, with Nickerson making another final and Nahshon Garrett wrestling on Saturday night in 2014. Lee and Garrett will also factor into 133 U as well. Frank Perrelli was also a two-time qualifier who was an All-American for them in 2012 won the Big Red won a team trophy.
When Minnesota won its first team title in 2001, they did so with 10 placers and no champs or finalists. Similarly, they finish second here over Cornell when factoring in bonus points despite having no champs and two finalists, which ties them for seventh. But they qualified one more year than the Big Red (19 vs 18) and had 14 AAs vs 11 for Cornell. Their lightweights have been fantastic on top and some of the best at putting guys on their back: Jayson Ness, Ethan Lizak, and Leroy Vega.
Although they haven't had a ton of high-end talent since 1999 with no finalists and just one third-placer and one fourth-placer, Oklahoma State fares very well in this analysis. They only missed qualifying for the tournament once since 1999, and put nine on the podium. The Cowboys may have even underachieved slightly, as they had 11 guys seeded in the top eight (plus nine seeds Coleman Scott in 2005 and Jon Morrison in 2011). Nick Piccininni was seeded fourth this year and hoping to become the first Poke to place three times at 125. He almost certainly would have pushed OSU ahead of Penn State and into fourth-best at 125 since the weights changed.
Closing out with our top team, the Hawkeyes have had a remarkable run at the lightest weight. They've had 14 AAs in 21 years, so two out of every three tournaments they're putting a guy on the podium. Over half the time they've had a guy place in the top four, and as I mentioned above they have three more finalists than the next closest program over the same time period. Their average points scored since 1999 is 13.3, meaning you can expect the Black & Gold's 125 to be about worth fourth-place points. That's insane.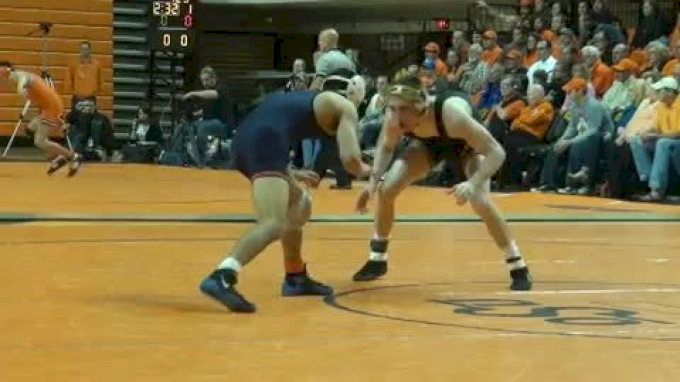 Create a free account to unlock this video!
Get Started
Already a subscriber? Log In
Interestingly enough, they had just three guys seeded first during this time: Jody Strittmatter in 1999, Matt McDonough in 2012, and Thomas Gilman in 2017. McDonough was the only one of them to win the title that same year, and he scored the most team points of any 125 at NCAAs with 27. Spencer Lee would go on to tie that mark in 2018. Spencer was, of course, the top seed this year and ultimately won the Hodge. It's fitting that the first 125 to win the Hodge Trophy was a Hawkeye.
If you're asking why the final cut is nine teams, well, it's because 10-12 saw a big dropoff and didn't cross 100 total team points.
Top 9 Teams at 125lbs
Iowa - 278.5
Minnesota - 204.5
Cornell - 195.5
Penn State - 139.5
Oklahoma State - 138.5
Indiana - 121
Nebraska - 118.5
Oklahoma - 117.5
Illinois - 104.5
Key Scorers for Iowa
Matt McDonough (10-13): 1st, 2nd, 1st, DNP
Thomas Gilman (15-17): 4th, 2nd, 3rd
Spencer Lee (18-19): 1st, 1st
Key Scorers for Minnesota
Leroy Vega (99-02): 5, 5, 3, DNP
Jayson Ness (07-08): 5, 2
Zach Sanders (09-12): 6, 5, 5, 3
Ethan Lizak (15-18): DNP, 2, 4
Key Scorers for Cornell
Travis Lee (02-03): 7th, 1st
Troy Nickerson (06-10): 2nd, 3rd, 1st, 4th
Nahshon Garrett (13-14): 3rd, 2nd, 5th