Unlock this article, live events, and more with a subscription!
Get Started
Already a subscriber? Log In
The quintessential middleweight is 157 pounds, and today we're going to find out which school is 157 U.
If you follow college football, you're familiar with fans of power programs arguing which team produces the best running backs, quarterbacks, linebackers, defensive backs, etc. We've brought that concept over to wrestling using 21 years of NCAA tournament data.
The weights changed to their current form in 1999, and that's the time period we'll be reviewing. Back in November of 2016 we did this same exercise using the previous 15 national championships, and it was Illinois that came out on top. So who wins this time?
The Series So Far: 125U | 133U | 141U | 149U
It was a three-horse race between Big Ten powers Iowa, Penn State, and Nebraska, with the Huskers taking the crown. PSU's come on strong lately with Jason Nolf and the Hawkeyes went a dozen years between national champs, but neither could quite measure up to Nebraska.
The change in weight classes coincided with the ascendance of a young man from Easton, Pennsylvania by the name of Bryan Snyder. He would go on to be a four-time All-American and made two finals. Snyder has stuck around in Lincoln ever since, and his impact on the Husker middleweights is painfully clear.
One thing that's helped Nebraska at this weight is consistency. They've had three guys who have placed three or more times: Snyder, James Green, and Tyler Berger. Those stars account for 80% of the Husker qualifiers and 85% of their points at the big dance. Yet none of them won a national title. The lone NCAA champ for the Huskers at this weight was Jordan Burroughs in 2009, his only year at 157.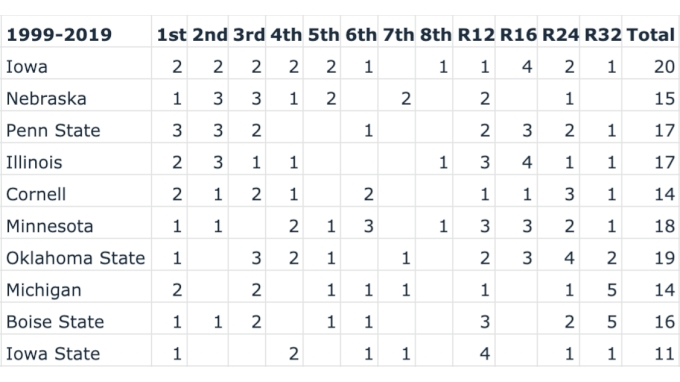 Snyder led the way with 63.5 career points, followed closely by Green with 61. But Berger did something Green didn't: make an NCAA final. The 2019 graduate finished his Nebraska career with 47.5 team points, only missing out on the podium as a freshman when he made the bloodround despite coming in unseeded.
It is incredibly impressive that Nebraska totaled the most NCAA points at 157lbs despite qualifying five fewer times than the Hawkeyes. It is, however, no surprise that Iowa has fared excellently in these weight class breakdowns because they have been one of the nation's best programs for the past two decades.
The Black & Gold have had two four-year starters at 157: Joe Johnston and Derek St. John. The latter was their most recent national champ and one of the best middleweights of the past decade to come through Caver-Hawkeye Arena. He was on the podium all four years, made the finals twice and scored 64.5 career team points.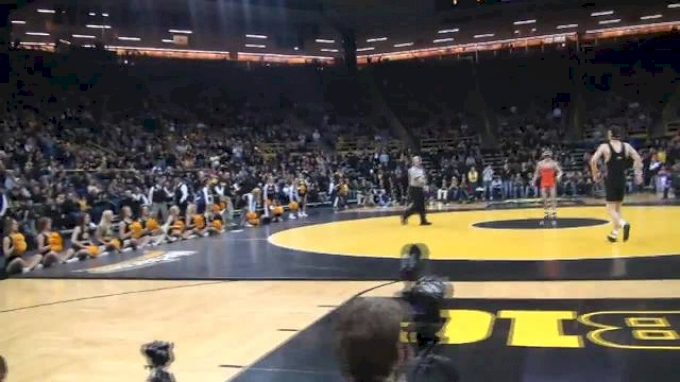 Create a free account to unlock this video!
Get Started
Already a subscriber? Log In
Along with St. John, the other four-year starter was current Air Force assistant Joe Jonhston, who made the NCAA finals as a junior in 2005. Prior to that, TJ Williams was the top seed in 2000 and 2001, winning the title his senior year. Most recently, Michael Kemerer placed twice before moving up to 174 and Kaleb Young was fifth last year. To kick off the weight class, Jamie Heidt finished eighth in 1999. Hedit was the high school coach of future Hawkeye Patrick Kennedy.
From a career points perspective, there is no greater 157 than Jason Nolf. The four-time finalist and three-time champ scored 98 career points at NCAAs, putting him in the top 10 all-time of college wrestlers. The Nittany Lions have had nine total AA placements at this weight and Nolf accounts for nearly half of them.
Clint Musser made an NCAA final in 1999 and David Taylor made the finals 12 years later in his only year at the weight. Dan Vallimont was third in 2008 and Dylan Alton was third in 2012, while Cyler Sanderson finished sixth in 2010. Twice a PSU 157 fell in the bloodround: Nate Wachter in 2003 and Alton in 2013.
It was a tough drop for Illinois from first to fourth, but they still get a team trophy out of it. From 1999 to 2009, they had just three starters: Griff Powell, Alex Tirapelle, and Mike Poeta. Powell finished eighth as a senior, Alex Tirapelle placed second and fourth, and Poeta was third before making the finals two times in a row.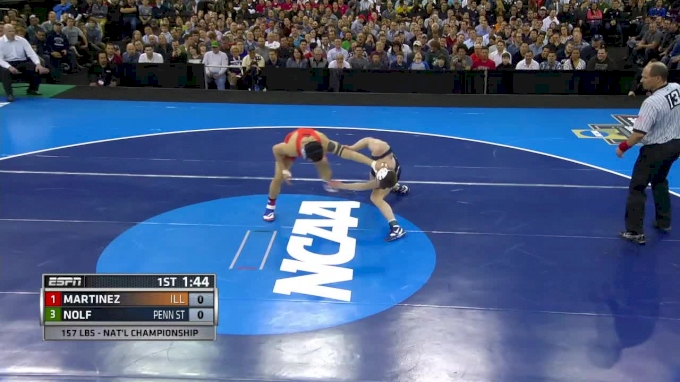 Create a free account to unlock this video!
Get Started
Already a subscriber? Log In
Since then, their only All-American at this weight was Isaiah Martinez, but he made the most of it. In his first two years at Illinois before moving up to 165, he went 67-1 with two national titles and 47 bonus-point wins. His only loss came at the hands of Nolf, which he would avenge twice in both the Big Ten and NCAA finals.
With Imar only being at the weight for two years, it is current Illini assistant Mike Poeta who leads the way in team points for them. His third-place finish plus two finals resulted in 48.5 career points at the national tournament, with Alex Tirapelle in third at 38.5 points.
The battle for fourth was tight, with Oklahoma State, Cornell and Minnesota following close behind Illinois. Kyle Dake won for the Big Red in 2012, and two years later Alex Dieringer won for the Cowboys, beating Dylan Ness in the finals. Jordan Leen also won a title for Cornell in 2008, but was third a year later when Burroughs won his title. They had a legendary CKLV final that really kickstarted Burroughs' rise to superstardom.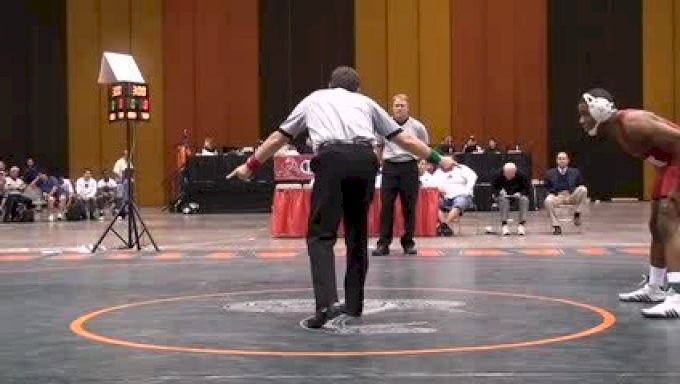 Unlock this video, live events, and more with a subscription!
Get Started
Already a subscriber? Log In
There was a great rivalry between Oklahoma State's Shane Roller and Minnesota's Luke Becker as their careers overlapped in Stillwater and Minneapolis. Becker would hold a 4-3 advantage in their seven matches, and won a title in 2002 while Roller never made the finals, but the Cowboy won 12-10 for third at NCAAs in 2001 and pinned him in 34 seconds for third two years later in what was the final collegiate match for both.
Although they missed qualifying for NCAAs a third of the years in our dataset, Cornell still had eight All-Americans at this weight. Dustin Manotti was third in 2006 (out of the seven seed and after losing in the first round), and most recently they had a pair of guys place back-to-back years. Brian Realbuto was sixth in 2014 and made the finals a year later (falling to Imar). Once Realbuto went up to 174, that paved the way for Dylan Palacio, who finished one spot ahead of his seed as both a junior and senior. He was fourth in 2016 and sixth to close out his career, upsetting Michael Kemerer with a pin of a Peterson in the quarters.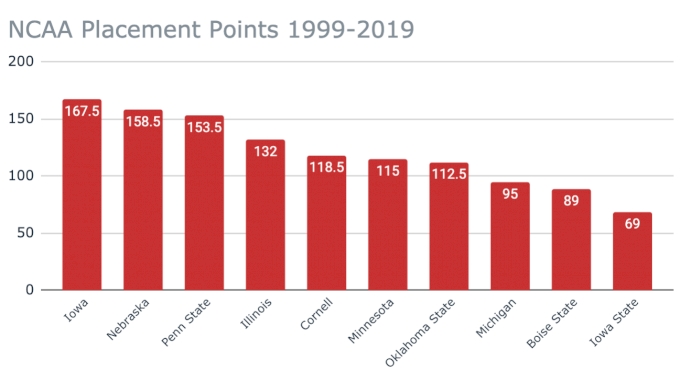 People forget Johny Hendricks spent a year at this weight, placing fifth in 2004. The Cowboys' most recent AA was Joseph Smith, getting seventh as a true freshman and fourth the next year. En route to that fourth-place finish was a 10-0 shellacking of Palacio, who admitted afterward in an interview that he had no interest in wrestling back once he lost in the semis.
As for Minnesota, they had Chad Kraft finish fifth in 1999 and Tyler Safratowich place eighth in 2009. CP Schlatter was seeded three years but placed just once, claiming the sixth place spot on the podium in 2007 in Minnesota's last team title run. Dylan Ness made the finals as a 149lb freshman in 2012, then repeated the feat two years later as a 157 (out of the nine seed no less) that was punctuated by a pin of James Green in the quarters. Ness' shoulder fell off in his final season, and he received a standing ovation when he went out to injury default in his sixth-place match.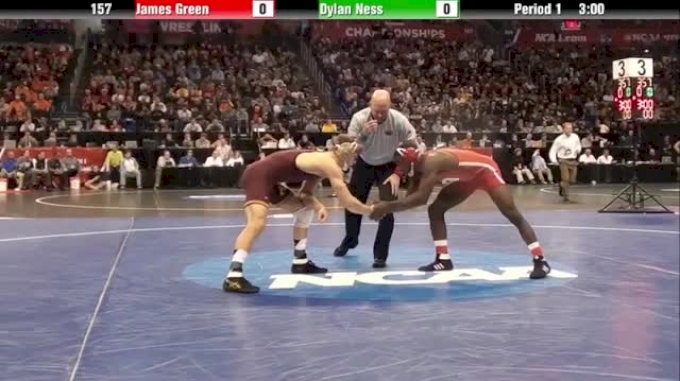 Unlock this video, live events, and more with a subscription!
Get Started
Already a subscriber? Log In
Michigan and Boise State round out the programs that scored 100+ points out of this weight class. After Nolf, probably the best guy since this weight has existed is Ryan Bertin, who was a four-time AA and two-time national champ for the Wolverines. He beat two guys we talked about earlier in this article for those titles, taking out Alex Tirapelle in 2003 and Joe Johnston in 2005.
Despite no longer having a program, Boise State is still one of the best at 157, having four different individuals who were All-Americans. That started with the late Larry Quisel, who was third and second in the first two years of the weight. Quisel actually defeated top seed TJ Williams to make the finals in 2000. Then there was Kirk White, who was sixth in 2001. After struggling his first few years, going 1-4 at the national tournament, Ben Cherrington closed out his career in 2006 as a national champ. Then their last great star was current NC State assistant Adam Hall, a two-time AA with fifth and third-place finishes.
All those guys just pushed the now deceased Broncos ahead of Michigan, but aside from Bertin they had Brian Murphy place seventh in 2015 and then most recently Alec Pantaleo finished his career in Ann Arbor with fifth and third-place finishes.
Top 9 Teams at 157lbs
Nebraska - 203
Iowa - 196.5
Penn State - 191.5
Illinois - 150
Oklahoma State - 146
Cornell - 142.5
Minnesota - 137
Boise State - 113
Michigan - 108.5
Key Scorers for Nebraska
Bryan Snyder (1999-02): 4, 5, 2, 2
James Green (2012-15): 7, 7, 3, 3
Tyler Berger (2016-19): R12, 10, 15.5, 19.5
Key Scorers for Iowa
TJ Williams (2000-01): 3, 1
Derek St. John (2011-14): 4, 2, 1, 5
Michael Kemerer (2017-18): 3, 4
Key Scorers for Penn State
David Taylor (2011): 2
Dylan Alton (2012-14): 3, R12, DNP
Jason Nolf (2016-19): 2, 1, 1, 1