Unlock this article, live events, and more with a subscription!
Get Started
Already a subscriber? Log In
It's wrestling's greatest and most historic rivalry: Iowa vs Oklahoma State. A combined 57 national championships and two of the sport's most storied programs vying for the title of 133 U.
The Series So Far: 125U | 141U | 149U | 157U
While the Hawkeyes have completely dominated 125 pounds since the weights changed to their current form in 1999, they're in a dead heat with the Cowboys for the right to be called the best at 133. But in the end it was OSU that came out on top.
We tried this once before, back in 2016. Thanks to the NCAA tournament archives of Andrew Spey, we were able to determine the best schools at each weight for the prior 15 years. Now that we're stuck in quarantine, it's time to expand the data set to include every national championship since 1999.
You may remember John Smith, who many call the GOAT of American wrestling, was a two-time NCAA champ at 134 pounds and won six world/Olympic gold medals at 62kg. You may also recall that Tom Brands won three national titles at 134 and an Olympic gold medal at 62kg, along with a 1993 world title at the same weight. So the head coaches of these respective institutions know a thing or two about this weight class
The schools have combined for nine titles, 18 finals appearances, 30 All-American finishes, and 40 out of a possible 42 years qualifying. The next-closest program in any of these categories is Minnesota, who also eclipses 200 team points when factoring in bonus.
Below are the placements and qualifier totals for the schools we'll be examining in this article that have separated themselves at 133lbs.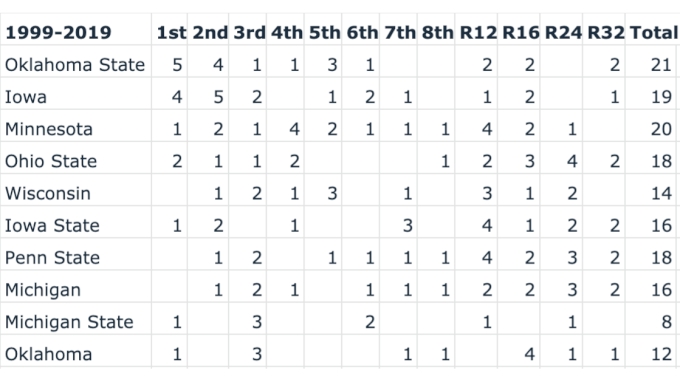 We should note that Okie State took back control of this weight in 2018 and 2019, when Kaid Brock placed fifth and Daton Fix finished second while Iowa didn't qualify in 2018 and Austin DeSanto took fifth a year later. However, it's also important to remember that this year Austin DeSanto was seeded sixth for Iowa and Reece Witcraft was seeded 22nd for the Cowboys, so it's very possible the Hawkeyes would have taken the lead in terms of AAs and possibly even grabbed the top spot back.
They met in two finals, with Eric Juergens beating Johnny Thompson 10-7 in 2001 and Coleman Scott pinning Joey Slaton in 2008 (Coleman won 8-6 in the dual) to even the split. The last time these two schools met at NCAAs was in 2013 when Tony Ramos took out Jon Morrison 6-1 in the quarterfinals.
Oklahoma State claims the throne with four different wrestlers winning five national titles. Those wrestlers made an additional three finals, plus Daton's runner-up finish last year. They've had eight different wrestlers get on the podium a total of 15 times, with Johnny Thompson placing all four years and Jordan Oliver being an AA three times (plus his national title at 149). In 21 years they've never missed qualifying and have been seeded in the top seven a total of 18 times. Lastly, they had a mean of 13.1 points per year, which means they average just under a third-place finish every time out.
Iowa, meanwhile, has had three wrestlers win four national titles with another four finals appearances from three Hawks. The Black & Gold have put 15 on the podium and have been seeded in the top seven a total of 16 times, plus a 12 seed in 2005. Since 1999, the team has had 19 qualifiers at 133 and averaged 12.5 points at the weight, meaning an expected return of fourth-place points every year.
Tony Ramos was the top scorer for Iowa, with 63 career points at NCAAs and being seeded 6-3-2-3 with finishes of the bloodround followed by third, second, and first in order. Right behind him is two-time national champ Eric Juergens at 62.5 points, who was the top seed both years he won, plus a third-place finish in 1999. Then there's Cory Clark, who scored 54 points as he made three straight finals and capped off his career with a title in 2017, the last national champ for either school at this weight.
While the Gophers can't quite keep pace, they did the make the most out of their one national champ, with Jayson Ness winning the Hodge Trophy in 2010. To this point he's the only 133 to win that award, though Mark Ironside in 1998 and TJ Jaworsky in 1995 were both 134 pounders. Ness was the one seed that year, staging an epic comeback late with a duck to his back to defeat Dan Dennis for the third time that season. Dennis only wrestled two years at 133 for Iowa, but placed twice and scored 26.5 team points.
Aside from Ness, Minnesota also had one seeds in Chris Dardanes in 2015 and Ryan Lewis in 2002. Neither won a title that year, but Dardanes did finish 4-6-4 in his three years at this weight and Lewis made back-to-back finals in 02 and 03. Both times he lost to Johnny Thompson, who is the leading scorer at the weight since 1999 with 77.5 career points at NCAAs.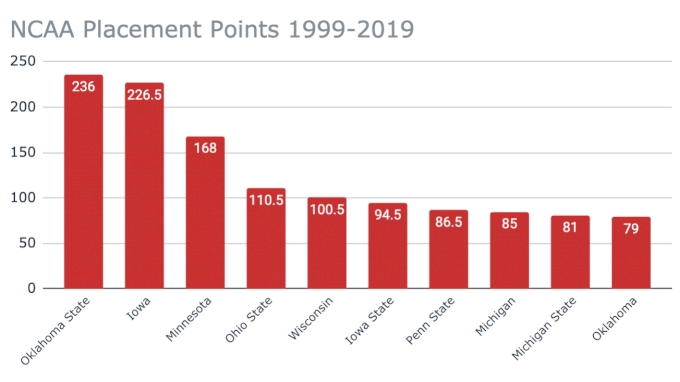 If you look at the conference distribution of national champs at 133, the Big Ten has nine titles, the Big 12 crowned eight champs, and the EIWA has four golds. There haven't been any three-time champs, but four different wrestlers went back-to-back: Juergens in 2000 and 2001, Thompson in 2002 and 2003, Penn's Matt Valenti in '06 and '07, and finally Logan Stieber's freshman and sophomore campaigns of 2012 and 2013. A total of 11 different schools have won this weight.
Speaking of Stieber, Ohio State finishes fourth among all schools at 133. They're led by Stieber's two titles, plus a finals appearance from future world teamer Reece Humphrey in 2009. They had four more podium finishes, starting with Robert Sessley outperforming his 11th seed to place eighth in 1999, along with Nathan Tomasello getting third in his only year up at 133. Most recently it was Luke Pletcher finishing fourth in both 2018 and 2019.
JO took round one from Stieber, but Logiebear returned the favor at NCAAs
However, if this year's NCAAs had happened, we probably would've seen Wisconsin leapfrog the Buckeyes and into fourth place. Although the Badgers hadn't qualified anyone the prior three years, Seth Gross was seeded second heading into the national tournament in Minneapolis. While tOSU qualified 18 times to Wisconsin's 14, the other boys in red from Madison actually had eight AAs to the seven out of Columbus. Half of those are accounted for by Tyler Graff, but Tom Clum, Ryan Taylor, and Kevin Black also got on the podium.
The past nine years might not have been super strong for Iowa State (though it did include an All-American and three-time qualifier in Earl Hall), but their first dozen years put them up into the top six. During that time the Cyclones had two-time national finalist Cody Sanderson, three-time AA and 2004 national champ Zach Roberson, plus Nick Fanthorpe, who was seeded 5th, 7th, and 10th at this weight and finished on the podium in 2008 as a sophomore.
Heading into this year's NCAA tournament, Penn State and Cornell were separated by just half a point, so we'll never know if Chas Tucker or Roman Bravo-Young could have been the difference for either school. The Big Red have had three wrestlers place a total of five times, including national titles by Travis Lee in 2005 and Nahshon Garrett in 2016. Lee also placed fifth in 2004 and current Cornell assistant Mike Grey was sixth as both a freshman and a senior. The Nittany Lions have put six different athletes on the podium seven times, with Josh Moore winding up third in 2003 and a finalist the next year.
Rounding out the bottom four of the dozen teams who made this list are Michigan, Illinois, Edinboro, and Oklahoma. The Wolverines best 133 pounder is Stevan Micic, a three-time All-American who has scored 49 career points at NCAAS. Mark Jayne, Jimmy Kennedy, BJ Futrell, and Zane Richards were all two-time placers for the Illini. AJ Schopp made the podium three times and Shawn Bunch twice for the Fighting Scots. Four-time AA and 2015 national champ Cody Brewer is one of the highest scorers at this weight with 60.5 career points.
Below are all the teams who eclipsed 100 team points at 133 pounds since 1999.
Top 12 Teams at 133lbs
Oklahoma State - 276
Iowa - 262.5
Minnesota - 209.5
Ohio State - 139.5
Wisconsin - 127.5
Iowa State - 120
Penn State - 109.5
Cornell - 109
Michigan - 107.5
Illinois - 105.5
Edinboro - 104
Oklahoma - 102
Key Scorers for Oklahoma State
Johnny Thompson (2001-04): 2, 1, 1, 3
Coleman Scott (2007-08): 2, 1
Jordan Oliver (2010-12): 4, 1, 2
Key Scorers for Iowa
Eric Juergens (1999-01): 3, 1, 1
Tony Ramos (2011-14): R12, 3, 2, 1
Cory Clark (2015-17): 2, 2, 1
Key Scorers for Minnesota
Ryan Lewis (2002-03): 2, 2
Mack Reiter (2005-08): 4, 4, R12, 5
Jayson Ness (2009-10): 3, 1
Chris Dardanes (2012-13, 15): 4, 6, 4